Day 2: THE LONGEST 2.5 HOURS
Having just arrived in Sydney from Los Angeles yesterday, we were itching to see parts of Australia that we previously hadn't seen. So we wasted no time in hitting the road this morning. It was around 7am when we checked out of the hotel and proceeded to follow our newly bought MapSource Australia to help us navigate through the city.
It was already busy with this being a workday for the locals. It was a bit frustrating that there were no freeways or more convenient means of getting out of the city. Instead, it just seemed like we were just driving local city streets along with thousands of other motorists just to get out of town.
Oh well, at least we got to listen to Robbie, Marieke, and the Doctor on Triple J. We could always count on being entertained (as we had during the last two trips down under) when driving.
Eventually after what seemed like forever (it was really more like an hour), we got out of Sydney. But before we could build momentum and head further north along the East Coast of Australia, the GPS software had us turnoff towards Somersby Falls. This was the first waterfall we hadn't seen before (as far as Oz was concerned) so we looked forward to it.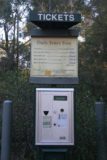 By 8:05am, we got to the cool, shady Somersby Falls car park. There was a rather steep parking fee (especially given how weak our dollar was as the Australia Dollar was almost one-to-one with the US Dollar), but after surrendering that, we wasted no time descending some steps towards a flat rocky area right in front of the cascading waterfall.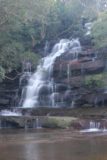 Given the cool, autumn air, it felt nice to be here. It was also a relief to see an Australian waterfall flowing after the disappointment from our last trip back in November 2006 when Victoria, Tasmania, and South Australia were in the grips of a particularly bad period in the drought.
Anyhow, Somersby Falls had good flow and we wasted no time taking what photos we could of it.
We noticed the trail continued further downstream and proceeded to follow that towards a small, lower tier of the waterfall. There were many cascades along the way, but they weren't photographable given the amount of foliage.
The Lower Somersby Falls required a bit more scrambling to get a good view of it, but I relished the opportunity to experiment with the tripod to get nice long exposure closeups.
By 8:55am, we were back at the car. Now, it was time to drive all the way to Port Macquarie.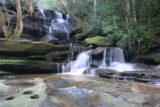 By 1pm, we finally made it to Port Macquarie. We were there just in time to be able to check into our room. But being that we were not that far (by my estimation) from Ellenborough Falls (the first real big waterfall of this trip), I wanted to devote the rest of this afternoon to visiting it. But still, we didn't even buy groceries at this point. So we did that and didn't finish until about 1:55pm.
On the map, it didn't look like Ellenborough Falls was that far from Port Macquarie. So we confidently proceeded thinking we'd at least be on the main road back to Port Maquarie before the kangaroos were out in the dark.
Well, it turned out that the drive seemed to take longer than we had hoped. This was complicated by the fact that we wasted an additional 15 minutes following the GPS's directions down a road that didn't seem to take us anywhere. We knew something was up when we didn't see any signs leading us to Ellenborough Falls.
When we finally realized that the GPS could be wrong about these things, we got onto the desired road, which turned out to be unsealed and a little slow going considering the time constraint we were on.
It wasn't until 3:30pm when we finally got to the well-signed Ellenborough Falls car park. It took us about 90 minutes to get here (and that included getting lost momentarily) so I knew we would have to face our fears and stomach some driving in the dark (when the kangaroos are out).
There were already a few other cars here this weekday evening so apparently these falls still get visitors even when most people are working or going about their daily lives.
We wasted no time getting to the nearest overlook, which was of the top of the falls and the accompanying gorge behind it. There was still a lot of light at this time, but I knew that if we came back here later, I could experiment with long exposure shots as the whole scene would be within shadow.
So we proceeded to follow the well-developed trail around the rim of the gorge towards the other side. There was a fork in the trail that immediately descended down a series of steps. Even though it was getting late in the day, that didn't stop us from going down there. Who knows when we'd come back? We had to seize the moment now, I always say.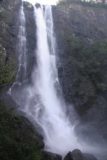 Julie and I went down the steps. It seemed like we were the only ones going down. The steps seemed to have gone down forever as it kept going and going and going. That all meant the climb back up would take a while and be rather tiring. Indeed the sign wasn't kidding when they said it takes at least 30 minutes each way. Plus, there were a couple of sections where downed trees forced us to do a little limbo on the stairs.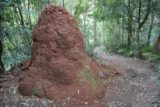 Eventually, we made it to the moist base where mist made it difficult to take a photo without getting waterspots on the lens. We didn't spend a whole lot of time down here. We just took our shots and proceeded to go up the steps knowing that darkness was quickly approaching.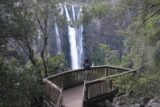 Back at the top of the steps, Julie and I were sweating despite the cool, crisp Autumn air. We proceeded to walk further from the car park towards a view of the falls that was opposite the gorge. There, we took more photos of the falls from the platform. Even though we were looking against the setting sun, the shadows were dominant enough to allow us to take long exposure photos.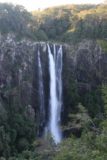 With the afternoon sun sinking behind the trees, we hastened our steps to try to minimize the amount of night driving back to Port Macquarie. When Julie and I heard some rustling, we caught a glimpse of what looked like a small kangaroo.
"Great. They're out," said Julie sarcastically.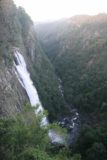 At 5pm, we were back at the car park. But not before reading some signs of the area as well as taking a few parting shots from that first overlook we vowed to come back to. As expected, the falls were in better lighting conditions at this time. Julie and I also noticed that the sign had the height of Ellenborough Falls at 160m, but someone wrote in marker 200m over the old number (incidentally, 200m is the number that's reported in the literature). We thought that was a little strange that they did that. Could it be an honest mistake? Or could it be an attempt at exaggerating numbers to make this more of a tourist attraction?
Anyways, we left shortly thereafter. When I looked at the map, it looked like the main road was closer if we continued going north instead of going back the way we came (east then north). So I expressed this idea to Julie.
"Are you sure? I don't know about this," she said.
"Well, I'm sure it's the same amount of unsealed driving as the way we came," said I.
Despite Julie's reservations, we proceeded to go further north and give this "shortcut" a try.
It was probably about 30 minutes later when the skies went from orange to pink to a navy blue. And we were now driving between dusk and dawn.
Julie and I were nervous. Clearly darkness had fallen by now. The kangaroos and wallabies (who knows what else was out there?) seemingly conspired to jump right in front of our vehicle. There was no one else on the unsealed road weaving through this eerie forest. And that sinking feeling of our fear of kangaroos so familiar from the near misses back in Western Australia's Outback two years ago started creeping in. Even though we're committed on our path, I couldn't shake the thought that I had made a mistake and now it might cost us.
Still, I kept telling myself, Hwy 34 is just moments away…
And so with both of my hands on the wheel and my eyes wide open (trying to pay attention to Rosie Beaton's Total Request shift on Triple J to keep my mind occupied on happier thoughts), we proceeded onwards seemingly aimlessly amongst the darkness. I swore the GPS made us take a couple of wrong turns. The high beam wouldn't stay on and I had to keep one hand on the lever to keep the high beam going.
"Watch out!" said Julie suddenly.
Just then a kangaroo went right in front of the car. It was a good thing we were on unsealed road because I was able to slam on the brakes and let the 'roo pass by without hitting it.
And with frazzled nerves (who knows when the next 'roo will jump out in front of us), we kept going forward on the winding road.
Where is that damned Hwy 34?
It was about 6:30pm when we finally made it to the highway. There was one section where I made Julie freak out when we almost dropped into a ditch as I was putting the GPS back on the dashboard after it fell off.
At least we were now back on the tarmac. However, that also meant that we'd be going at a faster speed and we'd have less time to react to a 'roo jumping out in front of us.
So we cautiously proceeded towards Port Macquarie. It turned out that we went way further west than anticipated. And it wasn't until 7:50pm that we finally arrived in Port Macquarie.
What should've been a 90-minute drive turned into 2.5-hour "shortcut."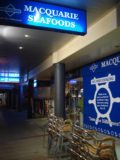 With both of us hungry and cranky from my error and a few close calls with kangaroos, we ended up eating fish and chips. It was the only thing in town that was open as our Lonely Planet book was way outdated.
Finally at 8:30pm, we were back at our motel.
Indeed it was only Day 2 of our Trip of a Lifetime, but it felt like we just got by this day – especially considering the fact that I kept having this sense that we might repeat the calamity in WA two years ago…
Phew!