Day 4: THE CAMERA-KILLING MANTIS
It was about 6:35am when we left Armidale. It was quite chilly on this morning. However, the skies were quite clear so right off the bat, I was a little concerned about whether I was going to regret not fitting in Wollomombi Falls (which we were about to see this morning) yesterday. All I knew was that if Dangarsleigh (Dangar) Falls was going to be dry, why go through the extra effort to visit yet another waterfall not knowing whether we would be met with similar disappointment?
So off we went with our early start. It was light enough that we weren't as concerned with kangaroos hopping in front of the car, but I remained cautious was we drove along the so-called Waterfall Way along Hwy 78.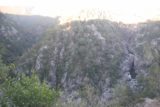 First up, we caught a sign that said something to the effect of Bakers Creek Falls. On a whim, I figured why not go for that waterfall if they devoted a signpost to it that caught our eye while driving the Waterfall Way. So we went ahead and went onto the unsealed Old Hillgrove Rd and within 2km, we made it to a not-very-well-signposted car park for Bakers Creek Falls at 7am.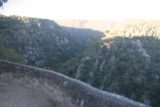 At first, we weren't sure that we stopped in the right place. But it didn't take long before we dashed our way to an overlook and could see in the distance a struggling cascade that we presumed must be the Bakers Creek Falls.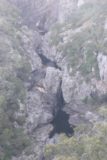 By now, the sun was starting to breach the hills around us so we also had to contend with shadows in addition to the poor flow of the waterfall. Even though we saw water in Baker's Creek, it was stagnant as the trickling waterfall didn't do much to perturb the watercourse.
However, the deep gorge in which the falls was nestled was pretty attractive.
But we were back in the car in 10 minutes as we didn't see much of a need to linger much longer. Struggling waterfalls tended to hasten our stops, I guess.
So back on the Waterfall Way, we eventually made it to the well-signed and well-developed car park for Wollomombi Falls. I had two fears concerning this waterfall. First, I was worried that it might not be flowing well given our Dangar Falls experience yesterday. Second, I was worried about the sun's position. Well, it turned out that we were screwed on both fronts.
Not only were we totally looking against the rising sun as we looked into the shadowy gorge containing both the Wollomombi Falls and the nearby Chandler's Falls, but the waterfall wasn't flowing all that well, which made it even harder to see it given the dark shadows against the bright lights. So my bad lighting regrets from yesterday afternoon were confirmed.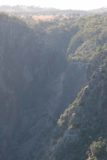 Julie and I tried to make the most of the situation by killing some time around the overlooks across the gorge. However, there was no way we were going to take the time to go all the way into the gorge on one of the longer hikes considering we already got a pretty good indication of how disappointing this waterfall was.
I guess the consolation was that the waterfall was still flowing when we had expected more Bakers Creek Falls-type flow. Even Chandler Falls was flowing. Still, the bad lighting made this one of those moments where hindsight was always 20/20.
Both waterfalls were on the north side of Oxley Wild Rivers National Park, and perhaps this was more of a springtime waterfall than an Autumn waterfall. But then again, that made it even stranger that Tia Falls and Apsley Falls did relatively well towards the south while Dangar Falls, Bakers Creek Falls, and Wollomombi Falls weren't doing so well. I guess the Oxley Wild Rivers drainages all got different rainfall amounts and/or some watercourses were more affected by agricultural developments and clearing further upstream than others.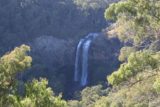 At 8:05am, we were back in the car, and we continued our drive further east on the so-called Waterfall Way. By 8:40am, we arrived at the Lower Ebor Falls car park. Unlike the two earlier waterfalls, this one had some pretty nice flow. Unfortunately, the bright and harsh lighting meant this lower waterfall was in shadow while the rest of the scene was brightly lit. Again, it wasn't the greatest lighting conditions and I tried to make do with the limited amount of time we had here.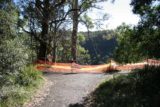 The Lower Ebor Falls was pretty much a plunge waterfall. However, there was some kind of closure that kept us from getting all the way to the edge or even trying to somehow get into the gorge (if that was possible). So we had to be content with our more-or-less distant views of this waterfall. We knew there was another car park for the Upper Ebor Falls that we had passed by on the way here so we didn't feel the need to do the walk to go to the other lookout (knowing we'd have to be walking all the way back).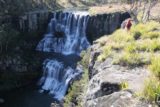 So by 9:05am, we were back at the car park. And about 5 minutes later, we were now at the car park for the Upper Ebor Falls.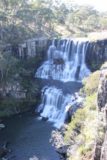 With this waterfall tier, we still had to contend with the harsh morning light. Even still, Julie and I appreciated the rippling texture of this falls as it was the type that Julie would describe as "having character." Plus, the Guy Fawkes River was flowing quite well.
Around this waterfall, we also noticed basalt organ pipe-like formations in the cliffs just to the right forefront of the falls. Clearly, the presence of this waterfall had to do with the basalt layer being harder than the remaining layers of rock around it.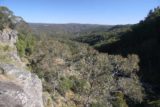 Meanwhile, we also looked downstream and got a decent view of some valley on the other side of the river with better backlighting from the sun (since we were looking away from the sun instead of towards it).
After having our fill of this waterfall at 9:40am, we then continued driving further east. We'd ultimately get to the town of Dorrigo where we picked up something to go in anticipation of a picnic lunch at the next waterfall. We also checked out a visitor centre here and realized that there was another waterfall nearby this town (as well as another one further south of town).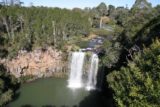 So we wasted no time heading north from the town centre, but we had to contend with some delays as there was road construction that essentially halted the flow of traffic for nearly 15 minutes or more at a time. So it wasn't until about 10:55am when we finally got to the signed car park for Dangars Falls, which was the waterfall just north of Dorrigo.
Once we got out of the car, we went right to an overlook where we could see the impressive block-type waterfall in context. After getting our fill of this lookout, we then took a track that went away from the falls further downstream before making one switchback and heading right back towards the falls. The path was in shade but we could see the falls was quite bright against the surrounding shadows.
Once we made it to the bottom, we got what views we could of the falls without trying to get too far into the Bielsdown River. Obviously, the further the went, the more direct the bright falls were. We also met some guy who joined us at the falls who was apparently from Santa Barbara as he was on a four-month holiday to New Zealand, Fiji, and Australia. We suspected he was American from the American accent like ours, and Californian no less. Small world.
But we eventually got our fill of this falls and headed back up eager to finally have our little picnic lunch. While Julie and I were having our lunch, we noticed there was a very interesting-looking leafy praying mantis or some kind of bug that was a dead-wringer for a leaf. That got us to try to photograph it with Julie's camera, but I must've been quite the clutz because I dropped the camera and it fell from the table to the ground.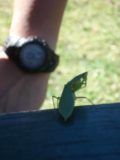 Initially, I thought it was nothing and was ready to go take more photos of the insect. But then I realized that the camera wouldn't let us turn it off and on because the camera lens was stuck. And when we realized that there was going to be no way we were going to get the tiny lens to be unstuck, I knew that we had just killed Julie's point-and-shoot Sony Cybershot. Bummer!
So there went the movies that we could've taken of more waterfalls on this trip…
By 11:55am, we were back at the car. We next headed south past the town of Dorrigo towards the Dorrigo National Park. At first, we must've missed the turnoff leading us to Crystal Shower Falls because something didn't seem right when the GPS told us to turn on some other road that we weren't allowed to do so. Then, we had to look for a place to U-turn, but that wasn't easy to do on the curvy mountain road we suddenly found ourselves on (we were still driving on Hwy 78, the Waterfall Way).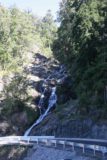 Eventually, we went far enough downhill to see an opportunity to U-turn at a small car park near what turned out to be an unexpected waterfall signposted for Sherrard Falls. We figured that we mind as well go into that car park, take some quickie photos of this waterfall, then get back in the car and drive back up the other way towards Crystal Shower Falls.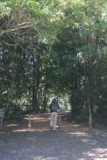 Ultimately, we would find the correct turnoff on our right for the falls, and we'd ultimately follow the road towards the Glade Picnic Area, which was the car park for the walk for Crystal Shower Falls. The time was now 12:30pm.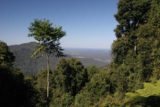 We knew that this waterfall required a little bit of a hike. But at least the hike on the so-called Wonga Walk was more like a pleasant walk where most of it was under the shade of the surrounding tall trees. The track started in a fairly big grassy area near the car park, and we were faced with a choice of doing a loop that was 5.8km or a shorter out-and-back hike (though it turned out to not be that much shorter). The benefit of doing the longer loop was that it also went by the Tristiana Falls. However, Julie and I wasn't really feeling up to doing another long hike while we still had to check into Coffs Harbour when today's waterfalling was done.
So we ultimately decided on doing the out-and-back upside down hike. We probably saved about another 1km of walking so it was debatable whether our "shorter" hike was that much shorter or not (and we were better off going on the longer loop anyways).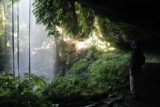 Well, at least we were paying attention to some interpretive signs along the way. In fact, we were actually quite glad we did because some of the broad-leafed plants were said to be poisonous! It said something about neurotoxins. Yikes!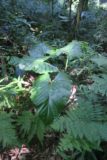 Well, we ultimately made it down to the Crystal Shower Falls where it had a somewhat weepy but satisfactory flow. The track actually kept going behind the waterfall so we got more unusual perspectives of it. And when we had our fill of this falls, we then did as we intended, skipped the Tristiana Falls, and headed back up towards the car park.
At 2pm, we finally made it back to the car park. Both of us were sweating from all the uphill hiking (although it was a pretty gradual uphill hike).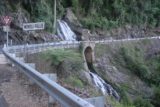 Next, we then continued east on the Hwy 78 curving our way towards the main highway between Sydney and Cairns (Hwy 1) along the east coast. But as we were past the Sherrard Falls, we saw another similar roadside and signposted waterfall called Newell Falls. So Julie and I stopped for this one as well at 2:20pm.
I guess with all of these waterfalls both expected and unexpected, we could now see why the so-called Waterfall Way earned its name!
Five minutes later, we were back in the car and we continued on. Eventually, we'd get back down the mountains and rejoin the Hwy 1 as anticipated. Then, we headed north and eventually found our way into the town of Coffs Harbour where we found the Big Windmill Motel at 3:15pm. We couldn't miss it since the motel was the big windmill itself.
So after checking in, we then headed towards the beach where Julie and I enjoyed the remainder of the afternoon feeling the wet sands and seeing these tiny little sandballs in interesting patterns. It turned out that these sand balls were caused by some colorful crabs that just so happened to be residents beneath the sand. So as the sun was setting, we were seeing more and more of them coming out. I guess our timing was right for seeing them.
When we had our fill of the beach as darkness fell, we then walked into what seemed to be the happening part of town where we went to this place called Scoff's at 5:30pm. The place had OK food, but the sticky date dessert was kind of different from the other sticky date pudding desserts that we've had in Australia up to this point (not necessarily in a good way).
Oh well, you win some, you lose some.
By 6:40pm, we were back at the motel. This time, the GPS took us back there on a more efficient route to return to the windmill. And so ended this very eventful day where we'd probably be seeing waterfalls in our sleep!