Day 5: SECURING A REPLACEMENT CAMERA
It was 6:30am when Julie and I left the Big Windmill at Coffs Harbour. These early starts were becoming a pattern so it was pretty natural for us to leave by this time and wake up some time between 5 and 6.
We knew we had a bit of a drive going north along the Hwy 1 (Pacific Hwy) as we made our way up towards Byron Bay, which would be our accommodation for the next two nights. So I looked forward to not having to vagabond it for the first time on this trip.
But before then, we still had a couple of waterfalls to visit in the hinterlands west of Byron. We knew we wanted to stay in Byron because of its hippie scene but that was checked by the waterfalling we had to do which would require a few hours of driving inland.
So we spent quite a bit of time driving north, then as we got close to Byron Bay, we knew it was way too early to check in so we kept going west towards the Nightcap National Park.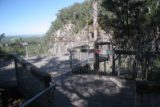 The drive was indeed long, but at least we were still getting Triple J reception even through the forests here. However, our GPS took us on some wrong road, and it costed us about 30 minutes (plus some car scratches against overgrowth possibly) on this out-and-back detour.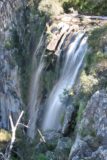 Mercifully, we finally made it to the car park for Minyon Falls. Up here, there was a lookout right at the brink of the falls. It looked like there was a track that went to its base, but it seemed too long for us (4.5km or 3 hours one-way) considering that the falls wasn't flowing all that well. That said, it was still fairly tall and nice though the view of the falls was still partial.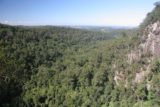 At least the view looking out from the brink of the falls was expansive and panoramic.
We also shared this falls with a few other people making it seem like a pretty popular waterfall despite how out-of-the-way it was.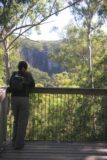 By 11am, we were back in the car. Next, we drove out towards a separate car park called Minyon Grass. It was too bad Dr Karl was on at the time because I would've loved to listen to the science hour while we were driving, but I guess we'll have to listen to it in parts around our visit to Minyon Grass.
Well we showed up at 11:15am, but we didn't stay at Minyon Grass for too long because we were content with the distant but frontal views of Minyon Falls. A sign here said the best view of the falls was from here, and I guess I could see why they said that since we were able to see the front of the falls.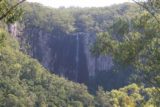 However, the falls was wispy so it seemed kind of wimpy even though we did get a decent full-on view from a distance. Something we noticed was that the gate leading to Minyon Grass was closed when we first showed up and went to the top of Minyon Falls, but the gate had since opened when we came back. I guess we showed up right around the opening time or something. Pretty late opening time I reckoned.
At 11:20am, we were back in the car. Next, we were going to drive out to Protestor's Falls, which was also in Nightcap National Park. I was hoping the GPS waypoint I had set up before the trip would be good enough to get us there, but sometimes guesses like that don't work out too well in the field.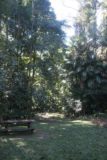 So we drove through a lot of unsealed forest roads through Nightcap National Park, and all along we found ourselves fighting the GPS which kept insisting we should've gone on some other road in violation of some signage telling us we should've done otherwise.
In any case, we'd eventually make it to the car park for Protestors Falls car park, which was quite out-of-the-way. Actually, when we parked the car, it took some time for Julie and I to figure out exactly where the trail started because all the picnic areas around the car park didn't have trails. Yet we knew the falls was here somewhere.
It wasn't until we figured out that we had to walk across the final concrete ford before we'd finally find the trailhead, which was actually before that road ford!
Once we were on the track for the falls, we were beneath the canopy of subtropical rainforest. It was a little on the slightly humid side even though we were technically about to enter the Dry Season in the tropical north of Australia, which we were encroaching upon.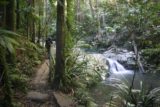 As Julie and I were meandering about on the shadowy track, we did see one mother and two kids. We said hi to her but she kind of gestured to her kids as if she was trying to protect them from us. Julie thought she might have been racist or had something against Asians or something because we were all smiles. But we kind of passed each other with that weird feeling like "what just happened, there?"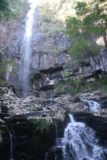 Anyways, we eventually made it to the tall Protestor's Falls, which was wispy. We wind kind of bent the tall plunging waterfall kind of funny. There were some lower cascades a little downstream of the main plunge of the falls, but it was hard to get both sections of the falls together in one shot.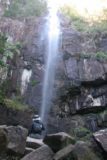 At 1:35pm, we were back at the car. Now we were pretty much home free to go to Byron Bay and check out the town over there. We really looked forward to the happening hippie vibe over there. Plus, we knew that the town typically hosted Splendour in the Grass, which was a Triple J sponsored concert that would happen later in the year.
After a bit of a drive, we finally arrived at the Bamboo Cottage in Byron Bay at 2:55pm. It was actually quite a find that Julie landed here as it was more of a small-time accommodation as opposed to a chain. But the price wasn't too bad. The only thing we had to contend with were a few mosquitos in the area, which was surprising since I thought we were supposed to be entering the Dry Season.
But I guess when you're getting into the tropics, any standing water would be fodder for mozzies.
After getting all checked in and settled, Julie and I walked into town and then started walking around the main area. It was getting a little late in the day, but we happened to find a camera shop in town. That was our opportunity to procure a replacement point-and-shoot camera, which we needed to take movies since my Canon EOS 20D DSLR couldn't do it.
It turned out that our accommodation was quite centrally located. And the town of Byron Bay itself seemed to be quite the tourist-friendly town as there were numerous shops and restaurants in the main part of town. The beach near town was full of young barefooted backpackers, which Julie thought was kind of overrun with them.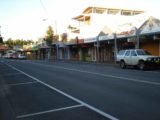 That said, there was still a young, energetic and free vibe to the place. It seemed like everyone was out for a good time. Pot smoke and incense filled the air while there were plenty of people in long dreads or wannabe dreads for those not able to pull off the rasta look. It was a cool scene to be a part of even though we were probably getting a little too old to blend into the seemingly target demographic.
I recalled we ate at some restaurant in town that was kind of like a chain restaurant. They served kangaroo at this place, but I learned from past experience that if I was going to have kangaroo, which was a very lean meat, I made sure to ask for it rare, which translated into medium rare in Oz (for some reason, it seemed to be one grade higher cooked in Oz than what we were used to in the States).
In any case, we were back in the room and called it a night. I was certainly looking forward to sleeping in a little bit on this night since we wouldn't have to pack up the car, check out, and leave tomorrow morning…