Day 1: A FEW MORE WATERFALL SURPRISES
We woke up at around 8am and it wasn't until about 9:30am that we finally left Tumut. We had some errand to run in the morning and shipped some NZ books at the post office. The lady at the post office said they had none of the rain that we had experienced earlier on this trip.
Now, I wondered about the shape that Paddy's River Falls would be in considering that was the next waterfall on the agenda.
And so we headed out and drove closer to the New South Wales/Victoria border. We went through some mountain driving as we were amidst the Snowy Mountains though there was definitely no snow during our visit. Instead, it was bright and sunny.
By 10:50am, we arrived at the car park for Paddy's River Falls. We immediately heard some running water so we felt that was a good sign as we had feared the worst. And as we walked down the single-switchback trail to the base of the falls, more of the falls was revealing itself to us.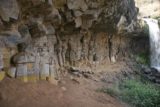 Even though part of the falls was in shadow, we were at least glad that there was definitely a satisfying waterfall experience to be had.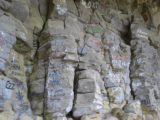 Someone said the falls was 60m, but after having seen it in person, it was more like 15m! Maybe they meant 60ft? But even that was a little bit of a stretch.
When we made it to the bottom of the falls, we could clearly see that there was a large alcove behind the falls. That meant getting behind the falls was easy. Of course, other people recognized this too as there was a lot of graffiti on the alcove walls attesting to that fact.
The graffiti was unsightly, but at least we got some good photos of the falls before we headed back up to the car park. And by 11:45am, we continued our drive towards the NSW-VIC border as we were headed to Wangaratta while hunting a few more waterfalls along the way.
By 2pm, we arrived at the town of Woodonga, which was actually a dual town combined with Aubury. Both towns were straddling the border between New South Wales and Victoria.
At 2:20pm, we found the Woodonga Visitor Centre in the Gateway Village. We picked up some information mostly to get a little more clarity about where we would be able to find Woolshed Falls and Newtown Falls, which we knew were around here.
And by 2:40pm, we were back in the car heading for the town of Beechworth, which was a few minutes from here.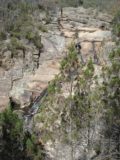 Eventually, at 3:20pm, we arrived at the Woolshed Falls Picnic Area. And from the overlook near the car park, we could see a contextual view of what normally be a pretty impressive cascade. Unfortunately, it looked like it was mostly riverbed sliced by a thin cascade that appeared to be what was left of the struggling waterfall.
So we took some photos but opted not to do any of the walks to get closer to the watercourse (including the Historic Walk, where miners used to use it to try their luck at panning for gold). Given the low waterflow, we were just content to get our photos and keep moving on. So by 3:30pm, we were back in the car.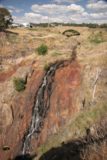 Next, we then drove towards the town of Newtown and the Newtown Falls. We eventually got there at 3:45pm, where like with Woolshed Falls, this waterfall was also struggling to flow. Still, it had some appreciable flow beneath a road bridge, and we took what photos we could of this roadside falls before moving on.
Julie and I were wondering if the falls viewing experience would get worse as this seemed to be the first of the waterfalls seen on this trip where the waterflow seemed to be quite impacted by the Australian Drought.
Eventually at 4:25pm, we arrived at the Wangaratta Motel (Quality Inn). Given all the driving that we did on this day, it was a welcome break. When we planned this trip out, this was meant to be a strategic stopover point before heading over to Melbourne tomorrow.