Day 2: ANNIVERSARY WATERFALLING
At 7am, Julie and I checked out of the Quality Hotel Wangaratta Gateway in Wangaratta. Knowing that we'd be in Melbourne at the end of the day with a booking for one of their fine dining restaurants (Ezards), we wasted no time in getting to our sightseeing activities.
First up was Snobs Creek Falls. This was a waterfall that didn't appear to be tall from the pre-trip research I had gathered. And since the drought was foremost on my mind, I also wasn't sure how the falls would be flowing – always holding out hope that we would still have similar success to what we experienced up to this point on the trip.
So at 9:05am, we had finally arrived at the signed pullout after a short drive on an unsealed road. We were the only ones here this Saturday morning and it was early enough to keep the area mostly under shade.
As we got out of the car, the first thing we noticed was how loud the watercourse was. It didn't have that deep-toned thunder for really high volumed watercourses, but it was clapping loudly. So Julie and I eagerly followed the short developed track towards its overlook.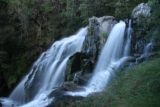 And sure enough, Snobs Creek Falls didn't disappoint. The splitting cascade tumbled over some giant rocks on its way past the overlook as it continued to descend further into the shady ravine. We could only see the upper tiers of the falls, which made it seem smaller than it really was.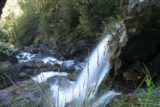 We also noticed a plaque here commemorating someone child who was tragically swept away in 1990 – once again reinforcing how dangerous mother nature can be.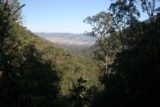 Still, the falls were beautiful and we spent lots of time taking photos and enjoying yet another satisfying waterfall in the drought.
But by 9:42am, it was time to leave and head to another waterfall near Marysville – Steavenson Falls. Now the literature described the falls as having a total of an 84m tumble so both of us were quite anxious to see it. I had a feeling it was probably going to be a very popular and well-developed reserve since I had read they also flood light the waterfall in the dark.
When we arrived at Marysville at 10:30am, we stopped briefly to pick up some meat pies for takeaway brekkie. Once that was done, we had to take a small detour before we finally got on the road leading to the car park for Steavenson Falls.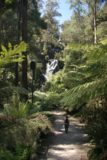 Once there at 10:47am, we paid the self-help kiosk, placed the ticket on the dash, and started walking to the falls. As expected, the car park had many cars and there were dozens of people here and there either walking to the falls or having just returned from it. We also left the meat pies in the car to let it cool down thinking we wouldn't be long on this excursion.
The walk, for the most part, followed the stream downstream of the waterfall. Eventually, we would see the upper parts of the falls and indeed it had decent flow (though clearly it had seen better days). But nonetheless, it wasn't trickling nor was it dry so it was certainly worth spending the time being here.
I could see how the falls was 84m, but it's hard to see the entire falls at once or at least capture it in a photo in a meaningful way. As we walked closer to the falls, the path forked – each path leading to a viewing platform on either side of the stream.
We proceeded to take the left lookout (crossing the bridge) where a few people were enjoying the falls. One thing I noticed here was a sign that commemorated four youngsters who lost their lives here from a tree that fell on them.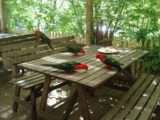 The view of the falls here was pretty direct, but you only got to see its bottom tier which was probably 10m tall. The upper cascades were hidden from view.
Since Julie went ahead of me while I was taking photos earlier, I had noticed she was on the opposite lookout across the stream. So I quickly headed over to the other side to rejoin her.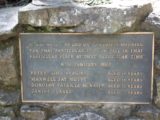 While on the other side, there was another group of people enjoying the falls. This one was dominated by a group of young girls urged by the father to pose for a cute sibling photo. Once they were done, Julie and I starting checking out the falls from the platform.
Now the view here was more angled. Once again we couldn't see the top of the falls from here as well. So after taking our photos and allowing nature to keep us calm, we walked back to the car to have our meat pies, which were still warm when we got back.
By now, it was 11:36am and we had a choice to make. I had noticed a waterfall on a map we picked up yesterday called Cora Lynn Falls. I figured since it was reasonably close to Marysville, why not seize the moment and see what this one was about?
So that was exactly what we did.
We headed east on Marysville and one of the first things we noticed was that the road got narrow and windy even though it was paved. Complicating matters was the presence of fast-moving motorbikes zipping along the winding road. Sometimes their speed made it really seem like they were taking a big risk if they happened to turn too widely with an oncoming car on one of the blind turns.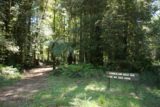 Anyways by 12:04pm, we were at the easy-to-miss car park for the Cora Lynn Falls. There were other hikes that left from this area, but they involved walks of durations that we were ready to commit considering we still had to get to Melbourne and our restaurant booking later this evening.
Julie opted to take a nap in the car (despite the noise from the buzzing motorbikes zooming by) and let me do the walk on my own. So after quickly crossing the winding road hoping a motorbike wouldn't run me over, I quickly entered a shaded forested area. The trail was easy to follow though it was a little overgrown in places. I could tell this trail did get use, but not that much.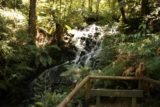 After about 5 minutes, the trail descended some more past some interpretive signs before ending at the Cora Lynn Cascades itself. The sound of motorbikes were still audible, which kind of took away from the experience. Also, the falls were neither tall nor very impressive. It did flow somewhat but given the shadows and the volume of the falls, it wasn't really anything to brag about. So after briefly taking a few photos, I headed back to the car to rejoin Julie.
It was 12:24pm by the time we left the little pullout. There was another car that was just pulling in at the time.
When we continued past Marysville, the road remained winding. We were amazed at how curvy it was considering the amount of traffic the area gets.
Anyways, when we finally got to Hwy B360, we had to make another choice.
Should we find a way to drive all the way west to Strath Creek Falls (or Murchison Falls; another waterfall on the list of things to do) through more winding roads, or should we just head straight for Melbourne?
Considering how late it was, we reckoned we had better head into Melbourne.
We had reached the city's northeastern suburbs by 3:30pm. Little did we know that it would take nearly an hour just to get to the CBD from here. The traffic was also quite heavy and constant and it was quite a warm day.
The traffic here had a different feel to it. Perhaps it was because of the tramway sharing lanes with the cars. When the tram would stop to load/unload passengers, I was a little confused about whether we should go around it or not.
But it turned out that when its lights were blinking, you're supposed to stay put behind the tram. On one occasion, I didn't know this and kept on driving. But an emphatic blown horn behind me made me think twice about doing it the next time. Oops.
Finally, we eventually got to what looked like the city center. Obviously, it was even busier than what we had seen on the way here. Anyways, we were getting close to our check-in spot, we reckoned, so it was time to start following the proper streets to get there.
So as we drove further into the Melbourne CBD looking for our hotel amidst the heavy traffic, we were dismayed to find that the street we were supposed to take had closed. But that was ok, we thought. We could take the next street. But when the next street came around, it too was closed. Then the next street and the next.
What was going on?
Eventually we were able to make a right turn (not knowing about "hook turns" at the time) but not before we were back outside the CBD. Eventually, I found street parking a couple of blocks away from where our hotel (Mercure Hotel Melbourne) was supposed to be. At that point, I waited in the car to avoid having to pay for the parking while Julie walked alone to find the hotel. At least I could listen to Triple J to pass the time, I reckoned.
It must have seemed like forever, but roughly an hour later, Julie returned to the car with instructions on how to get to the car park.
She went on to explain that the CBD was closed due to a Christmas parade.
"A Christmas parade?!? In November?" I inquired.
"Yeah, but it's over so they've opened up the streets now," she replied.
So with that we drove towards some underground parking structure under the QV Shopping area. It was going to cost us around 20 AUD per night or whenever I leave the lot (whichever comes first) plus we would have to walk from there to our hotel while rolling our luggage. The time was now 4:30pm.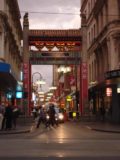 It must have felt silly rolling our stuff with all this human traffic going this way on that on Lonsdale St., then Russell St., then through little Chinatown on Little Bourke St.
But after all that, we finally were able to check in to the Mercure Hotel and we managed to land a pretty nice and roomy suite. Both Julie and I wondered if this was part of the upgrading because of GoWay's screw-up in booking our accommodation. Regardless of all that, it was nice.
Our dinner reservation at Ezards was not until 9pm. Back in mid-October, I made the booking late because I wanted to make sure we wouldn't be late. It was actually a backup option because the much publicized Flower Drum was fully booked when I called. I just had to see how much better Cantonese food could be from what we had already known about. But oh well, I didn't think we were missing out on much anyways.
Still, since it was only 5:45pm, we had some time to walk around the city and get a sneak preview of both Ezards and Grossi Florentino – both restaurants I booked for our wedding anniversary (today) and for Julie's birthday (next Friday).
The restaurant Ezards was on a small side street on Flinders St. It was a little underground and didn't look like much when we got there at 6pm. We asked to see if we could show up earlier, but it turned out that we couldn't. Oh well, no worries. We'd still be there at 9pm for a special night out.
Then we took some time walking east on Bourke St. for a few blocks to the Grossi Florentino. It too didn't look like much outside, but at least we knew where it was for our return to Melbourne next Friday.
So with our little walking tour of the CBD out of the way, we returned to our hotel to clean up and get dressed up.
About 45 minutes before dinner, we decided to start walking to Ezards. The walk wasn't very long and we ended up at the restaurant with nearly 20 minutes before our arranged time.
By now, the restaurant was romantically lit and very busy (and loud). It was a major transformation from the dull underground dive we saw during our sneak preview just a couple of hours earlier.
So we sat at the waiting area and splurged with some delicious wines (on an empty stomach).
A couple of minutes past 9pm, we got seated and got some bread that we got to dip into some oil which we could further dip into one of three different but very tasty salts. I don't think neither of us ever had bread like this before.
I don't fully recall all the mains and entrees we ordered, but all I could say was that it was a beautiful blend of Asian/Australian fusion. I kept telling Julie this was probably the best fusion restaurant we've eaten at (though we haven't exactly tried that many; perhaps Spago [if you could call that fusion] in Beverly Hills beats this one out).
After a very satisfying meal, we headed back to the Mercure Hotel. Julie was very pleasantly surprised that the waiter took the trouble to beat us to the door so he could open it for us. Very top notch fine dining experience at a price that was more reasonable than some of the other fine restaurants we've been to.
It was around 11pm when we returned to our hotel. We were quite sleepy and we had a pretty long day trip out east to see some waterfalls in the Gippsland area. With the waterfall successes from the past few days and the looming rain storm over the area threatening to precipitate some more (we were entertained by the lightning show), the prospects for waterfall viewing looked good. That made me sleep better…