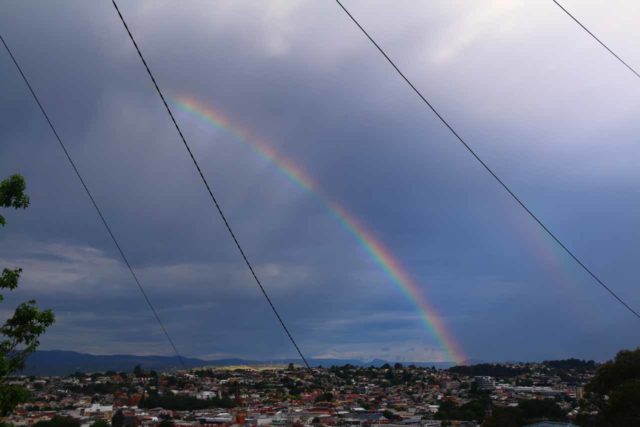 24-November 2017 to 3-December 2017:
…just when I was about to check the handheld GPS for reception and to see how close I was to the car park, I saw underneath the rain poncho that only the attached battery cover was in my hip pouch! The rest of the GPS unit was missing!
With all the rain, I was worried that the exposed unit and batteries might be shorting out. But I was also cursing at my luck for it was as if somehow the battery lid was detached as the screw was turned the right way and released! Most of the time, I had trouble trying to do that on my own will, but here Murphy decided to let it happen most likely when I was trail running the downhill.
So now I had to hike back up the long incline until I found the GPS. And I was dropping F-bombs to no one in particular as I was doing this…
Day 16 (November 24, 2017 – Launceston, Tasmania, Australia): "Small Victories"
It was about 4:50am when we awoke to my earlier alarms. Given that today was a travel day, and we had to catch an 8:25am flight to Launceston, Tasmania from the Melbourne Airport, we really didn't have time to mess around.
So we pretty much spent the next 50 minutes eating whatever was left in the refrigerator (from our last bits of fruits and kefir as well as avocados) then wrapping up the packing.
By 5:40am, we were leaving the room, and by 5:50am, we got the car from the valet after Julie was done checking out. Just as we had anticipated, they tried to charge us for buffet breakfast that we didn't have. They were also trying to charge us for newspapers that we never read nor asked for.
Regardless, Julie disputed those things and the final bill was just for the $55 per night parking valet and some $30+ worth of breaky.
But for all the headaches of the nickel-and-dime attempt, and that there were no kitchen nor microwave nor other self-serving amenities besides a kettle for boiling water, you couldn't beat the free nights on Hyatt Points for the entire stay nor could you beat the location, which was smack in the heart of the Melbourne CBD that we took full advantage of.
By 6:30am, we dropped off the car at the Avis at the Melbourne Airport after taking the toll road one last time. We couldn't afford the luxury of taking Flemington Road through several long traffic lights while bypassing the M3 until a later onramp after the toll part was over.
After that was done, we then got our stuff and rolled into the domestical terminal T1. Whilst there, I saw on the board that our flight to Launceston QF2281 was cancelled!
It sure seemed like no matter which Qantas flight or Qantas-affiliated flight (this was Jetstar) that we were on, it never left on time for one reason or another.
And so we then went to the sales desk, where we patiently waited in line for our turn. And once we got to the desk, it seemed that the Qantas staff was well aware of the cancellation so they gave us two options. The first option was to catch an 8:20am flight to Devonport and then take ground transport to the Launceston Airport, eventually arriving at 11am. The second option was to wait for Jetstar's next available flight to Launceston at 2pm.
Naturally, we opted for the first option as I knew Devonport wasn't that far from Launceston.
So with our luggages checked in and our boarding passes in hand, we then promptly walked through security then went all the way to one of the far gates where it seemed the smaller planes (usually with propellers) seemed to gate. We got there at 7:25am, and waited for our 7:55am boarding, which happened pretty promptly.
Once we got on board the small twin propeller plane, the flight took off on time (a first for us even though this was part of a cancellation that resulted in a delay), and we'd eventually pick up our luggages from the small Devonport Airport at 9:25am.
Minutes later, a taxi hired by Qantas showed up and we were one of three couples headed to Launceston. And so next, we were driven 99km towards Launceston, then another few kilometres more to the Launceston Airport after one of the couples were dropped off at their home in town.
Eventually, after we got to the car rental check-in for Avis, they were ready for us and we got our car (which was an Australian version of the Camry, apparently) at 11:10am. It was quite hot on this day so we couldn't wait to turn on the car and be in the relative comfort of the AC.
As we drove off, Julie Facetimed Tahia since it was Thanksgiving Day back at home. However, she was taking an afternoon nap and when she awoke (as she was at my Mom's place), she was crying. But it seemed that she was crying because her cousins went to San Diego and so she was all alone with my parents. I don't think she was really missing Julie and I.
Regardless, we wished her a Happy Thanksgiving and let her get back to sleep. In the mean time, I drove into the centre of Launceston, where Julie wanted to have a lunch. And after circling the CBD a couple of times, we finally parked in this structure at 11:45am, where it costed $2.50 AUD per hour. The one structure that was free for the first two hours was full.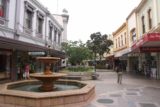 As we randomly walked out of the parking structure, we were in some fairly quiet pedestrian-only arcade flanked with shops. We then went to an adjacent street, where we walked right into a LivEat place.
They served up pretty fresh bowls or burritos almost Chipotle style, and we wound up getting a Chicken Satay Bowl as well as a Thai Beef Bowl without dressing and rice.
The food was pretty good, and it was no frills healthy. After the lunch, we then walked around a fraction of the CBD noticing historical looking buildings as well as a clock tower right across from the Town Hall.
Our little tour of the Launceston CBD didn't last long though as we pretty much sensed that there wasn't a whole lot to do nor see in town itself. We did briefly visit the information centre, where the lady there said the Cataract Gorge was the must do activity.
So that was first on the agenda after we would get groceries and check in to our accommodation.
By 12:50pm, we were back in the car, and five minutes later, we stopped by a Coles for some groceries. The parking lot was on a hill so it was strange that most of the cars were parked tilted to one side. It was also awkward handling shopping carts as I'm sure it was real easy for some of them to roll downhill if not careful.
The Coles here didn't have the ferments that Julie was looking for, but we did pick up cheaper water as well as some fruits and eggs.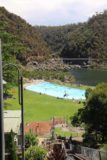 By 1:50pm, we checked into the Adina Place Motel and Apartments, which was pretty much a no frills sleepeazy apartment. It had a chemical smell when we first got in so we left the windows open to vent out the toxic fumes. In the mean time, we dropped off our belongings and then headed back out towards the Cataract Gorge at 2:10pm.
Ten minutes later, we ultimately made it to the First Basin Car Park for the Cataract Gorge. On the way up, we noticed a fake waterfall that was running at the Penny Royal though we didn't stop to take distant photos of it. I don't know if we'd regret this decision or not, but I wasn't into killing time for fake waterfalls even though we've been fooled a few times before. Perhaps that would be our excuse to talk about a waterfall in the Launceston city limits?
Anyways, after paying and displaying $2 which was good until 5pm (I doubted we'd stay that long though), we promptly walked towards the Inclinator's top. The funicular was closed, but that didn't stop us from taking pictures towards the scenic yet playful area where there were barbeques on the perimeter of a large grassy area fronted by a cafe whilst containing a swimming pool that was popular with a lot of the locals.
Then, there was a larger lake-like body of water backed by a suspension bridge (called the Alexandra Bridge) as well as some rapids and little man-made waterfalls spilling into the large lake. There were tracks circling the lake and the play area, and we wound up taking one of the tracks.
In addition, there was also a chairlift (i.e. ski lift type chairs) that went across the First Basin. Since it was easy for us to walk the whole thing in less than 30 minutes, the chairlifts really weren't necessary, but they did serve as interesting photo subjects.
During our loop walk, we also checked out a peacock that was strutting near some stagnant water, and I also noticed lots of younger people doing cliff dives off one of the ledges whilst others were floating and swimming confidently in the lake.
It seemed like a great way to cool off considering it was over 30C and one of the locals told us that it normally wouldn't get this hot this soon in the season (typically they'd see this in January). Perhaps it was yet another sign of Global Warming.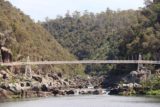 Eventually at 3:15pm, we got back in the car. We then made the drive out towards the Lilydale Falls since touring both the gorge and the city went a lot faster than I had planned. So by knocking out this waterfall today, maybe we'd have more time to do other waterfalls later on without making sacrifices.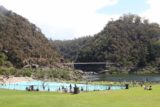 It was roughly a 22km drive out to Lilydale so it wouldn't be until about 3:55pm when we made it to the car park for the Lilydale Falls Park. We were the only ones in the park, and it featured a playground just like I remembered from before, as well as free camping for a max of one night.
If we were really on a budget, I totally wouldn't have minded staying here just for that.
Regardless, we promptly went on our walk that followed the creek beneath a bridge and then up some steps as well as a hill before descending steps to the first of the Lilydale Falls. I didn't recall from the last time the trail being so hilly, but then again, memories were fallable.
The falls was also as small as I remembered, but it was relaxing as there were tall trees around as well as the birdsongs breaking the otherwise silence and serenity of this place.
After having our fill of the falls, we then went back up the steps and continued on the trail further upstream past the first falls to the second falls, which was literally just a few paces later. That waterfall was even shorter than the first, but it was pretty relaxing and a worthy end to the short excursion (said to be 5 minutes from the car park to the first falls and 10 minutes from the car park to the second falls).
When we got back to the car at 4:30pm, there was one other family that was letting their kid swing in the kiddie playground. And just as we were about to pull out, there were suddenly another 3 or 4 vehicles parked. Maybe this place wasn't an unpopular nor dead as I thought.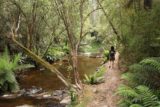 Next, we drove back into Launceston's centre getting there 5:05pm. That was where we found a really big Woolworth's that seemed to be better stocked than the Coles. With this grocery run, we were seeking ferments as Julie had called them earlier and confirmed they did stock kefir and kimchee-like spicy krauts. We also picked up some meats like bacon and chicken drumsticks as well as some veggies.
Our grocery run finally ended at 5:55pm, where we decided to just cook for tonight and hence we bought the ingredients for that.
Ten minutes later, we were back at our apartment to finally get settled and call it a day. Julie was making chicken soup (just like we did in Hamilton), and that would at least save us some money and time while also getting comfy with being in Tassie for the first time in 11 years as well…
When we were done with dinner, it was just in time to notice that the clouds outside had turned purple! So we quickly went outside our apartment to catch the fleeting glimpses of the sunset (well, the effect of the sunset) as the clouds turned pink and purple with the sun already sunk below the horizon behind the hills. Indeed, it's the clouds that makes sunsets.
Day 17 (November 25, 2017 – Launceston, Tasmania, Australia): "Rough Detours"
I awoke to my alarm at 5:05am. It was already cloudy outside, and it looked like it wouldn't be long before rain would fall. Still, knowing that Julie wouldn't be getting up for another hour or so while I knew it would take her some time to get ready for the day, I had to do get an excursion in while I'd otherwise be idling.
So I decided that I was going to do Liffey Falls this morning so I wouldn't have to fit it in on the day we go to Hobart tomorrow.
By 5:25am, I left Julie a note, then I got my stuff ready and got into the car to head out. While it was still a little bit dark at this time, it was rapidly getting brighter. Still, I knew that kangaroos (actually they're not nearly as prevalent in Tassie as opposed to the mainland) could hop onto any road at any moment, especially with the limited visibility, so once I left the city limits of Launceston, there were enough fast moving cars that I followed behind them for as long as I could before they turned off towards other roads (mainly towards Hobart).
Meanwhile, I was headed to Deloraine. I also skipped the first signage for Liffey Falls, which was on the C511 exit. I knew from the last time we were here 11 years ago that that road was a mistake. It involved more twisty roads and I'd argue it didn't save much distance wise. I think it might have also involved some degree of unsealed driving.
So I kept going along the main highway where the speed limit was 110km/h, until I reached the correct turnoff for Deloraine. I then followed the signage towards Liffey Falls, which had me on a road leading south of town. In between low-lying fog, a couple of startled kangaroos, and some spots of light rain, the drive was otherwise uneventful.
Eventually at 6:30am, I made it to the Liffey Falls car park and picnic area after following the light vehicle route (as opposed to the bus route) within the last 5.5km of unsealed driving. The place I wound up at was the so-called "Upper Car Park" for Liffey Falls. The bus route would have taken me to the "Lower Car Park".
It turned out that the Upper Car Park was the place to be because the hiking was said to be 40 minutes round trip (20 minutes each way) from this car park. However, the Lower Car Park was said to take 90 minutes. Ouch!
As soon as I got out of the car and geared up, I saw signage pointing me to a Big Tree. So I briefly followed that one-minute track, which got me right up to an impressive tree standing tall. I didn't notice this tree on our last visit, but then again, we might not have been paying as much attention to things besides waterfalls back then.
It started to sprinkle a little as I was photographing the tree so I didn't linger for long. I then proceeded down the familiar track towards Liffey Falls as I was greeted with a few signs at the trailhead next to some of the picnic areas.
Then, the track descended into a shady canopy of trees and ferns. As I was approaching a sign saying something about the Liffey Falls Scenic Reserve, I started to notice that the rain became more than a sprinkle. Still, with the canopy of trees and ferns overhead, I still didn't need to don my rain poncho just yet.
Eventually, I reached the first of the cascades comprising the Liffey Falls, where there was a lookout. It happened to be just upstream from the drop of that falls so I could hear the waterfall but not really see it. The rain also came down a little harder so I didn't linger for long here.
A few paces further, there was another lookout area. This time, it had a view looking upstream at the first cascade as well as looking right across at a second cascade. It was hard to get a pretty satisfying view of both of them together without the photo being awkward. I recalled that I had a similar challenge the last time I was here 11 years ago.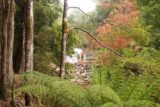 With the rain still coming down, I quickly got my fill of this spot then retreated back into the canopy.
As I continued hiking further down the trail, I couldn't help but notice through the foliage looking back upstream that the combination of the first two falls looked pretty attractive. There wasn't an official view and I could see some trails of use leading down to the banks of the Liffey River for perhaps a slightly better and less obstructed view.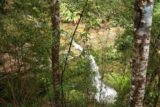 Given that it was raining and the rocks were slippery, I didn't want to chance it. So I just took what photos that I could through the slight openings in the foliage back towards the cascades.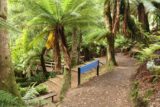 The next overlook happened to be just downstream from a third cascade that looked like it plunged like a spout. The cleanest views of this waterfall was in profile before getting to an overlook area, but that overlook only yielded obstructed views through the foliage even though it would have been satisfyingly direct.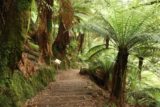 Beyond this overlook, the trail continued descending before reaching a signposted junction saying that Liffey Falls was just 5 minutes further down after a switchback. There was also signage saying that the Lower Car Park was 90 minutes away from here, further reinforcing that I was correct to take the car to the Upper Car Park. This must mean that the tour buses and campervans had to take a longer route by foot, which was surprising since it was usually the other way around in my experiences with hikes having separate car parks for tour buses.
The rain came down harder as I descended closer to the lookout of the main Liffey Falls. By the time I got to the overlook, I managed to take the usual angled shots, where the falls flowed pretty much like it did before. However, this time I didn't have to look against the sun so there weren't terrible shadows and blow out regions.
That said, the rain really came down and that made things difficult to even consider figuring out how to get across or at least to the middle of the Liffey River for that more postcard ready direct look at the stairstepping characteristic of the main Liffey Falls.
In my haste to put on my rain poncho as my head was now getting pretty soaked and my camera started to get a bit wet from all the rain, I then found a sanctioned spot further downstream where a few steps led down to the rocky banks of the river.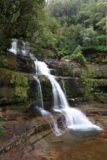 At first, I saw that there was a flat area where it might have been possible to scramble across the hard flat rock in drier times, but one or two steps let me know right away that the surface was extremely slippery. So that wouldn't be a viable option without hiking sticks. And with the rain, it was simply too much trouble there.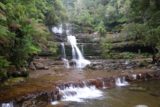 Looking further downstream, there were rocks here and there that could have gotten me to the other side of the river in drier times. But with the rain, some of these rocks were too wet to put a lot of weight on without slipping. Others were too loose.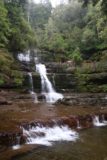 And despite me now donning a rain poncho, the camera was now copping too much abuse and I had to settle for a few foggy pictures not quite in the middle of the Liffey River looking right at the falls. Then, I had to retreat and try to use my sponge to soak up the moisture that had already accumulated on the outside of the newly bought lens.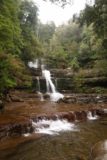 The rain kept coming down and it seemed to come down harder though it didn't seem to change the characteristic of the falls much. Still, waiting out the rain didn't seem like an option as I knew I told Julie that I'd be back at the apartment before 9 and it was already almost 8.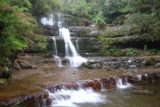 So I hastily took a few last pictures with the DSLR but the pictures remained on the foggy side so I decided not to chance it any more with all the rain and moisture. I was also worried that some moisture might creep inside the sensitive electronics of the lens.
The return hike was pretty much all uphill though it wasn't too steep. The canopy that I once relied on to stay dry without a rain poncho was now no longer effective as I could feel the drops of rain hitting the rain poncho even in the shadiest of sections of the trail.
But on the way up, I felt something on my leg hit a branch or something, and when I realized that I had my iPhone
in one of the velcro pockets there, I was cursing at myself for forgetting once again to capture an iPhone video to share on the Facebook page for World of Waterfalls. Damn!
This was the third time on this trip that I solo'ed a waterfall hike and had forgotten to do this!
So when I got back to the car at 8:05am, I promptly took off the rain poncho and let it dry on the back. I also put the camera on the passenger seat outside of its carrying bag with the polarizer lens taken off. That way everything could be dried with the defrost and dehumidifying AC of the car.
I then hastily drove back though with a lot of constraint so the car wouldn't slip out of control on the many curves or pop a tyre on one of the potholes along the way out.
Once I returned to the highway, I pretty much followed a caravan of cars moving above the speed limit (even in the rain), and by 9:15am, I was finally back at the Adina Motel in Launceston. It was just in time for breaky that Julie had just completed.
As we were eating breaky together, the weather seemed to have calmed down a bit after it continued to rain when I first showed up. We then (slowly) got ready for the day, which made me nervous because I knew we were in for a pretty long drive. If Julie wanted to eat out at some of the choice spots in town, it was going to be tough to nab a spot without reservations, which we wouldn't know exactly when we'd return to Launceston.
Still, we occupied nearly the next hour Facetiming Tahia and cleaning up after the breaky.
So at 10:20am, we were finally leaving. By this time, the rain stopped and I started to notice some sun as well as some breaks in the clouds.
Anyways, the drive followed the highway which would have taken us down to Hobart, but then we had to turn left onto the Esk Highway towards Fingal. Somewhere around there, we encountered some signage pointing the way to Mathinna as well as the Evercreech Forest Reserve.
I recalled doing the Evercreech Falls before, but I knew that we wouldn't have time to do that small waterfall and the tall white gum trees, so we kept going on towards Mathinna. But before making it to the town, we reached a four-way intersection, where we followed a sign towards some forest reserve or campground. I didn't see any clear sign about Mathinna Falls so I had my doubts.
It didn't take long before passing the aforementioned area referred to by the sign, but then a few minutes further, I noticed signage for Mathinna Falls pointing me onto the unpaved Clayton Road. From that point on, the last 6km or so was on unsealed road as the route was signed all the way to the car park for the falls.
The road seemed to get progressively worse (i.e. rockier and full of potholes) the further I went, and I didn't recall this drive being so rough in the past. The very last stretch seemed like it was more suitable for high clearance vehicles (though it was doable by passenger vehicles slowly) and with rain threatening, it could be on the order of impassable if it became muddy and wet. So that was weighing on my mind even though it wasn't raining quite yet.
By 12:15pm, we finally arrived at the dead-end for the Mathinna Falls car park. We were the only people here, which wasn't surprising. Regardless, we quickly geared up and got onto the hike, which started to the right of the picnic table along the creek.
After briefly walking amongst tall trees as well as some ferns, we got to a part where the trail bent to the right and started to ascend a little. In that stretch, we started to see parts of the hard-to-see upper tiers of the Mathinna Falls, which I knew would be inaccessible to us for all intents and purposes, especially when we had Aussie visitors submit writeups saying how hard it was to even get past the first main waterfall.
Sure enough, when the trail descended to the base of the main drop, we could see the kind of difficulty that we had run into in the past when it came to trying to get a closeup direct shot at the falls. It was simply too rocky and slippery to freely move about in the area.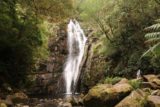 So Julie and I were content to stand on one of the flatter rocks and look directly at the familiar falls, which flowed pretty much like it did during the drought 11 years ago. I still didn't remember this trail being so up and down and primitive, but then again, memories can be faulty with that much time passed without good photos or notes taken on the trail back then.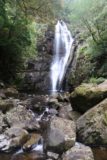 That said, I did notice downed trees and fallen rocks further downstream so perhaps the terrain just changed over all that time.
As we documented the falls, the sun started to briefly come out and shine right above us through the clouds, which kind of wreaked a little havoc on our even lighting. Then, it started to sprinkle and persist a bit more later on.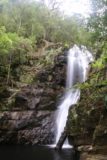 With the thought of the rough road to get here, I was ready to leave and not let Mother Nature decide whether we'd be stuck here or not.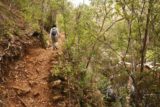 By 1pm, we were back at the car park. Another truck just started pulling up as the rain came down. Moments later, we started the drive out and promptly got out of the last stretch that I was most worried about. Then, we had to negotiate the potholes and rocks on the "smoother" part of the gravel road now.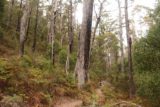 On the way, Julie pointed and asked "What's that?" just as it was starting to move slowly onto the road. She thought it was a kiwi or something, but I knew that it was an echidna given its porcupine-like body. In the time we tried to stop the car and take a photo with the iPhone (would have been faster and better with the DSLR), we took a couple of awkward shots of the wildlife, but we completely whiffed on getting a nice profile view of it with its pointy snout and round spiky body.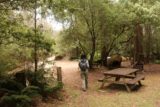 Next, the GPS
had us take a paved road further north towards Ringarooma but it didn't take long before this road started to become unsealed again. So the driving was slow, and I wondered if I would regret my decision to follow the GPS instead of backtracking and going east towards Bicheno then north towards St Helens on all highways even though the route would be a bit further.
That said, we were running out of time to get back to Launceston at a reasonable hour with still two waterfalls to go, so I commited us to use time as the criteria over scenery, food, and distance.
Even though the distance wasn't far as the crow flies to get to Ringarooma, it felt like it took forever due to the unsealed driving. By around 2pm, we pulled into the farming town of Ringarooma, but we could see that everything was shut and there wasn't really a reliable eatery there to grab something to go.
So Julie wasn't liking that we weren't stopping for lunch, and with the waterfalls still east of us, I knew that we'd pretty much have to rely on our snackies (i.e. fruits and maybe the bag of Doritos that was sitting in the back seat for emergency purposes) for our lunch.
The last 11km or so leading into the Mt Victoria Reserve to the Ralphs Falls Trailhead was once again narrow and unpaved. Aside from passing one car going the other way, we found ourselves all alone at the Ralphs Falls car park at 2:20pm.
I never remembered the clearing for the car park here last time as I swore there used to be nothing more than a pullout by the road and a signed trailhead. There was even a hut across the unpaved road with some graffiti scrawled on it saying "Hoo Haa Hut".
Just as we were getting out of the car, it was warming up quickly as the sun came out and the car was exposed to it. We then got into the forest canopy amongst the gnarled trees before descending to the lookout platform for Norm's Lookout and the Ralphs Falls Overlook. There was a loop junction on the way down for the Carr Gorge and Falls, but we didn't have the 60 minutes return to spare so as much as I wanted to explore it, I couldn't.
Anyways, this track definitely seemed longer than I remembered as I swore it was only supposed to be a few minutes walk as opposed to 20 minutes. Even the lookout seemed different as there was no longer a Norm's Lookout sign on the railing itself. I guess perhaps Nature combined with a less direct route were the responses to things changing over time. After all, Mother Nature never really sits still and let things stay stagnant. That's just a reality that we tend to overlook in general.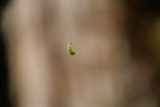 After having our fill of the falls (which flowed similarly to how it did 11 years ago), we noticed some interesting silkworms or something like that hanging from the trees. They were hard to photograph since our cameras kept autofocusing on other things behind them, but I kicked manual focus in on my DSLR and finally managed to take photos of a few of them.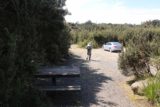 By 3pm, we were back at the car, which it was hot and we were sweating.
We still had to go a little further east to get to the last waterfall of the day, which was St Columba Falls. So we continued on the unpaved road eventually leading to the St Columba Road and Pyengana. However along the way, we saw this very depressing clear-felled field of flattened forest.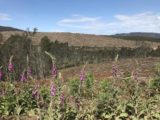 When we saw the signage suggesting this was a place of "many uses" (something similar to what we hear about in the US Forest Service), this is what they're referring to.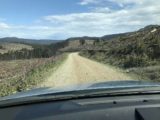 I definitely never remembered so much land being cleared for their wood, and it just goes to show you how perverse economic incentives are the root cause of every environmental problem (and possibly every social problem) that humans face.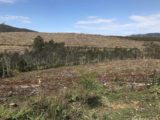 While I had read about selective felling to harvest wood and still let the forest function, the clear-felling that happened here left no tree untouched. I wondered how long it would take for this part of the forest to recover into a new forest, and I wondered whether the forest would come back or if it would just be a meadow.
I also started to really wonder if the rain that Tasmania had been getting in the west and the centre of the state but was absent in the east of the state might have been impacted by clear-felling activities like this. We recalled noticing back at home on cold days that fog tended to accumulate over grassy areas in city parks. Who knows how much more effective of a moisture magnet that old growth trees would be if left alone?
Well, after getting past the depressing scene, we then turned right onto the St Columba Falls Road, which was paved. And by 3:30pm, we finally got to the familiar trailhead for the falls, where there were two other cars there. In fact, of all the waterfalls we had seen in Tassie on this trip so far, this was the first time that we wouldn't be having both the falls and the trail all to ourselves.
Anyways, we quickly geared up and tried to photograph the falls from across the gorge through some foliage, but although the falls was said to be tall, we were really only able to view parts of it at a time, which made it appear smaller than it really was in the photos.
Once we got past the familiar little entry way, we then descended the track leading past some of the interpretive signs (I swore there were more of them in the past) leading past a landslip-prone area where a sign said to keep moving past this 25 metres of risk before finally getting to the lookout right at the base of the falls.
The sun was peaking in and out of the clouds so it wasn't the best lighting at this time of the day. But in any case, it was hard to get all of the falls in one shot given how much it segmented as it made its long tumble. And it seemed like most of the flow was towards the left side. So on this trip, it appeared that we were witnessing low flow just like before, and we had yet to see this falls really span the length of the exposed cliffs here.
So we got our fill of the falls then walked back up to the parked car. There were a couple more cars that pulled up just as we were returning as a hot and sweaty mess. It was amazing how quickly the weather changed from cold and rainy this morning to hot and sweaty with some sun at this time in this part of northeast Tassie.
By 4:05pm, we were back in the car with the AC on. Then we rebelled against the GPS and drove towards Pyengana. Along the way, Julie noticed the Holy Cow Cafe, which she told me to make a stop so we could see what they had to hold us over until dinner.
It turned out that they had some pickled onions and eggs, and we gave that a try. There was also a self-help cheese tasting station where I got to try herb and garlic flavours as well as what was left of plain, and even a wasabi-flavoured one.
They ran out of vanilla bean ice cream and only had some weird berry flavours left so I didn't get to try that here though I was certain since this Pyengana was a dairy farming community that the ice cream would have been really fresh and good.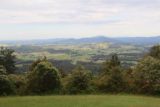 Anyways at 4:30pm, we were back in the car and we were finally driving back to Launceston. At this rate, it was looking less and less likely that we'd be able to have dinner on a Saturday night in some of the choice spots in town.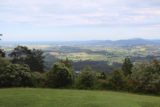 Along the way where we negotiated numerous twists and turns (so we rarely ever realized the speed limit of 80km/h or 100km/h), we made a stop at the Sideling Lookout, which looked back north in the direction of the Strzlecki Ranges on the other side of the Tasman Sea in Victoria! There were also lots of rolling hills and farms seen from the overlook.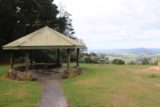 It was a brief stop to break up the drive and take the obligatory photos, but then we resumed the drive and it wouldn't be until about 6:30pm when we arrived at the Cataract on Paterson restaurant that Julie had targeted for dinner tonight. Unfortunately, that place was closed for a private event that was going on at the moment. So we then tried the Stillwater Cafe across the Penny Royal (the fake waterfall was turned off as it was after hours) just a short distance further down the street.
I think that was the place we ate at in the past though my memory was pretty bad and I could only remember having a nice dinner then walking to the mouth of the Cataract Gorge in twilight when some kind of performance could be heard echoing in the distance and I had forgotten to bring my DSLR so I couldn't take advantage of the magical lighting and mood that was happening at the time.
Anyways, we drove past the restaurant, then swung around some residential area to turn back. Along the way, we saw a beautiful nearly double rainbow arcing over the city of Launceston, where we briefly stopped to take photos with some locals that were checking out the scene as well.
Then, we finally made it to the Stillwater at 6:50pm, where we were denied once again as they were booked solid. So with that, we went to the last fallback which was Indian food.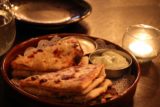 At 7pm, we finally found street parking near this place called Pickled Evenings (it wasn't Cinnamon, which I thought we were going to eat at since we saw that other place by the Coles when we went grocery shopping yesterday).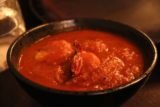 The restaurant was quite busy and we were seated upstairs where it was quite warm as all the candle heat and smoke filled the upstairs area. I was getting a little lightheaded and flushed from the stuffy air, and it also seemed like I was getting a recurrence of sore throat. So as charming and atmospheric the Indian Restaurant was (which was unusual since we were used to Indian Restaurants being cheap eats or buffets), I wasn't totally feeling it in the moment.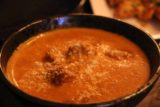 We knew that the restaurant was very busy and it would take time for our food to show up. But when it did, the food was of such high quality that it could very well be one of the better Indian experiences we've had. Back home in Little India area, the restaurants tended to emphasize more snacks and quick eats and not so much this atmospheric blend of environment, charm, and high quality food.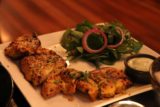 We had a chef's naan special (basically stuffed naans with different things like chicken tikka, garlic, cheese, etc.), Tikka Masala Barramundi for appetizer, and Madras Curry Beef as well as Vindaloo Garlic Prawns. The meal was filling and we had to take some of the food home. But they all tasted real good though the Vindaloo was quite spicy and it really made me sweat (on top of the already stuffy upstairs).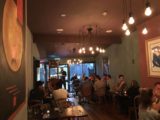 One thing that was real apparent from this meal though was that it seemed like this was Indian food with pride! It contrasted mightily from the typical Indian buffet or overpriced watered down dinner that we were used to at Indian Restaurants back at home where it seemed like cheap was the priority. But in the commonwealth (i.e. Australia and even the UK when we had Indian back over there), it really seemed like quality ingredients and pride was the priority.
By 8:50pm, we were finally back in the car, then we headed over to Woolworth's for a last-minute grocery run. And finally at 9:25pm, we were back at the Adina to conclude a very long day.
With all that we did today, that might have bought us time to sleep in and move at a more reasonable pace tomorrow as we would make our way all the way down to Hobart for the next three nights.
Day 18 (November 26, 2017 – Hobart, Tasmania, Australia): "Sunday Soggy Sunday"
I awoke to my alarm at 5:45am. As much as I wanted to sleep in, I knew that we had a fairly long drive ahead of us to Hobart that included a detour to the Lake Leake area where we were going to re-visit Meetus Falls and Lost Falls.
The morning started off rather hectic as Julie was busy preparing leftovers for breaky while I was trying to wrap up the blogging and photos from yesterday.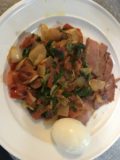 After Facetiming Tahia during the breaky (where I had the leftover Picked Evenings food as well as Julie and I both having kefir, fruits, bacon, and eggs), we loaded up the car, checked out, and left Launceston at 8:50am.
It was raining off and on throughout the morning, and as we were driving out of town, we thought we might catch a glimpse of the fake waterfall at Penny Royal, but it wasn't turned on because I don't think it was open yet. So we figured that our return to Launceston would be our last attempt though if we missed it, I wouldn't be that concerned.
The drive south was pretty uneventful though I never did find that gas station that I thought sold gas at around $1.41 AUD per litre. Instead, it was more like $1.44 AUD per litre, and I happened to fill up at Campbell Town though I only filled up $60 AUD which didn't even put the tank up to the F.
Next, we drove east along the Esk Highway towards Lake Leake. I couldn't get a clean look at the lake as there wasn't a convenient overlook to check it out along the way. So we then got to the familiar four-way junction, where we turned left and drove the remaining 9km of unsealed road towards the Meetus Falls.
The last time we were here, there were some giant black eagles seen, but so far on this trip, we hadn't seen any. I wondered why.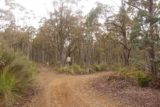 Regardless, this unsealed road was wide but it was rocky and had some potholes. I was already not liking the Tassie unsealed roads as they were much rougher than anything we had seen in South Australia or Victoria. I was very worried that such roads conspired to pop a tyre.
The GPS
didn't seem to recognize the road leading to the Meetus Falls because it kept wanting me to take some non-existent trail going to the falls. Instead, we pressed forward and eventually saw a sign saying Meetus Falls was another 1km to the right.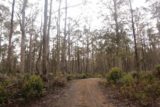 So we took that road, which was narrower and rougher with deeper and more frequent potholes as well as rocks. There were even a few little water gullies.
Mercifully, we arrived at the Meetus Falls car park at 10:40am. There was a shelter as well as a couple of small sturdy huts for toilets and some picnic tables. A sign said that there was a fire ban in the area, which attested to how dry this part of the state must have been this year. In fact, Julie and I saw quite a bit of brown while driving the Esk Highway.
Speaking of our observations, the rain had been hitting us throughout the drive, but it appeared to have calmed down for the moment when we got out of the car and started hiking.
The trail seemed like one of those easy-to-lose kind of trails as the path was fairly primitive. There were also quite a few larger rocks where we really had to watch our step for the slippery footing as we were descending.
Along the way, we kept smelling some kind of strange scent that Julie characterized as rotting fruit though upon closer inspection, I think they came from the flowers that also grew out berries that reminded Julie of Fruit Loops.
Eventually, we got to the familiar overlook after heading down some steps to view the Meetus Falls below us.
I wasn't sure if the continuation of the trail (there was an unsigned junction along the way that led down to the Cygnet River) would allow us to get all the way to the base of the falls, but there was a sign saying something to the effect of not throwing rocks so as to not endanger hikers that may be using the trail down below.
There were dark clouds surrounding us, but we still managed to get some satisfactory views looking downstream as well as towards the falls and the cliffs. Once we had our fill, we then ascended the path (bypassing the unsigned Cygnet River access again) and worked up a little bit of a sweat though the cool weather made the hiking more comfortable for once.
At 11:20am, we were back at the car. As we drove back out towards the Esk Highway, it started raining again.
When we reached the Esk Highway, we then cut across towards the Lost Falls Reserve. After following its series of unpaved roads, we would eventually arrive at its familiar clearing and car park at 12pm. Along the way, we spotted a wombat going across the road.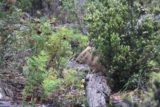 We tried taking pictures of it, but it moved behind a bush and tried to stay still and play possum. So all I was able to manage was a shot of its face as it was staying still hoping we'd finally leave. When the wombat made the first move to turn its back on us and leave, we couldn't get any more shots of it (neither clean and mostly partial), and so we carried on.
When I first got out of the car, it was raining again. So I had to don my rain poncho while trying to keep the DSLR camera dry. The walk was said to be 10 minutes return, but I wound up taking my time to make sure I got to see the waterfall flowing (if it was flowing at all).
Sure enough, when I got to the further overlook (not the first one, which was only of the bush), I could clearly see that Lost Falls was pretty much dry for all intents and purposes, and that the rains that we were encountering didn't seem to have put a dent in its waterflow (or lack thereof).
After having my fill of the falls and the overlooks, I then took a short detour to the Rock Pool, which was a pool further upstream of the Meetus Falls. There was even a trickle feeding the rock pool so I guess the recent rains must have done something to at least get that much life out of this disappointing Lost Falls.
When I returned to the car park, the rain appeared to have subsided so I didn't need to don the hot and unbreathable poncho anymore. I then went the 200m towards the so-called Scenic Lookout, but when I started to lose the trail on a wide granite top, and after several minutes of fruitlessly trying to figure out how to look further down the valley without the trees getting in the way, we finally declared defeat and associated this side detour as a complete waste of time.
Eventually at 12:50pm, I returned from futile scenic overlook, and then proceeded to drive east on the Esk Highway towards Swansea. Julie was getting hungry for lunch so it was a good thing that we opted to rebel against the GPS and take the scenic coastal route instead of the inland route from Halls Gap.
By about 1:25pm, we arrived at this place called the Salt Shaker in Swansea, and we had ourselves a half-dozen natural Tassie oysters, a skewer of prawns and scallops as well as an angus burger where the beef patty was delightfully soft and easily messy.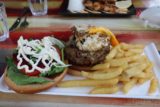 The view from the restaurant looked out towards the ocean though the waters were calm because the Freycinet Peninsula blocked most of the turbulent waves from getting into this protected bay.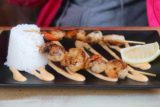 It was too bad that the skies were dark gray and the rain continued to fall. But at least we enjoyed the food.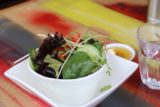 At 2:15pm, we were back in the car and headed south of Swansea towards Hobart. It was beginning to rain hard again when we got in the car.
Anyways, it was still a long drive to make it all the way to Hobart. After afternoons weren't my time in terms of avoiding drowsiness at the wheel. So I was pretty much struggling as we were keeping up with some of the locals or faster drivers though the curves and the slippery conditions ensured that I wouldn't be as sure about the grip the worn tyres had on a day like today.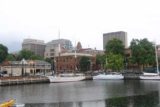 Eventually by 4pm, we arrived at the Somerset on the Pier, which was on the Elizabeth Street Pier. We could see that our accommodation was right on the pier, which was an unusual arrangement, but it was one of the main reasons why Julie really looked forward to staying here and allowed ourselves to splurge a little for the next three nights.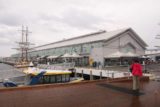 So we parked in front of the reception to bring our belongings up to our room. Then, we got a little settled and headed back to the car so we could find more permanent parking reserved by the hotel.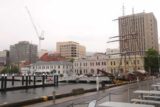 All I could find was a spot across a narrow bridge to the right of the pier as we were facing town. All the closer spots both on the pier and almost right in front of it were all taken up. At least we got to park within reasonable distance and didn't have to fret about parking in one of the more public spots where we'd have to wait until 6pm to park without incurring a fee until 10am the following morning.
After getting all settled in our room, we then headed back down at 5:25pm. We were intending to have an early dinner at this place called Peacock and Brown or something like that, but it was pouring rain outside and we had to wait until 6pm before the kitchen would reopen for dinner.
The hotel staff had an extra umbrella for us to use, which was vital for us to stay dry. So we waited out the worst of the squalls to hit the area, then we walked in still somewhat significant rain though the umbrellas helped quite a bit.
Eventually by about 5:45pm, we got to where the Peacock and Brown restaurant was, but we also walked towards this attractive Atrium where there was a more inviting back entrance to the same restaurant.
We'd ultimately be seated shortly before 6pm, and we spent the next hour or so enjoying great service and some real tasty French-inspired dishes that consisted of a chicken liver parfait appetizer as well as beef tartare. Our mains were a roasted duck breast for Julie and a pork tenderloin cooked in different ways including a Haggis-like blood pudding.
When all was said and done, the food was probably one of our better dining experiences rivaling some of the Melbourne experiences we've had. And as we walked back outside towards the wharf, the rain appeared to have let up.
So we used this time to walk around and try to burn off some of the calories gained from our tasty dinner while also trying to scout out the best parts of Hobart.
We started off by checking out some of the signage across Hunter Street from Peacock and Brown, where there were interesting statues and history about the immediate area. Then we made our way towards Salamanca Place where we knew that it wouldn't have the buzz of the Salamanca Market as it occurred on Saturday morning and we would be long gone from town by then.
When we got to Salamanca Place, Julie saw a small local grocery store called Salamanca Fresh, and it turned out that they did have some kefir and other goods that we wound up buying for making breakfast with as well as preparing for one home made dinner (of chicken soup since Julie was still not well) as well.
Prior to joining Julie in the shop, I went out on my own briefly to check out what else there was on Salamanca Place. I managed to find some kind of interesting courtyard area where there was a mix of apartments and businesses, but there wasn't enough there to keep me around so I managed to rejoin Julie on her grocery run pretty seamlessly (especially since she wasn't aware that I had briefly gone out on my own whilst in there).
We wound up walking via the Kelly Steps towards Battery Point, which was nothing more than a neighborhood with historical-looking homes and buildings as well as a few city parks. There wasn't anything particularly signature must-see about the neighborhood, and it was akin to pursuing those historical homes in New Orleans or the Pink Ladies in San Francisco.
Maybe we weren't looking in the right spots? But whatever it was, I recalled that we had a similar experience our first time in Hobart where we walked around Battery Point and wondered what the big fuss on TripAdvisor (back then it was Lonely Planet since there was no TA) was all about.
As we started to leave the Battery Point area, we noticed a nearly vertical rainbow just as the daylight was fading fast. We took plenty of shots of the colorful display as well as the clouds turning pink and purple in the process as well.
By 9pm, we were back in our room. Along the way, we encountered a pair of attractive women dressed up but stumbling around. They greeted us and we returned the greeting, but they were also a bit intoxicated. One of the ladies wearing a tall chunky pair of heels couldn't keep her balance and she managed to fall down twice.
We offered to help her up, but she said she was ok. There were a couple of blokes who spotted them prior to falling and said something to each other about wanting to get with them, but that chatter went silent the moment they saw the one girl take a spill.
The ladies then proceeded to go into another bar, where we presumed that they were there for even more drinks!
Anyways, that was the end of this rather wet and soggy day. The rain was predicted to continue tonight and into tomorrow morning. So I figured that come tomorrow morning, I would solo Snug Falls before returning to the Somerset on the Pier for breaky. And then we'd go to Waterfall Bay since all this rain must at least do something for the waterfall there, right?
I guess we'll find out tomorrow…
Day 19 (November 27, 2017 – Hobart, Tasmania, Australia): "The Tasman Tour"
I awoke to my alarm at 5:30am. When I looked outside our window, it was still wet and very cloudy, but it appeared to not be raining as heavily as it did yesterday (at least at the moment).
Knowing that Julie would be making breaky when she woke up, I just made sure that I had adequate water to do the waterfall hikes before returning to the apartment. So by skipping early morning breaky, I got in the car at 5:45am, and it wasn't a moment too soon as it started raining again.
I anticipated a wet and soggy hike, and it was definitely raining when I headed west in the direction of Huonville. At first, I had the GPS
routed for Snug Falls, but somehow I missed a turn and wound up going in the direction of Huonville (I guess I didn't trust the GPS on one critical turn), and I eventually headed towards the town of Pelverata.
Given all the rain, I suddenly thought that perhaps I should give Pelverata Falls a try since I knew that my recollections and my writeup for that falls was not very good considering it was 11 years ago (when I was still learning how to write decent posts).
So I wound up taking some narrow C road towards the town of Pelverata from Sandfly. I saw that there was a cheap gas station at that town and so I made a mental note of it in case I wouldn't find something better when I would come back to Hobart after this hike.
During the drive, I had all the reasons to be pessimistic as there remained dark ominous clouds and rain. Then, when the rain stopped, there was some fog, which made me worried about visibility if the fog would stick around, especially in the valley containing the Pelverata Falls (and the Slippery Falls on the opposite side of the head of the valley).
By about 6:30am, I finally made it to the Pelverata Falls after passing through the rural farming village and finding the turnoff for the falls just on the west end of the hamlet. Then, I took the last 1km of unsealed road to the familiar trailhead, where there were a pair of gates blocking further access (since they led to private farms).
There were still some fog hugging the nearby hillsides, but the trail already showed signs of mudflows as the initial few steps were in mud before the trail then skirted one of the private farms on more conventional dirt track.
The track was slightly uphill as it continued to go around the private farm to the right. There were now plenty of these blue poles with arrows on them ensuring that I wouldn't stray onto any private property.
Eventually at 6:55am, I would reach a sign pointing the way to Pelverata Falls, where I knew that from this point forward, the trail would be considerably narrower and flanked by bush and trees.
Aside from a brief slightly downhill stretch, the trail continued to gently climb while being flanked by thick vegetation of ferns and trees. I heard breezes and branches swaying at the top of the trees, but down by the trail, it was actually getting humid for me so I was working up a sweat despite the relatively cool morning.
By about 7:25am, I got far enough on the trail that I had returned to that familiar rocky traverse that I had remembered from last time. In this section, I was on a ledge interrupting a rocky slope. Most of the rocks on the ledge (as well as those on either side of the ledge) were loose, and I'm sure over the years, this part of the track would be prone to change as well as erosion.
It wouldn't be long before I started to get my first clean look at the Slippery Falls again, which was further on the opposite head of the valley. This time, I was armed with a flexible 18-200mm zoom lens so I was able to at least bring that waterfall much closer than I had in the past.
Then, after continuing on the trail, I would reach a tricky and slippery rock scramble near an orange arrow. At first, I thought I had lost the trail as it had disappeared on me, but an orange arrow nailed onto a tree at the top of the rock scramble pointed the way.
Even though I had the aid of knowing to go there, the scrambling obstacle was still steep and potentially very dicey. I was pretty much on all fours when I made this traverse to ensure that I wouldn't have a real bad slip and fall.
Shortly after the obstacle, I'd continue to get good views of Slippery Falls, but then it didn't take long before the track started to make a real steep descent. I didn't remember anything about a steep descent the last time I was here.
However, when the descent ended and I walked onto the viewing deck at 7:40am, looking up at the Pelverata Falls remained as familiar as ever. So I guess this was yet another example of how lossy memory can be.
So I took the next 15 minutes or so documenting as much of this falls as I could. It was too bad the view of Slippery Falls from this lookout platform was only partial and not particularly good.
Once I had my fill of this spot, I then hastily made my way back towards the car park. The hike back when very quickly as it was now mostly downhill.
However at 8:20am, I encountered a local walking three dogs on the trail saying that this waterfall was dry most of this year. So she was pleasantly surprised to hear that I did indeed see a flowing Pelverata Falls. She also seemed genuinely happy that I knew about this place.
That said, she asked if I had gone all the way down to the river, and that surprised me because I didn't know it was possible. Oh well, maybe next time. But in any case, I wished her a happy hike and she did likewise to me.
Eventually at 8:50am, I returned to the car park where there was a second vehicle pulled up next to mine. That car must have belonged to that lady walking three dogs that I had seen on the trail.
In any case, blue skies were becoming more dominant and I even started to see the sun peaking out from the dark cloud edges.
It was getting late in the morning, and I didn't want to keep Julie waiting too long, so I proceeded to get into the car and take what I thought was a longer but potentially quicker route via Huonville instead of backtracking to Sandfly Point.
In Huonville, I filled up on gas (which also using a Wooly's receipt discount) before continuing the quick drive back towards Hobart. By about 9:50am, I finally made it back to the Somerset on the Pier in the Hobart Waterfront. And when I re-entered our room, Julie had refrigerated the breaky she made for me because she had ate her breaky back around 9am.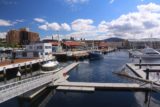 Regardless, after I was done eating and cleaning the dishes, she was trying to use the washer and dryer to wash our clothes. That took quite a bit of time, and it wouldn't be until after housekeeping cleaned up our room and we ran the dishwasher, that we were finally able to put the clothes in the dryer (after Julie accelerated the job by taking out the third washing and spin cycle). Only then were we finally out the door at 11:10am.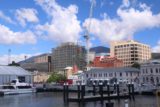 With such a late start, I was very concerned about getting back to Hobart at a reasonable time, which wouldn't be a big deal, but I knew that parking was limited and we might be SOL when we return.
The drive out to the Tasman Peninsula was non-trivial as the signs had indicated that it was nearly 100km from Hobart to Port Arthur. We figured that we would do the historic site after we did the obligatory stops to Waterfall Bay, Tasman Arch, and the Blowhole.
Eventually at 12:25pm, we finally made it to the dead-end by the Waterfall Bay Lookout. The last 4km of the Waterfall Bay Road was unsealed, and there happened to be a family of hikers that were at the lookout when we showed up. So I reckoned that they must have done the walk from the Devil's Kitchen area.
We didn't do Waterfall Bay last time because we figured that with the drought, it wouldn't be flowing. I had higher hopes that the falls would flow this time around, but when we rocked up to the nearest lookout, we saw that the waterfall at Waterfall Bay was only a stain on the cliff with the trickle or thin falls if we looked more carefully.
Even a sign here asked, "What Waterfall?", which was a clear indication to us that it was not a reliable waterfall if even signage posed this question.
Still, the views were superb as we were checking out the churning Southern Ocean below the nearly vertical sea cliffs. We even noticed a tour boat cruising around down below though I'm sure for paying customers, the lack of a waterfall at Waterfall Bay must have been a disappointment.
I managed to check out two more views looking towards Waterfall Bay before walking a little further down the track towards a fourth lookout. But that last lookout faced more eastwards towards what appeared to be gaps in the cliffs in the distance.
As much as my curiosity compelled me to keep walking along the track to see what was there, I had to stay the course and return to the parked car, where Julie was already waiting. We really didn't have the luxury of time given our late start.
At 12:50pm, we then took off and drove towards the Tasman Arch. We'd eventually get there 15 minutes later, where we scored one of a handful of spots remaining as this stop seemed like quite the popular one.
Right by the car park, there was the Tasman Arch, which looked as imposing as ever. Given its very tall span, it was difficult to get it all in one shot though with my wide angle capability of the 18-200mm lens, I was able to get it. Perhaps the more difficult part was reconciling the contrast between the light and shadowy zones as well as the colors.
After having our fill of the Tasman Arch from the parking lot, we then walked a track that went around the sea cliff depression before reaching a fork. We kept right to keep going towards the Devil's Kitchen, and when we got to the end of that track (instead of driving to the last car park), we clearly saw that there was a very vertical sea cliff stretching to an extent that it was awkward trying to take photos and get too many things in the frame at once.
Next, we then walked to a lookout where the line of sight traced the rugged coastline looking in the direction of Waterfall Bay way in the distance. By this time, the sun was definitely out, and the colors in the water were really coming out.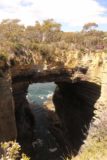 By 1:40pm, we were back in the car. It was already getting late for lunch, but we still had to make a stop at the Blowhole before figuring out what to do next for lunch.
Well, when we showed up to the car park for the Blowhole at 1:45pm, we saw that there was a food truck serving up things like crayfish rolls, giant prawns, and octopus salad, among others. The food wasn't all that great except for the prawns, and they only took cash (the only cash only spot we had been to so far).
At least Julie got to eat her lunch even if it was so so. Then, we walked a loop hike around the Blowhole, which was just before (or after depending on how you look at it) a tunnel where the swells from the ocean would push towards the cove and hit the blowhole (which wasn't very impressive like it wasn't the last time we were here).
Still, the weather was better this time around so we gladly took photos, observed the blowhole, then went to the jetty where we took more pictures of the clear waters as well as some colorful shacks on the waterfront reminding us of some of the New Zealand bachs that used to be all the rage when we first went there back in November 2004.
We returned to the car at 2:40pm, where we then started the drive to Port Arthur for the last excursion of the day. I was still holding out hope of visiting Mt Wellington given the good weather on this day (who knows what tomorrow will bring?), but it was looking less and less likely as it was getting later in the day.
By 3:10pm, we made it to Port Arthur. Julie didn't remember anything about visiting Port Arthur the first time, when it was on our very last day of our November 2006 trip and we were under pressure to wrap up the visit before catching an afternoon flight from Hobart to Melbourne, then a red-eye flight back to LAX.
At first, we were going to do the Harbour Cruise which was scheduled for 3:40pm. But as we walked around the premises, we felt more compelled to visit the penitentiary and the structures around it, and we wound up skipping our booking for the Harbour Cruise.
With the late afternoon lighting, the buildings had interesting colors. It was also interesting to see the conditions that the convicts had lived in whilst here.
Even though Port Arthur was a seemingly idyllic and beautiful spot (Julie thought it would've been a pleasant place to be a prisoner), it belied the hard life of living under strict rules with commandants and wardens controlling your every move.
After visiting the penitentiary, we then went to the commandant's house, which was actually a pretty grand accommodation, especially compared to the cells. It was Julie's favorite part of the visit because it involved seeing how life must have been like (at least for the guy running the show here), and they conveyed this by showing some of the furnishings and re-creations.
Then, we went over to the backside of the complex where there was a cottage and then the visitor centre museum. Adjacent to the museum was the additional prison, which was said to be for prisoners with one or more of four different forms of insanity. Of course, it could be argued that political prisoners were probably made to fit into one of these categories.
The additional prison included the cells themselves, a judgment room, and even a punishment room (basically a dark room with a heavy door).
Next, we checked out what was left of a church, and then we checked out an across-the-water view of the Port Arthur Penitentiary before we got tired and started heading back to the car. On the way back, I checked out some garden and remnant of the building where 35 people were killed by a gunman who went on a rampage in 1998 that wound up changing the gun laws in Australia.
Of course in the US, we still keep making the same mistakes as specific selfish interests that just so happen to wield a lot of money and influence over elected officials continue to let guns proliferate and mass shootings continue.
By 5:20pm, we were back at the car. We definitely got more out of this visit than the first time around. But with this turning out to be a very long day, we finally started heading back to Hobart.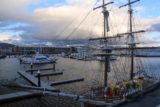 By 6:40pm, we finally made it back to Hobart, but we had trouble finding parking in one of the free spots either designated for the hotel or one of the public spots after 8pm (the receptionist said after 6pm, but the signage didn't seem to reflect that).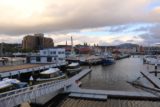 So we actually had to pay $3.35 for one of the further 2P spots before we could park with peace of mind. Even though closer spots opened up, we already paid the money, and I was going to get another early start tomorrow morning so it wouldn't matter one way or the other. I guess I could see why some people who stayed at the Somerset on the Pier had complained about lack of parking. But this was the worst case scenario that I had feared given our late start to the day.
Anyways, we promptly went for a grocery run at the Salamanca Fruit Market, where we picked up some salmon from the butcher, some veggies, and fruits. Finally at 7:20pm, we were back in the room where we got to wind down the day.
As we were having our self-cooked dinner, we saw firsthand how quickly the weather could change as the clouds moved fast at this lattitude, but then it suddenly went from fair with blue skies to rainy with ominously dark clouds hovering over the wharf.
We sure hoped that the weather would cooperate tomorrow for our last full day in Hobart, but who knows what Mother Nature will throw at us?
Day 20 (November 28, 2017 – Hobart, Tasmania, Australia): "Persistent Clouds"
At 5:25am, I awoke to the watch alarm again. It was another cloudy morning, and when I got my stuff together to go on a pre-breaky hike, I got into the car at 5:45am when it started to drizzle and even rain a little.
Even this early in the morning, all the choice parking spots (including those reserved for Somerset guests) were still taken! I guess that many people were staying at the same accommodation that we were.
The drive south towards Snug pretty much went easily. By 6:15am, I had parked at the familiar car park area for the Snug Falls, which was after a 4km mostly-unpaved road leaving from the main road through Snug.
It was still drizzling when I got out of the car and geared up. Then, as I walked the 150m to the trailhead, I then proceeded to descend the familiar track that I knew would lead me down to the base of the falls.
The signage stated that it was a 2km walk (round trip or each way?) and that it would take an hour return. This was a little longer than I had recalled when Julie and I did this hike about 11 years ago, but since I was doing this solo hike, it was not an issue to me as I knew it wouldn't take nearly as long as the Pelverata Falls hike.
Going down the track was a fairly slow affair as my memory of nearly twisting my ankle a couple of times reminded me that this grade 3 track had lots of rocks and roots that forced me to really pay attention where I was going. But in the process of slowing down, I got to listen to the interesting birdsongs while also inadvertently scaring one of the bushy wallabies that was grazing in the bush right by the track.
Eventually at about 6:55am, I reached the bottom of the Snug Falls, where it still had similar flow to when we last saw this place nearly 11 years ago.
However, now that I was older and wiser, I also noticed one other thing about this falls that I hadn't paid attention to before. It was that the stream actually had a bit of a tinge of dark brown and red, which I presumed was some kind of tannin that resulted from the erosion of stream banks.
I really took my time at this spot, but once I had my fill of the falls, I then walked right back up the way I came. Since the track was upside down, I knew that the return hike would cause me to work up a sweat.
Eventually at 7:45am, I returned to the car.
The drive back to the Hobart Wharf area took a little extra time because I was apparently caught up in the rush hour as people were either going to work or kids were going to school. When I finally got back to the wharf, it was 8:25am. Even though all the Somerset spots were taken up, I did score a spot in the front that was one of the general parking areas.
I was a bit confused about the signage as it said that the voucher-required parking was from 8am to 8pm daily. Well, I recalled that the receptionist said that parking was available in those areas from 6pm to 10am. When I asked the receptionist about it, he said that the Somerset voucher we had to leave on our dash was good for adding an additional two hours.
I wish that was made clear when we checked in because that would have saved me about $3.35 in unnecessary fees for securing a voucher thinking that we didn't have the two extra hours.
Anyways, Julie and I had another breaky together while looking out the window of our apartment towards the east end of the wharf. Our breaky was mostly leftover bacon and some fresh eggs with veggies as well as fruits and kefir. We were a bit more efficient with getting our act together this morning than yesterday morning so by 9:15am, we were back in the car and ready to roll.
With the stubborn clouds still above us, we decided that doing Mt Wellington wouldn't be wise so we went to Russell Falls instead. Maybe when we return later on, the situation might improve.
The drive out to Russell Falls seemed fairly long as we were following the Derwent River for some ways, then we found ourselves on some B roads leading us to follow along the Gordon River and some pastures.
When we were on the Gordon River Road heading into Mt Field National Park, we made several railroad crossings, which was one aspect of the drive I still remembered from before.
Anyways at 10:25am, we arrived at the visitor centre for Russell Falls. There were a lot of cars parked here, but there were also tour buses full of Chinese tourists. It seemed like they were everywhere we went around Australia.
This was a pay site so we had to go into the visitor centre to pay $60 for an 8-week pass (since the kiosk person reasoned with us that we would have to pay about $12 per adult for every 24 hours we're in National Parks in Tassie, which would exceed $60 for the anticipated three days we'd be here and in Cradle Mountain).
We then proceeded to go onto the 25-minute return walk to Russell Falls.
As we were walking the trail along the Russell Creek, we heard the obnoxiously loud sounds of chainsaws as apparently some kind of work was being done. Something didn't seem familiar about the hike we were on compared to last time as I had recalled that it was a fairly open and mostly flat path to the falls. This time, however, it was more forested and it seemed like we were following along the creek for much of the walk.
When we eventually got to the Russell Falls viewing platform, it was very busy with Chinese and Aussie tourists as well as other languages being spoken. Indeed, this place had that familiar international touristy feel to it, which I didn't quite recall was the case back in November 2006.
Confirming that this trail felt different were construction closure signs coming from the left side of the viewing deck. It was no wonder why thing were different because the first time we were here, we approached the falls from that side of the creek!
Still, Russell Falls remained an imposing multi-stepped block falls with what Julie called lots of character. We could totally relive why we put this falls on our Australia Top 10 List. Sometimes I wondered if our website's coverage of waterfalls in Australia led to all of the major ones being so busy now.
Anyways, when we had our fill of this spot, Julie headed back while I proceeded to go to the alternate viewing deck (which was disappointing and overgrown), then I went up the steps towards the top of the falls.
When I got to where there were wooden steps (they were definitely not there before), I kind of knew that the authorities made a lot of effort to try to conceal the path leading to the bench between the upper and lower tiers of Russell Falls. I went ahead and went through the railings of the steps, then quickly made my way along the former path until it got to where it got a bit overgrown.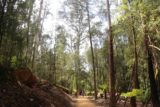 Over there, I had to go through spider webs and ferns as well as watching my footing on narrow ledges and slippery moss-covered rocks before reaching the familiar bench. Unlike the last time I was there, I didn't bring a tripod, but more importantly, I didn't venture towards the middle (crossing some parts of the creek along the way) as the surface was noticeably slippery.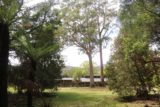 So I didn't get any of the direct shots that I once got in the past, and I was content to get my angled views of the upper tier of the falls before heading back up to the steps. Some people saw me approach and were probably wondering what I was doing, but in any case, I got back on track without any further incident and it was back to business as usual from there on out.
The steps eventually led up to the familiar view over the top of Russell Falls, but like I anticipated, there was never a clean look at the waterfall's upper tier. And just a short distance further upstream from the top of the falls, there was a footbridge continuing the walk towards the Tall Trees Walk as well as the Lady Barron Falls (where I knew a separate car park was up there to reduce this walk) as well as the Horseshoe Falls.
Even though this segmented falls was tiny and it seemed to have less flow than when I first visited, there were still lots of people here. I guess whenever you have large groups of Chinese tourists from the cheap tour bus tours, it was hard not to have that human crush experience (much like how it felt like when we were in the country itself).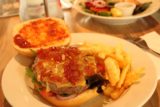 After having my fill of this falls, I then headed back to the visitor centre, where Julie was busy killing time reading her Kindle or playing with my iPhone. I was surprised that she didn't place her lunch order while I was away. So she insisted on placing her lunch order now, and I knew that that would compromise any shot at her wanting to do any Hobart-related tours that had opening and closing hours.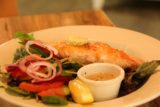 We were finally done having lunch at 12:40pm (I had a "signature" Tassie burger and she had some kind of salmon salad made to be gluten free), we then drove up the unpaved road towards Lake Dobson. We didn't have to go all the way up to the lake as the car park for the Tall Trees Walk was a mere five minutes drive from when we left the visitor centre.
Julie stayed in the car while I briefly checked out the Tall Trees Walk. It was said to be a half-hour loop walk, but I was content to just get a flavor of walking just part of this track and being overwhelmed by the sheer size of some of the trees seen along the trail. It reminded me of some of the Sequoia Redwoods experiences I'd have in some of the groves of both Sequoia and Yosemite National Parks back in California, but these Eucalyptus Trees held their own in the height and quantity department.
By 1pm, I was back in the car. As much as I wanted to finish the walk and even continue walking towards the Lady Barron Falls, I stayed disciplined and tried to get Julie her Hobart-related sites (she had her sights set on the Hobart Penitentiary) by heading straight back to Hobart.
The drive back to Hobart went pretty much as expected. However, when we returned to the city, Julie wanted me to go straight to the Hobart Penitentiary on Grebe Street. But when we got into the Hobart CBD, she completely overlooked the fact that my phone wasn't routing and my GPS was routing back to the Somerset on the Pier accommodation.
When she realized this, I had already parked the car by the pier at 2:15pm. I guess she was too wrapped up in her Kindle and didn't pay attention to her task at hand. In the mean time, I was keeping a close eye on the clouds looking towards the west of the Hobart CBD. I had this idea that when we go back to the room, I could study the webcam atop Mt Wellington to see what the conditions would be.
And when we returned to our room at 2:30pm, I saw on the webcam that it was still foggy up there. So for sure, going up there wasn't going to happen unless something changes later in the day.
Julie also found out on the web that the Hobart Penitentiary closed at 3pm! That meant that there was no shot we would be able to make it there in time. I guess with hindsight being 20/20, her messing up streamlining lunch and not paying attention to the routing really costed her that visit. I was indifferent either way.
So with that, we then Facetimed Tahia before she went to bed. Then, we headed into town at 3:10pm, where we explored a bit of the Elizabeth Street Mall area (after briefly checking out Franklin Park), which was a pedestrian-only zone with some little arcades flanking the shopping district. On the other side of one of the arcades was Woolworth's.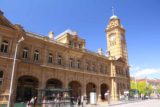 We went in there and looked for things like plain kefir, blueberries, and other things that Julie had craved or were looking for since we would be without a kitchen while in Cradle Valley later on this trip and while Queenstown would be our last chance at having a cooked dinner and cooked breaky.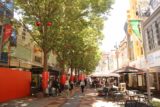 Well, it turned out that this Wooly's had run out of the plain kefir, they didn't have blueberries, and we did pick up Icelandic Skyr as the next cleanest probiotic to have. I also picked up 2x 10L boxes of the Tasmanian Pure Water since they were really cheap at about $6 a pop.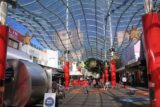 Unfortunately, Julie dropped the skyr on the ground, and the container burst open. So went the money spent on that as she was unwilling to ask if we could get a replacement (doesn't hurt to try, right?). So we were SOL and I couldn't help but feel like we wasted money there or at least more than offset the savings we got by me lugging around the 10L water boxes.
Next, we were back in our room at 4:15pm. With this little shopping run, we realized that aside from some of the historic buildings and attractive city parks, there really wasn't much else to see within the Hobart CBD. Upon looking at the Mt Wellington web cam, I saw that there were still clouds blocking the views (at least of the Hobart area). Maybe we might be able to get up there after dinner?
By about 4:55pm, after we had started walking back up towards the northern part of the Hobart CBD, we arrived at the Urban Greek restaurant, which Julie had targeted as she was in the mood for something different and it had good TripAdvisor reviews.
With our early dinner, we got ourselves a seafood platter called Poseidon's Plate (though $5.50 was charged for grilled octopus instead of pickled octopus) and I got a lamb cutlet (i.e. rack of lamb).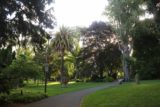 Our plates were quite filling and even though we ate everything, we were quite stuffed.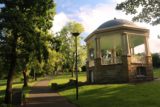 We then walked down to the Salamanca Fruit Market again (passing by the St David Park along the way) to see if we could pick up some fresh meats so Julie could make spaghetti tomorrow in Queenstown while also getting blueberries or any other kefir or skyr that we might have overlooked.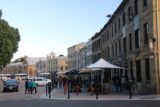 Well, it turned out that they had run out of blueberries (they had lots of them yesterday) and only the kefir from milk powder was available. So we got what we could, and we returned to the apartment at 6:50pm. Thus, we ended the day as the webcam suggested that the visibility on Mt Wellington had gotten worse again.
I guess tomorrow morning will have to be boom or bust for us, but I was also worried about trying to fit in Montezuma Falls and Strahan for lunch. Would we be able to fit all that in tomorrow given the really long drive to get from Hobart to Queenstown? I guess we'll have to find out…
Day 21 (November 29, 2017 – Queenstown, Tasmania, Australia): "Near Miss Timings"
I awoke to my alarm at 5:25am. It was cloudy when I looked out the window this morning, which was precisely what I didn't want to happen as this was my last shot at visiting Mt Wellington. But being that Mother Nature doesn't care about my plans, I had to play with the hand that I was dealt. And if it wasn't meant to be for me to have that signature photo from Mt Wellington down towards Hobart, then it wasn't meant to be.
I did look at the webcam and saw that it was bright and sunny atop Mt Wellington, but there was a layer of fog below the summit. I was hoping against hope that it might burn off by the time I got up to the top.
I knew that Julie would be unable to get up at this time so I got into the car at 5:45am and promptly drove myself up to Mt Wellington. I still found it amazing that most of the parking spaces for the Somerset on the Pier was still occupied! I could totally see how some TripAdvisor reviews complained that it was difficult to find parking here.
Anyways, I followed Elizabeth Street to Davey Street, and pretty much took that street all the way up Mt Wellington.
By about 6:15am, I made it up the summit along Pinnace Road. Indeed, as the webcam indicated, I was above the fog, and there was even a section where I drove through the fog.
The sun was already shining brightly up at this altitude of 1720m (over 5,000ft perhaps), and there were a handful of people already up here. I even went past some cars that were on their way down as they probably came up here even earlier to watch the sunrise.
Hoping that a miracle might occur while I was up here (in that the fog might burn off), I went for a walk around the parking area looking to get a feel for what there was to see and do up here (besides looking down at Hobart, which was currently not possible due to the fog).
I initially started walking in a clockwise manner towards some kind of radio or cell tower. There was a giant pole creating some shade, and I noticed a walking track that appeared to go closer to some interesting cliffs and rock formations ahead. One of the signs said something about Organ Pipes though another sign said that the track to get there was closed.
Nonetheless, I walked along that path just to get far enough to get a decent look at the rock formations (not sure if they were Organ Pipes or not), and in the process, I startled what appeared to be four kangaroos grazing besides the trail.
At that point, I happily took photos and moved very slowly so as to let them do their business without perceiving me as a threat. Of course, they were always jittery even though there were no real predators besides humans and especially humans in cars.
I finally walked a few paces more to where I was able to juxtapose the rock formations with the top of the cloud layer. Then, I headed back to the car park area.
Next, I went to another lookout where there were a couple of signs talking about kunyanyi, which was the Aboriginal name for Mt Wellington. Again, as I looked out west away from the sun, the scene looked flat, and it looked even flatter with the fog layer concealing the rest of the scenery below.
After I completed my circuit of the car park area, I then scrambled up to some kind of vane, where there were four people that had been chilling up there and conversing with each other for the whole time I was there and perhaps much earlier.
When I joined them, I asked if they saw the kangaroos up here, and they told me that I most likely saw wallabies. When I asked them how they could tell the difference between kangaroos and wallabies, they said that they don't really get wallabies on Tasmania.
So despite the fair size of the "wallabies" that I saw, I guess they must be on the big side as far as wallabies are concerned and perhaps on the small side as far as kangaroos are concerned.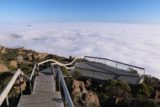 Regardless, the foursome headed back down to their parked car and left me alone to check out the views from their former vantage point. Again, it was a shame that the fog stubbornly concealed Hobart down below, and I knew that in another two hours or so, the fog would burn off and reveal that signature view.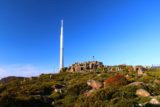 After returning to the car park, I then went to the main lookouts just to get a sense of what kind of experience I should have gotten had the weather been more cooperative. There were two lookouts and I knew by facing in the direction of the sun, that Hobart was east of Mt Wellington.
Once I had my fill of this spot, I returned to the car at 7:25am. Now, I had to go back down to rejoin Julie at the Somerset on the Pier accommodation so we could load up the car, check out, and then make the long drive out to Queenstown.
I had grand plans to perhaps try to fit in Montezuma Falls on this day, but the more I thought about it, the more I realized that we were better off visiting waterfalls on the way to Queenstown, then try to have a late lunch in Strahan, and then hike to Hogarth Falls, before driving back to Queenstown and calling it a day.
In theory, I would have had enough time to check-in and leave Julie to make a spaghetti dinner to use up whatever produce we had (we wouldn't have a kitchen in our next place at Cradle Valley), then do an out-and-back drive and hike to Montezuma Falls, but realistically, I was certain that thing would take longer than what the GPS had predicted.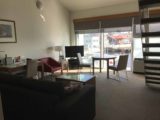 Anyways, I eventually made it back to the Somerset on the Pier at 7:55am. I returned just in time to snag one of the nearest spots to the Elizabeth Street Pier, and then I had breaky while Julie was finishing up the packing and loading up the dishwasher.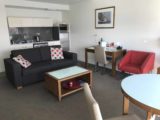 By 8:35am, the car was all loaded up, and we were leaving the accommodation for good. Just as we were driving out towards the North Hobart suburbs, I could see that clouds were still shrouding Mt Wellington, but I also noticed that most of the fog had burned off in other areas. Indeed, I sensed that by 10am, the Mt Wellington view would be as signature as it was supposed to be.
It was too bad that we didn't have those 90 minutes to spare.
So we embarked on our very long drive out towards Queenstown. It was a shame that we had to spend such a nice day mostly in the car instead of out at the beach or some scenic spot like Cradle Mountain. We did have a chance to detour towards Lake St Clair, but we weren't sure what there was to do there as our pre-trip research on that area always turned out blank.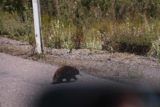 The long drive had plenty of moments of lonely driving as apparently we were passing through some of the longest tracts of wilderness left in Tasmania. And so we even managed to see an echidna slowly making its way across the highway though it was hard to get a good photo of it from the car in this fleeting moment.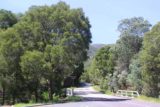 Anyways, we finally made it to the familiar Nelson Falls car park at 11:45am. During the long drive, there were opportunities to pull over and take some short photo stops of some highland lakes or some interesting peaks (including one that even had traces of snow still on it). And on one occasion, we stopped to let an echidna cross the road (where I managed to take an awkward photo because some car mirrors got in the way).
When we got out of the car, it was already feeling like a hot day. Boy does it get hot real fast as soon as the sun was out. Whatever happened to the times when the sun could be out but it'd still be a cold day?
Regardless, we proceeded onto the easy 20-minute return short walk which eventually got us face-to-face with the attractive Nelson Falls. This time however, it appeared to have less flow than when we last saw it back in November 2006 following an all-night rain.
That said, the falls still had satisfactory flow, and we at least got to document it in half-shadow. For an excursion that was seemingly remote and out-of-the-way (within the Franklin-Gordon River National Park boundaries), this was sure a popular stop as evidenced by the dozen or so people we happened to be encountering on the trail both going to and leaving the falls.
Julie still liked this waterfall and felt it deserved a 3, which I believed was its previous score when it had even more water.
By 12:25pm, we were back at the car park, where we then were determined to quickly check into Queenstown and move on to Strahan for lunch.
But at 12:40pm, we saw signage for Horsetail Falls, which I swore such signage didn't exist the first time we made our visit back in November 2006. In fact, I recalled a different memorial that was here, but I never recalled a trail leading closer to the Horsetail Falls (where back then, I didn't even know if it had an official name so I had dubbed it "Queenstown Falls").
At first, I intended to just take some quickie trail photos and then move on into town. But when Julie had the presence of mind to ask some returning hikers if there was water flowing in the falls, they affirmed that there was. And that changed her mind about doing this excursion, and it changed mine as well.
So we geared up and proceeded onto the very hot and sun-exposed walk that was said to be 30 minutes return.
The track briefly climbed on a hillside before skirting a slope. Then, the track went onto what appeared to be a newly-built boardwalk bolted above the mountain itself. I wondered if this was for erosion control. Regardless, this boardwalk now provided regal views down towards the ravine that the Horsetail Falls drained into while also allowing broad views towards the surrounding mountains as well as the Lyell Highway down below.
When the trail rounded a bend to the left, that was when we got our first look at the Horsetail Falls. And while the returning hikers we spoke to earlier were accurate in saying that the falls was flowing, it actually wasn't flowing very well. Worse, the thin falls kind of blended in with the surrounding cliff material.
So it wasn't exactly an impressive display like what we had seen the morning after a long rainstorm in the evening back in November 2006, but it did give us a sense of how much life the falls would have after a few days without rain. And for that reason, I was open to bumping down the score of this falls to a 1.5 instead of 2 that I had originally.
The trail actually kept climbing beyond the initial views of the Horsetail Falls, but Julie had gotten her fix and returned to the trailhead. Meanwhile, I was determined to complete the experience so I kept going up towards where I thought I could see the end of the boardwalk.
As I had suspected, when I had gotten up to the end of the track, the views of the Horsetail Falls had gotten worse. And so in my mind, there really wasn't a need to go to the end of this track.
By 1:25pm, we were back in the car. Now, we could descend towards Queenstown.
But barely a few minutes later, there was another lookout over the town of Queenstown. There was also some signage about the town here as well.
Only after having our fill of this spot did we finally enter Queenstown, and we'd finally check into our accommodation at the Mt Lyell Anchorage at 1:40pm, which looked very much like someone's house.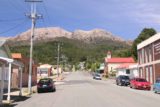 Inside the cottage, it looked very much like a charming and warm accommodation with all the furnishings we'd need as well as lots of space. The only thing that wasn't here was an AC, which would have been much appreciated on a hot day like today.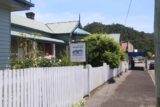 After getting settled at 1:55pm, we then got back into the car and proceeded to drive towards Strahan. It was still another 41km to get to the coastal town, but we were lured there by the promise of fresh seafood, a chance to chillax by the water, and of course, visit the familiar Hogarth Falls.
Well, as I had recalled previously, it was a non-trivial drive as the road seemed to be hastily built as it was full of paved washboards and unbanked turns. From seeing power lines more or less going in a straight line besides this curvy road, I had speculated that this road must have existed only because of this power line that probably fed power from Queenstown to Strahan.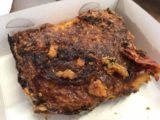 When we showed up to town at 2:35pm, we were too late for the best cafe in town as its kitchen was shut since 2pm, which really bummed Julie out.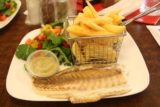 We'd eventually be referred to this place called Molly's, which was near the Strahan school that had just been dismissed for the day. Molly's was more of your typical greasy diner though they did have a grilled barramundi dish with fresh salad for $21. When we rocked up at 2:50pm, we wound up getting two of these dishes since their other stuff didn't seem to be as clean (it was truly a fish and chips kind of place).
After finishing our meal, we then promptly returned to the car at 3:45pm. It was getting late in the afternoon so as we drove towards the People's Park and made one quickie stop at the Banjo's Bakery (just to satisfy Julie's curiosity about them having gluten free stuff), we'd finally park the car at 3:55pm.
We happened to score one of the few semi-shady spots, and we were probably the third or fourth car already parked here.
Before starting on the hike, I briefly checked out the historic foreshore walk east of the Strahan Esplanade, then I would eventually catch up to Julie who had gotten a head start.
The walk to the Hogarth Falls was actually a flat and very shady walk as we were constantly in the shade of tall black eucalyptus trees and other kinds of trees and ferns. While it wasn't necessarily cooler under the forest canopy, we didn't need to wear our hats so our heads couple breathe a bit.
Eventually, the track followed the tannin-colored creek as we'd eventually arrive at the familiar Hogarth Falls, which was right at the terminus of the trail as it had broke from its flat profile to climb then go down steps onto a natural ledge or bench between the two main drops of the falls.
There was another couple that was already here and another couple that showed up shortly after us. So it was still as busy or as "crowded" as the last time we were here back in November 2006.
The falls was mostly in shade by this time, but more importantly, it felt noticeably cooler in front of the falls as it sent its mist in our direction, which felt really good on a hot day like today (I swore it felt like it was more than 30C today).
Once we had our fill of this falls, we then walked back the way we came. And when we returned to the car park at 4:55pm, we saw that there were suddenly about 9-10 cars in the car park instead of the 3-4 that was here when we first showed up. That just underlied the popularity of this hike.
Actually, Julie said that she encountered more people on the track than what the vehicle count would have led us to believe. And that was when I speculated to her that most of the people here were probably staying in Strahan and chose to walk here from town as it was close enough to not need to drive.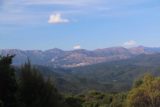 Regardless, we started heading back towards Queenstown as Julie looked forward to making spaghetti and save a little money from eating out. The last time we were in Strahan, we actually had a nice oyster and seafood dinner at a place that didn't seem to exist anymore (as the place by the boat docks was now all tours and offices).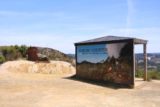 And since we still had stuff to consume before going home or being without a kitchen, we opted not to dine out in Strahan and drive back to our accommodation in the dark like last time.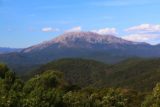 Eventually after a brief IGA run in Strahan, we finally left at 5:10pm. And by 5:55pm, we finally made it back to the accommodation in Queenstown after briefly stopping for a lookout in the direction of the sulphur-scarred mountains above Queenstown then following some Mystery Machine rental van that was taking it slow on the curvy road back to Queenstown.
Now, we could finally call it a day and get to enjoy the spacious accommodation. That said, it was quite hot and stuffy since there was no AC unit, and we had to open the windows though without a windscreen, that also let insects in (including a giant wasp or hornet that we had to trap between the windows and shutters in one of the windows).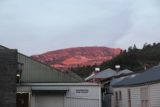 I guess with this place, you had to take the good with the bad, but it was still a good call by Julie to stay here, and it was a strategic stop as we had lots to do in the last couple of days before returning to Launceston then flying home to end this Southeastern Australia redux trip…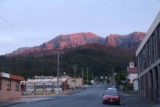 When we were done with our spaghetti dinner, it just so happened to coincide with an alpenglow sunset as we were seeing pinks on the cliffs towering over Queenstown. So I quickly walked out onto the quiet Cullen Street, and then took the fleeting pinks of the cliffs before the color disappeared just as soon as I had gone out to catch that fleeting moment.
Indeed, life is full of such fleeting moments and memories. And it takes work to keep these things alive so that life becomes that much more fulfilling and worth living…
Day 22 (November 30, 2017 – Cradle Valley, Tasmania, Australia): "Dancing To Joy Division"
I awoke to the alarm at 5:15am. I could tell by Julie still being in bed that there was no way we'd be out the door by 6am. So I just did what I could to pack everything I could up then start having the cold breakfast stuff.
When Julie did awake after 5:30am, that was when our cottage became a bustling unit as she was busy poaching eggs and heating up tomatos while I was washing yesterday's dishes.
When all was said and done, it wouldn't be until about 6:45am when we finally left the Mt Lyell Anchorage accommodation and started heading north in the direction of Cradle Mountain via Montezuma Falls.
The drive going north was kind of frustrating because the further north of Queenstown we went, the worse the reception for Triple J became. Pretty soon, the radio was just static as the lack of cell phone service combined with no Triple J Ben and Liam made for a rather dull drive.
Eventually at 7:40am, we made it to the Montezuma Falls Trailhead. The last 750m of road was unpaved with one section that had some fairly moderate ruts. It was well signed from the A10 highway just south of Rosebery on the Williamsford Road, and it was well-signed at each fork the rest of the way.
When Julie saw that this was a 3 hour return hike, she decided to sleep in the car while I did the hike solo. There was one father son combo that was camping at the picnic area here, and they said that they had been to the falls yesterday. So I was really looking forward to seeing this falls again for the first time in 11 years.
The track began with a short downhill stretch just after a pit toilet shed. It then crossed over a bridge before joining up with what would become the old tramway that also supposed 4wd traffic (as evidenced by some tyre tracks) as well as mountain bikes, apparently.
On that old tramway track, I could clearly see that most of the engineering as far as this trail was concerned was already done to support the tramway itself (to haul mined goods from here all the way to Zeehan). So the hiking was for the most part pretty flat though it did feature a bunch of curves.
The bends often featured widened lanes (perhaps blasted at one point during the development of the tramway) where tall trees would cling to the sides of the walls of these lanes. And for much of the initial part of the hike, I could hear the rushing waters of Dundas Creek.
At 7:55am, I noticed a mostly obstructed side waterfall though it was trickling and only noteworthy as a landmark just to track my progress on the long hike (said to be 8km round trip). The walk would continue quietly broken only by the sounds of birds and the sounds of me walking.
It seemed like on several occasions, I'd bump face first into spider webs so I'm sure the hikers after me would fail to appreciate the trailblazing I had done being perhaps the first hiker on this trail this day.
Eventually at 8:55am, I made it to a signed area where 4wd vehicles could no longer proceed and only walkers could. At this point, the signage suggested that it was another 20 minutes to the falls.
By now, I could see more obvious traces of wooden bars oriented perpendicular to the trajectory of the trail itself (much like how you'd envision the way railroad tracks would be built).
It wouldn't be long before I reached a signpost with a mine tunnel going deep into the mountainside. Since I wanted my GPS to maintain its tracking, I decided not to go in there until after I had visited the falls.
I then got up to a junction where the trail on the right went across a suspension bridge that used to apparently be some kind of tressel bridge to traverse the canyon. Like the first time I did this hike with Julie, I first went onto the bridge to get the most direct shots I could of Montezuma Falls though trees conspired to obstruct the line of sight from almost any spot on the bridge.
When I got to the other side of the bridge, I noticed that there was a lot more overgrowth than back in 2006. So I couldn't get that photo of the suspension bridge fronting the Montezuma Falls anymore.
After having my fill fighting the butterflies in my stomach for being so precariously high up on the canyon on that bridge with lots of space down below, I then went back to the main trail where I'd continue on to the very end at the base of the Montezuma Falls and make it there by 9:25am.
With the overcast skies, the sun was more to the left of the falls so that meant that this must have been a north-facing waterfall since the morning sun was still to the east. I wondered when would be the best time to photograph the falls had the sun been out since the last time we did this hike was in the early afternoon (and the sun was nearly on top of the falls).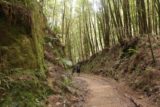 I spent some time documenting the falls while having it all to myself. Hey, there had to be some reward for me after running into heaps of spider webs on this track.
Anyways, I made sure not to forget about documenting the falls with the iPhone (something that I failed to do solo in each of the last three times I hiked without Julie on this trip).
After fully experiencing the Montezuma Falls, I then started heading back where I encountered the first people other than myself on this track today. It was a family of four, and I just greeted them and forewarned them about the suspension bridge before we carried on.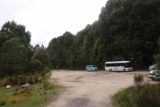 The hike back was going by brisquely, and by 10:05am, I started to hear Dundas Creek again. The lack of rushing water sounds in between Montezuma Falls and the Dundas Creek sections reminded me of how much of the hike was actually away from the water.
Anyways, on my return hike, I noticed several more groups of hikers, which made me realize just how popular this hike was.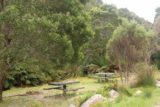 It wouldn't be until about 10:50am when I finally made it back to the car park, where I could clearly see that it was getting cloudy now. There was a tour bus at the car park, and I suspected the vast majority of people I encountered on the return hike must have been part of this bus tour.
I was really looking forward to driving to Cradle Mountain National Park between now and when we'd arrive at the park. That was because it was the Dr Karl Science Hour every Thursday mornings at 11am. However, I wasn't getting any Triple J reception for almost the entire drive, which was a real bummer.
And to add further insult to injury, the Triple J station was found only after the Dr Karl hour was over and we were pulling into the Cradle Mountain National Park.
By about 12:05pm, we arrived at the Cradle Mountain Visitor Centre, where we showed the cashier our 60-day pass that we had bought from Mt Field National Park, and so we were given shuttle bus tickets.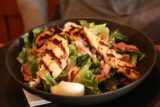 With all the passes in hand, we also left the National Parks parking voucher on the dash. And shortly thereafter, we then showed up to the Pepper's Cradle Mountain Lodge, where we were told that our room wasn't ready yet. So we thought we could kill some time eating a lunch at the bistro and bar here.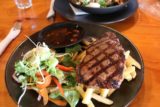 We wound up eating a steak (as opposed to an expensive burger) and a fish salad. The food was OK, and it made me wonder if eating dinner here later on today was going to be any good.
After finishing our lunch at 1:25pm, we inquired and were told that our room still wasn't ready. So not wanting to idle any longer in the lodge, we promptly drove ourselves towards the boom gate to hopefully self tour our way to Dove Lake as well as Crater Falls and Crater Lake via a separate walk.
The boom gate was actually a traffic control mechanism to only let vehicles through if and only if an equivalent number of visitors had left to free up the traffic quota.
After a little debate about whether to take the shuttle system or not, both Julie and I noticed that some cars were able to make it through with a little patience. One car made it through the boom gate just as another vehicle was leaving. Meanwhile, another red car just pulled up to the boom but the gate wouldn't open for him.
As Julie noticed more cars and shuttle buses leaving the restricted area, she urged me go back in the car and try our luck. After all, we weren't really interested in waiting 20 minutes at a time between shuttle stops when we could have maximal flexibility by self driving.
The red car trying to get through was getting frustrated since a few vehicles had exited but they still couldn't get through the boom gate. Finally, the red car before us exited and we pulled forward. And just when we pulled up and the boom gate didn't open for us, we were about to make the same U-turn maneuver as the red car when the boom gate started to open up for us.
So now that we were through into the restricted area, we then proceeded to drive all the way to Dove Lake, where we'd arrive at the car park there at 1:50pm. With the bright gray skies, it muted the deep blue and brownish colors of the lake and there was hardly contrast between the imposing Cradle Mountain itself and the skies behind it.
Julie had been so spoiled by the Glacier National Park experience this past Summer that she looked at this lake and had a bit of a "meh" reaction. For in the Cradle Mountain case, the glaciers were long gone so there wasn't that glacial powder giving the lakes that unmistakable blue or green color. With the glaciers gone, the lakes tended to get darker. And with Global Warming, this would be the ultimate fate of the glaciers in Glacier National Park within 13 years by most estimates.
After we had our fill of taking photos of the familiar Dove Lake, we then got back to the car at 2:10pm and then drove back to the Ronny Creek Trailhead, which we'd get to five minutes later.
Even though it was overcast, it was still on the warm side. So we geared up and embarked on the fairly lengthy 90+ minute hike. But this time, we were determined to go beyond just the base of Crater Falls, which we turned around from last time. In fact, the target this time was to make it all the way to Crater Lake since I'd imagine for day hikers, that was a worthy destination before turning back or doing a longer loop to see a couple more lakes in Wombat Pool and Lilly Lake.
As we made our way onto the familiar boardwalk traversing through a grassy bog (similar to what Julie and I experienced on tracks like the Waitonga Falls and Taranaki Falls in New Zealand, Julie spotted a wombat grazing very close to the boardwalk itself.
That caused us to pause and watch it happily grazing and not even care that we were there taking pictures of it.
After that interlude, we'd continue the walk, where Julie started to notice this interesting palm-tree looking plants that were growing besides the creek. We'd eventually get to a bridge traversing that creek then follow the famous Overland Track towards Crater Falls and Crater Lake. There was another track going to Waldheim (which was actually some accommodation higher up the hill to our right) and the Lilly Lake Track to the left of the Overland Track.
After this junction, the Overland Track started climbing on the boardwalk before climbing more steeply as it left the big grassy bog and up into a more forested area though the shade was minimal.
The climb kept going on so we were both working up a sweat and Julie was wondering how much further this hike was (as she had no recollection of even doing this track 11 years ago).
Eventually at about 3:05pm, we finally made it to the shady confines of the bottom of Crater Falls, where there was a little lookout for it. The steps climbed even more steeply beyond this lookout as it would continue to follow the creek.
The surprising thing as we were continuing the ascent was that there were more cascades and smaller tiers of the Crater Falls. Even when we climbed above the shade of the forested area and back into more open terrain, there were yet more small cascades belonging to the Crater Falls. So this was actually a bigger cascade than I had initially thought when we only showed up to the base before turning back the last time we were here.
The trail continued climbing steeply up rock steps now as the boardwalk surface was pretty much ended beyond the Crater Falls. With each step, we were sweating bullets in this stretch. But mercifully at 3:30pm, we finally showed up to the boat shed fronting Crater Lake.
Near the boat shed, there was calm water so it was possible to take reflections in the tannin-colored water there. And as I did a little more exploring continuing along the Overland Track, I gave up on trying to find better views or some kind of signature viewing spot for the Crater Lake.
So with that, I turned back and rejoined Julie as we both made our way back down to the Ronny Creek Trailhead. We wanted to make haste on the return because we still hadn't checked into our room at the Pepper's Cradle Mountain Lodge, and we still hadn't booked a dinner reservation either.
The progress went along quickly until we were back in the open grassy bog. This time, we spotted at least 3 or 4 more wombats happily grazing though there was one that was very close to the boardwalk.
A few steps further, Julie spotted an echidna, which was the first time we finally got a good look at one that wasn't on the road!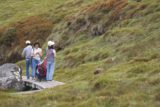 It seemed like these folks were out and about probably because it was getting later in the arvo and perhaps the temperatures were more agreeable to them so they could graze.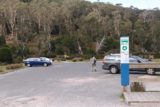 They pretty much took us a good chunk of time (taking photos and watching them do their thing) before we finally returned to the car park at 4:40pm.
By 4:50pm, we were back at the Pepper's Cradle Mountain Lodge, where we promptly checked in, made a 6pm dinner reservation, and then drove up to our assigned cottage (apparently we were upgraded for free since they might have been overbooked) where we finally got settled by 5:20pm.
Just before driving up to our cabin when I was waiting for Julie to get the keys to the room, I spotted another wombat grazing right next to some of the units. At this point, I was wondering if wombats weren't the rare sighting that I had initially thought since I only saw roadkill of them throughout the trip or getting fleeting glimpses of them from the road from time to time.
The interior of the room was pretty spacious though it was definitely not as colorful as I had recalled when we were first here. That said, there was no TV but there was a radio with some CDs of mood music just like before. There was also a little "kitchen" area with a fridge and some glasses and mugs.
After getting cleaned up, we then went for dinner at 5:50pm and ten minutes later, we were within the Highlands Restaurant, where we ordered appetizers of a wallaby and a quail. And our mains consisted of a nicely skin-crusted ocean trout as well as an eye fillet of steak.
Julie thought the chef definitely knew what he was doing as we really enjoyed each of the dishes. She thought the wallaby was almost like a pulled pork though it didn't have that expected gamey taste.
That said, this was perhaps the most expensive meal of the trip so far, and it kind of strengthened my resolve to look for dinner elsewhere tomorrow (perhaps Burnie or Ulverstone or something like that).
When we paid the expensive bill ($8.50 for a bottle of still water when we thought we had asked for tap water?) at 7pm, I then went solo on some nearby hikes while the weather was still agreeable. I knew that later tonight or all day tomorrow and Saturday it would rain.
Regardless, I first went across the road towards the Pencil Pine Falls and Knyvet Falls Trailhead (or the Dove Canyon Track). With the daylight fading, I promptly walked the boardwalk, which then descended to a junction where the Pencil Pine Falls path was on the right. There was a family that was just coming back from there, so I knew that I wasn't the only person on this track at this hour.
By about 7:10pm, I arrived at the Pencil Pine Falls, where there was a nice viewing deck (I didn't remember that being there before), and I spent some time taking videos and long exposure shots of the now-three-segmented falls (was only two segments when I first visited in late November 2006).
After having my fill of this falls, I then walked the slightly longer path down narrower boardwalks towards the Knyvet Falls. Again, I encountered that same family seen earlier as they were returning from that falls and I also saw another guy hiking solo perhaps looking for wildlife.
By 7:30pm, I arrived at the top of the Knyvet Falls viewing deck, which wasn't surprising to me since I recalled seeing only the top of this waterfall on Pencil Pine Creek.
So with that, I headed back towards the Pepper's Lodge where I spotted a couple of wombats grazing by the boardwalk. By this time, I started to think that maybe they're a dime a dozen after we rarely had a chance to see them in the wild like this.
I was back at Pepper's at 7:50pm, and then I decided to walk over to the bridge over Pencil Pine Creek where I could look upstream at an attractive cascade before embarking on the Enchanted Walk.
Again, I had never done this walk before so I thought I mind as well check it out and see what it was about. And so as I walked the mostly paved then boardwalked path, I'd eventually cross another bridge before getting into a darker part of the forest.
There were about 3 or 4 people gathered around a railing and looking towards the creek. And that was when the group told me that there was a platypus in the creek! What a surprise!
Of course, as I was trying to photograph that platypus, it was busy teasing us with swimming then diving, swimming then diving.
And under the low light conditions, it was hard to take a clean photo of it without really cranking up the ISO setting of the camera (at the expense of adding more noise to the image).
With the help of Tony (who happened to be a wildlife tour operator, especially around Hobart), I finally managed to take a fleeting shot or two of the platypus that was teasing us.
And as most of the people besides Tony parted ways, I was walking back with him back towards the lodge to complete the Enchanted Walk. He showed me Tasmanian Devil scat on the trail, which had bones in the scat (that's how you knew it was a Tassie Devil), and he showed me some burroughs that wombats and even Tassie Devils would use.
Eventually by 8:55pm, I was finally back in the room. On the way back, I spotted yet another couple of wombats (one by the dining area of the lodge and another on the path leading up to our unit). I also spotted a bushy wallaby that was under someone's car at first before it found happier grazing in the car park area.
With the wombats, I really started to get saturated with them so I sensed that they were pretty much a dime a dozen now.
And with that, the long day of touring ended, and we got cleaned up and ready to go to bed. By around 10:30pm or later, we heard rain hitting the rooftops of our cottage. So indeed, the rain finally showed up, and now we'd have to deal with it for the remainder of this trip, starting tomorrow, where we'd make the long drive out towards Burnie while waterfalling along the way before returning to Cradle Valley…
Day 23 (December 1, 2017 – Cradle Valley, Tasmania, Australia): "Victoria Battered"
It was 5:15am when I awoke. It was still dark outside but it wasn't raining (yet). That was a little bit of a relief since it appeared to be raining all last night.
I took some time to tidy up and wrap up on some unfinished photo processing and blogging before I was in the car at 5:55am. By that time, the skies were significantly brighter.
During the drive, I could see that there were breaks in the dark clouds though there was a significant patch of gray skies coming in from the west. So in my attempt to re-visit the waterfalls by the Lemonthyme Wilderness Retreat (i.e. Champagne Falls and Bridal Veil Falls), I was essentially trying to fit in those hikes before the end of the included breaky at the Pepper's Cradle Mountain Lodge as well as the next storm that I knew was on its way to Tassie.
Even though it was getting brighter by the minute, I knew that wildlife were still out. In fact, I saw one wallaby right by the road staring at me though I was glad that it didn't just jump in front of the car at the last minute. That said, I did see other roadkill like wallabies, wombats, and the odd possum.
The drive out towards the Lemonthyme Wilderness Retreat meant I had to drive in the direction of Moina towards Dolcoath Road. The GPS
wanted me to take some other side route, but fortunately a sign said to continue another 6.5km further towards Moina before turning right.
Once I was on the Dolcoath Road, I saw signs for the Lemonthyme Wilderness Retreat at each fork in the unpaved road for the last 8km.
By 6:35am, I arrived at the Day Use car park for the Lemonthyme Lodge. With the thick wooded settings, it felt a little darker here, and my etrex GPS
took forever to acquire to trace my hike.
So without any further delay, I promptly followed the sign and walked up the steep roadway past some rooms or cabins before the paved road ended and became a steep 4wd road just past a barricade. At that point, I found myself noticing yellow signs saying something about underground cables as well as some kind of cell or radio tower (which was where the handheld GPS eventually got a lock on my location).
The initial climb was relentless as I was totally sweating bullets in the relative humidity of the overcast skies even though it was somewhat cool early this morning. It was just that whenever it wasn't raining, it was noticeably humid.
By about 7am, I eventually arrived at a picnic table, which I imagined was the "Lookout" referred to by one of the trailhead signs. This viewpoint was underwhelming because of all the overgrowth preventing any clean looks.
So I didn't linger here much longer and continued heading up the 4wd path before it apexed then started to descend when I encountered the next signs. One of the signs pointed to a steep track on the right leading to Champagne Falls (or Bridal Veil Falls via Champagne Falls). The other sign pointed straight ahead along the 4wd track leading straight to Bridal Veil Falls.
I knew what I had to do on this excursion (which was to re-create the hike we did back in November 2006, but this time equipped with a handheld GPS
and my DSLR
with movie capability), and so I took the right path descending quite steeply towards Champagne Falls.
A sign warned that inexperienced walkers should not attempt the track given the slippery terrain, especially in light of the wet weather. That still didn't deter me, but it did cross my mind about a nasty slippage here.
After following the orange tape strategically placed on some trees whilst trying not to slip and fall on the slippery rocks and roots on the steep downhill descent (it was quite frustrating to be climbing so steeply then descending so steeply), I'd finally arrive at the signed Champagne Falls at 7:20am.
Getting to the very bottom of the falls like I did before was a bit tricky since the rocks were all wet and slippery. The width of the falls was a bit too much to try to capture in one shot from the base (especially with large rocks conspiring to block the views as well as make it harder to stand right at the plunge pool) so after doing what I had to do to document the experience right at the base, I then started to look for the continuation of the trail towards the Bridal Veil Falls.
There was a little bit of confusion on my part as I was trying to figure out which path was correct, but in doing so, I found an outcrop that provided a partial yet more comprehensive look at the Champagne Falls that I didn't do the first time around.
So with that being done, I then tried looking for the continuation path to Bridal Veil Falls but I had trouble finding it. It wouldn't be until I started heading back up the way I came did I notice the signed path leading to the Bridal Veil Falls. There was a false path along a cliff wall that appeared to have been an old path, but it was now way overgrown and too precarious to continue that way.
Once I was on the path to the Bridal Veil Falls, I would continue to see numbered signposts as well as some sections of boardwalks as well as dirt ledges. The path crossed Bull Creek and passed along numerous little rapids and cascades that were noticeable but not really photographable through the dense foliage.
The trail undulated and hugged some ledges in some spots so it definitely got me to sweat despite the threatening rain.
The rain still hadn't come down hard yet though it was already starting to come sprinkle then lightly come down somewhat when I had gotten past the "lookout" earlier on.
By about 8:10am, I finally made it to the Bridal Veil Falls, but just when I was about to get onto the bridge to take that direct shot, the rain really came down already. So rather than risk damage to the DSLR, I decided to take a quick video with the iPhone, then try to wait it out beneath some of the forest canopy.
Speaking of the bridge, it looked like they had built a legitimate bridge across Bulls Creek this time instead of a one-sided log that I recalled was on the creek itself. That bridge would prove to be useful as I decided to finally don the rain poncho then try to use the bridge railing to prop up the poncho while taking a picture from underneath the "tent" and through the opening in the railing.
It led to a few awkward shots, but finally during that time, the rain had let up a bit and I was able to properly document this falls with photos in different settings and a video. And by 8:30am, I was finally leaving for the car park by going up the narrow and well-ferned path up to the old 4wd road.
As I was doing this, it was raining pretty hard again. But at least with the rain poncho back on, I was making quick progress on the mostly downhill track as it was time for the trail to finally pay me back for all that uphill I had to endure at the very beginning.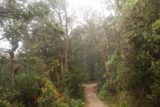 I was hoping to get back to the Pepper's Cradle Mountain Lodge before 10am so I could have the included breaky. And it seemed like I would make it for sure so long as I'd be back at the car by 9am.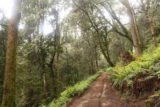 At about 8:55am, just when I was about to check the handheld GPS
for reception and to see how close I was to the car park, I saw underneath the rain poncho that only the attached battery cover was in my hip pouch! The rest of the GPS unit was missing!
With all the rain, I was worried that the exposed unit and batteries might be shorting out. But I was also cursing at my luck for it was as if somehow the battery lid was detached as the screw was turned the right way and released! Most of the time, I had trouble trying to do that on my own will, but here Murphy decided to let it happen mostly likely when I was trail running the downhill.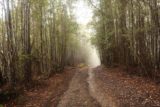 So now I had to hike back up the long incline until I found the GPS. And I was dropping F-bombs to no one in particular as I was doing this.
It wouldn't be until about 9:05am when I saw the yellow GPS lying on the ground with one battery missing near a bunch of felled logs and a small clearing (between the lookout and the radio or cell tower). The other battery happened to be lying next to it, and this separation might have been a blessing in disguise as the wet GPS' interior didn't mean a thing whilst the device was powered off with the battery fallen out.
When I tried to dry everything off with my shirt, then anxiously put the battery back in to test it out, it powered up and started re-acquiring satellites again. Whew!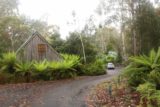 By now, I had to go all the way back down the hill again to the car. So I knew this didn't help my case in terms of getting back to the lodge for breaky. And it wouldn't be until about 9:15am when I was finally back at the parked car with the rain definitely coming down again.
So I promptly drove back out the unpaved 8km access route towards the main road while the rain was coming down even harder. When I made it back to the main road, it just so happened to be right behind an Overland Track Transport vehicle and another slow driver right behind it. I had to pass them in the rain as they were going way slow though they were probably doing the wise thing by staying slow and respecting the slippery conditions of the hard rain.
Luckily, I was able to make the passings without incident though I'm sure those slower drivers must have thought that I was reckless.
But with me going about 10km/h or more below the speed limit of 100km/h, I'd finally make it to the lodge's reception at 9:45am. The rain was certainly coming down with force, but I locked the car and quickly ran into the main area and promptly had breaky.
When they asked which room I was in, I told him the correct room, but he had this reaction like someone had been there before, and I told him my wife was there earlier. Anyways, without any further dramas, he told me I had 10 more minutes before they'd start closing the kitchen and taking the buffet away. So I promptly got everything I needed in one trip, and then when I was done eating my breaky, I looked around the lounge area where I found Julie reading her Kindle.
By 10:15am, we were back in the car, then drove back to our unit to grab whatever she needed for the day. And it wouldn't be until 10:25am when we finally started the day together.
With all this rain, I was glad that I got most of the hiking and Cradle Mountain touring done yesterday afternoon. It was a lot to cram in, but we knew that this rain would come, and it was totally socking in Victoria at the moment. It had socked in southeast Queensland earlier. But now we were hearing that Tasmania would get this deluge this weekend, which really concerned us about our flight home as we had to fly from Launceston back to Melbourne, then do the international flight from Melbourne back to LAX. We hadn't had one on-time flight from Qantas and partners this whole trip, and if it happened again Sunday, the consequences would be more dire…
Anyways, the long drive up towards Burnie was only drama filled because of the hard rain. It seemed that the closer to Burnie we went, the harder the rain fell. There was even localized street flooding in some spots though not as many as in the cities back at home where the storm gutters would be overflowing. Here, we were in farmlands so the water would run off the roads and into the embankments and eventually the grasses below.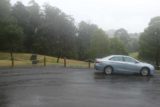 By 11:40am, we finally arrived at the familiar upper car park for Guide Falls. The rain was totally coming down at this time so we took some additional time to don the waterproof pants and the rain ponchos whilst in the car before getting out. My camera was struggling with condensation on the lens (both inside and out) and I suspected that was the result of the AC being on for defrost purposes in the car and now the humidity levels needed to be equalized.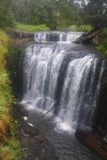 Julie also brought out her umbrella, which was strictly to protect the DSLR while taking shots under the inclement weather.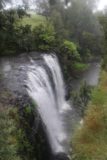 When we got to the upper lookout for the falls, we could clearly see that it had a nice flow. It kind of reminded us of a smaller version of Gullfoss except it was now just 1 tier instead of 2 and it had more of a nice vertical drop as we could see the basalt cliffs around the waterfall. Julie liked this one though she didn't remember the first time we were here, when there was definitely far less flow than when we saw it now.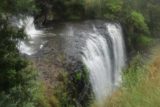 There was also another lookout closer to the top of the falls for a more edge on profile view. After documenting the falls under the still foul weather from both of the lookouts up here (and fighting the condensation on the DSLR), Julie then returned to the car and I took the umbrella to go down the steps towards the bottom.
Once down there, I got that familiar frontal look at the falls that might have featured in some images of labelings on bottling companies that I had recalled from the past. It was definitely picturesque though the weather made things a bit tense in terms of the experience.
Once I had my fill of the falls from below (the condensation problem appeared to be going away by this time as the humidity might have equalized by now), I then returned to the car at 12:30pm. I had to go on a badly needed restroom break at the lower car park, where there was a flush toilet, and only after that was done did we head down to Burnie for lunch.
By 1:15pm, we finally arrived at this spot on the Burnie waterfront called Fish Frenzy. It was busy inside as it was still raining, but the rain seemed to have started to let up a little bit. So while we were waiting for the food, we were able to take a few hasty iPhone shots of the golden sand beaches though Julie was put off by the containers on one side of the beach as she had expected something more along the lines of Apollo Bay, Victoria or something like that. She didn't expect this to be more like a port city, and she said that the airplane magazine saying Burnie won an award for best tourist town in Oz last year kind of set up those expectations.
Anyways, we wound up getting some fresh Tassie oysters, a veggie stir fry dish with scallops and prawns, and a trevalla fish grilled. It was actually as expensive as yesterday's lunch at Pepper's Lounge Bar and Bistro back at Cradle Mountain, but at least with this meal, we were getting much more than a burger and a chicken salad. In fact, it might have been too much food.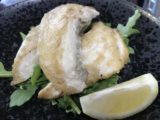 During the lunch, Tahia managed to Facetime us as we were getting reception on our phone. She was crying because she missed us. It was heartbreaking to see, but she got in a better mood as we took turns talking to her while eating. We assured her that come Sunday, we'll see her again (though I wasn't sure if Qantas and Mother Nature might have other plans).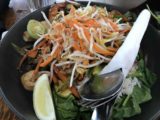 So it wouldn't be until about 2:15pm when we were finally back in the car. The rain definitely had let up at this point but now it was more of a mix of mist and light rain as we made the drive further west towards Dip Falls.
I was definitely glad that we were doing Dip Falls today instead of tomorrow because it sure was a long drive out to get there even from Burnie! The GPS kept wanting me to take the Montumana Drive towards Dip Falls, but I knew that something was off when I didn't see any Dip Falls signs.
I'd eventually relent and take something like this unpaved Newhaven Rd until I'd eventually get to the Mawbana Rd and a sign for Dip Falls some 15 or 20km later on that bumpy unsealed road. It was another case of the GPS taking me on a dodgy detour.
After a brief moment of driving on the paved Mawbana Road, the road then went unpaved again for the remaining 2km as I followed the signs for Dip Falls. When we got to the car park for it, I saw signage saying that there was a lookout another 200m further so we drove out there to check it out first.
At 3:25pm, we finally pulled the car out at the short track to the viewing platform, and we promptly made our way out to the overlook of what turned out to be this giant field of basalt columns and brown-tinged water segmenting down this big sloping field. It totally blew us away with its size as I had expected something smaller. But now I could see that the internet pictures totally did injustice to this falls that was hard to capture in one go even from this lofty vantage point.
Meanwhile, the rain was pretty much gone now and there was even some sun starting to show further downstream. So we gladly took our photos and videos of this spot, and we were certainly glad we made the long detour to get here.
Once we had our fill of the falls, we got back to the car at 3:40pm and then I decided to drive the remaining 1km to get to the Big Tree before going back to the actual track for Dip Falls. When we got to the Big Tree pullout, I solo'ed the short 10 minute return track which brought me beneath a grove of a handful of giant trees though the featured big tree was a very wide girth with some knobs at its base and this imposing height when looking up towards the sky.
It was like the Sequoia experience all over again, though here in Tassie, we weren't dealing with Sequoias. I never knew that such giants like this could exist elsewhere, but I probably should have known since we also saw giant Eucalypts earlier in the trip and we also saw giant Kauri trees in the North Island of New Zealand when we first went there back in late 2004.
Anyways, I was back at the car and by 3:55pm, we were finally at the car park for Dip Falls where there was another vehicle here now.
At first, I went down the steps towards the bottom of the waterfall (said to be 15 minutes I believe) where I got a look at the massive falls from a different perspective sideways and eventually down at the bottom where the other family that was here started to make their way back up.
Even from down here, I could see both tiers of the falls, but I knew pictures just didn't do it justice. And as I was busy documenting the falls, I was joined by Julie. I was glad that she made the walk down because she really would have been missing out if she didn't make this descent.
And so we were able to take our awkward selfies on the iPhone while also experiencing this falls every which way we can. And by 4:20pm, we were finally back at the car fully satisfied with the experience and being glad that this detour was well worth it.
Now, we had a very long drive to get all the way back to Cradle Mountain, where Julie had made a dinner booking for 7pm at the Cradle Mountain Hotel. We wanted to try somewhere else for dinner tonight since the Pepper's place was overpriced even though the food was gourmet and good and the chef knew what he was doing.
But we wanted to give this other place a shot.
The drive back with the improving weather was so tempting to want to stop and enjoy the northwest Tassie coastline as we could see a table mountain in the distance as a sea bluff as well as attractive beaches along the Bass Highway. I resisted the GPS telling me to go back via the unpaved road towards Montumana directly and instead I took the Mawbana Road all the way north to the Bass Highway, where I saw signage for Dip Falls once I got back to the highway (and the route was all paved, by the way).
The weather continued to get better out in these parts, and I made a mental note to myself to spend more days out in this part of the state if we're fortunate to bring Tahia and come back to Tassie some time in the future.
Eventually, before we'd get to Burnie, we wound up taking the A10 highway towards Yolla, which was seemingly twistier than the A2 that we had taken to Burnie earlier on this morning. We had to pass a really slow milk truck along the way. And in doing so, he was honking at us when we successfully passed him even though the pass was legal (I had no idea what he was tripping out about).
Anyways, the further we drove closer to Cradle Mountain, the more mistier the weather became. It was almost as if we were catching up to the bad weather again. We were even driving through some foggy stretches, and that Cradle Mountain view on the way was all fogged up.
Finally by 6:40pm, we arrived at the Cradle Mountain Hotel where the sun was once again trying to break through the clouds and the weather seemed to be calming down.
Whilst listening to Triple J, we heard that flash flooding was already going on in most of Victoria and it was expected to intensify tonight. Then, it was said that Tassie was going to cop this storm next, which really made us worried about our flight situtation on Sunday.
Anyways, the dinner at the Cradle Mountain Hotel was pretty good, and it was much cheaper and better value than the Pepper's. We wound up getting a venison entree, then a main of a Tasmanian Meat Sampler (that included lamb, wallaby, and beef) while Julie got her slow-cooked pork belly. The meat sampler was a self-cooked one on a hot stone, which kind of brought me back to the Korean BBQ experience, but at least I'd be the one to blame if the food was overcooked.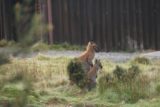 Once the dinner was done at 7:55pm, we then headed back to our cabin. Again, the weather really calming down, we saw even more wildlife again. Some people were pulled over on the road to watch a wombat (where I was kind of over them by now as they seemed to be a dime a dozen after yesterday's experience), but we did pull over at the lodge to see a wallaby and joey just sitting in a field staring at something not noticing us.
By 8:10pm, we were finally back in our room, where we'd spend the remainder of our last night under chilly temps and finally feeling like we were experiencing temps more along the lines of what we had expected instead of the unusually warm stretch of Summer-like days throughout much of this trip…
Day 24 (December 2, 2017 – Launceston, Tasmania, Australia): "Savoring Our Last Full Day"
Both Julie and I awoke at 5:40am to a chilly morning. It was still cloudy outside, but the weather had calmed down considerably from yesterday. Still, the forecast had called for more rain so I wondered how our touring experiences for our last full day in Tassie would be.
We took some time to get all packed up and to ensure that we didn't leave anything behind. By about 7am, we loaded up the car for good (so we didn't need to return to our cabin), then we drove over to the reception area so we could have the included breaky one last time.
We once again stuffed ourselves with the breaky buffet where we loaded up on kimchee and congee, bacon, hard boiled eggs, and a chia seed smoothie. Other stuff that I was able to get included the corn fritters, sausages, mini pancake with nutella, mushrooms, and tomatos as well as fruits like watermelon, honeydew, and cantaloupe.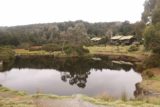 We got there early enough that we managed to get a choice spot in a corner viewing the artificial fly fishing pond reflecting the cabins in the background.
By 8:05am, we were back in the car, checked out of the Pepper's Cradle Mountain Lodge, and we were on our way to tour the last waterfalls of the trip before eventually ending up in Launceston for our last night.
The drive out was pretty uneventful though there were some moments of light rain along the way. By about 8:45am, we arrived at a viewing area for the Waratah Falls. This was the familiar lookout spot that we had experienced the first time around, and the falls this time around was just as impressive in terms of flow and the flowery bushes in the foreground.
From examining the other side of the gorge, I noticed that there was some kind of road or path that appeared to lead right to the bottom of the Waratah Falls. The weather seemed to be unable to decide if we were gonna get rained on or if it was going to sprinkle and mist here and there then stop. Either way, the rain was light enough and infrequent enough to let us experience the falls without needing a rain poncho.
After having our fill of this spot, we then drove back across the bridge and onto a side street to get to that trailhead for the path leading to the base of the falls.
By 9am, I got started on the short walk to the base while Julie stayed in the car. This path to the bottom of the falls was something I hadn't done the first time around. But doing it this time around allowed me to be a bit more aware of some of the quarrying that was going on as I saw a bare mountain across the gorge containing the Waratah Falls.
At the bottom of the falls, there was also what appeared to be a floodlight. That suggested that they indeed light up this falls in the evening (though we could never corroborate that since we never stayed here late enough to prove that point one way or the other).
Once I had my fill of the bottom of the falls, I then hiked back up to the parked car. On the way up, I noticed some deeply scarred mountains in the distance, which I'd imagine was some blasting and quarrying done for some industrial purpose. Funny how you notice these things upon a second visit when we missed such observations the first time around.
And by 9:20am, we made a brief stop at a junction where we almost went the wrong way. Luckily, I knew something was off, and we readjusted course and then we were finally driving out towards Burnie.
By about 10:15am, we arrived at the Burnie Park. We actually took what appeared to be the main entrance, but it turned out that it was merely a short "car park" for some war memorials at the foot of Burnie Park.
Regardless, we parked off the side of the road, and then checked out the war memorial briefly. We didn't spend too much time down here, but we did take advantage of the toilets nearby.
Afterwards, we walked across some bridged creek where we saw ducks and a fake waterfall in Oldaker Creek. Beyond the pavement and some kind of performance amphitheater, Julie and I made the 340m walk on a gravel or dirt trail.
Contrasting the lawns, picnic tables, and playground jungle gyms in the lower end of Burnie Park, the trail was flanked by tall trees and it looked more like we were in a bush trail as opposed to a neighborhood park. In fact, if it wasn't for the glimpses of homes surrounding the park and the channels funneling Oldaker Creek through the park, we could have easily thought we were walking in the bush in some remote reserve.
It didn't take long on the uphill path before we went around an intermediate cascade (aided by some channel walls) before we arrived at the familiar Oldaker Falls, which had a small drop then some cascades dropping into a pool before flowing down to the intermediate tier we had went around.
Unlike the first time we were here, the falls had pretty good flow. Undoubtedly, the rains that inundated Burnie yesterday must have boosted the flow of the falls. There were also purple flowers flanking the creek like before. But the presence of the road bridge above (which wound up being Oldaker Street) and some of the walls surrounding the falls made me wonder if this was a legitimate waterfall where thing were built around it or if it was a fake waterfall.
There was also the possibility of the falls being "enhanced". But regardless of what it would wind up being, I couldn't really tell.
Anyways, after we had our fill of the falls, we made our way back down to the car. Along the way, I made a detour towards the old car park that we stopped at the first time. Now, I saw that it was a much larger car park and we probably should have parked there as there were plenty of formal parking spaces. There was even an interesting Burnie Inn, where I wasn't sure if it was a real accommodation or a historical relic for all to see.
At 11am, we were back at the car. With the cell reception being strong in town, Julie did some research and decided to eat at this place called Palate. She said it had gotten good reviews, and it was also open whereas other restaurants like Fish Frenzy and Bayview weren't open until noon.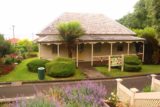 During the drive to the restaurant, we saw a lot of people walking on a boardwalk along the Esplanade. We weren't sure what the fuss was all about since we were here yesterday and didn't think the beach was particularly that impressive to warrant that big of a crowd. Could it be because there was a huge cruise ship docked in the port here? Who knows?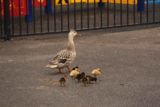 Anyways by around 11:15am, we would finally park where we thought the Palate Restaurant was, but we had a lot of trouble trying to figure out where it was. We also wasted $3 as the parking meter ate $2 then we unnecessarily paid $1 as the ticket was only good for about 30 minutes away from the car, which wouldn't be enough time to eat.
But during the course of finding the Palate Restaurant (which wasn't on the main street as according to TripAdvisor), we also saw there was a parking structure that allowed the first 90 minutes of parking to be free!
So we wasted money on the parking, and I promptly drove into the parking structure to score one of the 280+ free spots though it was filling up fast.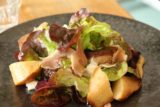 Once we were finally in the restaurant, we each got mains. Julie got a duck confit and I got a pork belly. When the food came out, we saw that the duck confit was creatively done as it wasn't the typical duck leg with crispy skin and soft insides. It was more like a circular arrangement with tasty duck material within that circle. The pork belly had crispy skin but really soft shredded meat beneath.
The bread and the oil with sea salt was also a good holdover for us as Julie got a gluten free version of that bread.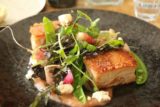 Well, it turned out that this restaurant was quite the find, quite literally! We were glad we figured out where to find it as it was situated in a back street and only visible to people walking from the arcade or the parking structure's payment machine.
We not only paid less money than the two prior lunches, but the food was next level.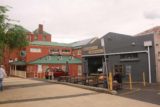 By 12:20pm, we were back in the car. Now, we were starting to head east towards Launceston whilst driving the mostly coastal route along the Bass Highway.
When we reached the vicinity of Ulverstone, we then took an exit for the Gunns Plains and followed the B17 for a ways before the GPS told me to leave the B17 and remain on Preston Rd. After passing through the small town, we then saw a sign pointing to the right onto Raymond Rd saying "Waterfalls 1" as it pointed to the right.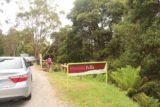 By 1:05pm, we arrived at the familiar pullout for the Preston Falls, where there was one family coming back from their excursion. It looked like the wooden sign we had seen the first time we were here was gone. Now, there was a purplish more modern looking sign as well as an interpretive sign as well.
We then promptly walked down the steps and the ramp before following the fences, which skirted a cliff edge before crossing the creek, then ending up at the familiar lookout peering right down at the plunging Preston Falls.
Unlike the last time we were here, the falls had even lighting as threatening clouds were headed our way. So there weren't shadows from the morning sun like the first time essentially splitting the falls in half. The falls also had much higher flow than before thanks to the rains from the last few days (with more to come).
Julie enjoyed this falls (deserving of a 2 in her mind), and we gladly documented and took a few selfies before the falls. Then, by 1:30pm, we were back at the car. The skies hadn't quite opened up and rained on us during our time at the falls, and that made for an easy experience. But we knew it was just a matter of time before the bad weather would come.
As we drove back towards the Bass Highway, I took the 5km route north towards the B17 at the Gunns Plains. Then, we followed the B17 eventually back towards the A2, and we'd ultimately follow this highway all the way to Launceston.
By about 3:05pm, we parked at the Penny Royal, which was some kind of multi-use dining and adventure spot as well as apartments right at the mouth of the Cataract Gorge. The last time we were in Launceston 11 years ago, this area was shut and looked abandoned. But now, it looked like it was buzzing.
Of course, the main reason why we were here was to check out the waterfall even though we knew it was fake. It was well-situated and I recalled it was even visible from other parts of the Launceston CBD so long as you had a line-of-sight towards the cliffs flanking the mouth of the Cataract Gorge.
Julie stayed in the car while I went to do a little exploring of the complex. It turned out that Penny Royal was free to enter, but it costed money to do the activities like ziplining, rappeling, rock climbing, boat rides, ghost tours, etc. And this doesn't even include the wine tasting and the dining.
All this was taking place behind the apartments fronting the activity. So this kind of gave new meaning to this kind of commercial/residential mixed zone.
Despite the light rain that was falling in the area, I still persisted in documenting this apparent "shopping mall" for lack of a better term. The waterfall was merely decoration as a backdrop to all this ambience.
At 3:15pm, I was back at the car and was quite glad I checked out this place. But with Julie managing to score restaurant reservations for two at the Stillwater Restaurant (due to a 6pm cancellation that we claimed), we had some time to kill. We did want to go to the Cataract on Patterson for dinner but they were closed again for a private function. So Stillwater was the backup but even that was hard to get.
Regardless, by 3:50pm, we made it to the Mantra Charles Hotel, which was the last accommodation of this trip. We wound up using this time to get our belongings organized so we could be up and out the door after a cold breaky first thing tomorrow morning.
While this was going on, the weather outside looked like it worsened as it was raining harder and it was raining sideways as the winds were blowing pretty hard. If this was the situation tomorrow, we would be in a world of hurt as I'm not sure they'd fly the smaller twin propeller planes under such conditions. And that would jeopardize our connecting flight back to LA from Melbourne, where we already had a fairly risky 3-hour layover.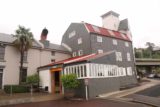 It wouldn't be until about 5:45pm when we left the hotel and drove to the Stillwater Restaurant. By the time we got there 5 minutes later, it was raining still and I doubted that we were going to have a post dinner walk into the Cataract Gorge like 11 years ago.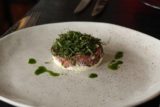 The restaurant experience was very pleasant as we were chatty with our server Breana as we talked about various random topics like the food (of course), Triple J, our American accents, and even what the P and L plates mean on some of the cars we saw rolling around during our travels.
As for the food, we had a total of 8 Tassie oysters from St Helens in the northeast of the island. We actually had originally ordered 4, but Julie wanted more as these were possibly the best oysters we've had on the trip and maybe ever.
The beef tartare appetizer was also quite good. But when it came to the larger dishes, we loved the scallops salad. As for my main, I got their most expensive dish which was the rack of lamb at $80 AUD. But that dish was stellar (it better be for that much money), and it was so good that even Julie had two pieces of my rack of lamb and she doesn't even like lamb!
The dessert was this very interesting mix of eucalyptus ice cream with mint and mint creme, chocolate ganache, dark chocolate sticks, and vanilla cream. It was different yet very memorable and something I wouldn't have had if I only relied on the menu descriptions. But given how kick ass the chef had been for the entire meal up until this point, I had to see what the dessert was like, and it didn't disappoint. Even Julie risked her candida outbreak to have a bite or two.
In the end, we spent $200 AUD for this meal (which included a tip for Breana as we really enjoyed her service and the chatter), but this late meal splurge was as perfect of a finale as we could ask for.
Afterwards, we then made a quick stop at Woolworth's, where we knew they stocked good stuff. But this time, we only got one more plain kefir and a blueberry container for our last breaky in Tassie before going to the airport.
By 8:10pm, we were back in our room after braving the rain and the biting cold winds from the car park to the interior of the hotel. And so ended our touring of Tassie, where we pretty much did everything we had targeted at the outset of this trip (especially since we tried to make up for the drought complications from back in November 2006) as well as getting to experience new things like Dip Falls.
We pretty much spent the rest of the evening killing time (watching Food Network) and blogging or processing photos. But we'll have to wait and see how tomorrow goes as far as whether we'd get home on time or have to put up with more delays, missed connections, or other unforeseen circumstances…
Day 25 (December 3, 2017 – Los Angeles, California): "Ironies A Plenty"
Julie and I both awoke at 4:20am. It wasn't a good sign that we could hear the rain outside. So it must be coming down hard.
We then spent the next hour eatin the rest of our consumable goods like the Greek yogurt, the bottle of kefir, strawberries, blueberries, leftover wannabe kimchee, and as much water as we could drink. We still wound up leaving behind a pretty solid 5L of water (so whatever savings we thought we were getting was more than offset by the waste) as well as some bottles of apple cider vinegar, olive oil, and pepper. We also left behind celeries that we knew couldn't be consumed as they were meant for cooking with chicken soup when Julie wasn't well.
By about 5:20am, we loaded up the car. I actually had to run out in the pouring rain then get the car and drive it right up to the sheltered tunnel right in front of the reception entrance. I then quickly loaded everything up except the GPS stuff, and when Julie was done checking out, we were out the door and into the dark.
By 5:30am, we made it to the Launceston Airport. I was concerned that the fuel gauge on the vehicle started to move away from the "F". I thought I had topped up yesterday, but apparently the nozzle might have given me the all-full pop a little prematurely. I wondered how much Avis will charge me for that last bit of fuel?
Anyways, once we parked the car, we quickly emptied out the car and braved the rain for a couple of minutes before getting under the shelter. At that point, we both frequently used the toilets as we thought we had to drink up most of the water we brought with us (though I kept one of the two 1L bottles full on my pack).
I had recalled that domestic airlines in Australia seemed to be more laxed about getting through security with water. And sure enough by 6:15am, when we got through the security, the 1L bottle was still intact and with us. So I sacrificed my bladder for nothing.
With boarding passes in hand and baggages already checked through to LAX, we were told that our flight was still scheduled to be on time. The signs even said under the Gate column "RELAX" as we waited for the gate corresponding to our flight, which was eventually at gate 1.
The plane was there at the gate, and despite the foul weather outside (the same system that produced flash flooding throughout Central, Northeastern, and Eastern Victoria), apparently they saw no reason to delay.
The plane eventually took off at about 7:10am, which was just past the 7am scheduled departure. Julie conceded with me that it was wise to take the first flight out to at least avoid any contingency delays from flights that had to come before. The price paid for this however was the minimal sleep we had last night (on the order of four hours or less).
When the plane landed at the Melbourne International Airport at around 8:20am, my bladder was about to explode. So once we finally de-planed, we made a beeline for the restrooms. Then, we walked over to the International Terminal T2, where there were a lot more people (mostly Asians in large groups it appeared) where we were guided through to security, where we had to drink up the rest of our water (again) as this time we couldn't get that through security.
Julie actually had 3 small bottles of water from the flight and they all went unconsumed, which security flagged. Aside from that, we then went through the passport control without too much of a hitch (Julie got through the electronic processing no problem, but I was routed to the manual line perhaps because my facial hair threw off the facial recognition algorithm).
At 9am, we then went to the TRS (Tourist Refund Service), which had a queue already. Since I had bought a replacement Canon lens in Melbourne for the one I broke in front of MacKenzie Falls, I was entitled to get back the GST I had already spent. If successful, then the lens I bought would actually be quite the discount compared to what was being charged on Amazon or B and H.
You see, they were charging $699 on Amazon for the 18-200mm lens. At Digicel in the Melbourne CBD, I bought it for $650 AUD. But I was entitled to $59.50 GST redemption, which would bring this down to roughly $600 AUD and with the exchange rates, it might knock off another 20% on top of that! So when all is said and done, this lens would be $500 USD!
Anyways, I was successful in getting through the queue and getting my refund in a couple of weeks time. When Julie and I left, the queue had grown considerably! Good thing we did this when we did.
Eventually at 9:50am, we finally made it through the duty free gauntlet. It seemed like every international airport was doing this now, but I swore I recalled times when this wasn't the case on some of the international airports when we started traveling big time. We speculated that we started noticing the phenomenon when we were at London Heathrow Airport during our round-the-world trip back in 2008.
We managed to clean out the rest of our Australian cash (all $70 of it) buying Australian meat jerkies (mostly kangaroo jerkies and a combo jerky where there were emu, kangaroo, and crocs for ourselves) as gifts.
By 10:10am, we finally made it to our assigned gate, and now we were chilling out crossing our fingers for an on-time flight home. The weather looking out the window of our gate continued to look like it had calmed down considerably as apparently the worst of the major storm system appeared to have passed further east and south.
To our surprise, we boarded the plane at around 10:45am. It was a little chaotic as people were crowding towards the escalator down to the bridges. One Chinese lady was doing her thing trying to cut in front of everyone, but it turned out to not matter much anyways as we wound up beating her to our seat anyways. Regardless, we were seated towards the back of the plane so we were about to get our stuff onto the overhead locker and get comfy with a stranger getting the aisle seat while Julie and I got the two seats towards the window.
It turned out that we were making small talk with this lady from Virginia. She broke the ice by telling us she was worried about not making her connections as she had a tight 90-minute connection at LAX towards Chicago before connecting again to get to Virginia. Since we still had data on our Optus plan sim card on my iPhone, we let her try to check in on our phone to at least help her get expedited on her way to her next flights.
After that, we talked quite a bit about our respective visits to Australia. I was quite intrigued that she was in some 12-day workshop in Castlemaine, Victoria, regarding some kind of group rhythm dance thing. I kind of got the gist of this community rhythm dance thing as I knew full well the value of being part of a community.
Anyways, this conversation shifted all over the place from politics to spirituality (and how naturally-occuring hallucinogens might have created the evolutionary leap from hunter-gathering neaderthals and primitive ape-like species to more cerebral homo sapiens figured; where the whole spirituality and consciousness might have been a consequence), to Trump politics and how perverse economic incentives were the root cause of everything that was wrong with the world.
This small talk easily consumed the first two hours of the flight. Then, with her headphone difficulties as someone jammed something in her headphone socket so it wasn't usable, she managed to find another seat while I was in and out of consciousness watching a couple of movies before watching all the season 1 episodes of the hilarious Ronny Chieng: International Student – a comedy show that I don't think we could get at home.
The flight went along pretty smoothly and we'd eventually land at LAX at 6:15am (PST), which was right on time even though there was a bit of a 20-30 minutes of delay regarding a security hangup.
After going through the chaotic gauntlet of passport control and the initial customs check, we were at the carousel waiting for our luggages to arrive at 7:05am.
It seemed like forever before we finally collected our luggage pieces, then we had to go through the final queue, which was the customs. While this was a time I wish we could have had Global Entry, it didn't seem all that bad in the grand scheme of things this time around, which was surprising considering how LAX never seems to get its act together when it comes to being organized and pro-active to issues that would arise when it came to processing passengers.
The supremely ironic thing about this whole trip was that today was the first time our flights with Qantas were pretty much on time, and it occurred on a day when Victoria was still getting battered by a substantial storm and it was getting in Launceston, where we were taking off on one of those twin prop planes.
Anyways, after catching the shuttle, then hoping the car started (which it did), we finally made it back home at 8:30am to an excited Tahia whom we missed so much (as she did us). So it was quite the reunion and while Julie was finally trying to get her shut eye, I was trying to tough it out by keeping Tahia occupied for as long as I could before I'd succumb to jetlag and the meager 2 total hours or so of shut-eye on the entire flight.
Tomorrow, I had to go back to work so it was back to life, back to reality in a manner that I wasn't really looking forward to at all…
Visitor Comments:
Got something you'd like to share or say to keep the conversation going? Feel free to leave a comment below...
No users have replied to the content on this page