Day 16 (November 24, 2017 – Launceston, Tasmania, Australia): "Small Victories"
It was about 4:50am when we awoke to my earlier alarms. Given that today was a travel day, and we had to catch an 8:25am flight to Launceston, Tasmania from the Melbourne Airport, we really didn't have time to mess around.
So we pretty much spent the next 50 minutes eating whatever was left in the refrigerator (from our last bits of fruits and kefir as well as avocados) then wrapping up the packing.
By 5:40am, we were leaving the room, and by 5:50am, we got the car from the valet after Julie was done checking out. Just as we had anticipated, they tried to charge us for buffet breakfast that we didn't have. They were also trying to charge us for newspapers that we never read nor asked for.
Regardless, Julie disputed those things and the final bill was just for the $55 per night parking valet and some $30+ worth of breaky.
But for all the headaches of the nickel-and-dime attempt, and that there were no kitchen nor microwave nor other self-serving amenities besides a kettle for boiling water, you couldn't beat the free nights on Hyatt Points for the entire stay nor could you beat the location, which was smack in the heart of the Melbourne CBD that we took full advantage of.
By 6:30am, we dropped off the car at the Avis at the Melbourne Airport after taking the toll road one last time. We couldn't afford the luxury of taking Flemington Road through several long traffic lights while bypassing the M3 until a later onramp after the toll part was over.
After that was done, we then got our stuff and rolled into the domestical terminal T1. Whilst there, I saw on the board that our flight to Launceston QF2281 was cancelled!
It sure seemed like no matter which Qantas flight or Qantas-affiliated flight (this was Jetstar) that we were on, it never left on time for one reason or another.
And so we then went to the sales desk, where we patiently waited in line for our turn. And once we got to the desk, it seemed that the Qantas staff was well aware of the cancellation so they gave us two options. The first option was to catch an 8:20am flight to Devonport and then take ground transport to the Launceston Airport, eventually arriving at 11am. The second option was to wait for Jetstar's next available flight to Launceston at 2pm.
Naturally, we opted for the first option as I knew Devonport wasn't that far from Launceston.
So with our luggages checked in and our boarding passes in hand, we then promptly walked through security then went all the way to one of the far gates where it seemed the smaller planes (usually with propellers) seemed to gate. We got there at 7:25am, and waited for our 7:55am boarding, which happened pretty promptly.
Once we got on board the small twin propeller plane, the flight took off on time (a first for us even though this was part of a cancellation that resulted in a delay), and we'd eventually pick up our luggages from the small Devonport Airport at 9:25am.
Minutes later, a taxi hired by Qantas showed up and we were one of three couples headed to Launceston. And so next, we were driven 99km towards Launceston, then another few kilometres more to the Launceston Airport after one of the couples were dropped off at their home in town.
Eventually, after we got to the car rental check-in for Avis, they were ready for us and we got our car (which was an Australian version of the Camry, apparently) at 11:10am. It was quite hot on this day so we couldn't wait to turn on the car and be in the relative comfort of the AC.
As we drove off, Julie Facetimed Tahia since it was Thanksgiving Day back at home. However, she was taking an afternoon nap and when she awoke (as she was at my Mom's place), she was crying. But it seemed that she was crying because her cousins went to San Diego and so she was all alone with my parents. I don't think she was really missing Julie and I.
Regardless, we wished her a Happy Thanksgiving and let her get back to sleep. In the mean time, I drove into the centre of Launceston, where Julie wanted to have a lunch. And after circling the CBD a couple of times, we finally parked in this structure at 11:45am, where it costed $2.50 AUD per hour. The one structure that was free for the first two hours was full.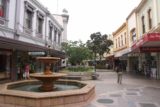 As we randomly walked out of the parking structure, we were in some fairly quiet pedestrian-only arcade flanked with shops. We then went to an adjacent street, where we walked right into a LivEat place.
They served up pretty fresh bowls or burritos almost Chipotle style, and we wound up getting a Chicken Satay Bowl as well as a Thai Beef Bowl without dressing and rice.
The food was pretty good, and it was no frills healthy. After the lunch, we then walked around a fraction of the CBD noticing historical looking buildings as well as a clock tower right across from the Town Hall.
Our little tour of the Launceston CBD didn't last long though as we pretty much sensed that there wasn't a whole lot to do nor see in town itself. We did briefly visit the information centre, where the lady there said the Cataract Gorge was the must do activity.
So that was first on the agenda after we would get groceries and check in to our accommodation.
By 12:50pm, we were back in the car, and five minutes later, we stopped by a Coles for some groceries. The parking lot was on a hill so it was strange that most of the cars were parked tilted to one side. It was also awkward handling shopping carts as I'm sure it was real easy for some of them to roll downhill if not careful.
The Coles here didn't have the ferments that Julie was looking for, but we did pick up cheaper water as well as some fruits and eggs.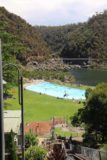 By 1:50pm, we checked into the Adina Place Motel and Apartments, which was pretty much a no frills sleepeazy apartment. It had a chemical smell when we first got in so we left the windows open to vent out the toxic fumes. In the mean time, we dropped off our belongings and then headed back out towards the Cataract Gorge at 2:10pm.
Ten minutes later, we ultimately made it to the First Basin Car Park for the Cataract Gorge. On the way up, we noticed a fake waterfall that was running at the Penny Royal though we didn't stop to take distant photos of it. I don't know if we'd regret this decision or not, but I wasn't into killing time for fake waterfalls even though we've been fooled a few times before. Perhaps that would be our excuse to talk about a waterfall in the Launceston city limits?
Anyways, after paying and displaying $2 which was good until 5pm (I doubted we'd stay that long though), we promptly walked towards the Inclinator's top. The funicular was closed, but that didn't stop us from taking pictures towards the scenic yet playful area where there were barbeques on the perimeter of a large grassy area fronted by a cafe whilst containing a swimming pool that was popular with a lot of the locals.
Then, there was a larger lake-like body of water backed by a suspension bridge (called the Alexandra Bridge) as well as some rapids and little man-made waterfalls spilling into the large lake. There were tracks circling the lake and the play area, and we wound up taking one of the tracks.
In addition, there was also a chairlift (i.e. ski lift type chairs) that went across the First Basin. Since it was easy for us to walk the whole thing in less than 30 minutes, the chairlifts really weren't necessary, but they did serve as interesting photo subjects.
During our loop walk, we also checked out a peacock that was strutting near some stagnant water, and I also noticed lots of younger people doing cliff dives off one of the ledges whilst others were floating and swimming confidently in the lake.
It seemed like a great way to cool off considering it was over 30C and one of the locals told us that it normally wouldn't get this hot this soon in the season (typically they'd see this in January). Perhaps it was yet another sign of Global Warming.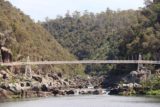 Eventually at 3:15pm, we got back in the car. We then made the drive out towards the Lilydale Falls since touring both the gorge and the city went a lot faster than I had planned. So by knocking out this waterfall today, maybe we'd have more time to do other waterfalls later on without making sacrifices.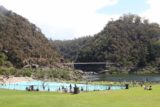 It was roughly a 22km drive out to Lilydale so it wouldn't be until about 3:55pm when we made it to the car park for the Lilydale Falls Park. We were the only ones in the park, and it featured a playground just like I remembered from before, as well as free camping for a max of one night.
If we were really on a budget, I totally wouldn't have minded staying here just for that.
Regardless, we promptly went on our walk that followed the creek beneath a bridge and then up some steps as well as a hill before descending steps to the first of the Lilydale Falls. I didn't recall from the last time the trail being so hilly, but then again, memories were fallable.
The falls was also as small as I remembered, but it was relaxing as there were tall trees around as well as the birdsongs breaking the otherwise silence and serenity of this place.
After having our fill of the falls, we then went back up the steps and continued on the trail further upstream past the first falls to the second falls, which was literally just a few paces later. That waterfall was even shorter than the first, but it was pretty relaxing and a worthy end to the short excursion (said to be 5 minutes from the car park to the first falls and 10 minutes from the car park to the second falls).
When we got back to the car at 4:30pm, there was one other family that was letting their kid swing in the kiddie playground. And just as we were about to pull out, there were suddenly another 3 or 4 vehicles parked. Maybe this place wasn't an unpopular nor dead as I thought.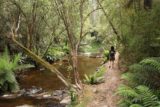 Next, we drove back into Launceston's centre getting there 5:05pm. That was where we found a really big Woolworth's that seemed to be better stocked than the Coles. With this grocery run, we were seeking ferments as Julie had called them earlier and confirmed they did stock kefir and kimchee-like spicy krauts. We also picked up some meats like bacon and chicken drumsticks as well as some veggies.
Our grocery run finally ended at 5:55pm, where we decided to just cook for tonight and hence we bought the ingredients for that.
Ten minutes later, we were back at our apartment to finally get settled and call it a day. Julie was making chicken soup (just like we did in Hamilton), and that would at least save us some money and time while also getting comfy with being in Tassie for the first time in 11 years as well…
When we were done with dinner, it was just in time to notice that the clouds outside had turned purple! So we quickly went outside our apartment to catch the fleeting glimpses of the sunset (well, the effect of the sunset) as the clouds turned pink and purple with the sun already sunk below the horizon behind the hills. Indeed, it's the clouds that makes sunsets.