Day 17 (November 25, 2017 – Launceston, Tasmania, Australia): "Rough Detours"
I awoke to my alarm at 5:05am. It was already cloudy outside, and it looked like it wouldn't be long before rain would fall. Still, knowing that Julie wouldn't be getting up for another hour or so while I knew it would take her some time to get ready for the day, I had to do get an excursion in while I'd otherwise be idling.
So I decided that I was going to do Liffey Falls this morning so I wouldn't have to fit it in on the day we go to Hobart tomorrow.
By 5:25am, I left Julie a note, then I got my stuff ready and got into the car to head out. While it was still a little bit dark at this time, it was rapidly getting brighter. Still, I knew that kangaroos (actually they're not nearly as prevalent in Tassie as opposed to the mainland) could hop onto any road at any moment, especially with the limited visibility, so once I left the city limits of Launceston, there were enough fast moving cars that I followed behind them for as long as I could before they turned off towards other roads (mainly towards Hobart).
Meanwhile, I was headed to Deloraine. I also skipped the first signage for Liffey Falls, which was on the C511 exit. I knew from the last time we were here 11 years ago that that road was a mistake. It involved more twisty roads and I'd argue it didn't save much distance wise. I think it might have also involved some degree of unsealed driving.
So I kept going along the main highway where the speed limit was 110km/h, until I reached the correct turnoff for Deloraine. I then followed the signage towards Liffey Falls, which had me on a road leading south of town. In between low-lying fog, a couple of startled kangaroos, and some spots of light rain, the drive was otherwise uneventful.
Eventually at 6:30am, I made it to the Liffey Falls car park and picnic area after following the light vehicle route (as opposed to the bus route) within the last 5.5km of unsealed driving. The place I wound up at was the so-called "Upper Car Park" for Liffey Falls. The bus route would have taken me to the "Lower Car Park".
It turned out that the Upper Car Park was the place to be because the hiking was said to be 40 minutes round trip (20 minutes each way) from this car park. However, the Lower Car Park was said to take 90 minutes. Ouch!
As soon as I got out of the car and geared up, I saw signage pointing me to a Big Tree. So I briefly followed that one-minute track, which got me right up to an impressive tree standing tall. I didn't notice this tree on our last visit, but then again, we might not have been paying as much attention to things besides waterfalls back then.
It started to sprinkle a little as I was photographing the tree so I didn't linger for long. I then proceeded down the familiar track towards Liffey Falls as I was greeted with a few signs at the trailhead next to some of the picnic areas.
Then, the track descended into a shady canopy of trees and ferns. As I was approaching a sign saying something about the Liffey Falls Scenic Reserve, I started to notice that the rain became more than a sprinkle. Still, with the canopy of trees and ferns overhead, I still didn't need to don my rain poncho just yet.
Eventually, I reached the first of the cascades comprising the Liffey Falls, where there was a lookout. It happened to be just upstream from the drop of that falls so I could hear the waterfall but not really see it. The rain also came down a little harder so I didn't linger for long here.
A few paces further, there was another lookout area. This time, it had a view looking upstream at the first cascade as well as looking right across at a second cascade. It was hard to get a pretty satisfying view of both of them together without the photo being awkward. I recalled that I had a similar challenge the last time I was here 11 years ago.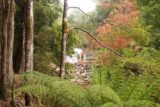 With the rain still coming down, I quickly got my fill of this spot then retreated back into the canopy.
As I continued hiking further down the trail, I couldn't help but notice through the foliage looking back upstream that the combination of the first two falls looked pretty attractive. There wasn't an official view and I could see some trails of use leading down to the banks of the Liffey River for perhaps a slightly better and less obstructed view.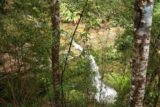 Given that it was raining and the rocks were slippery, I didn't want to chance it. So I just took what photos that I could through the slight openings in the foliage back towards the cascades.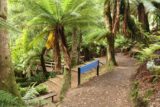 The next overlook happened to be just downstream from a third cascade that looked like it plunged like a spout. The cleanest views of this waterfall was in profile before getting to an overlook area, but that overlook only yielded obstructed views through the foliage even though it would have been satisfyingly direct.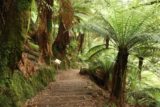 Beyond this overlook, the trail continued descending before reaching a signposted junction saying that Liffey Falls was just 5 minutes further down after a switchback. There was also signage saying that the Lower Car Park was 90 minutes away from here, further reinforcing that I was correct to take the car to the Upper Car Park. This must mean that the tour buses and campervans had to take a longer route by foot, which was surprising since it was usually the other way around in my experiences with hikes having separate car parks for tour buses.
The rain came down harder as I descended closer to the lookout of the main Liffey Falls. By the time I got to the overlook, I managed to take the usual angled shots, where the falls flowed pretty much like it did before. However, this time I didn't have to look against the sun so there weren't terrible shadows and blow out regions.
That said, the rain really came down and that made things difficult to even consider figuring out how to get across or at least to the middle of the Liffey River for that more postcard ready direct look at the stairstepping characteristic of the main Liffey Falls.
In my haste to put on my rain poncho as my head was now getting pretty soaked and my camera started to get a bit wet from all the rain, I then found a sanctioned spot further downstream where a few steps led down to the rocky banks of the river.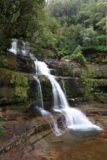 At first, I saw that there was a flat area where it might have been possible to scramble across the hard flat rock in drier times, but one or two steps let me know right away that the surface was extremely slippery. So that wouldn't be a viable option without hiking sticks. And with the rain, it was simply too much trouble there.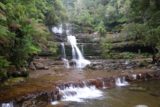 Looking further downstream, there were rocks here and there that could have gotten me to the other side of the river in drier times. But with the rain, some of these rocks were too wet to put a lot of weight on without slipping. Others were too loose.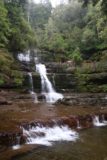 And despite me now donning a rain poncho, the camera was now copping too much abuse and I had to settle for a few foggy pictures not quite in the middle of the Liffey River looking right at the falls. Then, I had to retreat and try to use my sponge to soak up the moisture that had already accumulated on the outside of the newly bought lens.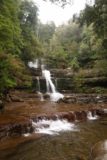 The rain kept coming down and it seemed to come down harder though it didn't seem to change the characteristic of the falls much. Still, waiting out the rain didn't seem like an option as I knew I told Julie that I'd be back at the apartment before 9 and it was already almost 8.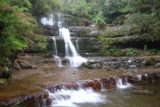 So I hastily took a few last pictures with the DSLR but the pictures remained on the foggy side so I decided not to chance it any more with all the rain and moisture. I was also worried that some moisture might creep inside the sensitive electronics of the lens.
The return hike was pretty much all uphill though it wasn't too steep. The canopy that I once relied on to stay dry without a rain poncho was now no longer effective as I could feel the drops of rain hitting the rain poncho even in the shadiest of sections of the trail.
But on the way up, I felt something on my leg hit a branch or something, and when I realized that I had my iPhone
in one of the velcro pockets there, I was cursing at myself for forgetting once again to capture an iPhone video to share on the Facebook page for World of Waterfalls. Damn!
This was the third time on this trip that I solo'ed a waterfall hike and had forgotten to do this!
So when I got back to the car at 8:05am, I promptly took off the rain poncho and let it dry on the back. I also put the camera on the passenger seat outside of its carrying bag with the polarizer lens taken off. That way everything could be dried with the defrost and dehumidifying AC of the car.
I then hastily drove back though with a lot of constraint so the car wouldn't slip out of control on the many curves or pop a tyre on one of the potholes along the way out.
Once I returned to the highway, I pretty much followed a caravan of cars moving above the speed limit (even in the rain), and by 9:15am, I was finally back at the Adina Motel in Launceston. It was just in time for breaky that Julie had just completed.
As we were eating breaky together, the weather seemed to have calmed down a bit after it continued to rain when I first showed up. We then (slowly) got ready for the day, which made me nervous because I knew we were in for a pretty long drive. If Julie wanted to eat out at some of the choice spots in town, it was going to be tough to nab a spot without reservations, which we wouldn't know exactly when we'd return to Launceston.
Still, we occupied nearly the next hour Facetiming Tahia and cleaning up after the breaky.
So at 10:20am, we were finally leaving. By this time, the rain stopped and I started to notice some sun as well as some breaks in the clouds.
Anyways, the drive followed the highway which would have taken us down to Hobart, but then we had to turn left onto the Esk Highway towards Fingal. Somewhere around there, we encountered some signage pointing the way to Mathinna as well as the Evercreech Forest Reserve.
I recalled doing the Evercreech Falls before, but I knew that we wouldn't have time to do that small waterfall and the tall white gum trees, so we kept going on towards Mathinna. But before making it to the town, we reached a four-way intersection, where we followed a sign towards some forest reserve or campground. I didn't see any clear sign about Mathinna Falls so I had my doubts.
It didn't take long before passing the aforementioned area referred to by the sign, but then a few minutes further, I noticed signage for Mathinna Falls pointing me onto the unpaved Clayton Road. From that point on, the last 6km or so was on unsealed road as the route was signed all the way to the car park for the falls.
The road seemed to get progressively worse (i.e. rockier and full of potholes) the further I went, and I didn't recall this drive being so rough in the past. The very last stretch seemed like it was more suitable for high clearance vehicles (though it was doable by passenger vehicles slowly) and with rain threatening, it could be on the order of impassable if it became muddy and wet. So that was weighing on my mind even though it wasn't raining quite yet.
By 12:15pm, we finally arrived at the dead-end for the Mathinna Falls car park. We were the only people here, which wasn't surprising. Regardless, we quickly geared up and got onto the hike, which started to the right of the picnic table along the creek.
After briefly walking amongst tall trees as well as some ferns, we got to a part where the trail bent to the right and started to ascend a little. In that stretch, we started to see parts of the hard-to-see upper tiers of the Mathinna Falls, which I knew would be inaccessible to us for all intents and purposes, especially when we had Aussie visitors submit writeups saying how hard it was to even get past the first main waterfall.
Sure enough, when the trail descended to the base of the main drop, we could see the kind of difficulty that we had run into in the past when it came to trying to get a closeup direct shot at the falls. It was simply too rocky and slippery to freely move about in the area.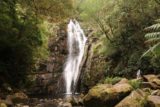 So Julie and I were content to stand on one of the flatter rocks and look directly at the familiar falls, which flowed pretty much like it did during the drought 11 years ago. I still didn't remember this trail being so up and down and primitive, but then again, memories can be faulty with that much time passed without good photos or notes taken on the trail back then.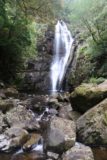 That said, I did notice downed trees and fallen rocks further downstream so perhaps the terrain just changed over all that time.
As we documented the falls, the sun started to briefly come out and shine right above us through the clouds, which kind of wreaked a little havoc on our even lighting. Then, it started to sprinkle and persist a bit more later on.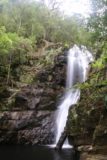 With the thought of the rough road to get here, I was ready to leave and not let Mother Nature decide whether we'd be stuck here or not.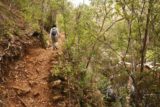 By 1pm, we were back at the car park. Another truck just started pulling up as the rain came down. Moments later, we started the drive out and promptly got out of the last stretch that I was most worried about. Then, we had to negotiate the potholes and rocks on the "smoother" part of the gravel road now.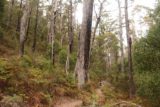 On the way, Julie pointed and asked "What's that?" just as it was starting to move slowly onto the road. She thought it was a kiwi or something, but I knew that it was an echidna given its porcupine-like body. In the time we tried to stop the car and take a photo with the iPhone (would have been faster and better with the DSLR), we took a couple of awkward shots of the wildlife, but we completely whiffed on getting a nice profile view of it with its pointy snout and round spiky body.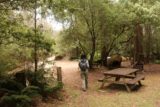 Next, the GPS
had us take a paved road further north towards Ringarooma but it didn't take long before this road started to become unsealed again. So the driving was slow, and I wondered if I would regret my decision to follow the GPS instead of backtracking and going east towards Bicheno then north towards St Helens on all highways even though the route would be a bit further.
That said, we were running out of time to get back to Launceston at a reasonable hour with still two waterfalls to go, so I commited us to use time as the criteria over scenery, food, and distance.
Even though the distance wasn't far as the crow flies to get to Ringarooma, it felt like it took forever due to the unsealed driving. By around 2pm, we pulled into the farming town of Ringarooma, but we could see that everything was shut and there wasn't really a reliable eatery there to grab something to go.
So Julie wasn't liking that we weren't stopping for lunch, and with the waterfalls still east of us, I knew that we'd pretty much have to rely on our snackies (i.e. fruits and maybe the bag of Doritos that was sitting in the back seat for emergency purposes) for our lunch.
The last 11km or so leading into the Mt Victoria Reserve to the Ralphs Falls Trailhead was once again narrow and unpaved. Aside from passing one car going the other way, we found ourselves all alone at the Ralphs Falls car park at 2:20pm.
I never remembered the clearing for the car park here last time as I swore there used to be nothing more than a pullout by the road and a signed trailhead. There was even a hut across the unpaved road with some graffiti scrawled on it saying "Hoo Haa Hut".
Just as we were getting out of the car, it was warming up quickly as the sun came out and the car was exposed to it. We then got into the forest canopy amongst the gnarled trees before descending to the lookout platform for Norm's Lookout and the Ralphs Falls Overlook. There was a loop junction on the way down for the Carr Gorge and Falls, but we didn't have the 60 minutes return to spare so as much as I wanted to explore it, I couldn't.
Anyways, this track definitely seemed longer than I remembered as I swore it was only supposed to be a few minutes walk as opposed to 20 minutes. Even the lookout seemed different as there was no longer a Norm's Lookout sign on the railing itself. I guess perhaps Nature combined with a less direct route were the responses to things changing over time. After all, Mother Nature never really sits still and let things stay stagnant. That's just a reality that we tend to overlook in general.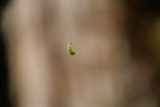 After having our fill of the falls (which flowed similarly to how it did 11 years ago), we noticed some interesting silkworms or something like that hanging from the trees. They were hard to photograph since our cameras kept autofocusing on other things behind them, but I kicked manual focus in on my DSLR and finally managed to take photos of a few of them.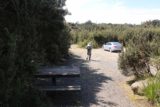 By 3pm, we were back at the car, which it was hot and we were sweating.
We still had to go a little further east to get to the last waterfall of the day, which was St Columba Falls. So we continued on the unpaved road eventually leading to the St Columba Road and Pyengana. However along the way, we saw this very depressing clear-felled field of flattened forest.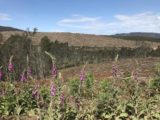 When we saw the signage suggesting this was a place of "many uses" (something similar to what we hear about in the US Forest Service), this is what they're referring to.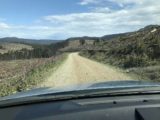 I definitely never remembered so much land being cleared for their wood, and it just goes to show you how perverse economic incentives are the root cause of every environmental problem (and possibly every social problem) that humans face.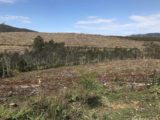 While I had read about selective felling to harvest wood and still let the forest function, the clear-felling that happened here left no tree untouched. I wondered how long it would take for this part of the forest to recover into a new forest, and I wondered whether the forest would come back or if it would just be a meadow.
I also started to really wonder if the rain that Tasmania had been getting in the west and the centre of the state but was absent in the east of the state might have been impacted by clear-felling activities like this. We recalled noticing back at home on cold days that fog tended to accumulate over grassy areas in city parks. Who knows how much more effective of a moisture magnet that old growth trees would be if left alone?
Well, after getting past the depressing scene, we then turned right onto the St Columba Falls Road, which was paved. And by 3:30pm, we finally got to the familiar trailhead for the falls, where there were two other cars there. In fact, of all the waterfalls we had seen in Tassie on this trip so far, this was the first time that we wouldn't be having both the falls and the trail all to ourselves.
Anyways, we quickly geared up and tried to photograph the falls from across the gorge through some foliage, but although the falls was said to be tall, we were really only able to view parts of it at a time, which made it appear smaller than it really was in the photos.
Once we got past the familiar little entry way, we then descended the track leading past some of the interpretive signs (I swore there were more of them in the past) leading past a landslip-prone area where a sign said to keep moving past this 25 metres of risk before finally getting to the lookout right at the base of the falls.
The sun was peaking in and out of the clouds so it wasn't the best lighting at this time of the day. But in any case, it was hard to get all of the falls in one shot given how much it segmented as it made its long tumble. And it seemed like most of the flow was towards the left side. So on this trip, it appeared that we were witnessing low flow just like before, and we had yet to see this falls really span the length of the exposed cliffs here.
So we got our fill of the falls then walked back up to the parked car. There were a couple more cars that pulled up just as we were returning as a hot and sweaty mess. It was amazing how quickly the weather changed from cold and rainy this morning to hot and sweaty with some sun at this time in this part of northeast Tassie.
By 4:05pm, we were back in the car with the AC on. Then we rebelled against the GPS and drove towards Pyengana. Along the way, Julie noticed the Holy Cow Cafe, which she told me to make a stop so we could see what they had to hold us over until dinner.
It turned out that they had some pickled onions and eggs, and we gave that a try. There was also a self-help cheese tasting station where I got to try herb and garlic flavours as well as what was left of plain, and even a wasabi-flavoured one.
They ran out of vanilla bean ice cream and only had some weird berry flavours left so I didn't get to try that here though I was certain since this Pyengana was a dairy farming community that the ice cream would have been really fresh and good.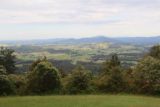 Anyways at 4:30pm, we were back in the car and we were finally driving back to Launceston. At this rate, it was looking less and less likely that we'd be able to have dinner on a Saturday night in some of the choice spots in town.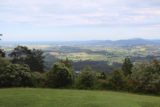 Along the way where we negotiated numerous twists and turns (so we rarely ever realized the speed limit of 80km/h or 100km/h), we made a stop at the Sideling Lookout, which looked back north in the direction of the Strzlecki Ranges on the other side of the Tasman Sea in Victoria! There were also lots of rolling hills and farms seen from the overlook.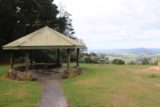 It was a brief stop to break up the drive and take the obligatory photos, but then we resumed the drive and it wouldn't be until about 6:30pm when we arrived at the Cataract on Paterson restaurant that Julie had targeted for dinner tonight. Unfortunately, that place was closed for a private event that was going on at the moment. So we then tried the Stillwater Cafe across the Penny Royal (the fake waterfall was turned off as it was after hours) just a short distance further down the street.
I think that was the place we ate at in the past though my memory was pretty bad and I could only remember having a nice dinner then walking to the mouth of the Cataract Gorge in twilight when some kind of performance could be heard echoing in the distance and I had forgotten to bring my DSLR so I couldn't take advantage of the magical lighting and mood that was happening at the time.
Anyways, we drove past the restaurant, then swung around some residential area to turn back. Along the way, we saw a beautiful nearly double rainbow arcing over the city of Launceston, where we briefly stopped to take photos with some locals that were checking out the scene as well.
Then, we finally made it to the Stillwater at 6:50pm, where we were denied once again as they were booked solid. So with that, we went to the last fallback which was Indian food.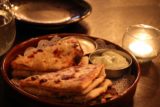 At 7pm, we finally found street parking near this place called Pickled Evenings (it wasn't Cinnamon, which I thought we were going to eat at since we saw that other place by the Coles when we went grocery shopping yesterday).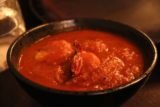 The restaurant was quite busy and we were seated upstairs where it was quite warm as all the candle heat and smoke filled the upstairs area. I was getting a little lightheaded and flushed from the stuffy air, and it also seemed like I was getting a recurrence of sore throat. So as charming and atmospheric the Indian Restaurant was (which was unusual since we were used to Indian Restaurants being cheap eats or buffets), I wasn't totally feeling it in the moment.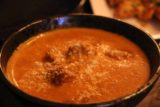 We knew that the restaurant was very busy and it would take time for our food to show up. But when it did, the food was of such high quality that it could very well be one of the better Indian experiences we've had. Back home in Little India area, the restaurants tended to emphasize more snacks and quick eats and not so much this atmospheric blend of environment, charm, and high quality food.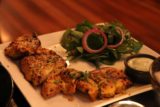 We had a chef's naan special (basically stuffed naans with different things like chicken tikka, garlic, cheese, etc.), Tikka Masala Barramundi for appetizer, and Madras Curry Beef as well as Vindaloo Garlic Prawns. The meal was filling and we had to take some of the food home. But they all tasted real good though the Vindaloo was quite spicy and it really made me sweat (on top of the already stuffy upstairs).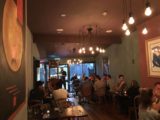 One thing that was real apparent from this meal though was that it seemed like this was Indian food with pride! It contrasted mightily from the typical Indian buffet or overpriced watered down dinner that we were used to at Indian Restaurants back at home where it seemed like cheap was the priority. But in the commonwealth (i.e. Australia and even the UK when we had Indian back over there), it really seemed like quality ingredients and pride was the priority.
By 8:50pm, we were finally back in the car, then we headed over to Woolworth's for a last-minute grocery run. And finally at 9:25pm, we were back at the Adina to conclude a very long day.
With all that we did today, that might have bought us time to sleep in and move at a more reasonable pace tomorrow as we would make our way all the way down to Hobart for the next three nights.
Visitor Comments:
Got something you'd like to share or say to keep the conversation going? Feel free to leave a comment below...
No users have replied to the content on this page