Day 18 (November 26, 2017 – Hobart, Tasmania, Australia): "Sunday Soggy Sunday"
I awoke to my alarm at 5:45am. As much as I wanted to sleep in, I knew that we had a fairly long drive ahead of us to Hobart that included a detour to the Lake Leake area where we were going to re-visit Meetus Falls and Lost Falls.
The morning started off rather hectic as Julie was busy preparing leftovers for breaky while I was trying to wrap up the blogging and photos from yesterday.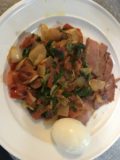 After Facetiming Tahia during the breaky (where I had the leftover Picked Evenings food as well as Julie and I both having kefir, fruits, bacon, and eggs), we loaded up the car, checked out, and left Launceston at 8:50am.
It was raining off and on throughout the morning, and as we were driving out of town, we thought we might catch a glimpse of the fake waterfall at Penny Royal, but it wasn't turned on because I don't think it was open yet. So we figured that our return to Launceston would be our last attempt though if we missed it, I wouldn't be that concerned.
The drive south was pretty uneventful though I never did find that gas station that I thought sold gas at around $1.41 AUD per litre. Instead, it was more like $1.44 AUD per litre, and I happened to fill up at Campbell Town though I only filled up $60 AUD which didn't even put the tank up to the F.
Next, we drove east along the Esk Highway towards Lake Leake. I couldn't get a clean look at the lake as there wasn't a convenient overlook to check it out along the way. So we then got to the familiar four-way junction, where we turned left and drove the remaining 9km of unsealed road towards the Meetus Falls.
The last time we were here, there were some giant black eagles seen, but so far on this trip, we hadn't seen any. I wondered why.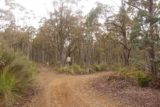 Regardless, this unsealed road was wide but it was rocky and had some potholes. I was already not liking the Tassie unsealed roads as they were much rougher than anything we had seen in South Australia or Victoria. I was very worried that such roads conspired to pop a tyre.
The GPS
didn't seem to recognize the road leading to the Meetus Falls because it kept wanting me to take some non-existent trail going to the falls. Instead, we pressed forward and eventually saw a sign saying Meetus Falls was another 1km to the right.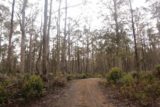 So we took that road, which was narrower and rougher with deeper and more frequent potholes as well as rocks. There were even a few little water gullies.
Mercifully, we arrived at the Meetus Falls car park at 10:40am. There was a shelter as well as a couple of small sturdy huts for toilets and some picnic tables. A sign said that there was a fire ban in the area, which attested to how dry this part of the state must have been this year. In fact, Julie and I saw quite a bit of brown while driving the Esk Highway.
Speaking of our observations, the rain had been hitting us throughout the drive, but it appeared to have calmed down for the moment when we got out of the car and started hiking.
The trail seemed like one of those easy-to-lose kind of trails as the path was fairly primitive. There were also quite a few larger rocks where we really had to watch our step for the slippery footing as we were descending.
Along the way, we kept smelling some kind of strange scent that Julie characterized as rotting fruit though upon closer inspection, I think they came from the flowers that also grew out berries that reminded Julie of Fruit Loops.
Eventually, we got to the familiar overlook after heading down some steps to view the Meetus Falls below us.
I wasn't sure if the continuation of the trail (there was an unsigned junction along the way that led down to the Cygnet River) would allow us to get all the way to the base of the falls, but there was a sign saying something to the effect of not throwing rocks so as to not endanger hikers that may be using the trail down below.
There were dark clouds surrounding us, but we still managed to get some satisfactory views looking downstream as well as towards the falls and the cliffs. Once we had our fill, we then ascended the path (bypassing the unsigned Cygnet River access again) and worked up a little bit of a sweat though the cool weather made the hiking more comfortable for once.
At 11:20am, we were back at the car. As we drove back out towards the Esk Highway, it started raining again.
When we reached the Esk Highway, we then cut across towards the Lost Falls Reserve. After following its series of unpaved roads, we would eventually arrive at its familiar clearing and car park at 12pm. Along the way, we spotted a wombat going across the road.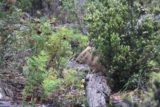 We tried taking pictures of it, but it moved behind a bush and tried to stay still and play possum. So all I was able to manage was a shot of its face as it was staying still hoping we'd finally leave. When the wombat made the first move to turn its back on us and leave, we couldn't get any more shots of it (neither clean and mostly partial), and so we carried on.
When I first got out of the car, it was raining again. So I had to don my rain poncho while trying to keep the DSLR camera dry. The walk was said to be 10 minutes return, but I wound up taking my time to make sure I got to see the waterfall flowing (if it was flowing at all).
Sure enough, when I got to the further overlook (not the first one, which was only of the bush), I could clearly see that Lost Falls was pretty much dry for all intents and purposes, and that the rains that we were encountering didn't seem to have put a dent in its waterflow (or lack thereof).
After having my fill of the falls and the overlooks, I then took a short detour to the Rock Pool, which was a pool further upstream of the Meetus Falls. There was even a trickle feeding the rock pool so I guess the recent rains must have done something to at least get that much life out of this disappointing Lost Falls.
When I returned to the car park, the rain appeared to have subsided so I didn't need to don the hot and unbreathable poncho anymore. I then went the 200m towards the so-called Scenic Lookout, but when I started to lose the trail on a wide granite top, and after several minutes of fruitlessly trying to figure out how to look further down the valley without the trees getting in the way, we finally declared defeat and associated this side detour as a complete waste of time.
Eventually at 12:50pm, I returned from futile scenic overlook, and then proceeded to drive east on the Esk Highway towards Swansea. Julie was getting hungry for lunch so it was a good thing that we opted to rebel against the GPS and take the scenic coastal route instead of the inland route from Halls Gap.
By about 1:25pm, we arrived at this place called the Salt Shaker in Swansea, and we had ourselves a half-dozen natural Tassie oysters, a skewer of prawns and scallops as well as an angus burger where the beef patty was delightfully soft and easily messy.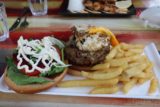 The view from the restaurant looked out towards the ocean though the waters were calm because the Freycinet Peninsula blocked most of the turbulent waves from getting into this protected bay.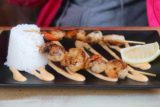 It was too bad that the skies were dark gray and the rain continued to fall. But at least we enjoyed the food.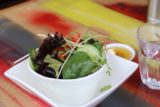 At 2:15pm, we were back in the car and headed south of Swansea towards Hobart. It was beginning to rain hard again when we got in the car.
Anyways, it was still a long drive to make it all the way to Hobart. After afternoons weren't my time in terms of avoiding drowsiness at the wheel. So I was pretty much struggling as we were keeping up with some of the locals or faster drivers though the curves and the slippery conditions ensured that I wouldn't be as sure about the grip the worn tyres had on a day like today.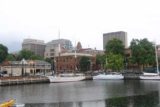 Eventually by 4pm, we arrived at the Somerset on the Pier, which was on the Elizabeth Street Pier. We could see that our accommodation was right on the pier, which was an unusual arrangement, but it was one of the main reasons why Julie really looked forward to staying here and allowed ourselves to splurge a little for the next three nights.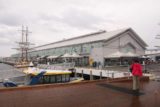 So we parked in front of the reception to bring our belongings up to our room. Then, we got a little settled and headed back to the car so we could find more permanent parking reserved by the hotel.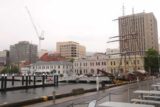 All I could find was a spot across a narrow bridge to the right of the pier as we were facing town. All the closer spots both on the pier and almost right in front of it were all taken up. At least we got to park within reasonable distance and didn't have to fret about parking in one of the more public spots where we'd have to wait until 6pm to park without incurring a fee until 10am the following morning.
After getting all settled in our room, we then headed back down at 5:25pm. We were intending to have an early dinner at this place called Peacock and Brown or something like that, but it was pouring rain outside and we had to wait until 6pm before the kitchen would reopen for dinner.
The hotel staff had an extra umbrella for us to use, which was vital for us to stay dry. So we waited out the worst of the squalls to hit the area, then we walked in still somewhat significant rain though the umbrellas helped quite a bit.
Eventually by about 5:45pm, we got to where the Peacock and Brown restaurant was, but we also walked towards this attractive Atrium where there was a more inviting back entrance to the same restaurant.
We'd ultimately be seated shortly before 6pm, and we spent the next hour or so enjoying great service and some real tasty French-inspired dishes that consisted of a chicken liver parfait appetizer as well as beef tartare. Our mains were a roasted duck breast for Julie and a pork tenderloin cooked in different ways including a Haggis-like blood pudding.
When all was said and done, the food was probably one of our better dining experiences rivaling some of the Melbourne experiences we've had. And as we walked back outside towards the wharf, the rain appeared to have let up.
So we used this time to walk around and try to burn off some of the calories gained from our tasty dinner while also trying to scout out the best parts of Hobart.
We started off by checking out some of the signage across Hunter Street from Peacock and Brown, where there were interesting statues and history about the immediate area. Then we made our way towards Salamanca Place where we knew that it wouldn't have the buzz of the Salamanca Market as it occurred on Saturday morning and we would be long gone from town by then.
When we got to Salamanca Place, Julie saw a small local grocery store called Salamanca Fresh, and it turned out that they did have some kefir and other goods that we wound up buying for making breakfast with as well as preparing for one home made dinner (of chicken soup since Julie was still not well) as well.
Prior to joining Julie in the shop, I went out on my own briefly to check out what else there was on Salamanca Place. I managed to find some kind of interesting courtyard area where there was a mix of apartments and businesses, but there wasn't enough there to keep me around so I managed to rejoin Julie on her grocery run pretty seamlessly (especially since she wasn't aware that I had briefly gone out on my own whilst in there).
We wound up walking via the Kelly Steps towards Battery Point, which was nothing more than a neighborhood with historical-looking homes and buildings as well as a few city parks. There wasn't anything particularly signature must-see about the neighborhood, and it was akin to pursuing those historical homes in New Orleans or the Pink Ladies in San Francisco.
Maybe we weren't looking in the right spots? But whatever it was, I recalled that we had a similar experience our first time in Hobart where we walked around Battery Point and wondered what the big fuss on TripAdvisor (back then it was Lonely Planet since there was no TA) was all about.
As we started to leave the Battery Point area, we noticed a nearly vertical rainbow just as the daylight was fading fast. We took plenty of shots of the colorful display as well as the clouds turning pink and purple in the process as well.
By 9pm, we were back in our room. Along the way, we encountered a pair of attractive women dressed up but stumbling around. They greeted us and we returned the greeting, but they were also a bit intoxicated. One of the ladies wearing a tall chunky pair of heels couldn't keep her balance and she managed to fall down twice.
We offered to help her up, but she said she was ok. There were a couple of blokes who spotted them prior to falling and said something to each other about wanting to get with them, but that chatter went silent the moment they saw the one girl take a spill.
The ladies then proceeded to go into another bar, where we presumed that they were there for even more drinks!
Anyways, that was the end of this rather wet and soggy day. The rain was predicted to continue tonight and into tomorrow morning. So I figured that come tomorrow morning, I would solo Snug Falls before returning to the Somerset on the Pier for breaky. And then we'd go to Waterfall Bay since all this rain must at least do something for the waterfall there, right?
I guess we'll find out tomorrow…
Visitor Comments:
Got something you'd like to share or say to keep the conversation going? Feel free to leave a comment below...
No users have replied to the content on this page