Day 20 (November 28, 2017 – Hobart, Tasmania, Australia): "Persistent Clouds"
At 5:25am, I awoke to the watch alarm again. It was another cloudy morning, and when I got my stuff together to go on a pre-breaky hike, I got into the car at 5:45am when it started to drizzle and even rain a little.
Even this early in the morning, all the choice parking spots (including those reserved for Somerset guests) were still taken! I guess that many people were staying at the same accommodation that we were.
The drive south towards Snug pretty much went easily. By 6:15am, I had parked at the familiar car park area for the Snug Falls, which was after a 4km mostly-unpaved road leaving from the main road through Snug.
It was still drizzling when I got out of the car and geared up. Then, as I walked the 150m to the trailhead, I then proceeded to descend the familiar track that I knew would lead me down to the base of the falls.
The signage stated that it was a 2km walk (round trip or each way?) and that it would take an hour return. This was a little longer than I had recalled when Julie and I did this hike about 11 years ago, but since I was doing this solo hike, it was not an issue to me as I knew it wouldn't take nearly as long as the Pelverata Falls hike.
Going down the track was a fairly slow affair as my memory of nearly twisting my ankle a couple of times reminded me that this grade 3 track had lots of rocks and roots that forced me to really pay attention where I was going. But in the process of slowing down, I got to listen to the interesting birdsongs while also inadvertently scaring one of the bushy wallabies that was grazing in the bush right by the track.
Eventually at about 6:55am, I reached the bottom of the Snug Falls, where it still had similar flow to when we last saw this place nearly 11 years ago.
However, now that I was older and wiser, I also noticed one other thing about this falls that I hadn't paid attention to before. It was that the stream actually had a bit of a tinge of dark brown and red, which I presumed was some kind of tannin that resulted from the erosion of stream banks.
I really took my time at this spot, but once I had my fill of the falls, I then walked right back up the way I came. Since the track was upside down, I knew that the return hike would cause me to work up a sweat.
Eventually at 7:45am, I returned to the car.
The drive back to the Hobart Wharf area took a little extra time because I was apparently caught up in the rush hour as people were either going to work or kids were going to school. When I finally got back to the wharf, it was 8:25am. Even though all the Somerset spots were taken up, I did score a spot in the front that was one of the general parking areas.
I was a bit confused about the signage as it said that the voucher-required parking was from 8am to 8pm daily. Well, I recalled that the receptionist said that parking was available in those areas from 6pm to 10am. When I asked the receptionist about it, he said that the Somerset voucher we had to leave on our dash was good for adding an additional two hours.
I wish that was made clear when we checked in because that would have saved me about $3.35 in unnecessary fees for securing a voucher thinking that we didn't have the two extra hours.
Anyways, Julie and I had another breaky together while looking out the window of our apartment towards the east end of the wharf. Our breaky was mostly leftover bacon and some fresh eggs with veggies as well as fruits and kefir. We were a bit more efficient with getting our act together this morning than yesterday morning so by 9:15am, we were back in the car and ready to roll.
With the stubborn clouds still above us, we decided that doing Mt Wellington wouldn't be wise so we went to Russell Falls instead. Maybe when we return later on, the situation might improve.
The drive out to Russell Falls seemed fairly long as we were following the Derwent River for some ways, then we found ourselves on some B roads leading us to follow along the Gordon River and some pastures.
When we were on the Gordon River Road heading into Mt Field National Park, we made several railroad crossings, which was one aspect of the drive I still remembered from before.
Anyways at 10:25am, we arrived at the visitor centre for Russell Falls. There were a lot of cars parked here, but there were also tour buses full of Chinese tourists. It seemed like they were everywhere we went around Australia.
This was a pay site so we had to go into the visitor centre to pay $60 for an 8-week pass (since the kiosk person reasoned with us that we would have to pay about $12 per adult for every 24 hours we're in National Parks in Tassie, which would exceed $60 for the anticipated three days we'd be here and in Cradle Mountain).
We then proceeded to go onto the 25-minute return walk to Russell Falls.
As we were walking the trail along the Russell Creek, we heard the obnoxiously loud sounds of chainsaws as apparently some kind of work was being done. Something didn't seem familiar about the hike we were on compared to last time as I had recalled that it was a fairly open and mostly flat path to the falls. This time, however, it was more forested and it seemed like we were following along the creek for much of the walk.
When we eventually got to the Russell Falls viewing platform, it was very busy with Chinese and Aussie tourists as well as other languages being spoken. Indeed, this place had that familiar international touristy feel to it, which I didn't quite recall was the case back in November 2006.
Confirming that this trail felt different were construction closure signs coming from the left side of the viewing deck. It was no wonder why thing were different because the first time we were here, we approached the falls from that side of the creek!
Still, Russell Falls remained an imposing multi-stepped block falls with what Julie called lots of character. We could totally relive why we put this falls on our Australia Top 10 List. Sometimes I wondered if our website's coverage of waterfalls in Australia led to all of the major ones being so busy now.
Anyways, when we had our fill of this spot, Julie headed back while I proceeded to go to the alternate viewing deck (which was disappointing and overgrown), then I went up the steps towards the top of the falls.
When I got to where there were wooden steps (they were definitely not there before), I kind of knew that the authorities made a lot of effort to try to conceal the path leading to the bench between the upper and lower tiers of Russell Falls. I went ahead and went through the railings of the steps, then quickly made my way along the former path until it got to where it got a bit overgrown.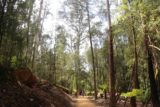 Over there, I had to go through spider webs and ferns as well as watching my footing on narrow ledges and slippery moss-covered rocks before reaching the familiar bench. Unlike the last time I was there, I didn't bring a tripod, but more importantly, I didn't venture towards the middle (crossing some parts of the creek along the way) as the surface was noticeably slippery.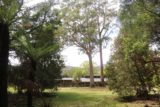 So I didn't get any of the direct shots that I once got in the past, and I was content to get my angled views of the upper tier of the falls before heading back up to the steps. Some people saw me approach and were probably wondering what I was doing, but in any case, I got back on track without any further incident and it was back to business as usual from there on out.
The steps eventually led up to the familiar view over the top of Russell Falls, but like I anticipated, there was never a clean look at the waterfall's upper tier. And just a short distance further upstream from the top of the falls, there was a footbridge continuing the walk towards the Tall Trees Walk as well as the Lady Barron Falls (where I knew a separate car park was up there to reduce this walk) as well as the Horseshoe Falls.
Even though this segmented falls was tiny and it seemed to have less flow than when I first visited, there were still lots of people here. I guess whenever you have large groups of Chinese tourists from the cheap tour bus tours, it was hard not to have that human crush experience (much like how it felt like when we were in the country itself).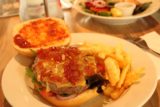 After having my fill of this falls, I then headed back to the visitor centre, where Julie was busy killing time reading her Kindle or playing with my iPhone. I was surprised that she didn't place her lunch order while I was away. So she insisted on placing her lunch order now, and I knew that that would compromise any shot at her wanting to do any Hobart-related tours that had opening and closing hours.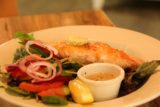 We were finally done having lunch at 12:40pm (I had a "signature" Tassie burger and she had some kind of salmon salad made to be gluten free), we then drove up the unpaved road towards Lake Dobson. We didn't have to go all the way up to the lake as the car park for the Tall Trees Walk was a mere five minutes drive from when we left the visitor centre.
Julie stayed in the car while I briefly checked out the Tall Trees Walk. It was said to be a half-hour loop walk, but I was content to just get a flavor of walking just part of this track and being overwhelmed by the sheer size of some of the trees seen along the trail. It reminded me of some of the Sequoia Redwoods experiences I'd have in some of the groves of both Sequoia and Yosemite National Parks back in California, but these Eucalyptus Trees held their own in the height and quantity department.
By 1pm, I was back in the car. As much as I wanted to finish the walk and even continue walking towards the Lady Barron Falls, I stayed disciplined and tried to get Julie her Hobart-related sites (she had her sights set on the Hobart Penitentiary) by heading straight back to Hobart.
The drive back to Hobart went pretty much as expected. However, when we returned to the city, Julie wanted me to go straight to the Hobart Penitentiary on Grebe Street. But when we got into the Hobart CBD, she completely overlooked the fact that my phone wasn't routing and my GPS was routing back to the Somerset on the Pier accommodation.
When she realized this, I had already parked the car by the pier at 2:15pm. I guess she was too wrapped up in her Kindle and didn't pay attention to her task at hand. In the mean time, I was keeping a close eye on the clouds looking towards the west of the Hobart CBD. I had this idea that when we go back to the room, I could study the webcam atop Mt Wellington to see what the conditions would be.
And when we returned to our room at 2:30pm, I saw on the webcam that it was still foggy up there. So for sure, going up there wasn't going to happen unless something changes later in the day.
Julie also found out on the web that the Hobart Penitentiary closed at 3pm! That meant that there was no shot we would be able to make it there in time. I guess with hindsight being 20/20, her messing up streamlining lunch and not paying attention to the routing really costed her that visit. I was indifferent either way.
So with that, we then Facetimed Tahia before she went to bed. Then, we headed into town at 3:10pm, where we explored a bit of the Elizabeth Street Mall area (after briefly checking out Franklin Park), which was a pedestrian-only zone with some little arcades flanking the shopping district. On the other side of one of the arcades was Woolworth's.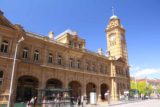 We went in there and looked for things like plain kefir, blueberries, and other things that Julie had craved or were looking for since we would be without a kitchen while in Cradle Valley later on this trip and while Queenstown would be our last chance at having a cooked dinner and cooked breaky.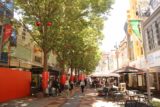 Well, it turned out that this Wooly's had run out of the plain kefir, they didn't have blueberries, and we did pick up Icelandic Skyr as the next cleanest probiotic to have. I also picked up 2x 10L boxes of the Tasmanian Pure Water since they were really cheap at about $6 a pop.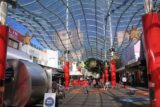 Unfortunately, Julie dropped the skyr on the ground, and the container burst open. So went the money spent on that as she was unwilling to ask if we could get a replacement (doesn't hurt to try, right?). So we were SOL and I couldn't help but feel like we wasted money there or at least more than offset the savings we got by me lugging around the 10L water boxes.
Next, we were back in our room at 4:15pm. With this little shopping run, we realized that aside from some of the historic buildings and attractive city parks, there really wasn't much else to see within the Hobart CBD. Upon looking at the Mt Wellington web cam, I saw that there were still clouds blocking the views (at least of the Hobart area). Maybe we might be able to get up there after dinner?
By about 4:55pm, after we had started walking back up towards the northern part of the Hobart CBD, we arrived at the Urban Greek restaurant, which Julie had targeted as she was in the mood for something different and it had good TripAdvisor reviews.
With our early dinner, we got ourselves a seafood platter called Poseidon's Plate (though $5.50 was charged for grilled octopus instead of pickled octopus) and I got a lamb cutlet (i.e. rack of lamb).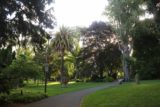 Our plates were quite filling and even though we ate everything, we were quite stuffed.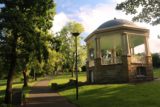 We then walked down to the Salamanca Fruit Market again (passing by the St David Park along the way) to see if we could pick up some fresh meats so Julie could make spaghetti tomorrow in Queenstown while also getting blueberries or any other kefir or skyr that we might have overlooked.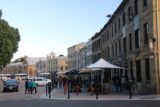 Well, it turned out that they had run out of blueberries (they had lots of them yesterday) and only the kefir from milk powder was available. So we got what we could, and we returned to the apartment at 6:50pm. Thus, we ended the day as the webcam suggested that the visibility on Mt Wellington had gotten worse again.
I guess tomorrow morning will have to be boom or bust for us, but I was also worried about trying to fit in Montezuma Falls and Strahan for lunch. Would we be able to fit all that in tomorrow given the really long drive to get from Hobart to Queenstown? I guess we'll have to find out…
Visitor Comments:
Got something you'd like to share or say to keep the conversation going? Feel free to leave a comment below...
No users have replied to the content on this page