Day 21 (November 29, 2017 – Queenstown, Tasmania, Australia): "Near Miss Timings"
I awoke to my alarm at 5:25am. It was cloudy when I looked out the window this morning, which was precisely what I didn't want to happen as this was my last shot at visiting Mt Wellington. But being that Mother Nature doesn't care about my plans, I had to play with the hand that I was dealt. And if it wasn't meant to be for me to have that signature photo from Mt Wellington down towards Hobart, then it wasn't meant to be.
I did look at the webcam and saw that it was bright and sunny atop Mt Wellington, but there was a layer of fog below the summit. I was hoping against hope that it might burn off by the time I got up to the top.
I knew that Julie would be unable to get up at this time so I got into the car at 5:45am and promptly drove myself up to Mt Wellington. I still found it amazing that most of the parking spaces for the Somerset on the Pier was still occupied! I could totally see how some TripAdvisor reviews complained that it was difficult to find parking here.
Anyways, I followed Elizabeth Street to Davey Street, and pretty much took that street all the way up Mt Wellington.
By about 6:15am, I made it up the summit along Pinnace Road. Indeed, as the webcam indicated, I was above the fog, and there was even a section where I drove through the fog.
The sun was already shining brightly up at this altitude of 1720m (over 5,000ft perhaps), and there were a handful of people already up here. I even went past some cars that were on their way down as they probably came up here even earlier to watch the sunrise.
Hoping that a miracle might occur while I was up here (in that the fog might burn off), I went for a walk around the parking area looking to get a feel for what there was to see and do up here (besides looking down at Hobart, which was currently not possible due to the fog).
I initially started walking in a clockwise manner towards some kind of radio or cell tower. There was a giant pole creating some shade, and I noticed a walking track that appeared to go closer to some interesting cliffs and rock formations ahead. One of the signs said something about Organ Pipes though another sign said that the track to get there was closed.
Nonetheless, I walked along that path just to get far enough to get a decent look at the rock formations (not sure if they were Organ Pipes or not), and in the process, I startled what appeared to be four kangaroos grazing besides the trail.
At that point, I happily took photos and moved very slowly so as to let them do their business without perceiving me as a threat. Of course, they were always jittery even though there were no real predators besides humans and especially humans in cars.
I finally walked a few paces more to where I was able to juxtapose the rock formations with the top of the cloud layer. Then, I headed back to the car park area.
Next, I went to another lookout where there were a couple of signs talking about kunyanyi, which was the Aboriginal name for Mt Wellington. Again, as I looked out west away from the sun, the scene looked flat, and it looked even flatter with the fog layer concealing the rest of the scenery below.
After I completed my circuit of the car park area, I then scrambled up to some kind of vane, where there were four people that had been chilling up there and conversing with each other for the whole time I was there and perhaps much earlier.
When I joined them, I asked if they saw the kangaroos up here, and they told me that I most likely saw wallabies. When I asked them how they could tell the difference between kangaroos and wallabies, they said that they don't really get wallabies on Tasmania.
So despite the fair size of the "wallabies" that I saw, I guess they must be on the big side as far as wallabies are concerned and perhaps on the small side as far as kangaroos are concerned.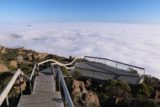 Regardless, the foursome headed back down to their parked car and left me alone to check out the views from their former vantage point. Again, it was a shame that the fog stubbornly concealed Hobart down below, and I knew that in another two hours or so, the fog would burn off and reveal that signature view.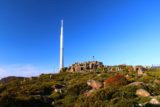 After returning to the car park, I then went to the main lookouts just to get a sense of what kind of experience I should have gotten had the weather been more cooperative. There were two lookouts and I knew by facing in the direction of the sun, that Hobart was east of Mt Wellington.
Once I had my fill of this spot, I returned to the car at 7:25am. Now, I had to go back down to rejoin Julie at the Somerset on the Pier accommodation so we could load up the car, check out, and then make the long drive out to Queenstown.
I had grand plans to perhaps try to fit in Montezuma Falls on this day, but the more I thought about it, the more I realized that we were better off visiting waterfalls on the way to Queenstown, then try to have a late lunch in Strahan, and then hike to Hogarth Falls, before driving back to Queenstown and calling it a day.
In theory, I would have had enough time to check-in and leave Julie to make a spaghetti dinner to use up whatever produce we had (we wouldn't have a kitchen in our next place at Cradle Valley), then do an out-and-back drive and hike to Montezuma Falls, but realistically, I was certain that thing would take longer than what the GPS had predicted.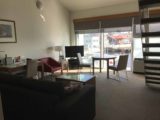 Anyways, I eventually made it back to the Somerset on the Pier at 7:55am. I returned just in time to snag one of the nearest spots to the Elizabeth Street Pier, and then I had breaky while Julie was finishing up the packing and loading up the dishwasher.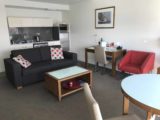 By 8:35am, the car was all loaded up, and we were leaving the accommodation for good. Just as we were driving out towards the North Hobart suburbs, I could see that clouds were still shrouding Mt Wellington, but I also noticed that most of the fog had burned off in other areas. Indeed, I sensed that by 10am, the Mt Wellington view would be as signature as it was supposed to be.
It was too bad that we didn't have those 90 minutes to spare.
So we embarked on our very long drive out towards Queenstown. It was a shame that we had to spend such a nice day mostly in the car instead of out at the beach or some scenic spot like Cradle Mountain. We did have a chance to detour towards Lake St Clair, but we weren't sure what there was to do there as our pre-trip research on that area always turned out blank.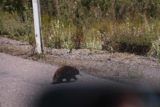 The long drive had plenty of moments of lonely driving as apparently we were passing through some of the longest tracts of wilderness left in Tasmania. And so we even managed to see an echidna slowly making its way across the highway though it was hard to get a good photo of it from the car in this fleeting moment.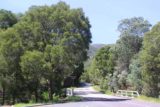 Anyways, we finally made it to the familiar Nelson Falls car park at 11:45am. During the long drive, there were opportunities to pull over and take some short photo stops of some highland lakes or some interesting peaks (including one that even had traces of snow still on it). And on one occasion, we stopped to let an echidna cross the road (where I managed to take an awkward photo because some car mirrors got in the way).
When we got out of the car, it was already feeling like a hot day. Boy does it get hot real fast as soon as the sun was out. Whatever happened to the times when the sun could be out but it'd still be a cold day?
Regardless, we proceeded onto the easy 20-minute return short walk which eventually got us face-to-face with the attractive Nelson Falls. This time however, it appeared to have less flow than when we last saw it back in November 2006 following an all-night rain.
That said, the falls still had satisfactory flow, and we at least got to document it in half-shadow. For an excursion that was seemingly remote and out-of-the-way (within the Franklin-Gordon River National Park boundaries), this was sure a popular stop as evidenced by the dozen or so people we happened to be encountering on the trail both going to and leaving the falls.
Julie still liked this waterfall and felt it deserved a 3, which I believed was its previous score when it had even more water.
By 12:25pm, we were back at the car park, where we then were determined to quickly check into Queenstown and move on to Strahan for lunch.
But at 12:40pm, we saw signage for Horsetail Falls, which I swore such signage didn't exist the first time we made our visit back in November 2006. In fact, I recalled a different memorial that was here, but I never recalled a trail leading closer to the Horsetail Falls (where back then, I didn't even know if it had an official name so I had dubbed it "Queenstown Falls").
At first, I intended to just take some quickie trail photos and then move on into town. But when Julie had the presence of mind to ask some returning hikers if there was water flowing in the falls, they affirmed that there was. And that changed her mind about doing this excursion, and it changed mine as well.
So we geared up and proceeded onto the very hot and sun-exposed walk that was said to be 30 minutes return.
The track briefly climbed on a hillside before skirting a slope. Then, the track went onto what appeared to be a newly-built boardwalk bolted above the mountain itself. I wondered if this was for erosion control. Regardless, this boardwalk now provided regal views down towards the ravine that the Horsetail Falls drained into while also allowing broad views towards the surrounding mountains as well as the Lyell Highway down below.
When the trail rounded a bend to the left, that was when we got our first look at the Horsetail Falls. And while the returning hikers we spoke to earlier were accurate in saying that the falls was flowing, it actually wasn't flowing very well. Worse, the thin falls kind of blended in with the surrounding cliff material.
So it wasn't exactly an impressive display like what we had seen the morning after a long rainstorm in the evening back in November 2006, but it did give us a sense of how much life the falls would have after a few days without rain. And for that reason, I was open to bumping down the score of this falls to a 1.5 instead of 2 that I had originally.
The trail actually kept climbing beyond the initial views of the Horsetail Falls, but Julie had gotten her fix and returned to the trailhead. Meanwhile, I was determined to complete the experience so I kept going up towards where I thought I could see the end of the boardwalk.
As I had suspected, when I had gotten up to the end of the track, the views of the Horsetail Falls had gotten worse. And so in my mind, there really wasn't a need to go to the end of this track.
By 1:25pm, we were back in the car. Now, we could descend towards Queenstown.
But barely a few minutes later, there was another lookout over the town of Queenstown. There was also some signage about the town here as well.
Only after having our fill of this spot did we finally enter Queenstown, and we'd finally check into our accommodation at the Mt Lyell Anchorage at 1:40pm, which looked very much like someone's house.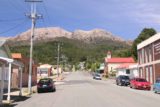 Inside the cottage, it looked very much like a charming and warm accommodation with all the furnishings we'd need as well as lots of space. The only thing that wasn't here was an AC, which would have been much appreciated on a hot day like today.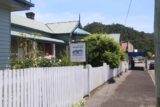 After getting settled at 1:55pm, we then got back into the car and proceeded to drive towards Strahan. It was still another 41km to get to the coastal town, but we were lured there by the promise of fresh seafood, a chance to chillax by the water, and of course, visit the familiar Hogarth Falls.
Well, as I had recalled previously, it was a non-trivial drive as the road seemed to be hastily built as it was full of paved washboards and unbanked turns. From seeing power lines more or less going in a straight line besides this curvy road, I had speculated that this road must have existed only because of this power line that probably fed power from Queenstown to Strahan.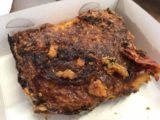 When we showed up to town at 2:35pm, we were too late for the best cafe in town as its kitchen was shut since 2pm, which really bummed Julie out.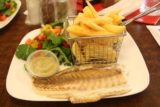 We'd eventually be referred to this place called Molly's, which was near the Strahan school that had just been dismissed for the day. Molly's was more of your typical greasy diner though they did have a grilled barramundi dish with fresh salad for $21. When we rocked up at 2:50pm, we wound up getting two of these dishes since their other stuff didn't seem to be as clean (it was truly a fish and chips kind of place).
After finishing our meal, we then promptly returned to the car at 3:45pm. It was getting late in the afternoon so as we drove towards the People's Park and made one quickie stop at the Banjo's Bakery (just to satisfy Julie's curiosity about them having gluten free stuff), we'd finally park the car at 3:55pm.
We happened to score one of the few semi-shady spots, and we were probably the third or fourth car already parked here.
Before starting on the hike, I briefly checked out the historic foreshore walk east of the Strahan Esplanade, then I would eventually catch up to Julie who had gotten a head start.
The walk to the Hogarth Falls was actually a flat and very shady walk as we were constantly in the shade of tall black eucalyptus trees and other kinds of trees and ferns. While it wasn't necessarily cooler under the forest canopy, we didn't need to wear our hats so our heads couple breathe a bit.
Eventually, the track followed the tannin-colored creek as we'd eventually arrive at the familiar Hogarth Falls, which was right at the terminus of the trail as it had broke from its flat profile to climb then go down steps onto a natural ledge or bench between the two main drops of the falls.
There was another couple that was already here and another couple that showed up shortly after us. So it was still as busy or as "crowded" as the last time we were here back in November 2006.
The falls was mostly in shade by this time, but more importantly, it felt noticeably cooler in front of the falls as it sent its mist in our direction, which felt really good on a hot day like today (I swore it felt like it was more than 30C today).
Once we had our fill of this falls, we then walked back the way we came. And when we returned to the car park at 4:55pm, we saw that there were suddenly about 9-10 cars in the car park instead of the 3-4 that was here when we first showed up. That just underlied the popularity of this hike.
Actually, Julie said that she encountered more people on the track than what the vehicle count would have led us to believe. And that was when I speculated to her that most of the people here were probably staying in Strahan and chose to walk here from town as it was close enough to not need to drive.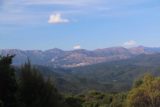 Regardless, we started heading back towards Queenstown as Julie looked forward to making spaghetti and save a little money from eating out. The last time we were in Strahan, we actually had a nice oyster and seafood dinner at a place that didn't seem to exist anymore (as the place by the boat docks was now all tours and offices).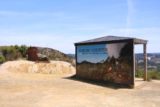 And since we still had stuff to consume before going home or being without a kitchen, we opted not to dine out in Strahan and drive back to our accommodation in the dark like last time.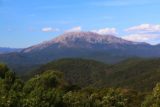 Eventually after a brief IGA run in Strahan, we finally left at 5:10pm. And by 5:55pm, we finally made it back to the accommodation in Queenstown after briefly stopping for a lookout in the direction of the sulphur-scarred mountains above Queenstown then following some Mystery Machine rental van that was taking it slow on the curvy road back to Queenstown.
Now, we could finally call it a day and get to enjoy the spacious accommodation. That said, it was quite hot and stuffy since there was no AC unit, and we had to open the windows though without a windscreen, that also let insects in (including a giant wasp or hornet that we had to trap between the windows and shutters in one of the windows).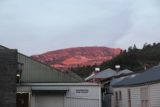 I guess with this place, you had to take the good with the bad, but it was still a good call by Julie to stay here, and it was a strategic stop as we had lots to do in the last couple of days before returning to Launceston then flying home to end this Southeastern Australia redux trip…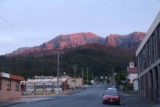 When we were done with our spaghetti dinner, it just so happened to coincide with an alpenglow sunset as we were seeing pinks on the cliffs towering over Queenstown. So I quickly walked out onto the quiet Cullen Street, and then took the fleeting pinks of the cliffs before the color disappeared just as soon as I had gone out to catch that fleeting moment.
Indeed, life is full of such fleeting moments and memories. And it takes work to keep these things alive so that life becomes that much more fulfilling and worth living…
Visitor Comments:
Got something you'd like to share or say to keep the conversation going? Feel free to leave a comment below...
No users have replied to the content on this page