Day 22 (November 30, 2017 – Cradle Valley, Tasmania, Australia): "Dancing To Joy Division"
I awoke to the alarm at 5:15am. I could tell by Julie still being in bed that there was no way we'd be out the door by 6am. So I just did what I could to pack everything I could up then start having the cold breakfast stuff.
When Julie did awake after 5:30am, that was when our cottage became a bustling unit as she was busy poaching eggs and heating up tomatos while I was washing yesterday's dishes.
When all was said and done, it wouldn't be until about 6:45am when we finally left the Mt Lyell Anchorage accommodation and started heading north in the direction of Cradle Mountain via Montezuma Falls.
The drive going north was kind of frustrating because the further north of Queenstown we went, the worse the reception for Triple J became. Pretty soon, the radio was just static as the lack of cell phone service combined with no Triple J Ben and Liam made for a rather dull drive.
Eventually at 7:40am, we made it to the Montezuma Falls Trailhead. The last 750m of road was unpaved with one section that had some fairly moderate ruts. It was well signed from the A10 highway just south of Rosebery on the Williamsford Road, and it was well-signed at each fork the rest of the way.
When Julie saw that this was a 3 hour return hike, she decided to sleep in the car while I did the hike solo. There was one father son combo that was camping at the picnic area here, and they said that they had been to the falls yesterday. So I was really looking forward to seeing this falls again for the first time in 11 years.
The track began with a short downhill stretch just after a pit toilet shed. It then crossed over a bridge before joining up with what would become the old tramway that also supposed 4wd traffic (as evidenced by some tyre tracks) as well as mountain bikes, apparently.
On that old tramway track, I could clearly see that most of the engineering as far as this trail was concerned was already done to support the tramway itself (to haul mined goods from here all the way to Zeehan). So the hiking was for the most part pretty flat though it did feature a bunch of curves.
The bends often featured widened lanes (perhaps blasted at one point during the development of the tramway) where tall trees would cling to the sides of the walls of these lanes. And for much of the initial part of the hike, I could hear the rushing waters of Dundas Creek.
At 7:55am, I noticed a mostly obstructed side waterfall though it was trickling and only noteworthy as a landmark just to track my progress on the long hike (said to be 8km round trip). The walk would continue quietly broken only by the sounds of birds and the sounds of me walking.
It seemed like on several occasions, I'd bump face first into spider webs so I'm sure the hikers after me would fail to appreciate the trailblazing I had done being perhaps the first hiker on this trail this day.
Eventually at 8:55am, I made it to a signed area where 4wd vehicles could no longer proceed and only walkers could. At this point, the signage suggested that it was another 20 minutes to the falls.
By now, I could see more obvious traces of wooden bars oriented perpendicular to the trajectory of the trail itself (much like how you'd envision the way railroad tracks would be built).
It wouldn't be long before I reached a signpost with a mine tunnel going deep into the mountainside. Since I wanted my GPS to maintain its tracking, I decided not to go in there until after I had visited the falls.
I then got up to a junction where the trail on the right went across a suspension bridge that used to apparently be some kind of tressel bridge to traverse the canyon. Like the first time I did this hike with Julie, I first went onto the bridge to get the most direct shots I could of Montezuma Falls though trees conspired to obstruct the line of sight from almost any spot on the bridge.
When I got to the other side of the bridge, I noticed that there was a lot more overgrowth than back in 2006. So I couldn't get that photo of the suspension bridge fronting the Montezuma Falls anymore.
After having my fill fighting the butterflies in my stomach for being so precariously high up on the canyon on that bridge with lots of space down below, I then went back to the main trail where I'd continue on to the very end at the base of the Montezuma Falls and make it there by 9:25am.
With the overcast skies, the sun was more to the left of the falls so that meant that this must have been a north-facing waterfall since the morning sun was still to the east. I wondered when would be the best time to photograph the falls had the sun been out since the last time we did this hike was in the early afternoon (and the sun was nearly on top of the falls).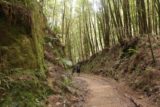 I spent some time documenting the falls while having it all to myself. Hey, there had to be some reward for me after running into heaps of spider webs on this track.
Anyways, I made sure not to forget about documenting the falls with the iPhone (something that I failed to do solo in each of the last three times I hiked without Julie on this trip).
After fully experiencing the Montezuma Falls, I then started heading back where I encountered the first people other than myself on this track today. It was a family of four, and I just greeted them and forewarned them about the suspension bridge before we carried on.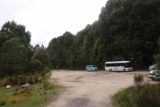 The hike back was going by brisquely, and by 10:05am, I started to hear Dundas Creek again. The lack of rushing water sounds in between Montezuma Falls and the Dundas Creek sections reminded me of how much of the hike was actually away from the water.
Anyways, on my return hike, I noticed several more groups of hikers, which made me realize just how popular this hike was.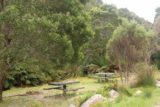 It wouldn't be until about 10:50am when I finally made it back to the car park, where I could clearly see that it was getting cloudy now. There was a tour bus at the car park, and I suspected the vast majority of people I encountered on the return hike must have been part of this bus tour.
I was really looking forward to driving to Cradle Mountain National Park between now and when we'd arrive at the park. That was because it was the Dr Karl Science Hour every Thursday mornings at 11am. However, I wasn't getting any Triple J reception for almost the entire drive, which was a real bummer.
And to add further insult to injury, the Triple J station was found only after the Dr Karl hour was over and we were pulling into the Cradle Mountain National Park.
By about 12:05pm, we arrived at the Cradle Mountain Visitor Centre, where we showed the cashier our 60-day pass that we had bought from Mt Field National Park, and so we were given shuttle bus tickets.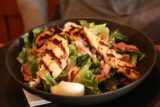 With all the passes in hand, we also left the National Parks parking voucher on the dash. And shortly thereafter, we then showed up to the Pepper's Cradle Mountain Lodge, where we were told that our room wasn't ready yet. So we thought we could kill some time eating a lunch at the bistro and bar here.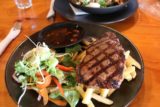 We wound up eating a steak (as opposed to an expensive burger) and a fish salad. The food was OK, and it made me wonder if eating dinner here later on today was going to be any good.
After finishing our lunch at 1:25pm, we inquired and were told that our room still wasn't ready. So not wanting to idle any longer in the lodge, we promptly drove ourselves towards the boom gate to hopefully self tour our way to Dove Lake as well as Crater Falls and Crater Lake via a separate walk.
The boom gate was actually a traffic control mechanism to only let vehicles through if and only if an equivalent number of visitors had left to free up the traffic quota.
After a little debate about whether to take the shuttle system or not, both Julie and I noticed that some cars were able to make it through with a little patience. One car made it through the boom gate just as another vehicle was leaving. Meanwhile, another red car just pulled up to the boom but the gate wouldn't open for him.
As Julie noticed more cars and shuttle buses leaving the restricted area, she urged me go back in the car and try our luck. After all, we weren't really interested in waiting 20 minutes at a time between shuttle stops when we could have maximal flexibility by self driving.
The red car trying to get through was getting frustrated since a few vehicles had exited but they still couldn't get through the boom gate. Finally, the red car before us exited and we pulled forward. And just when we pulled up and the boom gate didn't open for us, we were about to make the same U-turn maneuver as the red car when the boom gate started to open up for us.
So now that we were through into the restricted area, we then proceeded to drive all the way to Dove Lake, where we'd arrive at the car park there at 1:50pm. With the bright gray skies, it muted the deep blue and brownish colors of the lake and there was hardly contrast between the imposing Cradle Mountain itself and the skies behind it.
Julie had been so spoiled by the Glacier National Park experience this past Summer that she looked at this lake and had a bit of a "meh" reaction. For in the Cradle Mountain case, the glaciers were long gone so there wasn't that glacial powder giving the lakes that unmistakable blue or green color. With the glaciers gone, the lakes tended to get darker. And with Global Warming, this would be the ultimate fate of the glaciers in Glacier National Park within 13 years by most estimates.
After we had our fill of taking photos of the familiar Dove Lake, we then got back to the car at 2:10pm and then drove back to the Ronny Creek Trailhead, which we'd get to five minutes later.
Even though it was overcast, it was still on the warm side. So we geared up and embarked on the fairly lengthy 90+ minute hike. But this time, we were determined to go beyond just the base of Crater Falls, which we turned around from last time. In fact, the target this time was to make it all the way to Crater Lake since I'd imagine for day hikers, that was a worthy destination before turning back or doing a longer loop to see a couple more lakes in Wombat Pool and Lilly Lake.
As we made our way onto the familiar boardwalk traversing through a grassy bog (similar to what Julie and I experienced on tracks like the Waitonga Falls and Taranaki Falls in New Zealand, Julie spotted a wombat grazing very close to the boardwalk itself.
That caused us to pause and watch it happily grazing and not even care that we were there taking pictures of it.
After that interlude, we'd continue the walk, where Julie started to notice this interesting palm-tree looking plants that were growing besides the creek. We'd eventually get to a bridge traversing that creek then follow the famous Overland Track towards Crater Falls and Crater Lake. There was another track going to Waldheim (which was actually some accommodation higher up the hill to our right) and the Lilly Lake Track to the left of the Overland Track.
After this junction, the Overland Track started climbing on the boardwalk before climbing more steeply as it left the big grassy bog and up into a more forested area though the shade was minimal.
The climb kept going on so we were both working up a sweat and Julie was wondering how much further this hike was (as she had no recollection of even doing this track 11 years ago).
Eventually at about 3:05pm, we finally made it to the shady confines of the bottom of Crater Falls, where there was a little lookout for it. The steps climbed even more steeply beyond this lookout as it would continue to follow the creek.
The surprising thing as we were continuing the ascent was that there were more cascades and smaller tiers of the Crater Falls. Even when we climbed above the shade of the forested area and back into more open terrain, there were yet more small cascades belonging to the Crater Falls. So this was actually a bigger cascade than I had initially thought when we only showed up to the base before turning back the last time we were here.
The trail continued climbing steeply up rock steps now as the boardwalk surface was pretty much ended beyond the Crater Falls. With each step, we were sweating bullets in this stretch. But mercifully at 3:30pm, we finally showed up to the boat shed fronting Crater Lake.
Near the boat shed, there was calm water so it was possible to take reflections in the tannin-colored water there. And as I did a little more exploring continuing along the Overland Track, I gave up on trying to find better views or some kind of signature viewing spot for the Crater Lake.
So with that, I turned back and rejoined Julie as we both made our way back down to the Ronny Creek Trailhead. We wanted to make haste on the return because we still hadn't checked into our room at the Pepper's Cradle Mountain Lodge, and we still hadn't booked a dinner reservation either.
The progress went along quickly until we were back in the open grassy bog. This time, we spotted at least 3 or 4 more wombats happily grazing though there was one that was very close to the boardwalk.
A few steps further, Julie spotted an echidna, which was the first time we finally got a good look at one that wasn't on the road!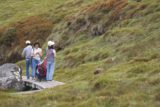 It seemed like these folks were out and about probably because it was getting later in the arvo and perhaps the temperatures were more agreeable to them so they could graze.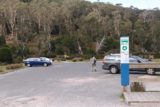 They pretty much took us a good chunk of time (taking photos and watching them do their thing) before we finally returned to the car park at 4:40pm.
By 4:50pm, we were back at the Pepper's Cradle Mountain Lodge, where we promptly checked in, made a 6pm dinner reservation, and then drove up to our assigned cottage (apparently we were upgraded for free since they might have been overbooked) where we finally got settled by 5:20pm.
Just before driving up to our cabin when I was waiting for Julie to get the keys to the room, I spotted another wombat grazing right next to some of the units. At this point, I was wondering if wombats weren't the rare sighting that I had initially thought since I only saw roadkill of them throughout the trip or getting fleeting glimpses of them from the road from time to time.
The interior of the room was pretty spacious though it was definitely not as colorful as I had recalled when we were first here. That said, there was no TV but there was a radio with some CDs of mood music just like before. There was also a little "kitchen" area with a fridge and some glasses and mugs.
After getting cleaned up, we then went for dinner at 5:50pm and ten minutes later, we were within the Highlands Restaurant, where we ordered appetizers of a wallaby and a quail. And our mains consisted of a nicely skin-crusted ocean trout as well as an eye fillet of steak.
Julie thought the chef definitely knew what he was doing as we really enjoyed each of the dishes. She thought the wallaby was almost like a pulled pork though it didn't have that expected gamey taste.
That said, this was perhaps the most expensive meal of the trip so far, and it kind of strengthened my resolve to look for dinner elsewhere tomorrow (perhaps Burnie or Ulverstone or something like that).
When we paid the expensive bill ($8.50 for a bottle of still water when we thought we had asked for tap water?) at 7pm, I then went solo on some nearby hikes while the weather was still agreeable. I knew that later tonight or all day tomorrow and Saturday it would rain.
Regardless, I first went across the road towards the Pencil Pine Falls and Knyvet Falls Trailhead (or the Dove Canyon Track). With the daylight fading, I promptly walked the boardwalk, which then descended to a junction where the Pencil Pine Falls path was on the right. There was a family that was just coming back from there, so I knew that I wasn't the only person on this track at this hour.
By about 7:10pm, I arrived at the Pencil Pine Falls, where there was a nice viewing deck (I didn't remember that being there before), and I spent some time taking videos and long exposure shots of the now-three-segmented falls (was only two segments when I first visited in late November 2006).
After having my fill of this falls, I then walked the slightly longer path down narrower boardwalks towards the Knyvet Falls. Again, I encountered that same family seen earlier as they were returning from that falls and I also saw another guy hiking solo perhaps looking for wildlife.
By 7:30pm, I arrived at the top of the Knyvet Falls viewing deck, which wasn't surprising to me since I recalled seeing only the top of this waterfall on Pencil Pine Creek.
So with that, I headed back towards the Pepper's Lodge where I spotted a couple of wombats grazing by the boardwalk. By this time, I started to think that maybe they're a dime a dozen after we rarely had a chance to see them in the wild like this.
I was back at Pepper's at 7:50pm, and then I decided to walk over to the bridge over Pencil Pine Creek where I could look upstream at an attractive cascade before embarking on the Enchanted Walk.
Again, I had never done this walk before so I thought I mind as well check it out and see what it was about. And so as I walked the mostly paved then boardwalked path, I'd eventually cross another bridge before getting into a darker part of the forest.
There were about 3 or 4 people gathered around a railing and looking towards the creek. And that was when the group told me that there was a platypus in the creek! What a surprise!
Of course, as I was trying to photograph that platypus, it was busy teasing us with swimming then diving, swimming then diving.
And under the low light conditions, it was hard to take a clean photo of it without really cranking up the ISO setting of the camera (at the expense of adding more noise to the image).
With the help of Tony (who happened to be a wildlife tour operator, especially around Hobart), I finally managed to take a fleeting shot or two of the platypus that was teasing us.
And as most of the people besides Tony parted ways, I was walking back with him back towards the lodge to complete the Enchanted Walk. He showed me Tasmanian Devil scat on the trail, which had bones in the scat (that's how you knew it was a Tassie Devil), and he showed me some burroughs that wombats and even Tassie Devils would use.
Eventually by 8:55pm, I was finally back in the room. On the way back, I spotted yet another couple of wombats (one by the dining area of the lodge and another on the path leading up to our unit). I also spotted a bushy wallaby that was under someone's car at first before it found happier grazing in the car park area.
With the wombats, I really started to get saturated with them so I sensed that they were pretty much a dime a dozen now.
And with that, the long day of touring ended, and we got cleaned up and ready to go to bed. By around 10:30pm or later, we heard rain hitting the rooftops of our cottage. So indeed, the rain finally showed up, and now we'd have to deal with it for the remainder of this trip, starting tomorrow, where we'd make the long drive out towards Burnie while waterfalling along the way before returning to Cradle Valley…
Visitor Comments:
Got something you'd like to share or say to keep the conversation going? Feel free to leave a comment below...
No users have replied to the content on this page