Day 23 (December 1, 2017 – Cradle Valley, Tasmania, Australia): "Victoria Battered"
It was 5:15am when I awoke. It was still dark outside but it wasn't raining (yet). That was a little bit of a relief since it appeared to be raining all last night.
I took some time to tidy up and wrap up on some unfinished photo processing and blogging before I was in the car at 5:55am. By that time, the skies were significantly brighter.
During the drive, I could see that there were breaks in the dark clouds though there was a significant patch of gray skies coming in from the west. So in my attempt to re-visit the waterfalls by the Lemonthyme Wilderness Retreat (i.e. Champagne Falls and Bridal Veil Falls), I was essentially trying to fit in those hikes before the end of the included breaky at the Pepper's Cradle Mountain Lodge as well as the next storm that I knew was on its way to Tassie.
Even though it was getting brighter by the minute, I knew that wildlife were still out. In fact, I saw one wallaby right by the road staring at me though I was glad that it didn't just jump in front of the car at the last minute. That said, I did see other roadkill like wallabies, wombats, and the odd possum.
The drive out towards the Lemonthyme Wilderness Retreat meant I had to drive in the direction of Moina towards Dolcoath Road. The GPS
wanted me to take some other side route, but fortunately a sign said to continue another 6.5km further towards Moina before turning right.
Once I was on the Dolcoath Road, I saw signs for the Lemonthyme Wilderness Retreat at each fork in the unpaved road for the last 8km.
By 6:35am, I arrived at the Day Use car park for the Lemonthyme Lodge. With the thick wooded settings, it felt a little darker here, and my etrex GPS
took forever to acquire to trace my hike.
So without any further delay, I promptly followed the sign and walked up the steep roadway past some rooms or cabins before the paved road ended and became a steep 4wd road just past a barricade. At that point, I found myself noticing yellow signs saying something about underground cables as well as some kind of cell or radio tower (which was where the handheld GPS eventually got a lock on my location).
The initial climb was relentless as I was totally sweating bullets in the relative humidity of the overcast skies even though it was somewhat cool early this morning. It was just that whenever it wasn't raining, it was noticeably humid.
By about 7am, I eventually arrived at a picnic table, which I imagined was the "Lookout" referred to by one of the trailhead signs. This viewpoint was underwhelming because of all the overgrowth preventing any clean looks.
So I didn't linger here much longer and continued heading up the 4wd path before it apexed then started to descend when I encountered the next signs. One of the signs pointed to a steep track on the right leading to Champagne Falls (or Bridal Veil Falls via Champagne Falls). The other sign pointed straight ahead along the 4wd track leading straight to Bridal Veil Falls.
I knew what I had to do on this excursion (which was to re-create the hike we did back in November 2006, but this time equipped with a handheld GPS
and my DSLR
with movie capability), and so I took the right path descending quite steeply towards Champagne Falls.
A sign warned that inexperienced walkers should not attempt the track given the slippery terrain, especially in light of the wet weather. That still didn't deter me, but it did cross my mind about a nasty slippage here.
After following the orange tape strategically placed on some trees whilst trying not to slip and fall on the slippery rocks and roots on the steep downhill descent (it was quite frustrating to be climbing so steeply then descending so steeply), I'd finally arrive at the signed Champagne Falls at 7:20am.
Getting to the very bottom of the falls like I did before was a bit tricky since the rocks were all wet and slippery. The width of the falls was a bit too much to try to capture in one shot from the base (especially with large rocks conspiring to block the views as well as make it harder to stand right at the plunge pool) so after doing what I had to do to document the experience right at the base, I then started to look for the continuation of the trail towards the Bridal Veil Falls.
There was a little bit of confusion on my part as I was trying to figure out which path was correct, but in doing so, I found an outcrop that provided a partial yet more comprehensive look at the Champagne Falls that I didn't do the first time around.
So with that being done, I then tried looking for the continuation path to Bridal Veil Falls but I had trouble finding it. It wouldn't be until I started heading back up the way I came did I notice the signed path leading to the Bridal Veil Falls. There was a false path along a cliff wall that appeared to have been an old path, but it was now way overgrown and too precarious to continue that way.
Once I was on the path to the Bridal Veil Falls, I would continue to see numbered signposts as well as some sections of boardwalks as well as dirt ledges. The path crossed Bull Creek and passed along numerous little rapids and cascades that were noticeable but not really photographable through the dense foliage.
The trail undulated and hugged some ledges in some spots so it definitely got me to sweat despite the threatening rain.
The rain still hadn't come down hard yet though it was already starting to come sprinkle then lightly come down somewhat when I had gotten past the "lookout" earlier on.
By about 8:10am, I finally made it to the Bridal Veil Falls, but just when I was about to get onto the bridge to take that direct shot, the rain really came down already. So rather than risk damage to the DSLR, I decided to take a quick video with the iPhone, then try to wait it out beneath some of the forest canopy.
Speaking of the bridge, it looked like they had built a legitimate bridge across Bulls Creek this time instead of a one-sided log that I recalled was on the creek itself. That bridge would prove to be useful as I decided to finally don the rain poncho then try to use the bridge railing to prop up the poncho while taking a picture from underneath the "tent" and through the opening in the railing.
It led to a few awkward shots, but finally during that time, the rain had let up a bit and I was able to properly document this falls with photos in different settings and a video. And by 8:30am, I was finally leaving for the car park by going up the narrow and well-ferned path up to the old 4wd road.
As I was doing this, it was raining pretty hard again. But at least with the rain poncho back on, I was making quick progress on the mostly downhill track as it was time for the trail to finally pay me back for all that uphill I had to endure at the very beginning.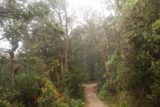 I was hoping to get back to the Pepper's Cradle Mountain Lodge before 10am so I could have the included breaky. And it seemed like I would make it for sure so long as I'd be back at the car by 9am.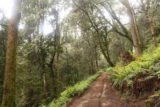 At about 8:55am, just when I was about to check the handheld GPS
for reception and to see how close I was to the car park, I saw underneath the rain poncho that only the attached battery cover was in my hip pouch! The rest of the GPS unit was missing!
With all the rain, I was worried that the exposed unit and batteries might be shorting out. But I was also cursing at my luck for it was as if somehow the battery lid was detached as the screw was turned the right way and released! Most of the time, I had trouble trying to do that on my own will, but here Murphy decided to let it happen mostly likely when I was trail running the downhill.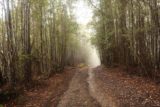 So now I had to hike back up the long incline until I found the GPS. And I was dropping F-bombs to no one in particular as I was doing this.
It wouldn't be until about 9:05am when I saw the yellow GPS lying on the ground with one battery missing near a bunch of felled logs and a small clearing (between the lookout and the radio or cell tower). The other battery happened to be lying next to it, and this separation might have been a blessing in disguise as the wet GPS' interior didn't mean a thing whilst the device was powered off with the battery fallen out.
When I tried to dry everything off with my shirt, then anxiously put the battery back in to test it out, it powered up and started re-acquiring satellites again. Whew!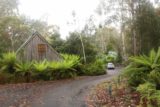 By now, I had to go all the way back down the hill again to the car. So I knew this didn't help my case in terms of getting back to the lodge for breaky. And it wouldn't be until about 9:15am when I was finally back at the parked car with the rain definitely coming down again.
So I promptly drove back out the unpaved 8km access route towards the main road while the rain was coming down even harder. When I made it back to the main road, it just so happened to be right behind an Overland Track Transport vehicle and another slow driver right behind it. I had to pass them in the rain as they were going way slow though they were probably doing the wise thing by staying slow and respecting the slippery conditions of the hard rain.
Luckily, I was able to make the passings without incident though I'm sure those slower drivers must have thought that I was reckless.
But with me going about 10km/h or more below the speed limit of 100km/h, I'd finally make it to the lodge's reception at 9:45am. The rain was certainly coming down with force, but I locked the car and quickly ran into the main area and promptly had breaky.
When they asked which room I was in, I told him the correct room, but he had this reaction like someone had been there before, and I told him my wife was there earlier. Anyways, without any further dramas, he told me I had 10 more minutes before they'd start closing the kitchen and taking the buffet away. So I promptly got everything I needed in one trip, and then when I was done eating my breaky, I looked around the lounge area where I found Julie reading her Kindle.
By 10:15am, we were back in the car, then drove back to our unit to grab whatever she needed for the day. And it wouldn't be until 10:25am when we finally started the day together.
With all this rain, I was glad that I got most of the hiking and Cradle Mountain touring done yesterday afternoon. It was a lot to cram in, but we knew that this rain would come, and it was totally socking in Victoria at the moment. It had socked in southeast Queensland earlier. But now we were hearing that Tasmania would get this deluge this weekend, which really concerned us about our flight home as we had to fly from Launceston back to Melbourne, then do the international flight from Melbourne back to LAX. We hadn't had one on-time flight from Qantas and partners this whole trip, and if it happened again Sunday, the consequences would be more dire…
Anyways, the long drive up towards Burnie was only drama filled because of the hard rain. It seemed that the closer to Burnie we went, the harder the rain fell. There was even localized street flooding in some spots though not as many as in the cities back at home where the storm gutters would be overflowing. Here, we were in farmlands so the water would run off the roads and into the embankments and eventually the grasses below.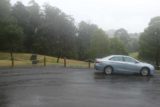 By 11:40am, we finally arrived at the familiar upper car park for Guide Falls. The rain was totally coming down at this time so we took some additional time to don the waterproof pants and the rain ponchos whilst in the car before getting out. My camera was struggling with condensation on the lens (both inside and out) and I suspected that was the result of the AC being on for defrost purposes in the car and now the humidity levels needed to be equalized.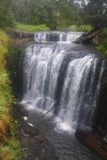 Julie also brought out her umbrella, which was strictly to protect the DSLR while taking shots under the inclement weather.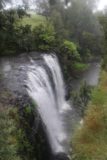 When we got to the upper lookout for the falls, we could clearly see that it had a nice flow. It kind of reminded us of a smaller version of Gullfoss except it was now just 1 tier instead of 2 and it had more of a nice vertical drop as we could see the basalt cliffs around the waterfall. Julie liked this one though she didn't remember the first time we were here, when there was definitely far less flow than when we saw it now.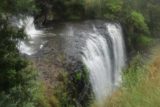 There was also another lookout closer to the top of the falls for a more edge on profile view. After documenting the falls under the still foul weather from both of the lookouts up here (and fighting the condensation on the DSLR), Julie then returned to the car and I took the umbrella to go down the steps towards the bottom.
Once down there, I got that familiar frontal look at the falls that might have featured in some images of labelings on bottling companies that I had recalled from the past. It was definitely picturesque though the weather made things a bit tense in terms of the experience.
Once I had my fill of the falls from below (the condensation problem appeared to be going away by this time as the humidity might have equalized by now), I then returned to the car at 12:30pm. I had to go on a badly needed restroom break at the lower car park, where there was a flush toilet, and only after that was done did we head down to Burnie for lunch.
By 1:15pm, we finally arrived at this spot on the Burnie waterfront called Fish Frenzy. It was busy inside as it was still raining, but the rain seemed to have started to let up a little bit. So while we were waiting for the food, we were able to take a few hasty iPhone shots of the golden sand beaches though Julie was put off by the containers on one side of the beach as she had expected something more along the lines of Apollo Bay, Victoria or something like that. She didn't expect this to be more like a port city, and she said that the airplane magazine saying Burnie won an award for best tourist town in Oz last year kind of set up those expectations.
Anyways, we wound up getting some fresh Tassie oysters, a veggie stir fry dish with scallops and prawns, and a trevalla fish grilled. It was actually as expensive as yesterday's lunch at Pepper's Lounge Bar and Bistro back at Cradle Mountain, but at least with this meal, we were getting much more than a burger and a chicken salad. In fact, it might have been too much food.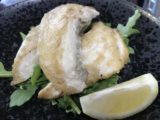 During the lunch, Tahia managed to Facetime us as we were getting reception on our phone. She was crying because she missed us. It was heartbreaking to see, but she got in a better mood as we took turns talking to her while eating. We assured her that come Sunday, we'll see her again (though I wasn't sure if Qantas and Mother Nature might have other plans).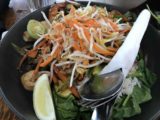 So it wouldn't be until about 2:15pm when we were finally back in the car. The rain definitely had let up at this point but now it was more of a mix of mist and light rain as we made the drive further west towards Dip Falls.
I was definitely glad that we were doing Dip Falls today instead of tomorrow because it sure was a long drive out to get there even from Burnie! The GPS kept wanting me to take the Montumana Drive towards Dip Falls, but I knew that something was off when I didn't see any Dip Falls signs.
I'd eventually relent and take something like this unpaved Newhaven Rd until I'd eventually get to the Mawbana Rd and a sign for Dip Falls some 15 or 20km later on that bumpy unsealed road. It was another case of the GPS taking me on a dodgy detour.
After a brief moment of driving on the paved Mawbana Road, the road then went unpaved again for the remaining 2km as I followed the signs for Dip Falls. When we got to the car park for it, I saw signage saying that there was a lookout another 200m further so we drove out there to check it out first.
At 3:25pm, we finally pulled the car out at the short track to the viewing platform, and we promptly made our way out to the overlook of what turned out to be this giant field of basalt columns and brown-tinged water segmenting down this big sloping field. It totally blew us away with its size as I had expected something smaller. But now I could see that the internet pictures totally did injustice to this falls that was hard to capture in one go even from this lofty vantage point.
Meanwhile, the rain was pretty much gone now and there was even some sun starting to show further downstream. So we gladly took our photos and videos of this spot, and we were certainly glad we made the long detour to get here.
Once we had our fill of the falls, we got back to the car at 3:40pm and then I decided to drive the remaining 1km to get to the Big Tree before going back to the actual track for Dip Falls. When we got to the Big Tree pullout, I solo'ed the short 10 minute return track which brought me beneath a grove of a handful of giant trees though the featured big tree was a very wide girth with some knobs at its base and this imposing height when looking up towards the sky.
It was like the Sequoia experience all over again, though here in Tassie, we weren't dealing with Sequoias. I never knew that such giants like this could exist elsewhere, but I probably should have known since we also saw giant Eucalypts earlier in the trip and we also saw giant Kauri trees in the North Island of New Zealand when we first went there back in late 2004.
Anyways, I was back at the car and by 3:55pm, we were finally at the car park for Dip Falls where there was another vehicle here now.
At first, I went down the steps towards the bottom of the waterfall (said to be 15 minutes I believe) where I got a look at the massive falls from a different perspective sideways and eventually down at the bottom where the other family that was here started to make their way back up.
Even from down here, I could see both tiers of the falls, but I knew pictures just didn't do it justice. And as I was busy documenting the falls, I was joined by Julie. I was glad that she made the walk down because she really would have been missing out if she didn't make this descent.
And so we were able to take our awkward selfies on the iPhone while also experiencing this falls every which way we can. And by 4:20pm, we were finally back at the car fully satisfied with the experience and being glad that this detour was well worth it.
Now, we had a very long drive to get all the way back to Cradle Mountain, where Julie had made a dinner booking for 7pm at the Cradle Mountain Hotel. We wanted to try somewhere else for dinner tonight since the Pepper's place was overpriced even though the food was gourmet and good and the chef knew what he was doing.
But we wanted to give this other place a shot.
The drive back with the improving weather was so tempting to want to stop and enjoy the northwest Tassie coastline as we could see a table mountain in the distance as a sea bluff as well as attractive beaches along the Bass Highway. I resisted the GPS telling me to go back via the unpaved road towards Montumana directly and instead I took the Mawbana Road all the way north to the Bass Highway, where I saw signage for Dip Falls once I got back to the highway (and the route was all paved, by the way).
The weather continued to get better out in these parts, and I made a mental note to myself to spend more days out in this part of the state if we're fortunate to bring Tahia and come back to Tassie some time in the future.
Eventually, before we'd get to Burnie, we wound up taking the A10 highway towards Yolla, which was seemingly twistier than the A2 that we had taken to Burnie earlier on this morning. We had to pass a really slow milk truck along the way. And in doing so, he was honking at us when we successfully passed him even though the pass was legal (I had no idea what he was tripping out about).
Anyways, the further we drove closer to Cradle Mountain, the more mistier the weather became. It was almost as if we were catching up to the bad weather again. We were even driving through some foggy stretches, and that Cradle Mountain view on the way was all fogged up.
Finally by 6:40pm, we arrived at the Cradle Mountain Hotel where the sun was once again trying to break through the clouds and the weather seemed to be calming down.
Whilst listening to Triple J, we heard that flash flooding was already going on in most of Victoria and it was expected to intensify tonight. Then, it was said that Tassie was going to cop this storm next, which really made us worried about our flight situtation on Sunday.
Anyways, the dinner at the Cradle Mountain Hotel was pretty good, and it was much cheaper and better value than the Pepper's. We wound up getting a venison entree, then a main of a Tasmanian Meat Sampler (that included lamb, wallaby, and beef) while Julie got her slow-cooked pork belly. The meat sampler was a self-cooked one on a hot stone, which kind of brought me back to the Korean BBQ experience, but at least I'd be the one to blame if the food was overcooked.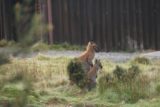 Once the dinner was done at 7:55pm, we then headed back to our cabin. Again, the weather really calming down, we saw even more wildlife again. Some people were pulled over on the road to watch a wombat (where I was kind of over them by now as they seemed to be a dime a dozen after yesterday's experience), but we did pull over at the lodge to see a wallaby and joey just sitting in a field staring at something not noticing us.
By 8:10pm, we were finally back in our room, where we'd spend the remainder of our last night under chilly temps and finally feeling like we were experiencing temps more along the lines of what we had expected instead of the unusually warm stretch of Summer-like days throughout much of this trip…
Visitor Comments:
Got something you'd like to share or say to keep the conversation going? Feel free to leave a comment below...
No users have replied to the content on this page