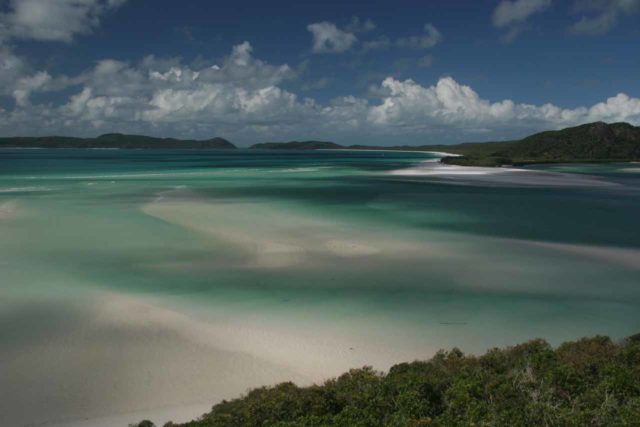 10-May 2008 to 14-May 2008:
Unfortunately, JC Slaughter Falls was bone dry! I knew it was a bad sign when we didn't hear any water in the neighboring creeks. I guess it wasn't meant to be despite there being heavy rains and floods during the Australian summer. Indeed, it was reminiscent of that feeling we got going to a dry waterfall in Victoria two years ago…
Day 1: ISO 1600
It was 7am when we left Byron Bay. After yesterday's long out-and-back visit to the waterfalls near Killarney while squeezing in a late afternoon visit to the Byron Bay lighthouse, we would now enter into Queensland for good.
First up was the Natural Bridge in Springbrook National Park. We arrived at the car park for Natural Bridge at 8:25am. When we started going on the walk and eventually entered into the cave-like alcove containing the waterfall spilling into the natural bridge, I came to realize that most of the photos in the darkness turned out to be quite grainy.
Julie also told me that her photos on her point-and-shoot camera were more colorful than mine.
It was only at this point did I realize that my new replacement 17-85mm zoom lens was defaulted to ISO 1600. And that would also explain why some of my images looked washed out from time to time as well. Even the Byron Bay and Coffs Harbour pictures were in the high iso.
I guess I couldn't get back the first week of the trip so I just had to deal with the grainier pictures.
Anyways, I set the ISO back to either auto or ISO 100.
And at least the natural bridge was quite attractive. There were signs everywhere telling us we couldn't get off the track to access the water. That was interspersed with a lot of interpretive signs as well.
The loop walk continued outside the natural bridge and eventually made its way up to the top of the waterfall where we could clearly see it plunge into the hole that ultimately became the natural bridge below.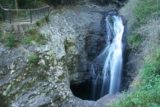 Throughout the walk, we saw quite a few other people touring as well. It was a very popular attraction. Some of the signs mentioned that there were glow worms in the area, but we didn't see any of them. Probably just a night time thing.
It was about 9:40am when we returned to the car. The next attraction we were to visit was also in Springbrook National Park, and it was the Purling Brook Falls.
After making a bit of a big U from going north on the Nerang-Murwillumbah Rd then swinging back over and going south on Springbrook Rd, we ultimately arrived at the half-crowded car park for Purling Brook Falls at 10:10am.
The walk was supposed to be a 4km loop around, over, under, then behind the waterfall, but there was a landslide near the base that closed off half of the track. So we ended up walking along the cliffs providing nice angled views of the falls before the track dropped down into the amphitheatre containing the falls.
We passed by some hidden waterfall called Tanninaba Falls where we could totally hear the falling water but we couldn't really see it as it seemed to be masked by some large rock or slot in front of it. So it wasn't photographable.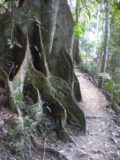 We also passed by some very interesting-looking trees that seemed like they had thin fins or some kind of narrow fins growing out of their trunks. I didn't recall we had ever seen anything like these before.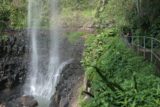 A few minutes after Tanninaba Falls, we were at the base of Purling Brook Falls. We were able to go somewhat behind the slightly muddy backside of the falls, but we could clearly see the landslide blocking further progress beyond the other side of the falls. So this was our turnaround point.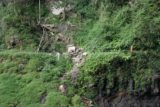 As we were down here, we were actually a little relieved at feeling some of the waterfall's mist. It turned out that we were starting to feel a little bit of the tropical humidity even though it was getting right into the Dry Season in these parts. Julie and I wondered if this place was kind of like Florida in terms of the climate.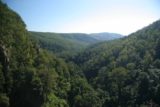 However, the similarity ends as Queensland had big waterfalls like this one while Florida seemed to be mostly flat.
We eventually climbed back out of the gorge and returned to the car park at 12:25pm. At this time, the car park was full!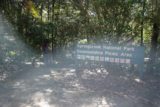 We then continued driving south on the Springbrook Rd towards the car park for Goomoolahra Falls, arriving at 12:40pm.
The falls was a short walk to a lookout with panoramic views as well as a partial view of the falls tumbling into the bush below. We weren't sure if there was a safe way down for better views, but we pretty much stopped at this lookout then headed towards some commotion on the other side of the car park at 1:15pm.
Little did we realize that today was Mother's Day and that festival was M-fest. It was an interesting little get together celebrating motherhood. Julie and I went in there, bought a barbie sandwich, and listened to some live music over the picnic lunch. It was quite the unexpected diversion, and that explained why the car park was so busy.
We were back in the car at 1:50pm where we then drove over to and walked the 350m to check out the so-called Best of all Lookout. This lookout was really a wide expansive panorama looking out towards the Gold Coast as well as some impressive cliff and rock formations giving the panorama a bit of depth.
After having our fill of this lookout, we then headed back to the car and drove north on the Springbrook Rd as it eventually descended the Gold Coast Hinterlands into the Gold Coast itself, which really reminded Julie and I of something like Miami.
We eventually arrived at our accommodation (Vibe Hotel) at Surfer's Paradise, where we checked in, then went for a walk to check out the beaches here.
Indeed, there were high rises perched right up against the sandy beaches. The high rises caused long shadows as the afternoon sun was getting lower. Meanwhile, there were lots of kite surfers letting the winds take them over some of the waves along the Gold Coast. It was quite the scene that kind of announced to us that indeed we were in a well-touristed part of the QLD.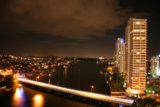 After the sun had set, we then walked around the town mostly to find a place to grab a bite. I didn't recall exactly where we ate, but just walking around the streets and watching lots of young people out and about (ready to party) kind of made Julie and I feel a little old.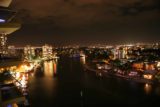 When we returned to our high rise hotel, we were getting some nice long-exposed night time photographs from outside our balcony. And so ended this day. Tomorrow, we'd be heading further north towards Brisbane…
Day 2: FAMILIARITY
We left Surfer's Paradise at around 7:20am. There wasn't a whole lot of stuff to do today since Brisbane was our next destination, and it wasn't that far away from the Gold Coast area.
So we thought that on the way to Brissie, we could make a quick stop to Mt Tamborine National Park. It was supposedly the first national park gazetted in Queensland so we thought some of the waterfalls here must be good. I couldn't wait!
It was still Mother's Day weekend so we expected the picnic areas to be a little busy (if yesterday was any indication).
At 8:10am, we arrived at the car park for Cameron Falls. As we had predicted, there were already quite a few cars here (though there were plenty more spaces left to fill).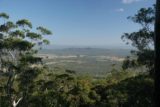 We immediately got started on the walk after examining the signs to see if we did indeed arrive at the right place (which was the case). But before we descended down into the 1-hour return trail, we took a look at the panorama along with other onlookers.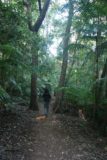 Afterwards, we proceeded to walk into a well-forested path. It was a sunny day but the shade from the forest kept us from getting too sweaty.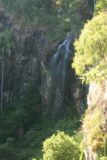 Nearly thirty minutes later, we got to a lookout platform providing both a panoramic view as well as a view of Cameron Falls. We were somewhat looking against the sun, but the falls had disappointing flow. But we figured disappointing waterfalls were nothing new considering our last trip to Australia. So it was time to put this one behind us and move on to the next one.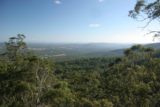 At 9:15am, we returned to the car park and proceeded to head to Witches Falls. About 15 minutes later, we were at the car park for Witches Falls, but given the disappointing flow of Cameron Falls and the length of this walk (at least an hour), we decided to pass on it.
So we slowly made our way towards Brisbane, but I thought it would be a shame to visit only one disappointing waterfall in the Mt Tamborine area. So we went looking for Curtis Falls, which we saw from postcards was a short waterfall but had nice scenery and character. Unfortunately, we managed to miss its trailhead during our drive.
Disappointed, we figured we'll just check out Cedar Creek Falls, which we saw was on the way to Brisbane from where we were at on your GPS software.
At 10am, after overshooting the turnoff, we finally got to the car park for the falls. Fortunately for us, someone pulled out of a parking spot just as we got there. I say we were lucky because the parking lot was packed! I guess Mother's Day weekend was taken quite seriously in these parts.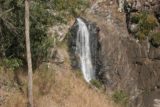 Anyways, we went past the throngs of people picnicking and BBQ'ing (that smell of grilled meat really made us hungry) and quickly made our way towards the viewing platforms of Cedar Creek Falls.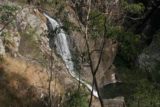 Unfortunately, our views of the falls were disappointing because either trees were blocking our line of sight or the hill got in the way. Meanwhile the view from the very top wasn't that great (as expected). We could've gotten better views if it weren't for the extension of the restricted access area.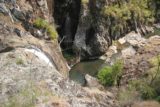 I'm sure the authorities had their reasons for extending the restricted access area so we opted to settle for our subpar views and returned to the car park by 10:30am.
We were a little waterfalled out at this point of our Australia-leg of the trip (we were going to Africa in another week and a half) so we figured perhaps we'll make a brief visit to JC Slaughter Falls in Brisbane and then call it a day (in a waterfalling sense).
At 11:40am, we made it through the city traffic and arrived at the busy Mt Coot-tha Reserve. Indeed, like other parks this weekend, this one was quite full with Mother's Day picnickers.
We eventually found a car park spot near the JC Slaughter Falls trailhead.
From there, we walked past the picnickers, followed the signs, and eventually made it to the falls.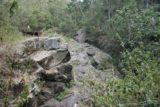 Unfortunately, JC Slaughter Falls was bone dry! I knew it was a bad sign when we didn't hear any water in the neighboring creeks. I guess it wasn't meant to be despite there being heavy rains and floods during the Australian summer. Indeed, it was reminiscent of that feeling we got going to a dry waterfall in Victoria two years ago.
We returned to the car shortly at 12:15pm and checked into the hotel in the CBD of Brisbane about a half-hour later. As planned earlier, we decided to call it day for waterfalling and just enjoy the city (even though we knew many places were going to be closed with this being a Sunday).
The hotel was centrally located enough that we could go for a stroll along the Brisbane River. After crossing the road bridge, we found ourselves in kind of a park-like promenade. However, there were some interesting little side attractions along the promenade such as a chinese garden commemorating the Aussie friendship with the Chinese. I believed there were some other international-inspired sights along the way.
It was pretty neat to check out. We could see that there was quite a bit of public money that went into such tourist-friendly infrastructure. It made it all the more relaxing and pleasing to experience.
Meanwhile, across the Brisbane River, we could see the high rises quickly jutting up over the water. Under the twilight skies, it was a sight to behold. It was kind of reminiscent of our Swan River fronting Perth experience, but this one seemed to be a bit more happening considering all the attractions they put around here.
Indeed, it was a good day despite the waterfalling disappointments (which had a strangely deja vu feeling after having experienced a lot of poor performing waterfalls during our November 2006 trip to the southeast of Australia). And we slept pretty well on this night.
Day 3: FROM BRISSIE TO ROCKY
We checked out and left Brisbane at 7am. With this being a workday, we were conscious of rush hour traffic so we made it a point to leave the CBD as soon as possible. We managed to do just that.
We were ultimately going over 700km north to the beef capital of Australia – Rockhampton – on this day. So we knew it was going to be a long day of driving. We figured we might stop by a couple of waterfalls along the way, but if the hikes were too long, then we might be pushing our luck in terms of arriving at Rockhampton before dinner (and more importantly before it gets dark and the kangaroos are out).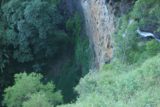 At 8:45am, we made it to the Mapleton Falls car park, which was quite a bit of a detour inland from SH1. With this waterfall, it was merely another one in a string of the rather disappointing waterfall sightings continued from yesterday.
Indeed, this waterfall had a disappointing viewpoint from its top with apparently no official way to get to the bottom of it by trail. It was too bad because this waterfall was quite tall, but the view from the lookout platform was impacted by a tree that happened to grow next to the waterfall which blocked the line of sight. It was definitely a difficult waterfall to view.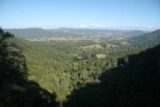 20 minutes later, we were back in the car and proceeded to head towards Kondalilla Falls thinking our luck might be better over there.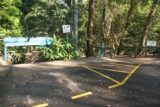 At 9:20am, we were at the quiet car park for Kondalilla Falls. The GPS software was off in guiding us to this falls so I was glad I followed the signs instead of listening to the software in this instance.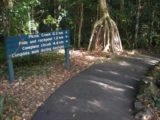 Julie and I spent a few minutes walking on the trail before a sign caught our attention. Apparently, there was construction work being done on the trail and it prevented us from getting to the best view of the falls. I guess it was just bad timing and it wasn't meant to be for us. Chalk this up to another one in the string of disappointing waterfall sightings…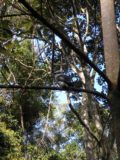 At 9:40am, we were back in the car and proceeded to backtrack to the SH1 then continue north towards Rockhampton. It was pretty much a featureless drive and there were plenty of moments where traffic was stopped for road construction. But those delays were never too severe (maybe 15 minutes tops).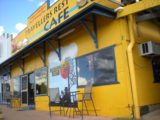 We picked up a lunch of crab sandwich and beef/oyster meat pie at Gin Gin a little after 1pm. That provided some much needed energy.
At 4:25pm, after nearly 7 hours on the road, we finally made it to our accommodation in Rockhampton.
Since Rocky was north of the Tropic of Capricorn boundary, it definitely felt warmer and a bit more tropical in these parts. There were even a few pockets of thundershowers.
Fatigued from the long day of driving, we looked forward to trying the famous beef in a nearby restaurant. The portions were huge and the dollar was weak. So sharing our main was a no-brainer. It still stuffed us nonetheless!
Day 4: THE HITS KEEP COMING
We got ourselves an early start knowing today was yet another long day of driving. So by 6:50am, we were leaving Rockhampton and headed north towards Airlie Beach – one of the gateways to the Whitsunday Islands.
The uneventful drive went on for almost the next 5 hours. We kept ourselves busy listening to Triple J to pass the time. By now, we were quite used to listening to the brekkie team and then mornings with Zan Rowe afterwards.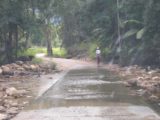 When we weren't listening to Triple J, Julie and I struggled with whether we should take the inland detour to see the Wheel of Fire Falls and the Araluen Cascade. We were still a little waterfalled out so whether or not to head straight for Airlie Beach (skipping the waterfalls on the way) was still a hard decision to make.
Eventually, we managed to seize the moment and take the detour inland to the Finch-Hatton Gorge. It looked like it had rained when we got into the reserve. With a pair of minor stream crossings and some muddy spots, I was a little worried about getting stuck here if we happened to be caught in a downpour. There were rain clouds surrounding the area. Even still, the car park was quite busy for a place as obscure as this!
Just before noon, we started walking. We expected to be here for a couple of hours, but with the threatening rain, I hoped we wouldn't be here for much longer than that. Nonetheless, it was a bit hot and humid here and the rains (at least the threat of them) would cool things down.
The songs from the birds in the forest kept us entertained. One sounded like a flute. Another sounded like it was shooting lasers or something!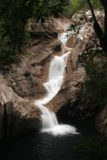 About 20 minutes into the hike, we reached a fork. But before we entertained any thoughts of continuing towards the Wheel of Fire Falls, we were met by a closure sign and barricade. Apparently, the floods from the summer monsoons made trail conditions a bit dangerous. Chalk that up to yet another disappointment in a string of disappointments!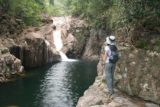 So we salvaged a visit to the much smaller (but still pretty) Araluen Falls.
By 12:50pm, we were back at the car. It started raining hard at this time.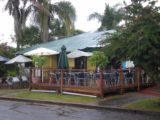 As we left the Finch-Hatoon Gorge, Julie and I were famished and had ourselves some award-winning meat pies at the Pinnacle Hotel. The pies were very good but also very hot. We had a hard time trying not to burn our mouths as we ate.
After our hearty lunch, we tried to find our way back to SH1. However, somehow we missed a turn and we kept going around in circles past some road construction near a single-lane bridge. I'm sure the workers there recognized us after seeing us pass by three times!
Finally at 3:50pm, we arrived at our motel in Airlie Beach. With still some daylight left in the day, we quickly unpacked our belongings and got back in the car 15 minutes later intending to see Cedar Falls, which was nearby.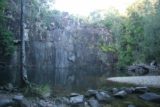 A little after 4:30pm, we arrived at the car park for Cedar Falls. There, we met a group of Germans who had swum there and were on their way out. That was about all that broke the silence because the falls weren't flowing (well, it was trickling).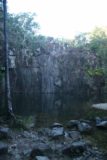 Yet another disappointing waterfall. I guess the recent rains didn't do much for this one.
At least we were comforted by the thought that we were going to take a break from waterfalling and relax on a Whitsunday excursion tomorrow.
By 5:20pm, we were back at Airlie Beach for some grocery shopping, showering, and dinner. The town felt like a less hippy version of Byron Bay, but we had a hard time trying to find a place to eat at an "affordable price." That weak dollar really killed us. Anyhow, we managed to eat at this place that had crocodile and kangaroos as well as sticky-date pudding. With a scoop of vanilla ice cream, that dessert always wins us over!
Day 5: WHITSUNDAYS
Julie and I slept in a little bit considering we still had one more night here and didn't have to be on the move today. When we looked out the window, we were a little bit concerned about the presence of some patchy clouds that looked like tropical rain clouds, which might mute the colors of the tropics we were expecting to see at the Whitsundays today.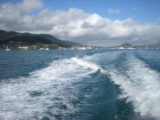 In any case, it wasn't until later in the morning that we went on a pre-booked tour called the Mantaray Whitsunday Tour.
We were on a boat tour that had about 6 parties (5 of them couples, us included). There was a Colombian family, then the couples were Dutch, German, Spanish, and Irish. We were the only Americans. The boat ride seemed a little long, but the waters were nice and turquoise when the sun was out. Plus, we were conversing with the Dutch couple which made the ride go by a bit faster.
At about 11am, we finally arrived at the Whitsunday Island. Once we got off the boat (the waters were a bit choppy but the sandbars were quite long making the waters quite shallow), we then walked over to the overlook. However, we weren't the only tour that was here at the same time. Actually, there was another tour before us who were taking turns at the circular lookout, and we all patiently awaited our turn.
When it was finally our turn, we beheld the expansive views of Whitehaven Beach. The blindingly white sandy beach actually made all my photos turn out a little dark (the camera overcompensated for the light). Contrasting the blinding white sands were blue-green waters kind mixed in with some sandbars which made the scenery quite the kaleidoscope of colors.
We couldn't linger at the overlook because more people from other tour groups came in so the conveyor belt of camera-toting tourists had to keep moving.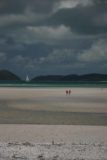 Thus, we just got as many shots as we could before we were nudged away by the human conveyor belt.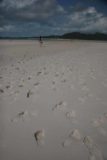 Then, we went down from the overlook and right onto the Whitehaven Beach itself. The beach was quite extensive and shallow. Tides that broke way in the distance ended up as ripples on the beach.
Julie and I observed some interesting crabs and birds on sand. We even whiffed what we thought was the smell of sulfur, which we weren't sure quite why or how that was at this island.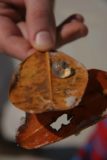 Unfortunately, I had lost my sunglasses somewhere on this beach.
I didn't realize it until Julie and I were headed towards the water and towards the awaiting tour boat as time here was almost up (12:15pm was the departure time). And finding those sunglasses on this extensive of a beach was not quite like finding a needle in a haystack but it was close.
Julie and I were quite amazed at how pristine this place was. I guess that could be attributed to the fact that this was a marine sanctuary. There was absolutely no development here other than the overlook, the trails, and the odd boats that come and go.
After our time was up, we boarded the boat though the boarding was a bit on the choppy side as we waded a little further out from the sandbars towards the boat. The boat was rocking quite a bit and for certain, everyone's pants would get wet. Fortunately, we were wearing swimming shorts though we did have to be vigilant about my camera and things like the wallet and keys.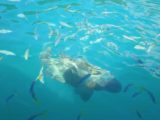 At about 2pm, the boat arrived at some spot called Mantaray Bay. There, the boat anchored and we were then told that this was a snorkeling spot. Julie stayed on the boat since she couldn't swim and wasn't sure about the somewhat choppy waters. I went in but had no good photos to show for it without an underwater camera. However, since Julie was on the boat, she did snap some photos of small reef sharks as well as some tropical fish.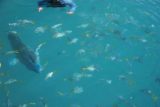 The snorkel was definitely interesting because I spotted lots of coral and fish. Some of the corals were orange and blue. Some of them were even pulsating! This was definitely a bit more colorful than the Coral Bay experience of WA, but perhaps not as colorful as what we had been anticipating at the Great Barrier Reef, which was to be when we get up to Cairns.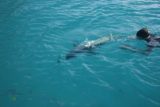 After the snorkel session, we then headed back towards the mainland at around 3:30pm. On the way back, this time we were sitting right across from the German couple. At first they didn't like us because we were Americans.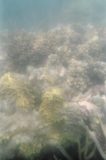 But when we started talking, and we were at first interrogated about how we could vote in Bush among other things, we told them that we didn't vote for him nor did we subscribe to any of the things they didn't like about Americans.
It was yet another case of us apologizing to the world, I guess just like during our New Zealand trip as well as our first Australia trip.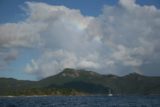 Whatever the case, we actually got along quite well with them, and I really wished I was able to speak to them in German, but I never got around to learning that language. All I knew was Guten Tag.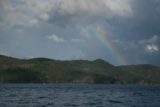 When we finally returned to the mainland and our lodge at Airlie Beach at 5pm. That was enough for the day, and Julie and I walked around town at night looking for a bite as well as to get a little more flavor of the Airlie Beach scene.
Visitor Comments:
Got something you'd like to share or say to keep the conversation going? Feel free to leave a comment below...
No users have replied to the content on this page