Day 2: FAMILIARITY
We left Surfer's Paradise at around 7:20am. There wasn't a whole lot of stuff to do today since Brisbane was our next destination, and it wasn't that far away from the Gold Coast area.
So we thought that on the way to Brissie, we could make a quick stop to Mt Tamborine National Park. It was supposedly the first national park gazetted in Queensland so we thought some of the waterfalls here must be good. I couldn't wait!
It was still Mother's Day weekend so we expected the picnic areas to be a little busy (if yesterday was any indication).
At 8:10am, we arrived at the car park for Cameron Falls. As we had predicted, there were already quite a few cars here (though there were plenty more spaces left to fill).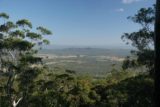 We immediately got started on the walk after examining the signs to see if we did indeed arrive at the right place (which was the case). But before we descended down into the 1-hour return trail, we took a look at the panorama along with other onlookers.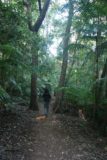 Afterwards, we proceeded to walk into a well-forested path. It was a sunny day but the shade from the forest kept us from getting too sweaty.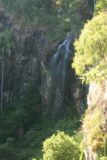 Nearly thirty minutes later, we got to a lookout platform providing both a panoramic view as well as a view of Cameron Falls. We were somewhat looking against the sun, but the falls had disappointing flow. But we figured disappointing waterfalls were nothing new considering our last trip to Australia. So it was time to put this one behind us and move on to the next one.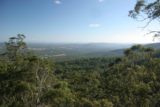 At 9:15am, we returned to the car park and proceeded to head to Witches Falls. About 15 minutes later, we were at the car park for Witches Falls, but given the disappointing flow of Cameron Falls and the length of this walk (at least an hour), we decided to pass on it.
So we slowly made our way towards Brisbane, but I thought it would be a shame to visit only one disappointing waterfall in the Mt Tamborine area. So we went looking for Curtis Falls, which we saw from postcards was a short waterfall but had nice scenery and character. Unfortunately, we managed to miss its trailhead during our drive.
Disappointed, we figured we'll just check out Cedar Creek Falls, which we saw was on the way to Brisbane from where we were at on your GPS software.
At 10am, after overshooting the turnoff, we finally got to the car park for the falls. Fortunately for us, someone pulled out of a parking spot just as we got there. I say we were lucky because the parking lot was packed! I guess Mother's Day weekend was taken quite seriously in these parts.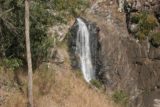 Anyways, we went past the throngs of people picnicking and BBQ'ing (that smell of grilled meat really made us hungry) and quickly made our way towards the viewing platforms of Cedar Creek Falls.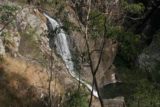 Unfortunately, our views of the falls were disappointing because either trees were blocking our line of sight or the hill got in the way. Meanwhile the view from the very top wasn't that great (as expected). We could've gotten better views if it weren't for the extension of the restricted access area.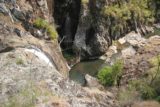 I'm sure the authorities had their reasons for extending the restricted access area so we opted to settle for our subpar views and returned to the car park by 10:30am.
We were a little waterfalled out at this point of our Australia-leg of the trip (we were going to Africa in another week and a half) so we figured perhaps we'll make a brief visit to JC Slaughter Falls in Brisbane and then call it a day (in a waterfalling sense).
At 11:40am, we made it through the city traffic and arrived at the busy Mt Coot-tha Reserve. Indeed, like other parks this weekend, this one was quite full with Mother's Day picnickers.
We eventually found a car park spot near the JC Slaughter Falls trailhead.
From there, we walked past the picnickers, followed the signs, and eventually made it to the falls.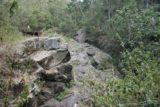 Unfortunately, JC Slaughter Falls was bone dry! I knew it was a bad sign when we didn't hear any water in the neighboring creeks. I guess it wasn't meant to be despite there being heavy rains and floods during the Australian summer. Indeed, it was reminiscent of that feeling we got going to a dry waterfall in Victoria two years ago.
We returned to the car shortly at 12:15pm and checked into the hotel in the CBD of Brisbane about a half-hour later. As planned earlier, we decided to call it day for waterfalling and just enjoy the city (even though we knew many places were going to be closed with this being a Sunday).
The hotel was centrally located enough that we could go for a stroll along the Brisbane River. After crossing the road bridge, we found ourselves in kind of a park-like promenade. However, there were some interesting little side attractions along the promenade such as a chinese garden commemorating the Aussie friendship with the Chinese. I believed there were some other international-inspired sights along the way.
It was pretty neat to check out. We could see that there was quite a bit of public money that went into such tourist-friendly infrastructure. It made it all the more relaxing and pleasing to experience.
Meanwhile, across the Brisbane River, we could see the high rises quickly jutting up over the water. Under the twilight skies, it was a sight to behold. It was kind of reminiscent of our Swan River fronting Perth experience, but this one seemed to be a bit more happening considering all the attractions they put around here.
Indeed, it was a good day despite the waterfalling disappointments (which had a strangely deja vu feeling after having experienced a lot of poor performing waterfalls during our November 2006 trip to the southeast of Australia). And we slept pretty well on this night.
Visitor Comments:
Got something you'd like to share or say to keep the conversation going? Feel free to leave a comment below...
No users have replied to the content on this page