Day 4: THE HITS KEEP COMING
We got ourselves an early start knowing today was yet another long day of driving. So by 6:50am, we were leaving Rockhampton and headed north towards Airlie Beach – one of the gateways to the Whitsunday Islands.
The uneventful drive went on for almost the next 5 hours. We kept ourselves busy listening to Triple J to pass the time. By now, we were quite used to listening to the brekkie team and then mornings with Zan Rowe afterwards.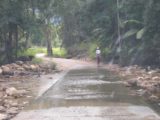 When we weren't listening to Triple J, Julie and I struggled with whether we should take the inland detour to see the Wheel of Fire Falls and the Araluen Cascade. We were still a little waterfalled out so whether or not to head straight for Airlie Beach (skipping the waterfalls on the way) was still a hard decision to make.
Eventually, we managed to seize the moment and take the detour inland to the Finch-Hatton Gorge. It looked like it had rained when we got into the reserve. With a pair of minor stream crossings and some muddy spots, I was a little worried about getting stuck here if we happened to be caught in a downpour. There were rain clouds surrounding the area. Even still, the car park was quite busy for a place as obscure as this!
Just before noon, we started walking. We expected to be here for a couple of hours, but with the threatening rain, I hoped we wouldn't be here for much longer than that. Nonetheless, it was a bit hot and humid here and the rains (at least the threat of them) would cool things down.
The songs from the birds in the forest kept us entertained. One sounded like a flute. Another sounded like it was shooting lasers or something!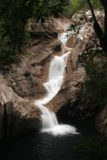 About 20 minutes into the hike, we reached a fork. But before we entertained any thoughts of continuing towards the Wheel of Fire Falls, we were met by a closure sign and barricade. Apparently, the floods from the summer monsoons made trail conditions a bit dangerous. Chalk that up to yet another disappointment in a string of disappointments!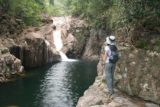 So we salvaged a visit to the much smaller (but still pretty) Araluen Falls.
By 12:50pm, we were back at the car. It started raining hard at this time.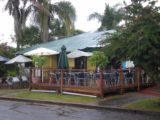 As we left the Finch-Hatoon Gorge, Julie and I were famished and had ourselves some award-winning meat pies at the Pinnacle Hotel. The pies were very good but also very hot. We had a hard time trying not to burn our mouths as we ate.
After our hearty lunch, we tried to find our way back to SH1. However, somehow we missed a turn and we kept going around in circles past some road construction near a single-lane bridge. I'm sure the workers there recognized us after seeing us pass by three times!
Finally at 3:50pm, we arrived at our motel in Airlie Beach. With still some daylight left in the day, we quickly unpacked our belongings and got back in the car 15 minutes later intending to see Cedar Falls, which was nearby.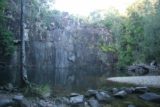 A little after 4:30pm, we arrived at the car park for Cedar Falls. There, we met a group of Germans who had swum there and were on their way out. That was about all that broke the silence because the falls weren't flowing (well, it was trickling).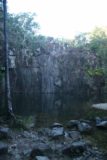 Yet another disappointing waterfall. I guess the recent rains didn't do much for this one.
At least we were comforted by the thought that we were going to take a break from waterfalling and relax on a Whitsunday excursion tomorrow.
By 5:20pm, we were back at Airlie Beach for some grocery shopping, showering, and dinner. The town felt like a less hippy version of Byron Bay, but we had a hard time trying to find a place to eat at an "affordable price." That weak dollar really killed us. Anyhow, we managed to eat at this place that had crocodile and kangaroos as well as sticky-date pudding. With a scoop of vanilla ice cream, that dessert always wins us over!
Visitor Comments:
Got something you'd like to share or say to keep the conversation going? Feel free to leave a comment below...
No users have replied to the content on this page