Day 1: G20 DRAMA IN MELBOURNE
I had originally intended today to be a day of sightseeing Melbourne, but I thought we could sneak in some waterfalls we didn't get a chance to visit earlier on in the trip.
Given the unnecessarily long dinner at Grossi Florentino's last night, we didn't get much sleep as we got up drive towards Strath Creek Falls at 8:30am. The freeway driving was straight forward, but the rural driving wasn't so straight forward.
In fact, the unsealed spur road that eventually led to the picnic area by the falls lookout appeared by no means doable by passenger vehicle. I ended up stopping the car just short of the steep hill and walked my way down to the picnic area below. Despite the rough unsealed road being one-way, I wasn't going to risk any damage by going down it thinking I would never get back up.
The signs weren't looking good as we had seen nothing but brown on the way here and the trees looked ripe for a bush fire. It was also eerily silent which suggested that the falls probably wasn't making a sound.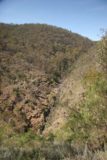 And sure enough, when I got to the overlook, the falls was nowhere to be found. It was a shame because the cliff looked certainly tall and I could see the wet area where the falls should've been.
What a wasted trip, I thought.
Well based on this experience, I walked back up to the car to rejoin the awaiting Julie and told her to forget about Wilhelmina, Wombelano, and Masons Falls today. It's just too dry and we'd be wasting gas, time, and money going for them when this drought was just messing things up.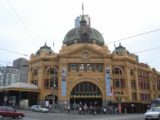 So back to Melbourne we went and by 12:30pm, we were back in the city. As we left the QV Shopping area (buying groceries and mouthwash), we immediately heard someone talking into the bullhorn with heaps of people listening in some grassy area. The street also looked like it was closed off to traffic due to these apparent protestors.
There were riot police waiting for them and you could totally sense the tension already. Julie and I quickly crossed Swansson St and got back into our room to change into something lighter given the hot weather.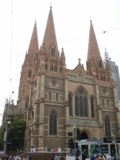 Both of us hadn't eaten all morning and we were eager to try some ramen for lunch at a restaurant we had noticed on Bourke Street earlier on the trip called Ajisen. But the moment we left the hotel, there were hordes of people parading before us on Swanson Street before turning left onto Bourke Street.
There were people with bull horns and signs denouncing the G20 summit (a gathering of some of the richest and most influential world figures driving world economic policies) and demanding an end to poverty.
We were still hungry and the Singapore restaurant Julie wanted to try out was on the other side of the parade. So both of us waited and wandered as we looked for a way to get across.
As we got onto the opposite side of Bourke St, we could see some gaps starting to open up in the demonstration parade. As the gaps widened, we took this opportunity to breach the demonstration line and get across to the other side. Of course there was this matter of returning to the other side once we were done with our meal, but we'd worry about that later.
Fortunately, when we finished lunch at Ajisen, the demonstration had already proceeded well past the restaurant so things we roughly back to normal.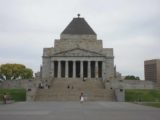 We spent the remainder of the arvo walking around the park south of the Yarra River. There were war memorials and other big lawns (smelling like manure – probably re-seeding and fertilizing due to drought). There was also apparently a wedding that was taking place in one of the gazeebos there as well.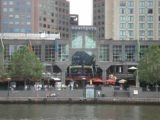 We then proceeded to check out the South Gate area where there were a bunch of shops, cafes, and even a casino further down the block. Nothing real special here except for some cool hangout spots if you had a group to hang out with. It was kind of reminiscent of some of the happening districts in LA when we might go someplace for a get-together for the weekend.
When the evening rolled around, we returned to the banks of Yarra for some night photography. I came with equipped with a tripod and did my thing to produce some city shots reminiscent of the ones I produced across the Swan River in Perth.
And with that, we had cash-only Vietnamese food for dinner and spent an uneventful night back in our room unwinding from the events of today.
But when we watched the news, we were shocked to see the degree of rioting that went on during the demonstration that we witnessed today. We were glad we weren't around when things got really bad.
Visitor Comments:
Got something you'd like to share or say to keep the conversation going? Feel free to leave a comment below...
No users have replied to the content on this page