Day 2: A DAY WITH DISTANT RELATIVES AND FAMILY FRIENDS
Julie and I had planned on meeting up with cousin Nicole and family friend Howard on this day. Julie established contact the moment we found cheap internet in the chinatown district of Sydney.
So after meeting Nicole at 11:30am, we met up with Howard, who would drive us around, and we also met up with cousin Max, Nicole's younger brother.
We began the day having a lunch at some coffee house on the western side of Melbourne. We had pleasant chats about the differences in Australian and American culture and especially how Chinese people from overseas adapt to life in Oz. Through these conversations, we finally understood the reasoning behind the hook turns (where you turn right from the far left lane instead of the right lane) as Howard told us the intention was to keep cars from obstructing the trains running through the middle of the CBD streets. We also learned about each others business ventures as well as the apparent climate change in Oz.
Immediately afterwards, we fulfilled Julie's desire to check out the Queen Victoria Market, which was basically a swap meet (or flea market) or farmer's market. We did some wandering around but didn't buy anything.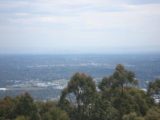 From there, we headed out to Mt Dandenong, which provided birds eye views of Melbourne and its skyline. Unfortunately, it was very hot this day and the views were rather hazy (i.e. smoggy). Still, it was a nice spot to chill out and relax over some ice cream.
After that, we headed back towards the Melbourne CBD and towards some market area on the waterfront in St Kilda. This kind of reminded me of some of the boutiques or sidewalk stands along some of the beaches in Los Angeles – such as Venice Beach, Huntington Beach, or even Laguna Beach (to a lesser extent).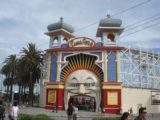 As the arvo started to give way to evening, we spent some time walking around the ferry dock where the Spirit of Tasmania takes off for Devonport, Tasmania. There were restaurants here, but we mostly strolled around and opted not to go for the expensive food there.
Eventually, we went with cousin Max's suggestion for some Northwest Chinese food away from the touristy area of Melbourne (actually a more industrialized and seedier area of town). He really liked this place as he proudly proclaimed that this would be the third time this week he would eat there.
The food was mainly spicy stew-type dishes served family style. They didn't have water there so we just bought some teas from their refrigerator.
When darkness fell upon Melbourne and the dinner ended, so did the very relaxing tour courtesy of Nicole, Howard, and Max. As Howard drove us back into the CBD and right in front of the Mercure Grand Hotel Melbourne, we said our fond farewells and thanks before going about our separate ways.
It was definitely a change of pace from the way Julie and I had been traveling. Reflecting upon other topics discussed this day, we had a blast just talking with them and getting caught up on how life was for Chinese people in Melbourne (or in Howard's case, Sydney and Canberra as well).
Of course given the severity of Australia's drought situation, we inevitably discussed the subject. It was Howard who told us that Melbourne was supposed to have similar climate to that of Auckland, New Zealand. Since his parents had lived in (and recently moved from) Auckland, he would know. But the brown we saw all over the place was certainly not the green Julie and I were familiar with in our 2004 visit to the City of Sails.
But all good things must come to an end, and everyone besides Julie and I had work tomorrow morning (Monday).
It was a nice, quiet end to our first half of the trip. Tomorrow, we would begin the second half of the trip – starting with a brief 3-day out-and-back stop in Adelaide.
Visitor Comments:
Got something you'd like to share or say to keep the conversation going? Feel free to leave a comment below...
No users have replied to the content on this page