Day 4: MOMENTS OF BRILLIANCE
Julie and I awoke at around 7am. When we looked out the window, we saw mist and rain still falling. It certainly wasn't what we were hoping for especially considering we were going to be staying in Wollongong tonight.
Sometimes you get a little more than what you've bargained for. And it appeared to be the case here. While I welcomed the rain to enhance our waterfall viewing in the face of Australia's worst drought, the bitter cold and low clouds reduced the expansive Blue Mountains vistas to nothing more than an oppressive blanket of fog. And so we were certainly feeling blue as it seemed the weather wouldn't let up as long as we were there
Well at least breakfast was included on our night's stay in the Katoomba Town Centre Motel so we mind as well take advantage of that. Perhaps the weather might start improving later in the morning, I hoped.
After having a very satisfying buffet breakfast, it was about 8:38am when we left. Since Katoomba was a lost cause this morning, perhaps we could head back over to the Govett's Leap vicinity and try to get an alternate view of Horseshoe Falls considering the relentless rain we were getting last night.
And sure enough, when we got to Blackheath, there was already a hint of sun and no fog, which we couldn't say for the Katoomba vicinity. And so we continued driving in search of the Pulpit Rock lookout, but the unsealed road freaked Julie out and so we spent time wondering whether we had gone the wrong way or not. Eventually it was just after 10am and we decided to just forget it and return to Katoomba.
By 11:18am, we were back at the Katoomba Falls kiosk and proceeded to walk towards the falls viewpoint.
As expected, the view was of nothing but fog. Mother Nature seemed like she was teasing us as we could hear the falls from the viewpoint. How frustrating!
We were joined by another Australian family from Melbourne who were also looking for the same thing. They told us that yesterday was better at around midday and that it was a shame we couldn't see it now.
Julie and I took this opportunity to talk to them about Australia and the current drought. Upon learning about our hunt for waterfalls, they did say the Grampians would be dry but they also said that the Otways would be nice.
I had a very nice conversation with the father of the family as it just so happened to be a Triple J Radio listener. Wow, so it's not just rebellious young teens or college students that listen to this stuff, I thought to myself. I guess I'm not insane after all. Of course, he wondered how I found out about it since we were not Australian. That was when when I told him how I discovered it on our last trip to Australia and how I listen to it over the internet at home. Once I got hooked on Triple J, there was no turning back. Everything else in America sucked compared to it.
I also got a few chuckles from them about our kangaroo incident on the last trip.
"You truly experienced the real Australia," said the mother.
Anyways, as the family decided to hike towards the bottom of the falls, Julie and I lingered behind. Then, we started to notice the sun starting to break through some of the cloud cover and the fog starting to roll its way up the cliffs.
And within seconds, we could finally start to see the Katoomba Falls!
Fortunately for the family, the mother stayed behind and quickly yelled to the rest of the family to come back quickly!
But it wasn't but a few minutes more when the sun concealed itself once again and so did the falls. Julie and I were certainly glad we got to see this moment of brilliance (and take a few photos) but it was just all too fleeting…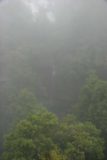 After briefly looking at a mostly foggy Witches Leap near the overlook, we returned to the car and made it Echo Point at 11:24am.
The scene here was considerably busier than yesterday arvo (short for afternoon), but clouds still shrouded the Three Sisters as well as most of the valley views. Julie and I decided we'll be patient on this one and make sure we'll see this iconic attraction.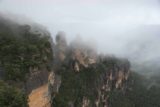 And after a few minutes of waiting, we experienced yet another moment of brilliance as the clouds lifted for just another fleeting moment before the Three Sisters were hidden by the clouds once again.
At least we got to see the Three Sisters and take photos of it. Now it was time to get back in the car and make our way over to Wentworth Falls – the next must-see attraction before we could head on over to Wollongong. It was 11:58am when we left Echo Point.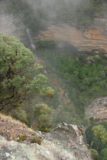 I decided to drive along the road following the cliffs towards Wentworth Falls. Along the way, we passed by the Leura Cascades (but didn't stop for it) and made a brief stop at Gordon Falls.
The Gordon Falls flowed well but it was foggy and the view from the puddly viewpoint was not very good.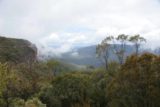 At 12:44pm, we finally arrived at the Wentworth Falls car park. We took the brief walk down some steps and towards an overlook allowing us to see both Wentworth Falls as well as Princes Rock. The couple we saw on their way back up told us to hurry before the clouds might start covering up the falls again.
Good advice.
So in no time, Julie and I took plenty of photos of the impressive waterfall. There looked to be some closure relics (the track into the canyon was closed) near the base of the falls, but we weren't about to do the walk anyways.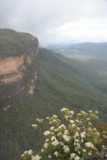 The direct view of the falls was quite impressive and probably surpassed the profile view of Katoomba Falls that we got earlier in the morning.
By 1:15pm, we returned to the car but not before checking out the so-called Wentworth Falls lookout, which didn't even yield a view of the falls.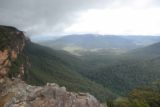 And so even though our Blue Mountains experience was reduced to nothing but moments of brilliance, at least we got what we were after and now it was time to head on over to Wollongong.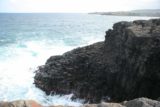 At 3:53pm, we arrived at the Downtown Motel in Wollongong and checked in. Down here, it seemed like the weather was significantly more improved that the Blue Mountains. Of course, this also made me wonder what Victoria would be like if it was already dry down here.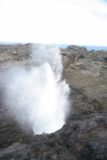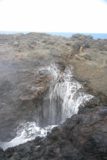 At 4:05pm, we decided to check out the Kiama (pronounced "KYE-am-uh") blowhole, which we promptly did at 5:08pm (after the nearly hour long drive further south). We spent a few minutes seeing the blowhole in action before the lighthouse. The scene here (rougher seas and coastlines) was quite a contrast compared to the mountains, fog, and waterfalls we saw earlier on this day.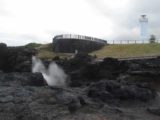 But by 6:12pm, we were back in Wollongong and had ourselves some Thai food at this place called Coconut Thai to satisfy Julie's craving for it.
Tomorrow was supposed to be a day to be seeing a bunch of waterfalls. I sure hoped they'll be flowing somewhat close to normal considering the amount of rain we had been seeing up to this point.
But with this thought, we went to sleep after watching some Australian news with a keen eye on the weather.
Visitor Comments:
Got something you'd like to share or say to keep the conversation going? Feel free to leave a comment below...
No users have replied to the content on this page