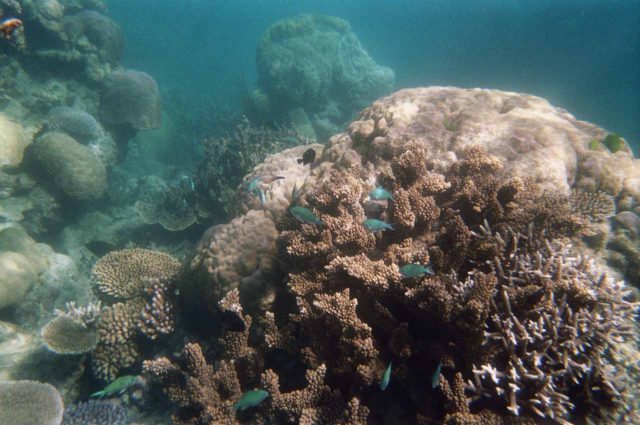 15-May 2008 to 21-May 2008:
Now my head was really hurting at this point. I didn't want to get out of the water because the scenery down here was as close to the Discovery Channel as I had ever seen in real life. And who knew when we'd return to Australia's Great Barrier Reef?
So I was determined to use up our underwater camera shots before retreating to the pontoon. At some points, I felt like I wanted to hurl. I never knew that I could ever be seasick snorkeling…
Day 1: DEEP CROSSINGS
We awoke at 6am to a sunrise where its rays broke through a scattering of patchy clouds. It wasn't easy leaving the Airlie Beach especially after a relaxing day yesterday at the Whitsunday Islands.
It was too bad I lost some $70USD sunglasses somewhere on Whitsunday Island because from here on out, I had to be squinting until we buy a new pair (not a pleasing thought especially given the weak dollar).
We left Airlie Beach at 7:10am and we embarked on yet another long drive.
Eventually, after over 4 hours of driving and listening to Triple J (especially Science with Dr. Karl, which was one of my favourite shows on the radio station), our GPS software came alive and informed us to turn left. It turned out that we made a left for the signposted Jourama Falls. It also looked like this part of Queensland had seen some rains recently given the wet ground and some of the squalls we passed through along the way.
Anyways, we got through the park gates and before long, we entered a pretty deep-looking concrete ford. It looked rather scary, but they did open the gates so it must've been passable. So with hesitation, I proceeded slowly hoping water wouldn't creep through the doors and leak inside. I also didn't want the car to stall or short in that ford either!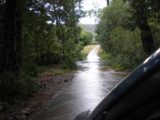 Well the ford wasn't all that bad (as scary as it was), but I was a little nervous that threatening heavy rains might raise the water levels and strand us while we're on the other side. Not exactly optimal conditions to enjoy a hike.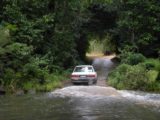 A few minutes later, we reached another, seemingly longer concrete ford. This too looked scary (perhaps even more so than the first one). But that didn't deter me.
By 11:40am, we were finally at the Jourama Falls car park. There were already a few cars parked here so this must've been a pretty popular attraction even given the somewhat high water conditions.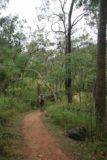 Worried about mosquitoes and humidity and knowing that our hike was about an hour each way, it took us about 15 minutes to get ready.
But before long, we got right to walking. About another 15 minutes into the hike, I noticed that Julie paused when we got to a stream crossing. When I caught up to her, I could see why she hesitated.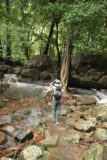 The stream crossing looked awfully deep and running pretty fast. But the park workers did put chains to hold onto for balance. I was pretty sure I could make it across without getting my feet wet with my gore-tex boots. But Julie's low-top day-hike shoes might get some water in it.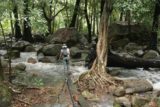 After gingerly making our way across this stream crossing, it looked like there were more water crossings (it was all part of the same stream). Some parts looked rather difficult to stay dry and balanced at the same time. The rocks were slippery, but they did place upside down white barrels filled in with dirt in strategic spots to act as steps.
Eventually at the end of this hairy stream crossing, we had to boulder scramble over wet slippery boulders (almost like walking over bowling balls) before we finally got to the other side of the width of the stream path.
At that point, there was a fork in the trail. The left path went towards some pools. Obviously with the water levels looking like they're a bit high, I doubted anyone would be swimming here, but we checked it out anyways just to see what was there.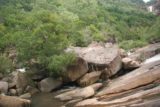 It turned out that there really wasn't a whole lot to see except the top of what looked like Jourama Falls way in the distance. We didn't feel like doing any scrambling so we took our photos and didn't bother proceeding further to see where the actual pools would be (assuming we didn't find it where we were at; it looked unswimmable).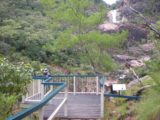 So we headed back to the ford then proceeded to go uphill. The uphill lasted for a while and it drenched us in sweat. We heard some voices down below and we caught glimpses of some youngsters swimming. I guess that confirmed we didn't arrive at the swimming pool after all when we were down there. Besides, these youngsters were swimming in relatively high water conditions.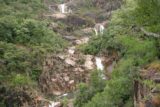 Eventually, we reached the viewing platform. At that point, Jourama Falls was before us. It was actually a series of several disjoint tiers. We could capture at most 5 tiers in my wide angle camera, but there was at least another tier further below. It was quite impressive, but it was one of those things where I'm sure photos don't do it justice.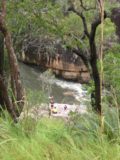 As we were enjoying the falls, we did notice quite a few tiny gnats, but we weren't sure if there were mosquitoes in there or not. We did have DEET on so we don't know if any of these little gnats or midges bite.
After going back through the deep stream crossings uneventfully (albeit with plenty of mental stress), we returned to the car park at 1pm. The air conditioning of the car was a welcome relief from the mugginess.
At 1:35pm, we made a stop at the Ingham Info Centre. I wasn't sure if Wallaman Falls was hard to get to or not, but I was more interested in whether we would be able to do Blencoe Falls – the waterfall that was on the show Survivor. I had read in my research that it required a 4wd vehicle, which was bad news for our Toyota Corolla hire car. In any case, I learned that Wallaman Falls was easy to get to, but I didn't get the inside scoop on Blencoe Falls.
At 2:40pm, we arrived at Cardwell, which was one of the towns close to Hinchinbrook Island just offshore to the east. That island was famous for the multi-day Thorsborne Trail, but we weren't going to do it.
We had trouble finding the Mudbrick Manor, which was where we were supposed to stay for the next two nights. So we arrived at the Rainforest & Reef Centre in the middle of Cardwell. That was where we got verbal instructions from the kind people working at the information kiosk there. That was also where I learned that Blencoe Falls was not reachable from Cardwell via Kennedy thanks to Cyclone Larry two years ago. They were saying I could forget about doing it in our 2wd and that I needed local knowledge and a 4wd vehicle anyways. At this point, I really wished there was something like a 4wd "Survivor Tour" for the falls, but there wasn't.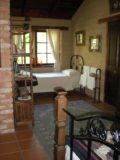 Ten minutes later, we headed back south outside the town of Cardwell until we found the obscure turnoff going inland. From there, we finally found the Mudbrick Manor, but there was no one there! I hoped we weren't locked out of our room for the night!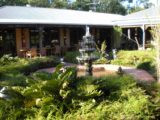 So Julie pulled out her cell phone (good thing about having GSM), and made a rather expensive call. Eventually, she reached the manager and she said she'd come by soon. In the mean time, she encouraged us to walk into the property and pick a room. We eventually picked room #2.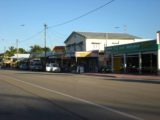 At 3:40pm, the co-owner Beth finally showed up. From that point on, we were able to get checked in and settled. We weren't able to try their dinner on this night (they needed advance notice), which we had read was really good. So we asked for dinner with them tomorrow, and in the mean time, we went back into Cardwell looking for dinner.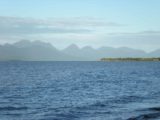 Whilst in town, we noticed that mud crabs seemed to be the local dish that was the "must have" for the area. But then we had to overcome the sticker shock of the equivalent of around $80 USD for a crab! We eventually settled on an Aussie-Indian place that had mud crabs at a more reasonable price while accompanying it with Indian curry and rice.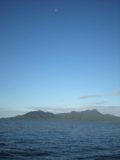 We took the food to go and ate at the Mudbrick Manor's dining room. The food was a bit messy and perhaps a bit too much food. We were way stuffed at the end of the meal.
Anyhow, we called it a day and slept well in our charming and roomy boutique accommodation.
Day 2: BACK TO WATERFALLING SUCCESSES
We were spending another night at Mudbrick Manor so we weren't in any hurry to eat our complementary breakfast.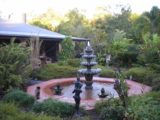 We left the accommodation at 7:45am and headed south back towards Ingham. The goal for this morning was to see Wallaman Falls, which was believed to be the country's tallest single-drop waterfall.
It took about a half-hour to return to Ingham, but then we had to take a little detour in town as there was some construction going on before eventually rejoining the road going west towards Wallaman Falls and Girringun National Park.
The drive at this point passed through lots of sugar cane fields (which reminded me a lot of Hawaii for some reason). There was one stretch of trees that seemed out of place because they looked like pine trees, which was strange since we're in a sub-tropical area and pine trees (if that's what they were) grow in colder high-altitude climates.
Eventually, the road became unsealed and narrower as it started ascending some hills underneath some tree canopies. There were signs warning us about cassowaries, but we weren't quite sure what exactly they were. Were they birds? Some kind of marsupial? In any case, I didn't want to hit any animals and cause damage to the hire car (even though we took out the Collision Damage Waiver this time around).
At 9:15am, we reached the car park for Wallaman Falls. There were already a handful of cars here.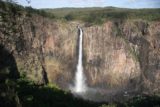 We caught a look at the big waterfalls from the lookouts near the car park. With the day shaping up to be sunny, I had a feeling there would be rainbows, but I wasn't sure when. One thing for certain was that the rainbows haven't showed up yet from the upper vantage points we were at. So we started to walk to the base of the falls vowing to come back to the overlooks here later in the day.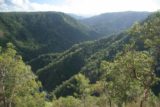 So we proceeded to make the walk down to the base. We paused at a panoramic overlook before the trail descended.
At that point, it started going into the canopy of rainforest. We saw several interpretive signs along this stretch. One of them talked about that dreaded stinging tree. So to the best of our ability, we tried not to brush any exposed skin with the leaves of trees straddling the trail or even overgrowing towards it.
Another interpretive sign talked about those pine-tree-looking trees. They were actually some other kind of tree and they weren't pine trees. Even the sign said many people mistake them for pine trees (as we had).
The descent to the bottom of the falls seemed like it took forever. But eventually, we got to the lightly misty base. And it was down there that we finally got to see rainbows off to the side of the waterfall.
After getting our fill of the falls, we had to make the long climb back out. Learning from our experience at Catarata Gocta in Peru, we knew that the key to long uphill stretches like this was to pace yourself and take slow, but rhythmic steps. So we employed this strategy, but it was still hot, long, and tiring.
In any case, we were back at the car park a little before noon. And we arrived just in time to see rainbows arcing before its base.
At 1:35pm, we made a quick stop at the Visitor Info Centre in Ingham just to grab some literature about the falls and see if there would be any more local information about Blencoe Falls, which was the Survivor Waterfall in season 2, and it was on my mind since I knew we were getting closer to its whereabouts.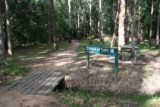 At 1:40pm, we left Ingham and headed north for Murray Falls further north of us. But on the way, we made a quick stop at the Mudbrick Manor to drop off our groceries. It wasn't until 2:35pm that we were finally leaving Cardwell while grabbing a Barra Burger on the go. It was quite a while since the last time we had ourselves barramundi. In fact, I remembered having barra when we were in the Northern Territory back in June 2006.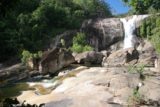 At 3:10pm, we followed the signs and eventually got to the car park for Murray Falls. With the late afternoon sun, we got some pretty decent light on the short but well-flowing falls as it was tumbling some 20m over rounded rocks. It kind of reminded me of a smaller version of Peppermint Creek Falls in the Sequoia National Forest.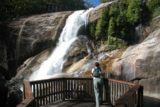 It was a good thing it was a short 300m walk to get to the falls because we didn't feel like doing the longer walk to the top of the falls. While checking out the falls, we also noticed a lone turtle sitting on a rock near one of the neighboring plunge pools. I think this was the first time we had ever seen a turtle in Oz.
At 3:55pm, we were back in the car. By 4:30pm, we were back at the Mudbrick Manor.
At this point, Julie and I debated whether or not to squeeze in a short trip to yet another waterfall, which the inn owners Beth and Ed said was Attie Creek Falls.
With there still being some daylight left, we decided to go for it. So we took off at 5:15pm. We were going off some chicken scratch directions given to us by the Rainforest & Reef Centre in town yesterday. So based on these directions, we went behind town and got to the Attie Creek Picnic Area at 5:30pm.
The sun was already in the midst of setting so we didn't have much time to spare. In no time, we walked (and ran) quickly as the trail kept climbing. Eventually we got to the 15m or so falls about 15 minutes later.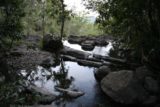 The falls was rather thin and I could see it dry up in a few more weeks. There were also more tiers to this waterfall, but those lower tiers were hard to see. Nonetheless, at least the main falls was flowing so we took photos with the help of the tripod given the low light.
At 5:55pm, we returned to the car. By now, it was pretty dark.
By 6:10pm, we were back at Mudbrick Manor. We wasted no time showering to wash off DEET and other accumulated filth from our long day of waterfalling.
All in all, it seemed like today was the first real successful day of waterfalling in a while. So it was fitting that we would celebrate our accomplishment today with a delicious prepared dinner courtesy of Beth and Ed at the Mudbrick Manor.
We chatted with the hosts (I found it funny they liked to call me "John-o") while we also got a little more insider information about the access to Blencoe Falls. They confirmed what the signs were saying regarding the lack of access via Kennedy, but they did say that you can get to Ravenshoe (he pronounced it ravens hoe and not raven shoe) and keep going from there.
Day 3: DIPOD PLUS ONE
Trying to build on the success of yesterday, today began with high hopes as our waterfalling would take us into the Atherton Tablelands.
We left the Mudbrick Manor at 7:55am. The first order of the day was to get to Josephine Falls, which was between Innisfail and Cairns. We decided to skip the Tully Gorge since we knew Tully Falls was dammed and it was way too long of a detour.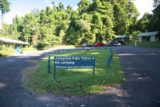 So we arrived at the Josephine Falls car park at 9:30am. Situated somewhere near Mt Bartle-Frere, we thought this was a pretty easy waterfall to get a handle on. The large car park and well-developed paved trail was indicative of this.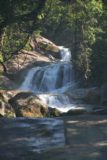 But when we got to the first vista point of the waterfall, it was a little difficult to get a nice view of the falls from the viewing platform. There were already a couple of people who managed to scramble onto the rocks and get a more frontal view of Josephine Falls.
So with my tripod extended and ready to mount my camera, I followed suit and began to scramble on the rocks.
That was when I stepped on a loose rock.
Before I knew it, I fell onto a rock with tripod in hand. Of course I got a lot of attention from the folks already there asking me of I was ok. And when I stood up, I thought all was fine and good – until one of the tripod legs fell off.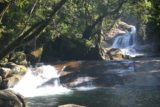 Upon further examination, it looked like the leg that broke off could not be repaired and had to be replaced.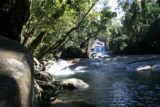 Like those sunglasses we bought last December and lost on the Whitsunday Islands, we bought this Giotto tripod in December (we needed it because it was compact enough to fit on a carry-on luggage) and now became a dipod plus one.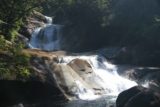 Exacerbating our calamities was also the fact that Julie's Sony camera broke at Dangar Falls near Dorrigodays ago. We eventually replaced that camera with a Nikon Coolpix in Byron Bay, but that set me back more unexpected dollars (and a weak dollar at that!).
Already this trip-of-a-lifetime (which included going to Africa after this Sydney-to-Cairns leg) was the most expensive trip we've ever taken, but these unexpected things just made things even more pricier.
I was beginning to wonder if we were going to survive this trip as it seemed one thing after another was going wrong.
Anyways, Josephine Falls was a bit of a disappointment, but I attribute that to the fact that the sun was bright today and the mix of shadows and light on the falls made photographing it difficult. We didn't spend much more time at the other two vistas considering we were looking against the light and the falls weren't all that impressive to warrant more time.
I guess afternoon would've been a better time to see the falls, but who knew?
At 10:35am, we returned to the car. And by 11am, we returned to Innisfail. It was a pretty hot day and the main town centre looked like it was very busy and full of shoppers.
We thought we could find a camera shop here to replace my tripod, but I finally decided to just deal with the dipod plus one (as annoying as it was to have to balance the tripod with a loose leg).
So we then went to our motel, and we were fortunate that they let us check in early. At least that was one less worry for today.
At 11:50am, we left the motel with the intention of starting to knock off some of the waterfalls on the so-called Waterfall Circuit. We had intended to perhaps start to see waterfalls like Millaa Millaa Falls, Millstream Falls, or other famous ones in the Atherton Tablelands on this day. But without fully knowing how long it took to get to those falls nor how long it took to visit them once we got to their car parks, I figured we'd just play it by ear as we go.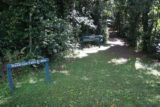 At 12:35pm, we noticed the somewhat developed Henrietta Creek Campground. We stopped by the campground and looked on our laptop for research notes about Nandroya Falls since that was one of the falls that seemed to be nearby here.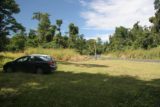 It was a bit hard to find the trailhead as it wasn't terribly obvious where the trail started from the campground itself. However, we did notice a car park on the lawn.
That lawn didn't look like an official car park, but we did see that car's tire tracks. So we followed the tracks and parked next to the car.
I was a little uncomfortable about parking here as it looked like we were supposed to park at Henrietta Creek Campground and then walk over here. Anyways, we saw a sign for Nandroya Falls and so we knew we were on the right track.
The trail was quite well-shaded but it was a little muggy. The sign said it was 2.2km to the falls so we knew we were probably going to be walking for about an hour each way.
Eventually, we passed by a smaller falls called Silver Falls.
Further on, we eventually got to the multi-tiered waterfall. I spent a lot of time trying to capitalize on the few moments when the sun was hiding behind patchy clouds by photographing the falls with the annoying dipod plus one. This was one of those times where I preferred cloudy weather than having sun because of the evenly distributed light to allow for long exposures without parts getting washed out. Anyways, the skies finally gave in after what seemed like forever.
At 2:20pm, we were back at the car. No one towed our car or ticketed it as I had feared. Plus, we got out of the grassy lawn area fine even though I was worried about getting stuck at a little muddy patch in the grass.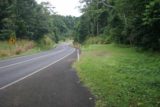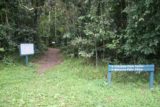 At 2:30pm, we saw a sign for Tchupala Falls and Wallicher Falls, which shared the same trailhead. There was a pullout nearby so we quickly pulled over, got our gear, and proceeded to do the walk.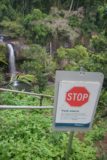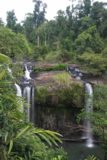 We were a little bit fatigued from the humidity and from already walking the Nandroya Falls track, but I didn't think we were going to see these falls later had we skipped them. Sometimes you just gotta seize the moment and work for the now instead of assuming it will be an option later (a good percentage of the time, it doesn't work out that way).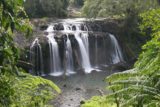 The first falls that we saw was Tchupala Falls. Unfortunately, it looked like the viewing area was damaged by Cyclone Larry. So we were stuck with subpar views of the falls. The dipod plus one I was using to try to steady the camera in long exposure was also frustrating as the loose leg kept falling.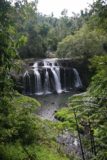 Later on, we walked towards the relatively unscathed Wallicher Falls. This was a wider waterfall and it seemed like it wasn't as adversely affected by Cyclone Larry two years ago. Again, I had to put up with the dipod plus one to take long exposures of the falls, but at least the viewing area's terrain was a little flatter and more bearable.
At 3:15pm, we returned to the car. Five minutes later, we made a quick stop at Crawford's Lookout though I honestly wasn't quite sure what was at this lookout.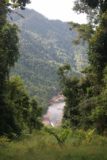 With these two obscure waterfalls out of the way, it was time to return to Innisfail to settle down. But not before taking a parting shot of Crawford's Lookout before returning to town.
At 3:55pm, we were back at our motel in Innisfail.
We spent the rest of the afternoon getting cleaned up, having takeaway kabobs with sweet chili sauce, and watching some Australian drama (Home and Away) as well as some of Julie's favorite shows like Ugly Betty and Grey's Anatomy.
Day 4: START OF THE WATERFALL CIRCUIT
It was about 7:15am when we left Innisfail. We wanted to get out earlier, but we had to wait for the reception to open to check out since we had to make payments for internet and phone, which would be in-room charges.
Eventually, we swung back the way we went yesterday passing by the trailheads for Wallicher and Tchupala Falls as well as Nandroya Falls. As we continued on the road, we noticed there were some kind of ladders or something that were above us and bridged over the road from tree to tree. It turned out that these things were tree ladders for tree kangaroos, which was something I never knew existed.
We'd eventually we'd get to a turnoff where the GPS had us turn right. I believe there was also a sign for Mungalli Falls, which would be the first of the waterfalls on the so-called Waterfall Circuit.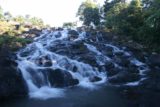 We'd get to the well-signed and seemingly well-developed Mungalli Falls facility at 7:55am. It seemed like a kind of retreat or something yet there also seemed to be some fun activities on offer here like rock climbing, a very hard obstacle course, a restaurant, and other things.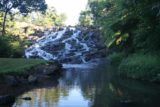 It was quiet when we showed up. So we started by checking out the top of the falls, then walking before the Mungalli Rapids which was an attractive lacy cascade. We then continued on the 25-30 min return walk on what looked like a former road turned wide track.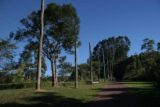 It went by the very hard obstacle course where it seemed like you'd have to balance on a series of suspended logs, which was really hard even with the vertical ropes suspending the logs to hold onto.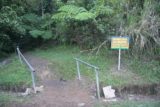 The road part of the hike eventually descended to a bulbous dead-end where there were more signposts pointing the way to the short walk to the shady waterfall. Apparently, this dead-end further confirmed my suspiscion that they used to let you drive here.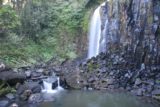 The falls was quite nice as it was 30-40m tall. Of the overall height, we were probably only able to see about 25m of it to the bottom. With the long morning shadows, everything was in low light so long exposure photos using the railings here were doable.
After having our fill of Mungalli Falls, we were back at the car at 8:50am. We then drove for about 20 minutes to the next waterfall, which turned out to be Ellinjaa Falls – another Waterfall Circuit waterfall. It was well-signed to get here.
We took a short walk that got us down to the 10-15m waterfall, which seemed to have character as Julie liked to say. While we were at the base of the falls, some sunrays were starting to spoil some photo opportunities. So we didn't linger here for too long, and at 9:30am, we were back at the car.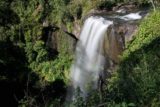 At 9:35am, we then got to the car park for Zillie Falls, which was right across the road from the track. This was easy to see as a very short jaunt took us to a top down overlook where we could see the falls go into a shadowy gorge below. There were very faint rainbows on the falls, and it was quite popular. There was foliage on the bottom blocking some parts of the lower sections of the falls. Anyways, when we had our fill, we were back at the car at 9:50am.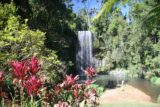 At 10:05am, we then arrived at the Millaa Millaa Falls car park. There wasn't a cloud in the sky so I knew that would impact my ability to take long exposure photos here. The falls was quite nice and it was about 20m or so tall. There were basalt columns, lots of vegetation, and colors and it was quite easy to see.
It was very popular. But with some shadows making this waterfall not the best-looking it could be, we decided that we'd come back here later at around mid-day (maybe somewhere between 12-2). Next time, we'd park at the caravan spot since the official car park took a little longer as it involved stairs.
At 10:30am, we were back at the car, then continued our waterfalling as drove over to Pepina Falls. Compared to the four waterfalls of the Waterfall Circuit of this morning, this one was a little bit on the obscure side in the literature. I was merely reminded of it after looking at a sign at Millaa Millaa Falls showing a map sign of where everything was.
At 10:50am, we were at the small pullout for Pepina Falls, which was next to a small bridge amidst of rural agricultural lands. It was a bit of a short but slightly overgrown 90m scramble down to the base of the falls where we could get an angled view of it.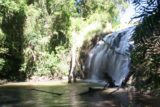 We didn't stay long as that was pretty much all there was to this fairly small but hidden (from the road) waterfall, which was probably about 5m tall. With the overgrowth, we were a little concerned about stinging plants.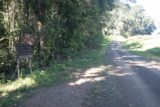 We were back at the car park at 11am. And we then continued driving the rural roads towards the car park for Souita Falls. It was not obvious to find this one as the Old Palmerston Hwy had no sign for it. The key was we had to turn off on Middlebrook Rd. And not too long after that, the road went gravel.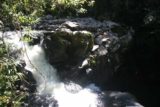 We were finally able to see a brown sign indicating that we were at the right car park and the falls itself was 500m away.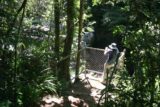 During the walk, we had to keep an eye on the two small signposts for tracks to Falls #1 (150m away) and Falls #2 (220m away).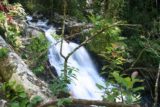 It turned out that both Falls 1 and 2 were weak. The views were a bit overgrown in spots (again, I was worried about stinging plants), and they were from the tops of each of the waterfalls. Perhaps of the two waterfalls, it was the second one that was a little bit more satisfying even with the foliage obstructions.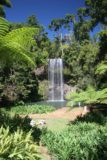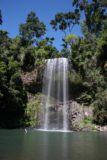 At 11:45am, we were back in the car. And now, with midday approaching, it was time to return to the Millaa Millaa Falls.
At 12:05pm, we had arrived at Millaa Millaa Falls again, and as accurately predicted, the falls and the surrounding foliage and cliffs were all bright with no shadows. So we spent probably another 20 minutes snapping what photos we could.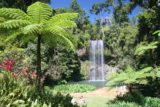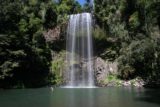 When we returned to the car park, I noticed that there was a sign at the caravan/bus car park that actually switched around Pepina and Souita Falls!
When we had our fill of our second helping of Millaa Millaa Falls, we then showed up to the main town of Millaa Millaa at 12:35pm. And 15 minutes later, we arrived at the Millaa Millaa Tourist Park, which was more like a campsite but they did have some trailer rooms, which was what we had booked.
It was a good thing they let us check in early and drop off our stuff. We saw that there was a laundry machine in here so we could at least get some laundry done when we were done with all the waterfalling. For up to this point, we were running out of clean clothes already with still only 1/3 of the trip done.
At 1:20pm, we had left our room and continued our waterfalling.
At 1:45pm, we arrived at the visitor centre at Ravenshoe. After our initial information gathering (especially Blencoe Falls, which looked like a no-go given that it was 155km from here and we were running out of time on this day), we then headed out and straight over to Little Millstream Falls.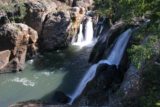 We'd get to that car park at 2:10pm. Even though the name of the falls said "little", it was actually quite an attractive and pretty big convergence of a handful of waterfalls. The best view of it was only a few metres from the car park.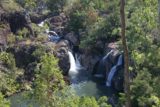 But once we got to the bottom, it became a muddy scramble with some vegetation that had hairs on them (where I didn't want to guess wrong whether or not they were those stinging trees).
Even though the wide pool a little downstream of the falls looked like it was swimmable, we didn't swim. In any case, the walk to the bottom was significantly longer than the best view between foliage jaunt (say 10-20 minutes further in each direction).
After having our fill of this waterfall, we then got back to the car park at 2:30pm and then 10 minutes later, we showed up at the Millstream Falls car park. This car park was way more developed so perhaps this waterfall would be a pretty significant attraction in my mind.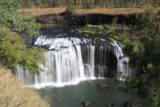 The walk was a short and gentle downhill all-paved walk. It eventually got us down to an overlook where we could see that it was indeed a wide waterfall but from what we could tell, there was another similarly wide segment facing away from the overlook. It was a shame we couldn't somehow get further downstream then look back upstream to see the falls side-by-side. Instead, we had to settle just for the one wide drop facing us.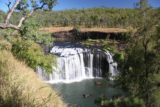 A sign here said it was the widest single-drop waterfall in all of Australia. I guess if you include both waterfalls side by side, then I guess that could be a true statement. But I wasn't so sure about the width of just one of the two falls, which was all that was directly visible.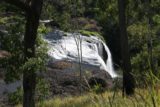 I'm sure as the Dry Season would continue on, the falls would get narrower and narrower. Anyways, after having seen this waterfall, we wondered whether the Little Millstream Falls was more photogenic or not. They were both just different, I reckon.
At 3:05pm, we were back from the falls. On our drive north (we were headed to the Hypipamee Crater National Park based on some attractive photos seen from a visitor centre or signage or something (I don't recall)), we made a brief stop at a wind farm at 3:20pm.
These farms were on Windy Hill, and I guess some of the trees were bent sideways attesting to how windy it could get here.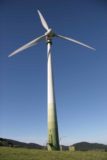 Since we were kind of into the whole sustainability thing, it was kind of cool to see these windmills and to even hear the swoosh as we were standing close to some of them.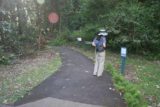 Anyways, at 3:45pm, we finally arrived at the Mt Hypipamee Crater Picnic Area. The main goal here was to check out Dinner Falls.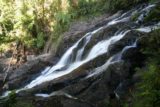 So we walked the track and quickly learned that Dinner Falls was really a series of waterfalls. With waning day, we beelined to the lowest tier, which was difficult to photograph as it cascaded sideways from the perspective of the lookout we were at.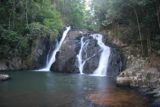 Meanwhile, as we made our way uphill back to the car park, we then saw the Middle Falls, which was segmented and perhaps the most photogenic waterfall of the three waterfalls here (based on our initial observations from the beeline to the lowest falls).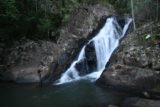 The Upper waterfall had an unusual saddle shape and it was the shortest of the accessible waterfalls that we noticed.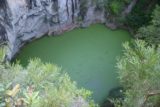 We then, quickly made our way over to the Hypipamee Crater, which was quite unusual and impressive. This place featured a stagnant green water way below the lookout. With the lookout perched high up on the cliffs looking down at the scene, we were definitely cognizant that we definitely didn't want to drop anything down into this tall hole.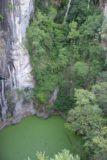 It was difficult to communicate the grandeur in the photograph. There were lots of aboriginal kids and adolescents headed to the crater as we walked back to the car. Julie was intimidated as these kids seemed to look for some trouble. We just smiled and said hi to them in passing.
At 4:45pm, we were back at the car park. Since we were close enough Malanda Falls, we decided to just squeeze in the final waterfall of the day before darkness fell. Actually, I was nervous about the prospect of driving in the dark with the kangaroo threat, but we'll have to do what we have to do.
At 5:30pm, we were at the car park for Malanda Falls. It was well-signed west of Malanda Town. This was a wide waterfall with what looked like a neighborhood-style swimming pool as there was concrete around the plunge pool. It was a strange juxtaposition. In any case, now wouldn't be the time to take a swim here as the water looked dirty and I was sure it was cold.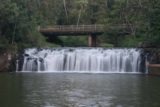 While we were at the falls, we saw the same couple who we saw while at the Mt Hypipamee Crater area earlier in the day as well. I guess they were thinking the same thing as we were.
At 5:40pm, we were back in the car. With darkness now falling over us, we stopped by this place called Bite Me in Malanda. We got the food as takeaway so we could eat in the accommodation, and so while I was waiting on Julie to make the order as I was in the car, I was listening to Richard Kingsmill from Triple J interviewing someone from Death Cab for Cutie. It was interesting, and I guess I didn't realize that popular song that was out at the time was really about a stalker.
I recalled Kingsmill asking him about the lyric, "There were times when outside your window, I see my reflection as I slowly pass…" Pretty creepy when you think about it.
When that was done and we had food in hand, we then drove off at 6:30pm where we definitely had to watch out for the kangaroos now that it was definitely dark. So I made sure we were going slow and at a deliberate pace so I could at least react if one did hop in front of us again.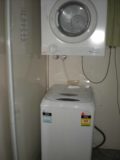 At 6:50pm, we were back at the Millaa Millaa Tourist Park where we could finally have our dinner. We also ended up sleeping quite late (even though there really wasn't much to do here) because we had to wash and dry our clothes since we had the laundry machine to use. So it wasn't until around 1am or so when I finally went to sleep.
I had a lot on my mind because first and foremost tomorrow would be the decision of whether to just try for Blencoe Falls or skip it and possibly regret it later…
Day 5: SURVIVAL COUNTRY
We didn't sleep for very long last night and the very cold evening made it a little difficult to sleep soundly.
Still, when all was said and done, we managed to leave Millaa Millaa at 6:50am.
After some serious debate (actually more like arguing) with Julie, we (more like I) decided to press forward and give Blencoe Falls a try today.
This was a bit of a last minute decision made yesterday when I realized from the Ravenshoe Visitor Centre that the Mt Garnett access to Blencoe Falls might seem possible in our 2wd vehicle (though there were no guarantees). I couldn't live that down the regret of not seeing the falls and Julie knew it. Besides, I wasn't sure when we'd return to Australia after this trip.
So seize the moment, I say!
Anyhow, we were committed as we proceeded to head west then south past Ravenshoe and then through the dusty town of Mt Garnett as the tarmac road narrowed with unsealed shoulders for passing or for preventing head-on collisions. It kind of reminded me of the roads in Western Australia between Hyden (ala Wave Rock) and the outskirts of Perth.
I had to admit it was a little bit of a gamble as the possibility of getting stuck was quite real, but I knew it hadn't rained in these parts for a while and the weather seemed like it was ideal.
Anyways, we eventually got to the signed turnoff for Blencoe Falls just west of Mt Garnett. It was well over an hour from Millaa Millaa at this point, but Triple J Radio's brekkie show kept us entertained during this time.
The unsealed road was actually quite smooth and tame. I was rather surprised thinking the road would degenerate right away into tire-popping rutted dirt and gravel roads. But instead, it seemed rather smooth and it wasn't difficult to maintain at least 60km/h.
The GPS software was useless as it kept trying to guide us back to Kennedy (near Cardwell) then go west from there. Of course, we knew that wasn't possible thanks to Cyclone Larry and from local advice from people in Cardwell.
Probably after about 45 minutes or so, then the unsealed road started to get a bit dustier and rockier. Still, it wasn't anything we hadn't seen before with a 2wd.
This whole stretch actually surprised us with wildlife sightings. I guess it was kind of a warmup to our African safaris in another few weeks.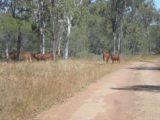 Besides the ubiquitous cows, we saw a couple of gray kangaroos, two wallabies, and even two emus! I guess there's something to be said about the inverse relationship between the amount of development versus quantity of wildlife. And since we're in Survivor Country, I guess it made sense that animal sightings like these were more frequent.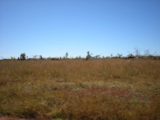 We also saw a flattened area with lots of dead trees. I couldn't say for sure, but I reckoned this must've been damage from Cyclone Larry in 2006. If so, this was just more evidence of the destructive power of that particular cyclone.
At around 8:45am, we started to head east. That was when the road really started to throw curve balls at us.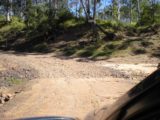 We got to a part where it seemed like a watercourse passed over the road. But with now being dry season, that watercourse was mostly rocks (more like minor boulders). That got me nervous as I wasn't sure the Corolla could handle this. Still, we pressed forward and eventually made it past this obstacle (though we still had to face it on the way back out).
The road seemed to be getting a little worse with a few mud puddles scattered about, but none of them got us stuck (though it seemed in a couple of instances that we could've been if we took the wrong approach).
Eventually, we finally made it to the turnoff for Blencoe Falls. However, there was a sign right at the turnoff that said "4wd vehicles only."
That scared me.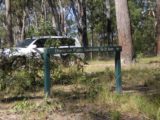 Still, we made it this far and we weren't going to turn back. Plus, it was 5.2km away (10.4km round trip) so I doubted we were going to walk it. Looked like there was no choice but to press forward, and that I did.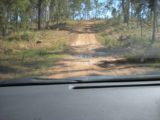 Right off the bat, the road narrowed more and the car rattled and bounced over the ruts, water channels, and washboards. Plus, there were a few big rocks we had to swerve around. Still, it wasn't anything we couldn't handle with care.
However, we ultimately got to a hill where the road descended fairly steeply. Just below the apex of the hill were more deep water channels. When we went down this part, the underside got scraped. Plus, I was a little worried about whether the car would make it back up this hill.
Anyhow, we were committed at this point and we kept going forward. Mercifully at 9:50am, we finally made it to the car park for Blencoe Falls. There was a nice panorama of the Herbert River Gorge in this relatively dry part of Queensland. It contrasted mightily with the more humid, tropical environment of coastal Queensland.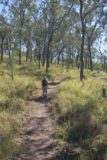 From there, I expected a long walk (2.7km) to get to the top of the falls, but Julie wasn't keen on doing that and she insisted that we only go to the overlook, which was only 15-20 minutes away.
I guess we won't be standing on that spot where they had the Tribal Council…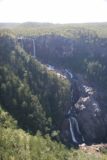 About 15 minutes later, we got to the lookout platform for Blencoe Falls. The sun was quite high up in the sky and very bright. We were somewhat looking against the sun.
But given the trouble it took to get here, we weren't going to wait out until late afternoon for better lighting. We still had to get to Cairns this evening.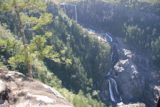 Blencoe Falls was quite impressive despite the lookout platform being a little distant from the falls. Still, we needed the distance to take in the whole falls in one shot. After all, it plunged vertically for 90m but then it cascaded for another 230m in height further below. It definitely had a shape that was different from other Australian waterfalls we had seen before.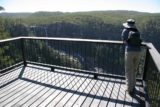 We were joined by a lone Australian guy who also came by and took photos with us. Being this far away from civilization, it was a little reassuring that someone else was here in case we get stuck.
At 10:30am, we returned to our car.
We made it a point to leave before the Australian guy in his truck. That way if we got stuck on that hill I was worried about, he'd be behind us and be in a position to help.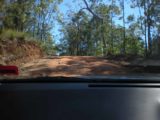 Anyways, I eventually got us over that hill, but not before scraping the undercarriage of the car once again on one of the deeper water channels.
Mercifully, we made it out of that 5.2km 4wd stretch, but now we had to negotiate around 60+ km of unsealed road. Still, I knew that road was considerably easier than what we just went through.
Or so I thought…
At this point, I started noticing something strange.
It seemed that if the unsealed road wasn't completely flat, something beneath the car seemed to catch the sand or dirt on the ground. I swore I never remembered something like this on the way in. But the thought started to cross my mind that perhaps I might have damaged something underneath the car.
I didn't want to believe that we damaged yet another rental car. Plus, we were in Survivor Country or deep in Queensland's outback and this certainly wasn't a place to get stuck.
So I did a few more experiments where I tried to drive the car as normal (i.e. in the center of the road) even with dirt stacked up in the middle.
And each time I did that, dirt would kick up underneath the car.
Now, I was sure something was wrong with the car. It was simply too easy to pick up dirt beneath the car as the already low clearance from the 2wd seemed to have been made lower. The guy who was behind us caught up to us and went right up besides me. He wanted to talk to me. So I pulled over, and he proceeded to say, "There's something hanging underneath your car…"
"Oh really?" said I rather shocked.
"Is this your own car?" asked he.
"No it's a hire car," said I.
The Australian guy gave us a sympathetic "sheesh" as he shook his head. He then took off as he was ready to set up camp at a spot not much farther away.
This bit of bad news was a reality check for me so as he took off, I stopped the car, got out and looked at the underside for myself.
Sure enough, there was a pretty weak, almost cardboard-like undercarriage that seemed to be there to protect the oil pan and the engine from accumulating contaminants (i.e. that dirt I was kicking up).
I tried to push the hanging section back up, but it was clear that the protection thing was pulled off the screw that was holding it. We didn't have duct tape (not that it would hold given how dusty it was down there) so we just had to make due with our suboptimal car.
"Was your waterfall worth it?" asked a cheeky Julie.
I didn't say anything because we both knew I was determined to collect this waterfall and would regret it if we hadn't done it. I had plenty of regrets from previous international trips (especially in Norway and New Zealand when we didn't know better and regretted not seeing certain attractions).
So now I shifted my driving strategy to drive off to the side with one wheel on the center of the road where the dirt accumulation was. It wasn't the smoothest ride, but I at least minimized the amount of dust and sand getting kicked up by the hanging protective thing.
It was around 1pm when we finally made it back to the Kennedy Highway. As we proceeded east past Mt Garnett and Ravenshoe, there were non-flat parts of the paved road and even that managed to scratch that hanging part of the car!
The next several hours was pretty much spent driving straight for Cairns. We didn't even stop for a Curtain Fig tree. Lake Tinaroo was also nearby, but I knew there was a hydroelectric dam here so we didn't even bother visiting Tinaroo Falls.
Eventually, we made it to our motel in Cairns. It was a good thing there was no more extensive planned driving for the remainder of our stay in Australia except for going to the airport from the motel on the very last day.
Anyways, we were spending three nights here on mostly paid tours. So I guess our Blencoe Falls mishap couldn't have happened at a better time (considering it had to happen).
We spent the rest of the evening walking around town and getting a feel for the place. It surprisingly wasn't as hot and humid as I thought. In fact, it was actually rather a bit cool.
Since we had to eat cheap given the weak dollar and the rather crazy dinner prices we saw for local food, we settled on eating at the food court in the night market for dinner. We managed to get our fast food Asian fix here. But perhaps more importantly, we had a sense of relief knowing that the majority of our waterfalling was done, and we managed to survive our excursion into Survivor Country.
Day 6: THE MAGICAL OUTER REEF
Today was the day of the long anticipated Great Barrier Reef excursion. Julie and I weren't necessarily underwater folks so everything that we'd see and do on this excursion would pretty much be new to us. Besides, we knew this reef system might some day disappear in the near future so we had to see it before we somehow destroy it, right?
So after a quick continental breakfast at the motel, we drove to the reef terminal and got there at 7:15am. We had a little trouble finding the right place to park but ten minutes later, we finally managed to find structured parking for a fee. Since we knew we'd be paying maximum, I intended for us to chill out in Cairns tonight after the excursion.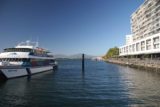 When we showed up to the ticket window, we got our tickets, but for some reason, the price was nearly $500 per person. Something wasn't right. That's when we saw on our ticket that they booked us for some optional excursions I never recalled signing up for. I wondered if they were trying to sneak this in on us or if this was an honest mistake.
In any case, it was rectified and I was refunded the overcharge.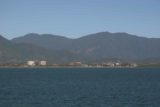 The boat that we were on was rather large. It had three stories with the top being the sun deck and the bottom having the bar and more seats. It wasn't exactly an intimate trip like our Whitsundays excursion which had less than a dozen people. Instead, there were hundreds of people so we didn't get to know anyone on here (or at least it was a bit awkward).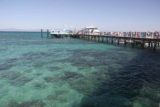 The tour left for Green Island at 8:30am. About an hour later, we arrived at the Green Island. There wasn't a whole lot to see during the boat ride, and it was somewhat nice that the ride was a bit smoother than the Whitsundays one. Thus, I didn't feel like I was getting as seasick as the smaller excursion.
On the Green Island, it took a bit of time to go to the toilet and hire snorkel gear.
The first thing we did was go right to a beach with a snorkeling area and a lifeguard on duty. The water felt bitterly cold and the weather didn't feel all that hot and humid at all.
We immediately went into the water to do some snorkeling, but the reefs here seemed to lack color. At least there was plenty of fish. However, I somehow felt that we didn't get far enough from the beach to see the real reef sections. Oh well…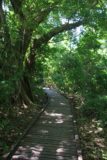 After drying off, we took a stroll into the rainforest that gave this island its name. This forest on an island reminded me of Matamanoa Island in Fiji in some sense, but this rainforest had a boardwalk.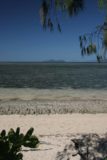 We didn't have a lot of time to enjoy the rainforest because we had to return to the ship for our departure to the Outer Great Barrier Reef at 11:30am. So we tried to explore as much of the island as we could given the time constraint. We also didn't bother with any of the optional shows or exhibits.
Sure enough by 11:30am, we departed the scenic Green Island for the Outer Reef. Over the PA, they announced our names for some reason. When we inquired about it, they assumed we booked some kind of optional diving excursion and asked what size wet suits we wanted.
Once again this struck us as strange because we only booked the minimal excursion. So we told them we didn't book this and eventually this too passed.
About an hour later, we got to the floating pontoon in the open water.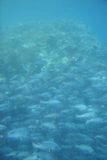 It was quite an interesting structure as this pontoon had a dining area with buffet stands. There was also a docking station for a semi-submercible. And of course, there were hangars and racks full of snorkel gear and full-body suits for buoyancy and to be stinger-proof.
The first thing we did on the pontoon, we headed straight for the semi-submercible. Apparently other people felt the same way too because it was quite packed in there.
It reminded me of the old submarine voyage in Disneyland (which I guess is now the Finding Nemo Ride).
When the semi-sub took off, it turned out that we sat on the wrong side as the best views of the fish and reefs were on the opposite side (behind us). So all we saw was a bunch of blue with a scattering of fish.
Meanwhile, the other side got awesome views and photos of fish and reefs.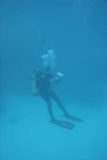 The PA announcer said not to worry because the semi-sub would turn back and the favorable side would be on ours on the return leg. But when that happened, the views seemed to be a bit more lackluster than before. Maybe the fish had already scattered at that point. Who knows?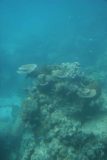 At 1pm, the semi-sub ride was over and we went for lunch.
45 minutes later, the food settled and we went to get some snorkeling gear and stinger-proof suits. And in no time, we were in the open water with our underwater cameras. We jumped in despite our reservations about being in the open water. After all, we saw that movie a few years ago called "Open Water" about this very same scenario.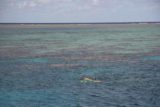 In any case, Julie and I explored the area. We had around an hour or so to explore. And the further we went away from the pontoon, the more we were wowed by the plethora of colorful reefs and fish, especially when the sun was out.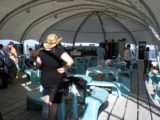 A lady who was working at Surfer's Paradise told us that this was like Finding Nemo, and well, it was! Indeed this was the GBR we anticipated and it was as advertised.
But as we were enjoying our snorkeling (and we couldn't really convey our enthusiasm verbally because we couldn't hear each other's muffled sounds in the water), I was starting to get headaches.
Well, this wasn't anything I hadn't experienced previously. In fact, I started to have headaches at our Green Island snorkel and I had a little bit of it on our Whitsunday excursion. But I got over those ok so I thought this too would pass.
So we kept on snorkeling and trying to be patient in taking quality underwater shots with the limited number of photos in the underwater cameras. We were probably in the water at least 30 minutes or so by now.
Now my head was really hurting at this point. I didn't want to get out of the water because the scenery down here was as close to the Discovery Channel as I had ever seen in real life. And who knew when we'd return to Australia's Great Barrier Reef?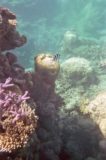 So I was determined to use up our underwater camera shots before retreating to the pontoon. At some points, I felt like I wanted to hurl. I never knew that I could ever be so seasick snorkeling.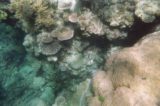 Anyways, our underwater camera couldn't have been exhausted at a more perfect time because my head was hurting way too much. So I headed back with Julie trying to follow close behind.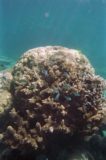 Unfortunately, she panicked a bit when she got stuck on one of the shallow reefs. Knowing there could be poisonous organisms there, I went back to her and pushed her away from the shallow reef.
Back at the pontoon, we returned the gear and tried to dry off. My head was still spinning and I had to put my head in my folded arms on the table.
Even as I did so, Julie said, "Check!"
Indeed she said this because this was the last major attraction she wanted to see before she could say she completed seeing all she wanted to see in Australia.
And even as I felt like I wanted to throw up or at least close my eyes, I relished the thought that we had found Nemo and he was in the Great Barrier Reef.
We spent the rest of our allocated time on the pontoon going to an walk-in underwater observatory. There, we could see an employee take photos with a giant camera and we also saw other giant fish in the deep blue.
Eventually, we made it back to Cairns before 5pm. I spent the entire 2-hour boat ride with eyes closed trying not to exacerbate my seasickness.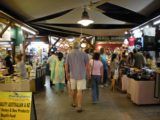 Still, my head did feel a little better now that we were on terra firma. So we spent this time walking around the town looking for a nice place to eat as well as exploring the Cairns Night Market.
By 7:45pm, we finally got back to the car, paid our maximum fee, and went back to the motel. We still had one more full day left in Cairns, but we figured anything we do from here on out was icing on the cake now that we've finally seen the last of Australia's iconic wonders – Uluru, the Pinnacles, the Twelve Apostles, and now the Great Barrier Reef!
Day 7: TOXIC VENOM
With today being our last full day of touring in Australia, Julie and I slept in. We didn't wake up until almost 8am and we didn't leave the hotel to take the bus to Kuranda until 9am.
Indeed, today was going to be sort of a slower moving day where we'd let a packaged day tour to Kuranda and the scenic railway back to Cairns be most of the day. I had originally thought about driving up to the Daintree Rainforest further north, but with the rental car's underside in the shape it was in, I figured we mind as well minimize the driving until we would return the car at the airport. Besides, we probably didn't have very much time to do the Daintree and the Kuranda Railway on the same day.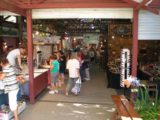 So it wasn't until around 10am that we arrived at the Kuranda Village. Truthfully, there really wasn't much going on up here except shopping, zoos, etc. But nothing really substantial to warrant the amount of publications and advertisements that it gets.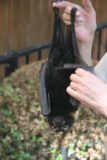 It almost felt like it was more of a waste of time and money, but Julie tried to justify her insistance of doing this tour (because it was really her idea more than mine) by saying Stoney Creek Falls wouldn't be possible to see independently.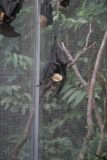 That maybe true, but I wondered if it was worth the half-day tour to even see it if that was the sole reason alone. We knew that Barron Falls could be seen independently even though the Kuranda Railway would make a stop for it.
Whatever the case, I just rolled with it.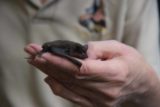 Further exacerbating the Kuranda disappointment was the bad food we ate at the Rainforest View Cafe at 12pm. We also visited batreach at around 1pm after having trouble finding it. That was kind of interesting since we could get closer looks at fruit bats or other bats they kept that were native in Australia.
At 1:15pm, we then checked out the Venom Zoo. Now this place was actually interesting as we got to see captive snakes and spiders or other animals that were known to be poisonous and were from Australia. Indeed, we saw taipans, funnel web spiders, death adders, you name it. Even some of the employees were handling them as if they didn't fear for their lives. Wow!
Anyways, our visit to the Venom Zoo was a tad on the hasty side since we still had to catch a 2pm train. So even though the $5 tour wasn't something I wanted to spend, I guess this was the least we could do here since there really wasn't much else to do in town.
At 2pm, we went on the Kuranda Scenic Railway as anticipated. Even though we were on schedule, when we got to Barron Falls, we could see that its best lighting was in the morning. But I didn't think there'd be any way that would be possible unless we self-drove.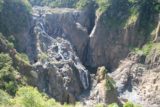 The falls itself was actually quite large and impressive (or it was supposed to be), but the hydro scheme upstream from it had robbed it of its former glory that we saw in post cards in town. In fact, the only way we'd see the falls in full flowing state would be if we came during one of the Wet Season downpours. Since we were getting closer to the Dry Season, the flow was rapidly diminishing and we happened to catch it in low flow, but at least it wasn't trickling or dry. In other words, it was better than nothing.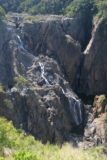 We were given 10 minutes to check out the falls as the train stopped for that much time. I suppose we could've walked 6km round trip from Kuranda Village to the falls for 2-2.5 hours, but that would seem to be a bit of overkill for physical exertion of such a man-effected waterfall.
Later, we then saw Stoney Creek Falls as the train was moving once again. It was difficult to photograph the falls from the train, and the train didn't stop for this one. I wasn't sure how the brochures were able to get the photos showing the train passing before the waterfall, but it definitely wasn't going to be possible on this tour.
In addition to the awkward viewing angles from the train, there was also foliage blocking a lot of the views. So aside from the few photos we took of this waterfall, we then rested on the train the rest of the way. For once we didn't have to be driving from place to place like we had been up to this point.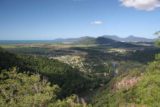 Throughout the day, I seemed to have gotten some headache or migraine or something. It was still persistent when we were trying to rest on the train.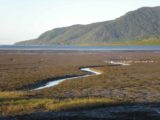 Eventually at 4pm, we were back in Cairns. We spent the rest of the evening walking the Esplanade (where we now saw mud flats at low tide as the ocean front seemed to have moved way off in the distance).
We then ate at Barnacle Bills ($50 dinner, which was actually reasonable since we'd typically spent more on each dinner throughout this trip). And after the meal, we then returned to the motel to finish off our packing in anticipation of the long travel day from Cairns back to Sydney by plane tomorrow, and then to Johannesburg across the Indian Ocean the following day.
I started to realize that I was going to miss Triple J Radio as well as some of the first world comforts as were about to embark on the next major leg of our round-the-world trip of Australia and Africa with Africa coming up next…
Visitor Comments:
Got something you'd like to share or say to keep the conversation going? Feel free to leave a comment below...
No users have replied to the content on this page