Day 1: DEEP CROSSINGS
We awoke at 6am to a sunrise where its rays broke through a scattering of patchy clouds. It wasn't easy leaving the Airlie Beach especially after a relaxing day yesterday at the Whitsunday Islands.
It was too bad I lost some $70USD sunglasses somewhere on Whitsunday Island because from here on out, I had to be squinting until we buy a new pair (not a pleasing thought especially given the weak dollar).
We left Airlie Beach at 7:10am and we embarked on yet another long drive.
Eventually, after over 4 hours of driving and listening to Triple J (especially Science with Dr. Karl, which was one of my favourite shows on the radio station), our GPS software came alive and informed us to turn left. It turned out that we made a left for the signposted Jourama Falls. It also looked like this part of Queensland had seen some rains recently given the wet ground and some of the squalls we passed through along the way.
Anyways, we got through the park gates and before long, we entered a pretty deep-looking concrete ford. It looked rather scary, but they did open the gates so it must've been passable. So with hesitation, I proceeded slowly hoping water wouldn't creep through the doors and leak inside. I also didn't want the car to stall or short in that ford either!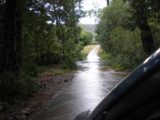 Well the ford wasn't all that bad (as scary as it was), but I was a little nervous that threatening heavy rains might raise the water levels and strand us while we're on the other side. Not exactly optimal conditions to enjoy a hike.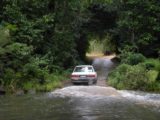 A few minutes later, we reached another, seemingly longer concrete ford. This too looked scary (perhaps even more so than the first one). But that didn't deter me.
By 11:40am, we were finally at the Jourama Falls car park. There were already a few cars parked here so this must've been a pretty popular attraction even given the somewhat high water conditions.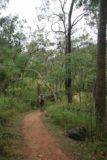 Worried about mosquitoes and humidity and knowing that our hike was about an hour each way, it took us about 15 minutes to get ready.
But before long, we got right to walking. About another 15 minutes into the hike, I noticed that Julie paused when we got to a stream crossing. When I caught up to her, I could see why she hesitated.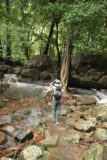 The stream crossing looked awfully deep and running pretty fast. But the park workers did put chains to hold onto for balance. I was pretty sure I could make it across without getting my feet wet with my gore-tex boots. But Julie's low-top day-hike shoes might get some water in it.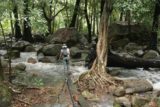 After gingerly making our way across this stream crossing, it looked like there were more water crossings (it was all part of the same stream). Some parts looked rather difficult to stay dry and balanced at the same time. The rocks were slippery, but they did place upside down white barrels filled in with dirt in strategic spots to act as steps.
Eventually at the end of this hairy stream crossing, we had to boulder scramble over wet slippery boulders (almost like walking over bowling balls) before we finally got to the other side of the width of the stream path.
At that point, there was a fork in the trail. The left path went towards some pools. Obviously with the water levels looking like they're a bit high, I doubted anyone would be swimming here, but we checked it out anyways just to see what was there.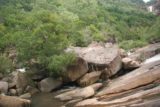 It turned out that there really wasn't a whole lot to see except the top of what looked like Jourama Falls way in the distance. We didn't feel like doing any scrambling so we took our photos and didn't bother proceeding further to see where the actual pools would be (assuming we didn't find it where we were at; it looked unswimmable).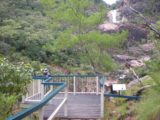 So we headed back to the ford then proceeded to go uphill. The uphill lasted for a while and it drenched us in sweat. We heard some voices down below and we caught glimpses of some youngsters swimming. I guess that confirmed we didn't arrive at the swimming pool after all when we were down there. Besides, these youngsters were swimming in relatively high water conditions.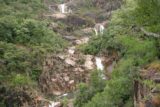 Eventually, we reached the viewing platform. At that point, Jourama Falls was before us. It was actually a series of several disjoint tiers. We could capture at most 5 tiers in my wide angle camera, but there was at least another tier further below. It was quite impressive, but it was one of those things where I'm sure photos don't do it justice.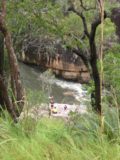 As we were enjoying the falls, we did notice quite a few tiny gnats, but we weren't sure if there were mosquitoes in there or not. We did have DEET on so we don't know if any of these little gnats or midges bite.
After going back through the deep stream crossings uneventfully (albeit with plenty of mental stress), we returned to the car park at 1pm. The air conditioning of the car was a welcome relief from the mugginess.
At 1:35pm, we made a stop at the Ingham Info Centre. I wasn't sure if Wallaman Falls was hard to get to or not, but I was more interested in whether we would be able to do Blencoe Falls – the waterfall that was on the show Survivor. I had read in my research that it required a 4wd vehicle, which was bad news for our Toyota Corolla hire car. In any case, I learned that Wallaman Falls was easy to get to, but I didn't get the inside scoop on Blencoe Falls.
At 2:40pm, we arrived at Cardwell, which was one of the towns close to Hinchinbrook Island just offshore to the east. That island was famous for the multi-day Thorsborne Trail, but we weren't going to do it.
We had trouble finding the Mudbrick Manor, which was where we were supposed to stay for the next two nights. So we arrived at the Rainforest & Reef Centre in the middle of Cardwell. That was where we got verbal instructions from the kind people working at the information kiosk there. That was also where I learned that Blencoe Falls was not reachable from Cardwell via Kennedy thanks to Cyclone Larry two years ago. They were saying I could forget about doing it in our 2wd and that I needed local knowledge and a 4wd vehicle anyways. At this point, I really wished there was something like a 4wd "Survivor Tour" for the falls, but there wasn't.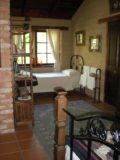 Ten minutes later, we headed back south outside the town of Cardwell until we found the obscure turnoff going inland. From there, we finally found the Mudbrick Manor, but there was no one there! I hoped we weren't locked out of our room for the night!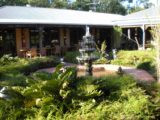 So Julie pulled out her cell phone (good thing about having GSM), and made a rather expensive call. Eventually, she reached the manager and she said she'd come by soon. In the mean time, she encouraged us to walk into the property and pick a room. We eventually picked room #2.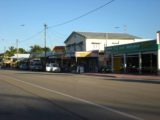 At 3:40pm, the co-owner Beth finally showed up. From that point on, we were able to get checked in and settled. We weren't able to try their dinner on this night (they needed advance notice), which we had read was really good. So we asked for dinner with them tomorrow, and in the mean time, we went back into Cardwell looking for dinner.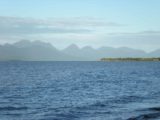 Whilst in town, we noticed that mud crabs seemed to be the local dish that was the "must have" for the area. But then we had to overcome the sticker shock of the equivalent of around $80 USD for a crab! We eventually settled on an Aussie-Indian place that had mud crabs at a more reasonable price while accompanying it with Indian curry and rice.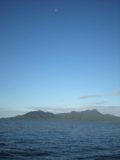 We took the food to go and ate at the Mudbrick Manor's dining room. The food was a bit messy and perhaps a bit too much food. We were way stuffed at the end of the meal.
Anyhow, we called it a day and slept well in our charming and roomy boutique accommodation.
Visitor Comments:
Got something you'd like to share or say to keep the conversation going? Feel free to leave a comment below...
No users have replied to the content on this page