Day 2: BACK TO WATERFALLING SUCCESSES
We were spending another night at Mudbrick Manor so we weren't in any hurry to eat our complementary breakfast.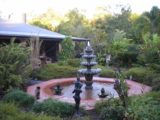 We left the accommodation at 7:45am and headed south back towards Ingham. The goal for this morning was to see Wallaman Falls, which was believed to be the country's tallest single-drop waterfall.
It took about a half-hour to return to Ingham, but then we had to take a little detour in town as there was some construction going on before eventually rejoining the road going west towards Wallaman Falls and Girringun National Park.
The drive at this point passed through lots of sugar cane fields (which reminded me a lot of Hawaii for some reason). There was one stretch of trees that seemed out of place because they looked like pine trees, which was strange since we're in a sub-tropical area and pine trees (if that's what they were) grow in colder high-altitude climates.
Eventually, the road became unsealed and narrower as it started ascending some hills underneath some tree canopies. There were signs warning us about cassowaries, but we weren't quite sure what exactly they were. Were they birds? Some kind of marsupial? In any case, I didn't want to hit any animals and cause damage to the hire car (even though we took out the Collision Damage Waiver this time around).
At 9:15am, we reached the car park for Wallaman Falls. There were already a handful of cars here.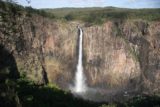 We caught a look at the big waterfalls from the lookouts near the car park. With the day shaping up to be sunny, I had a feeling there would be rainbows, but I wasn't sure when. One thing for certain was that the rainbows haven't showed up yet from the upper vantage points we were at. So we started to walk to the base of the falls vowing to come back to the overlooks here later in the day.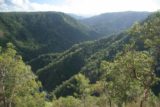 So we proceeded to make the walk down to the base. We paused at a panoramic overlook before the trail descended.
At that point, it started going into the canopy of rainforest. We saw several interpretive signs along this stretch. One of them talked about that dreaded stinging tree. So to the best of our ability, we tried not to brush any exposed skin with the leaves of trees straddling the trail or even overgrowing towards it.
Another interpretive sign talked about those pine-tree-looking trees. They were actually some other kind of tree and they weren't pine trees. Even the sign said many people mistake them for pine trees (as we had).
The descent to the bottom of the falls seemed like it took forever. But eventually, we got to the lightly misty base. And it was down there that we finally got to see rainbows off to the side of the waterfall.
After getting our fill of the falls, we had to make the long climb back out. Learning from our experience at Catarata Gocta in Peru, we knew that the key to long uphill stretches like this was to pace yourself and take slow, but rhythmic steps. So we employed this strategy, but it was still hot, long, and tiring.
In any case, we were back at the car park a little before noon. And we arrived just in time to see rainbows arcing before its base.
At 1:35pm, we made a quick stop at the Visitor Info Centre in Ingham just to grab some literature about the falls and see if there would be any more local information about Blencoe Falls, which was the Survivor Waterfall in season 2, and it was on my mind since I knew we were getting closer to its whereabouts.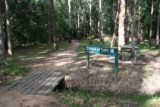 At 1:40pm, we left Ingham and headed north for Murray Falls further north of us. But on the way, we made a quick stop at the Mudbrick Manor to drop off our groceries. It wasn't until 2:35pm that we were finally leaving Cardwell while grabbing a Barra Burger on the go. It was quite a while since the last time we had ourselves barramundi. In fact, I remembered having barra when we were in the Northern Territory back in June 2006.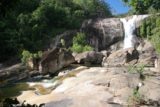 At 3:10pm, we followed the signs and eventually got to the car park for Murray Falls. With the late afternoon sun, we got some pretty decent light on the short but well-flowing falls as it was tumbling some 20m over rounded rocks. It kind of reminded me of a smaller version of Peppermint Creek Falls in the Sequoia National Forest.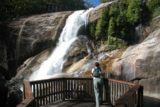 It was a good thing it was a short 300m walk to get to the falls because we didn't feel like doing the longer walk to the top of the falls. While checking out the falls, we also noticed a lone turtle sitting on a rock near one of the neighboring plunge pools. I think this was the first time we had ever seen a turtle in Oz.
At 3:55pm, we were back in the car. By 4:30pm, we were back at the Mudbrick Manor.
At this point, Julie and I debated whether or not to squeeze in a short trip to yet another waterfall, which the inn owners Beth and Ed said was Attie Creek Falls.
With there still being some daylight left, we decided to go for it. So we took off at 5:15pm. We were going off some chicken scratch directions given to us by the Rainforest & Reef Centre in town yesterday. So based on these directions, we went behind town and got to the Attie Creek Picnic Area at 5:30pm.
The sun was already in the midst of setting so we didn't have much time to spare. In no time, we walked (and ran) quickly as the trail kept climbing. Eventually we got to the 15m or so falls about 15 minutes later.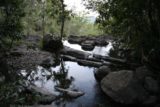 The falls was rather thin and I could see it dry up in a few more weeks. There were also more tiers to this waterfall, but those lower tiers were hard to see. Nonetheless, at least the main falls was flowing so we took photos with the help of the tripod given the low light.
At 5:55pm, we returned to the car. By now, it was pretty dark.
By 6:10pm, we were back at Mudbrick Manor. We wasted no time showering to wash off DEET and other accumulated filth from our long day of waterfalling.
All in all, it seemed like today was the first real successful day of waterfalling in a while. So it was fitting that we would celebrate our accomplishment today with a delicious prepared dinner courtesy of Beth and Ed at the Mudbrick Manor.
We chatted with the hosts (I found it funny they liked to call me "John-o") while we also got a little more insider information about the access to Blencoe Falls. They confirmed what the signs were saying regarding the lack of access via Kennedy, but they did say that you can get to Ravenshoe (he pronounced it ravens hoe and not raven shoe) and keep going from there.
Visitor Comments:
Got something you'd like to share or say to keep the conversation going? Feel free to leave a comment below...
No users have replied to the content on this page