Day 3: DIPOD PLUS ONE
Trying to build on the success of yesterday, today began with high hopes as our waterfalling would take us into the Atherton Tablelands.
We left the Mudbrick Manor at 7:55am. The first order of the day was to get to Josephine Falls, which was between Innisfail and Cairns. We decided to skip the Tully Gorge since we knew Tully Falls was dammed and it was way too long of a detour.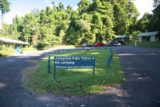 So we arrived at the Josephine Falls car park at 9:30am. Situated somewhere near Mt Bartle-Frere, we thought this was a pretty easy waterfall to get a handle on. The large car park and well-developed paved trail was indicative of this.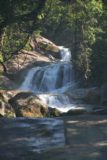 But when we got to the first vista point of the waterfall, it was a little difficult to get a nice view of the falls from the viewing platform. There were already a couple of people who managed to scramble onto the rocks and get a more frontal view of Josephine Falls.
So with my tripod extended and ready to mount my camera, I followed suit and began to scramble on the rocks.
That was when I stepped on a loose rock.
Before I knew it, I fell onto a rock with tripod in hand. Of course I got a lot of attention from the folks already there asking me of I was ok. And when I stood up, I thought all was fine and good – until one of the tripod legs fell off.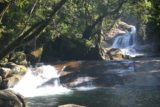 Upon further examination, it looked like the leg that broke off could not be repaired and had to be replaced.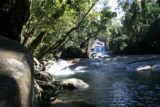 Like those sunglasses we bought last December and lost on the Whitsunday Islands, we bought this Giotto tripod in December (we needed it because it was compact enough to fit on a carry-on luggage) and now became a dipod plus one.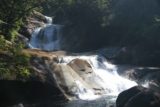 Exacerbating our calamities was also the fact that Julie's Sony camera broke at Dangar Falls near Dorrigodays ago. We eventually replaced that camera with a Nikon Coolpix in Byron Bay, but that set me back more unexpected dollars (and a weak dollar at that!).
Already this trip-of-a-lifetime (which included going to Africa after this Sydney-to-Cairns leg) was the most expensive trip we've ever taken, but these unexpected things just made things even more pricier.
I was beginning to wonder if we were going to survive this trip as it seemed one thing after another was going wrong.
Anyways, Josephine Falls was a bit of a disappointment, but I attribute that to the fact that the sun was bright today and the mix of shadows and light on the falls made photographing it difficult. We didn't spend much more time at the other two vistas considering we were looking against the light and the falls weren't all that impressive to warrant more time.
I guess afternoon would've been a better time to see the falls, but who knew?
At 10:35am, we returned to the car. And by 11am, we returned to Innisfail. It was a pretty hot day and the main town centre looked like it was very busy and full of shoppers.
We thought we could find a camera shop here to replace my tripod, but I finally decided to just deal with the dipod plus one (as annoying as it was to have to balance the tripod with a loose leg).
So we then went to our motel, and we were fortunate that they let us check in early. At least that was one less worry for today.
At 11:50am, we left the motel with the intention of starting to knock off some of the waterfalls on the so-called Waterfall Circuit. We had intended to perhaps start to see waterfalls like Millaa Millaa Falls, Millstream Falls, or other famous ones in the Atherton Tablelands on this day. But without fully knowing how long it took to get to those falls nor how long it took to visit them once we got to their car parks, I figured we'd just play it by ear as we go.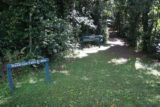 At 12:35pm, we noticed the somewhat developed Henrietta Creek Campground. We stopped by the campground and looked on our laptop for research notes about Nandroya Falls since that was one of the falls that seemed to be nearby here.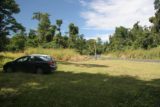 It was a bit hard to find the trailhead as it wasn't terribly obvious where the trail started from the campground itself. However, we did notice a car park on the lawn.
That lawn didn't look like an official car park, but we did see that car's tire tracks. So we followed the tracks and parked next to the car.
I was a little uncomfortable about parking here as it looked like we were supposed to park at Henrietta Creek Campground and then walk over here. Anyways, we saw a sign for Nandroya Falls and so we knew we were on the right track.
The trail was quite well-shaded but it was a little muggy. The sign said it was 2.2km to the falls so we knew we were probably going to be walking for about an hour each way.
Eventually, we passed by a smaller falls called Silver Falls.
Further on, we eventually got to the multi-tiered waterfall. I spent a lot of time trying to capitalize on the few moments when the sun was hiding behind patchy clouds by photographing the falls with the annoying dipod plus one. This was one of those times where I preferred cloudy weather than having sun because of the evenly distributed light to allow for long exposures without parts getting washed out. Anyways, the skies finally gave in after what seemed like forever.
At 2:20pm, we were back at the car. No one towed our car or ticketed it as I had feared. Plus, we got out of the grassy lawn area fine even though I was worried about getting stuck at a little muddy patch in the grass.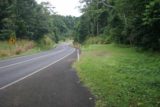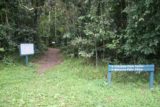 At 2:30pm, we saw a sign for Tchupala Falls and Wallicher Falls, which shared the same trailhead. There was a pullout nearby so we quickly pulled over, got our gear, and proceeded to do the walk.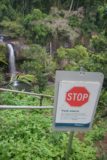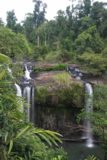 We were a little bit fatigued from the humidity and from already walking the Nandroya Falls track, but I didn't think we were going to see these falls later had we skipped them. Sometimes you just gotta seize the moment and work for the now instead of assuming it will be an option later (a good percentage of the time, it doesn't work out that way).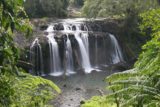 The first falls that we saw was Tchupala Falls. Unfortunately, it looked like the viewing area was damaged by Cyclone Larry. So we were stuck with subpar views of the falls. The dipod plus one I was using to try to steady the camera in long exposure was also frustrating as the loose leg kept falling.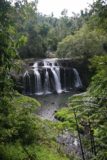 Later on, we walked towards the relatively unscathed Wallicher Falls. This was a wider waterfall and it seemed like it wasn't as adversely affected by Cyclone Larry two years ago. Again, I had to put up with the dipod plus one to take long exposures of the falls, but at least the viewing area's terrain was a little flatter and more bearable.
At 3:15pm, we returned to the car. Five minutes later, we made a quick stop at Crawford's Lookout though I honestly wasn't quite sure what was at this lookout.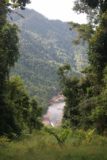 With these two obscure waterfalls out of the way, it was time to return to Innisfail to settle down. But not before taking a parting shot of Crawford's Lookout before returning to town.
At 3:55pm, we were back at our motel in Innisfail.
We spent the rest of the afternoon getting cleaned up, having takeaway kabobs with sweet chili sauce, and watching some Australian drama (Home and Away) as well as some of Julie's favorite shows like Ugly Betty and Grey's Anatomy.
Visitor Comments:
Got something you'd like to share or say to keep the conversation going? Feel free to leave a comment below...
No users have replied to the content on this page