Day 4: START OF THE WATERFALL CIRCUIT
It was about 7:15am when we left Innisfail. We wanted to get out earlier, but we had to wait for the reception to open to check out since we had to make payments for internet and phone, which would be in-room charges.
Eventually, we swung back the way we went yesterday passing by the trailheads for Wallicher and Tchupala Falls as well as Nandroya Falls. As we continued on the road, we noticed there were some kind of ladders or something that were above us and bridged over the road from tree to tree. It turned out that these things were tree ladders for tree kangaroos, which was something I never knew existed.
We'd eventually we'd get to a turnoff where the GPS had us turn right. I believe there was also a sign for Mungalli Falls, which would be the first of the waterfalls on the so-called Waterfall Circuit.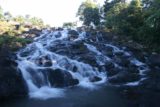 We'd get to the well-signed and seemingly well-developed Mungalli Falls facility at 7:55am. It seemed like a kind of retreat or something yet there also seemed to be some fun activities on offer here like rock climbing, a very hard obstacle course, a restaurant, and other things.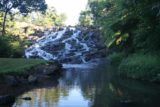 It was quiet when we showed up. So we started by checking out the top of the falls, then walking before the Mungalli Rapids which was an attractive lacy cascade. We then continued on the 25-30 min return walk on what looked like a former road turned wide track.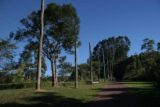 It went by the very hard obstacle course where it seemed like you'd have to balance on a series of suspended logs, which was really hard even with the vertical ropes suspending the logs to hold onto.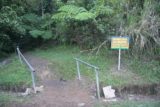 The road part of the hike eventually descended to a bulbous dead-end where there were more signposts pointing the way to the short walk to the shady waterfall. Apparently, this dead-end further confirmed my suspiscion that they used to let you drive here.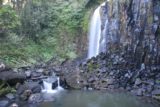 The falls was quite nice as it was 30-40m tall. Of the overall height, we were probably only able to see about 25m of it to the bottom. With the long morning shadows, everything was in low light so long exposure photos using the railings here were doable.
After having our fill of Mungalli Falls, we were back at the car at 8:50am. We then drove for about 20 minutes to the next waterfall, which turned out to be Ellinjaa Falls – another Waterfall Circuit waterfall. It was well-signed to get here.
We took a short walk that got us down to the 10-15m waterfall, which seemed to have character as Julie liked to say. While we were at the base of the falls, some sunrays were starting to spoil some photo opportunities. So we didn't linger here for too long, and at 9:30am, we were back at the car.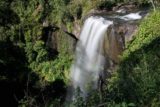 At 9:35am, we then got to the car park for Zillie Falls, which was right across the road from the track. This was easy to see as a very short jaunt took us to a top down overlook where we could see the falls go into a shadowy gorge below. There were very faint rainbows on the falls, and it was quite popular. There was foliage on the bottom blocking some parts of the lower sections of the falls. Anyways, when we had our fill, we were back at the car at 9:50am.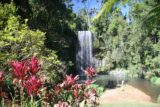 At 10:05am, we then arrived at the Millaa Millaa Falls car park. There wasn't a cloud in the sky so I knew that would impact my ability to take long exposure photos here. The falls was quite nice and it was about 20m or so tall. There were basalt columns, lots of vegetation, and colors and it was quite easy to see.
It was very popular. But with some shadows making this waterfall not the best-looking it could be, we decided that we'd come back here later at around mid-day (maybe somewhere between 12-2). Next time, we'd park at the caravan spot since the official car park took a little longer as it involved stairs.
At 10:30am, we were back at the car, then continued our waterfalling as drove over to Pepina Falls. Compared to the four waterfalls of the Waterfall Circuit of this morning, this one was a little bit on the obscure side in the literature. I was merely reminded of it after looking at a sign at Millaa Millaa Falls showing a map sign of where everything was.
At 10:50am, we were at the small pullout for Pepina Falls, which was next to a small bridge amidst of rural agricultural lands. It was a bit of a short but slightly overgrown 90m scramble down to the base of the falls where we could get an angled view of it.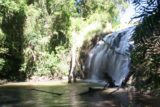 We didn't stay long as that was pretty much all there was to this fairly small but hidden (from the road) waterfall, which was probably about 5m tall. With the overgrowth, we were a little concerned about stinging plants.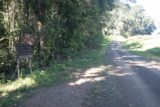 We were back at the car park at 11am. And we then continued driving the rural roads towards the car park for Souita Falls. It was not obvious to find this one as the Old Palmerston Hwy had no sign for it. The key was we had to turn off on Middlebrook Rd. And not too long after that, the road went gravel.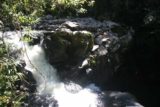 We were finally able to see a brown sign indicating that we were at the right car park and the falls itself was 500m away.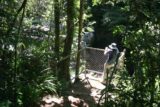 During the walk, we had to keep an eye on the two small signposts for tracks to Falls #1 (150m away) and Falls #2 (220m away).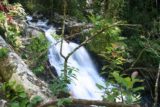 It turned out that both Falls 1 and 2 were weak. The views were a bit overgrown in spots (again, I was worried about stinging plants), and they were from the tops of each of the waterfalls. Perhaps of the two waterfalls, it was the second one that was a little bit more satisfying even with the foliage obstructions.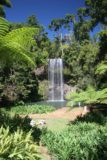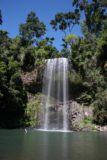 At 11:45am, we were back in the car. And now, with midday approaching, it was time to return to the Millaa Millaa Falls.
At 12:05pm, we had arrived at Millaa Millaa Falls again, and as accurately predicted, the falls and the surrounding foliage and cliffs were all bright with no shadows. So we spent probably another 20 minutes snapping what photos we could.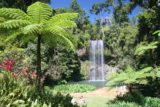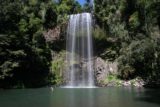 When we returned to the car park, I noticed that there was a sign at the caravan/bus car park that actually switched around Pepina and Souita Falls!
When we had our fill of our second helping of Millaa Millaa Falls, we then showed up to the main town of Millaa Millaa at 12:35pm. And 15 minutes later, we arrived at the Millaa Millaa Tourist Park, which was more like a campsite but they did have some trailer rooms, which was what we had booked.
It was a good thing they let us check in early and drop off our stuff. We saw that there was a laundry machine in here so we could at least get some laundry done when we were done with all the waterfalling. For up to this point, we were running out of clean clothes already with still only 1/3 of the trip done.
At 1:20pm, we had left our room and continued our waterfalling.
At 1:45pm, we arrived at the visitor centre at Ravenshoe. After our initial information gathering (especially Blencoe Falls, which looked like a no-go given that it was 155km from here and we were running out of time on this day), we then headed out and straight over to Little Millstream Falls.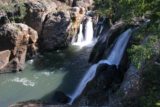 We'd get to that car park at 2:10pm. Even though the name of the falls said "little", it was actually quite an attractive and pretty big convergence of a handful of waterfalls. The best view of it was only a few metres from the car park.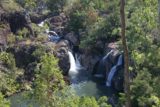 But once we got to the bottom, it became a muddy scramble with some vegetation that had hairs on them (where I didn't want to guess wrong whether or not they were those stinging trees).
Even though the wide pool a little downstream of the falls looked like it was swimmable, we didn't swim. In any case, the walk to the bottom was significantly longer than the best view between foliage jaunt (say 10-20 minutes further in each direction).
After having our fill of this waterfall, we then got back to the car park at 2:30pm and then 10 minutes later, we showed up at the Millstream Falls car park. This car park was way more developed so perhaps this waterfall would be a pretty significant attraction in my mind.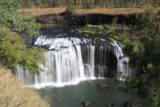 The walk was a short and gentle downhill all-paved walk. It eventually got us down to an overlook where we could see that it was indeed a wide waterfall but from what we could tell, there was another similarly wide segment facing away from the overlook. It was a shame we couldn't somehow get further downstream then look back upstream to see the falls side-by-side. Instead, we had to settle just for the one wide drop facing us.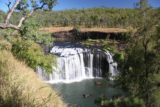 A sign here said it was the widest single-drop waterfall in all of Australia. I guess if you include both waterfalls side by side, then I guess that could be a true statement. But I wasn't so sure about the width of just one of the two falls, which was all that was directly visible.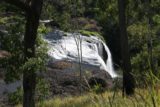 I'm sure as the Dry Season would continue on, the falls would get narrower and narrower. Anyways, after having seen this waterfall, we wondered whether the Little Millstream Falls was more photogenic or not. They were both just different, I reckon.
At 3:05pm, we were back from the falls. On our drive north (we were headed to the Hypipamee Crater National Park based on some attractive photos seen from a visitor centre or signage or something (I don't recall)), we made a brief stop at a wind farm at 3:20pm.
These farms were on Windy Hill, and I guess some of the trees were bent sideways attesting to how windy it could get here.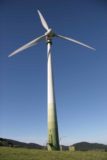 Since we were kind of into the whole sustainability thing, it was kind of cool to see these windmills and to even hear the swoosh as we were standing close to some of them.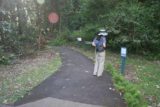 Anyways, at 3:45pm, we finally arrived at the Mt Hypipamee Crater Picnic Area. The main goal here was to check out Dinner Falls.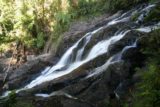 So we walked the track and quickly learned that Dinner Falls was really a series of waterfalls. With waning day, we beelined to the lowest tier, which was difficult to photograph as it cascaded sideways from the perspective of the lookout we were at.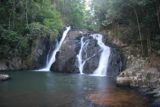 Meanwhile, as we made our way uphill back to the car park, we then saw the Middle Falls, which was segmented and perhaps the most photogenic waterfall of the three waterfalls here (based on our initial observations from the beeline to the lowest falls).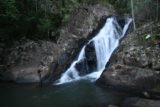 The Upper waterfall had an unusual saddle shape and it was the shortest of the accessible waterfalls that we noticed.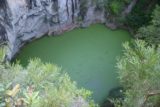 We then, quickly made our way over to the Hypipamee Crater, which was quite unusual and impressive. This place featured a stagnant green water way below the lookout. With the lookout perched high up on the cliffs looking down at the scene, we were definitely cognizant that we definitely didn't want to drop anything down into this tall hole.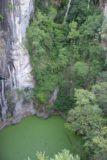 It was difficult to communicate the grandeur in the photograph. There were lots of aboriginal kids and adolescents headed to the crater as we walked back to the car. Julie was intimidated as these kids seemed to look for some trouble. We just smiled and said hi to them in passing.
At 4:45pm, we were back at the car park. Since we were close enough Malanda Falls, we decided to just squeeze in the final waterfall of the day before darkness fell. Actually, I was nervous about the prospect of driving in the dark with the kangaroo threat, but we'll have to do what we have to do.
At 5:30pm, we were at the car park for Malanda Falls. It was well-signed west of Malanda Town. This was a wide waterfall with what looked like a neighborhood-style swimming pool as there was concrete around the plunge pool. It was a strange juxtaposition. In any case, now wouldn't be the time to take a swim here as the water looked dirty and I was sure it was cold.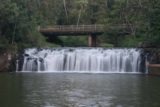 While we were at the falls, we saw the same couple who we saw while at the Mt Hypipamee Crater area earlier in the day as well. I guess they were thinking the same thing as we were.
At 5:40pm, we were back in the car. With darkness now falling over us, we stopped by this place called Bite Me in Malanda. We got the food as takeaway so we could eat in the accommodation, and so while I was waiting on Julie to make the order as I was in the car, I was listening to Richard Kingsmill from Triple J interviewing someone from Death Cab for Cutie. It was interesting, and I guess I didn't realize that popular song that was out at the time was really about a stalker.
I recalled Kingsmill asking him about the lyric, "There were times when outside your window, I see my reflection as I slowly pass…" Pretty creepy when you think about it.
When that was done and we had food in hand, we then drove off at 6:30pm where we definitely had to watch out for the kangaroos now that it was definitely dark. So I made sure we were going slow and at a deliberate pace so I could at least react if one did hop in front of us again.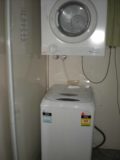 At 6:50pm, we were back at the Millaa Millaa Tourist Park where we could finally have our dinner. We also ended up sleeping quite late (even though there really wasn't much to do here) because we had to wash and dry our clothes since we had the laundry machine to use. So it wasn't until around 1am or so when I finally went to sleep.
I had a lot on my mind because first and foremost tomorrow would be the decision of whether to just try for Blencoe Falls or skip it and possibly regret it later…
Visitor Comments:
Got something you'd like to share or say to keep the conversation going? Feel free to leave a comment below...
No users have replied to the content on this page