Day 6: THE MAGICAL OUTER REEF
Today was the day of the long anticipated Great Barrier Reef excursion. Julie and I weren't necessarily underwater folks so everything that we'd see and do on this excursion would pretty much be new to us. Besides, we knew this reef system might some day disappear in the near future so we had to see it before we somehow destroy it, right?
So after a quick continental breakfast at the motel, we drove to the reef terminal and got there at 7:15am. We had a little trouble finding the right place to park but ten minutes later, we finally managed to find structured parking for a fee. Since we knew we'd be paying maximum, I intended for us to chill out in Cairns tonight after the excursion.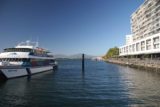 When we showed up to the ticket window, we got our tickets, but for some reason, the price was nearly $500 per person. Something wasn't right. That's when we saw on our ticket that they booked us for some optional excursions I never recalled signing up for. I wondered if they were trying to sneak this in on us or if this was an honest mistake.
In any case, it was rectified and I was refunded the overcharge.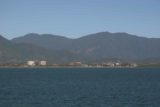 The boat that we were on was rather large. It had three stories with the top being the sun deck and the bottom having the bar and more seats. It wasn't exactly an intimate trip like our Whitsundays excursion which had less than a dozen people. Instead, there were hundreds of people so we didn't get to know anyone on here (or at least it was a bit awkward).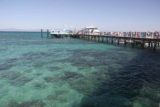 The tour left for Green Island at 8:30am. About an hour later, we arrived at the Green Island. There wasn't a whole lot to see during the boat ride, and it was somewhat nice that the ride was a bit smoother than the Whitsundays one. Thus, I didn't feel like I was getting as seasick as the smaller excursion.
On the Green Island, it took a bit of time to go to the toilet and hire snorkel gear.
The first thing we did was go right to a beach with a snorkeling area and a lifeguard on duty. The water felt bitterly cold and the weather didn't feel all that hot and humid at all.
We immediately went into the water to do some snorkeling, but the reefs here seemed to lack color. At least there was plenty of fish. However, I somehow felt that we didn't get far enough from the beach to see the real reef sections. Oh well…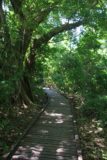 After drying off, we took a stroll into the rainforest that gave this island its name. This forest on an island reminded me of Matamanoa Island in Fiji in some sense, but this rainforest had a boardwalk.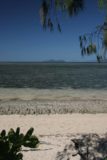 We didn't have a lot of time to enjoy the rainforest because we had to return to the ship for our departure to the Outer Great Barrier Reef at 11:30am. So we tried to explore as much of the island as we could given the time constraint. We also didn't bother with any of the optional shows or exhibits.
Sure enough by 11:30am, we departed the scenic Green Island for the Outer Reef. Over the PA, they announced our names for some reason. When we inquired about it, they assumed we booked some kind of optional diving excursion and asked what size wet suits we wanted.
Once again this struck us as strange because we only booked the minimal excursion. So we told them we didn't book this and eventually this too passed.
About an hour later, we got to the floating pontoon in the open water.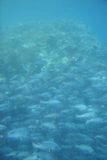 It was quite an interesting structure as this pontoon had a dining area with buffet stands. There was also a docking station for a semi-submercible. And of course, there were hangars and racks full of snorkel gear and full-body suits for buoyancy and to be stinger-proof.
The first thing we did on the pontoon, we headed straight for the semi-submercible. Apparently other people felt the same way too because it was quite packed in there.
It reminded me of the old submarine voyage in Disneyland (which I guess is now the Finding Nemo Ride).
When the semi-sub took off, it turned out that we sat on the wrong side as the best views of the fish and reefs were on the opposite side (behind us). So all we saw was a bunch of blue with a scattering of fish.
Meanwhile, the other side got awesome views and photos of fish and reefs.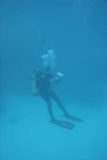 The PA announcer said not to worry because the semi-sub would turn back and the favorable side would be on ours on the return leg. But when that happened, the views seemed to be a bit more lackluster than before. Maybe the fish had already scattered at that point. Who knows?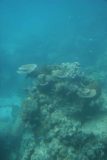 At 1pm, the semi-sub ride was over and we went for lunch.
45 minutes later, the food settled and we went to get some snorkeling gear and stinger-proof suits. And in no time, we were in the open water with our underwater cameras. We jumped in despite our reservations about being in the open water. After all, we saw that movie a few years ago called "Open Water" about this very same scenario.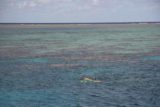 In any case, Julie and I explored the area. We had around an hour or so to explore. And the further we went away from the pontoon, the more we were wowed by the plethora of colorful reefs and fish, especially when the sun was out.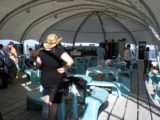 A lady who was working at Surfer's Paradise told us that this was like Finding Nemo, and well, it was! Indeed this was the GBR we anticipated and it was as advertised.
But as we were enjoying our snorkeling (and we couldn't really convey our enthusiasm verbally because we couldn't hear each other's muffled sounds in the water), I was starting to get headaches.
Well, this wasn't anything I hadn't experienced previously. In fact, I started to have headaches at our Green Island snorkel and I had a little bit of it on our Whitsunday excursion. But I got over those ok so I thought this too would pass.
So we kept on snorkeling and trying to be patient in taking quality underwater shots with the limited number of photos in the underwater cameras. We were probably in the water at least 30 minutes or so by now.
Now my head was really hurting at this point. I didn't want to get out of the water because the scenery down here was as close to the Discovery Channel as I had ever seen in real life. And who knew when we'd return to Australia's Great Barrier Reef?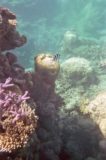 So I was determined to use up our underwater camera shots before retreating to the pontoon. At some points, I felt like I wanted to hurl. I never knew that I could ever be so seasick snorkeling.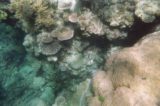 Anyways, our underwater camera couldn't have been exhausted at a more perfect time because my head was hurting way too much. So I headed back with Julie trying to follow close behind.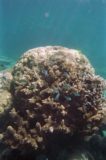 Unfortunately, she panicked a bit when she got stuck on one of the shallow reefs. Knowing there could be poisonous organisms there, I went back to her and pushed her away from the shallow reef.
Back at the pontoon, we returned the gear and tried to dry off. My head was still spinning and I had to put my head in my folded arms on the table.
Even as I did so, Julie said, "Check!"
Indeed she said this because this was the last major attraction she wanted to see before she could say she completed seeing all she wanted to see in Australia.
And even as I felt like I wanted to throw up or at least close my eyes, I relished the thought that we had found Nemo and he was in the Great Barrier Reef.
We spent the rest of our allocated time on the pontoon going to an walk-in underwater observatory. There, we could see an employee take photos with a giant camera and we also saw other giant fish in the deep blue.
Eventually, we made it back to Cairns before 5pm. I spent the entire 2-hour boat ride with eyes closed trying not to exacerbate my seasickness.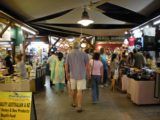 Still, my head did feel a little better now that we were on terra firma. So we spent this time walking around the town looking for a nice place to eat as well as exploring the Cairns Night Market.
By 7:45pm, we finally got back to the car, paid our maximum fee, and went back to the motel. We still had one more full day left in Cairns, but we figured anything we do from here on out was icing on the cake now that we've finally seen the last of Australia's iconic wonders – Uluru, the Pinnacles, the Twelve Apostles, and now the Great Barrier Reef!
Visitor Comments:
Got something you'd like to share or say to keep the conversation going? Feel free to leave a comment below...
No users have replied to the content on this page