Day 7: TOXIC VENOM
With today being our last full day of touring in Australia, Julie and I slept in. We didn't wake up until almost 8am and we didn't leave the hotel to take the bus to Kuranda until 9am.
Indeed, today was going to be sort of a slower moving day where we'd let a packaged day tour to Kuranda and the scenic railway back to Cairns be most of the day. I had originally thought about driving up to the Daintree Rainforest further north, but with the rental car's underside in the shape it was in, I figured we mind as well minimize the driving until we would return the car at the airport. Besides, we probably didn't have very much time to do the Daintree and the Kuranda Railway on the same day.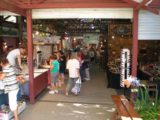 So it wasn't until around 10am that we arrived at the Kuranda Village. Truthfully, there really wasn't much going on up here except shopping, zoos, etc. But nothing really substantial to warrant the amount of publications and advertisements that it gets.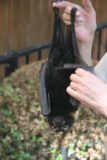 It almost felt like it was more of a waste of time and money, but Julie tried to justify her insistance of doing this tour (because it was really her idea more than mine) by saying Stoney Creek Falls wouldn't be possible to see independently.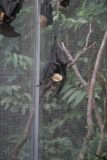 That maybe true, but I wondered if it was worth the half-day tour to even see it if that was the sole reason alone. We knew that Barron Falls could be seen independently even though the Kuranda Railway would make a stop for it.
Whatever the case, I just rolled with it.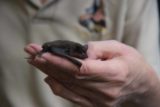 Further exacerbating the Kuranda disappointment was the bad food we ate at the Rainforest View Cafe at 12pm. We also visited batreach at around 1pm after having trouble finding it. That was kind of interesting since we could get closer looks at fruit bats or other bats they kept that were native in Australia.
At 1:15pm, we then checked out the Venom Zoo. Now this place was actually interesting as we got to see captive snakes and spiders or other animals that were known to be poisonous and were from Australia. Indeed, we saw taipans, funnel web spiders, death adders, you name it. Even some of the employees were handling them as if they didn't fear for their lives. Wow!
Anyways, our visit to the Venom Zoo was a tad on the hasty side since we still had to catch a 2pm train. So even though the $5 tour wasn't something I wanted to spend, I guess this was the least we could do here since there really wasn't much else to do in town.
At 2pm, we went on the Kuranda Scenic Railway as anticipated. Even though we were on schedule, when we got to Barron Falls, we could see that its best lighting was in the morning. But I didn't think there'd be any way that would be possible unless we self-drove.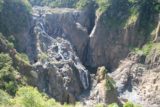 The falls itself was actually quite large and impressive (or it was supposed to be), but the hydro scheme upstream from it had robbed it of its former glory that we saw in post cards in town. In fact, the only way we'd see the falls in full flowing state would be if we came during one of the Wet Season downpours. Since we were getting closer to the Dry Season, the flow was rapidly diminishing and we happened to catch it in low flow, but at least it wasn't trickling or dry. In other words, it was better than nothing.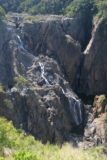 We were given 10 minutes to check out the falls as the train stopped for that much time. I suppose we could've walked 6km round trip from Kuranda Village to the falls for 2-2.5 hours, but that would seem to be a bit of overkill for physical exertion of such a man-effected waterfall.
Later, we then saw Stoney Creek Falls as the train was moving once again. It was difficult to photograph the falls from the train, and the train didn't stop for this one. I wasn't sure how the brochures were able to get the photos showing the train passing before the waterfall, but it definitely wasn't going to be possible on this tour.
In addition to the awkward viewing angles from the train, there was also foliage blocking a lot of the views. So aside from the few photos we took of this waterfall, we then rested on the train the rest of the way. For once we didn't have to be driving from place to place like we had been up to this point.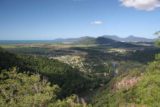 Throughout the day, I seemed to have gotten some headache or migraine or something. It was still persistent when we were trying to rest on the train.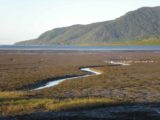 Eventually at 4pm, we were back in Cairns. We spent the rest of the evening walking the Esplanade (where we now saw mud flats at low tide as the ocean front seemed to have moved way off in the distance).
We then ate at Barnacle Bills ($50 dinner, which was actually reasonable since we'd typically spent more on each dinner throughout this trip). And after the meal, we then returned to the motel to finish off our packing in anticipation of the long travel day from Cairns back to Sydney by plane tomorrow, and then to Johannesburg across the Indian Ocean the following day.
I started to realize that I was going to miss Triple J Radio as well as some of the first world comforts as were about to embark on the next major leg of our round-the-world trip of Australia and Africa with Africa coming up next…
Visitor Comments:
Got something you'd like to share or say to keep the conversation going? Feel free to leave a comment below...
No users have replied to the content on this page