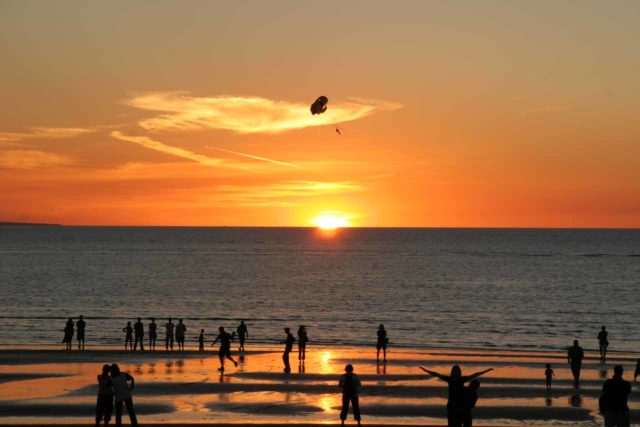 3-June 2006 to 7-June 2006:
As we checked into the Gagudju Lodge Cooinda, the first thing on my mind was the condition of the road leading to Jim Jim Falls. So we had the receptionist call Lord's Safaris and sure enough, they confirmed that the road was closed. The receptionist then told us that they would substitute the Jim Jim Falls/Twin Falls excursion with a trip out to Gunlom Falls. Julie and I knew this was unacceptable since we had just driven there ourselves…
Day 0: SACRED LANDS
It had been a very long flight going from Los Angeles to Sydney. But after the 14-hour red-eye flight was over, we still had to fly to Yulara, which was where the nearest town to Uluru (formerly known as Ayer's Rock) was at.
It turned out that we had to shuttle across the airport towards some remote terminal before we were finally able to board the plane out to Uluru. Supposedly our stuff had been checked through so we didn't have to lug extra stuff around when we made this transfer. However, I was always anxious about misplaced or lost luggage whenever connections had to be made.
In any case, I was looking forward to finally seeing Uluru. We knew that our visit coincided with the Australian winter, but that would mean that the red center would be dry as these deserts would get most of their precipitation during the Wet or Australian Summer.
Eventually, we got onto our smaller plane bound for Uluru, and given our tired states (despite sleeping on the long haul flight) we still dozed off and felt icky from having gone a long time without showering nor without brushing our teeth.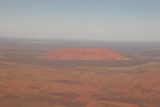 At around 11:20am, the regional flight finally got close to Yulara, and we seized this opportunity to arm our cameras to take aerial photos of Uluru, which stood out like a lone red mound protruding out in the middle of nowhere.
Looking in a different direction, we were also able to see what we thought were the Kata Tjuta, formerly known as the Olgas. With these formations, they were more like a clumb of mounded formations instead of the singular mound that Uluru was.
It was hard to appreciate the vast scale of these monoliths since we were high up in the skies looking down at these things. But we looked forward to driving towards these things to get a closer look when we would land. We knew that this afternoon would be our lone day to explore and enjoy these iconic features of the Australian Outback. For tomorrow, we'd resume of vagabonding and fly up to Darwin by way of Alice Springs.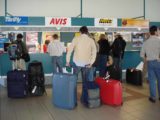 Some time after 12pm, we had finally landed, and after another 30 minutes or so, we breathed a sigh of relief when we saw our checked luggages on the conveyor belt, and then we got our Thrifty car rental just for today and tomorrow morning.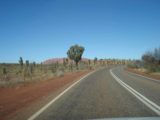 Immediately after this bit of logistics was out of the way, we then drove to the neighboring town of Yulara where we checked into the Lost Camel Hotel. When we dropped off our stuff in our room, we were kind of surprised to see quite an art deco decor in the room, which itself was quite roomy. It was too bad that we would only be spending this one night here.
At around 12:45pm, we finally drove off and went the 50km or so towards the Kata Tjuta. During the drive out there, we could see Uluru looming in the distance as the vegetation all around us were quite low so that monolith could be seen for a good chunk of the start of the drive.
The drive was pretty empty and desolate, and it was from this experience that we started to understand the vast distances of the Australian Outback. In a way, it kind of reminded me of the long distances we had to drive when we were in Death Valley in California.
At around 1:20pm, we started to approach the mounded formations of Kata Tjuta. We weren't quite sure if there was supposed to be a central location where the sights could be concentrated, and as a matter of fact, we really didn't have a plan when we showed up here.
So when we arrived at around 1:30pm, we were basically aimlessly meandering amongst the domes while taking photos. We noticed signage prohibiting the climbing of the domes as they were apparently Aboriginal sacred lands. Well, we didn't have any intentions of climbing those domes knowing that we still wanted to go back to Uluru and catch the sunset over there. So that wouldn't be an issue to us.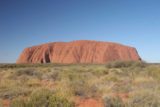 By about 2pm, we figured that we probably got the flavor of this place. I'm sure we truly didn't do it justice, but the biggest attraction of all was Uluru, and we wanted to spend the remainder of the afternoon over there. And so we drove off for the next 50km to return to where we started.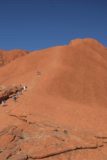 It wasn't until around 2:30pm when we finally returned to Uluru. But this time instead of driving past it, we drove around to see if there would be convenient places to park and enjoy the attraction. We were trying to figure out where people would climb up the monolith despite the signs begging tourists to respect the Aboriginal culture and not do it.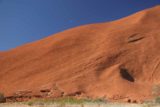 And it was quite clear that most of the people couldn't care less as we saw hundreds of people partake in the activity. Of course, we didn't really have any intentions of doing the moderate friction pitch up the red monolith. And instead, they served as photo subjects for me to try to convey the massive scale of Uluru. Plus, there was a bright moon against the blue skies as well.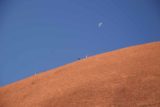 We probably spent about an hour or so just chilling out and wondering what the big commotion was about climbing up Uluru. It didn't seem like anything that special other than to say you did it. But it wasn't for us, and we knew that we still wanted to time the remainder of our visit in Uluru for sunset to take the best photos of it.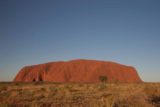 By about 4:30pm, we found a lookout where we could see the entirety of Uluru with the sun behind our backs. By this time of the afternoon, we could see the sun was sinking and the light was getting longer while the glow was getting warmer and not as harsh as it was earlier in the day.
Eventually after 5pm, that was the time we started to snap photos as Uluru was turning from brown to orange to a bright red as the sun got lower. Meanwhile, the skies went from deep cloudless blue to towards an almost greyish purplish hue.
We pretty much chilled out in this spot taking photos until the sun was well beneath the horizon. It was at that point that we were ready to head back to Yulara and find a place to eat for the evening.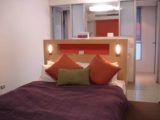 We weren't very particular about where we were eating, and we ended up having some kind of sub par cafeteria-style place where I tried kangaroo, which was actually quite tough. I didn't think the food was any bit indicative of good Outback cuisine, but all we wanted was to be fed before we could call it a night.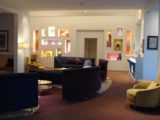 Eventually, we crashed for the night, but it was very cold. We snuggled into our bed and slept the night away knowing that our stay here would be short-lived as we'd have to fly out tomorrow morning.
Day 1: DIDGERIDOOS, DRUMS, AND FOOD
After spending a very frigid night at the Lost Camel Hotel in Uluru, we checked out and drove ourselves back to the airport for our 9:40am flight to Alice Springs. Somehow during the time we spent here, I had lost my digital watch so now I had to rely on Julie to tell the time.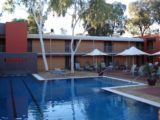 I wondered if I had lost the watch somewhere by the swimming pool at the hotel because I recalled how no one in their right mind would want to be swimming there given how frigidly cold last night was. Oh well, that was done and over with. Couldn't go back and get it now.
And by 10:30am, we were at Alice Springs awaiting (for seemingly forever) for our connecting flight up to Darwin, which took off at 12:15pm.
Finally, at around 2:30pm, we arrived at the Darwin Airport. Now, we had to pick up our car hire, which was a pre-booked 4wd from Thrifty. I was anxious about driving a 4wd since I never had to use that function before. But I knew from my trip research that there were a few waterfalls that required the use of four-wheel drive.
And when we got to the 4wd, we were quite shocked at how big the wheels were on this thing. When I started the ignition, it sounded like I was driving a big rig or something. It was also a stick shift so I had to get readjusted to driving stick left handed.
Still, none of these things were big deals. I had gotten my first taste of stick left-handed in Fiji some 6 months ago. Although this time, I would be driving the city streets of Darwin, so I'm sure it would be a little more difficult given the unpredictability of human traffic.
And with that we headed into Darwin and arrived some time after 3pm. The place was quite dead as numerous shops were closed and only a few bars were open.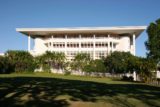 "See, you should never plan to do city things on a Sunday," Julie would tell me. I guess this was yet another lesson in that. Our previous mistake was in Bergen, which was a charming but dead town on a Sunday as well one year ago.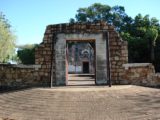 Fortunately, the grocery store wasn't closed so we picked up some water and a few snacks. We also bought a memory reader when I realized that I forgot to bring the AC Adapter for the rechargable Wolverine portable hard drive. Good thing we could store our data in Julie's laptop.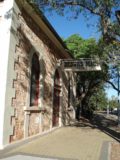 And with that, we put the food in the car and walked around the city in the humid climate. It was quite a contrast to the cold and dry air of the Red Center at Uluru.
We spent most of this time checking out didgeridoos as well as go to a pay phone to inform the clerk at the Best Western Batchelor Resort that we might be checking in late. We intended to check out the Mindil Beach Night Market later tonight so that meant driving in the dark to get to Batchelor, which was about 90-120 minutes south of Darwin.
Even though I had never been to Florida, somehow Darwin reminded both Julie and I of Miami – except a bit scaled down. There were swaying palm trees and high rises though it wasn't nearly as busy as we had expected.
Eventually, we killed enough time for it to be about 5pm. Time to head over to the Mindil Beach Night Market. Maybe the scene there wouldn't be as dead as Darwin.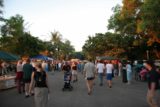 And at 5:30pm, we arrived at the festive night market. There was a large yard where people found parking spaces. We found our own and proceeded to walk towards the music and the commotion.
And what a busy scene it was. There were heaps of food stands and souvenir stands lined up on both sides of the paved walkway. Interspersed between the stands were people performing on didgeridoos. Especially memorable was this one band that mixed in a funky drum roll with perfectly timed didgeridoo sounds.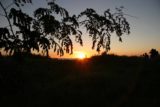 With this atmosphere, we checked out various food stands that ranged from Indonesian and Malaysian satays and curries to a "Roadkill Cafe" that served up crocs, kangaroos, emus, and possums on a skewer. There was even African, Indian, Chinese, and even French flavors on display. We swigged tropical fruit smoothies along with this smorgasbord of multi-ethnic foods.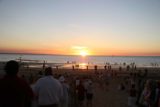 Where else but Darwin, Australia could you get this wonderful blend of cultures and atmosphere? The Mindil Beach Night Market lived up to the hype we had read about in the Lonely Planet book and we were certainly glad we stuck around for it even if it meant driving to Batchelor in the dark while risking kangaroo crossings.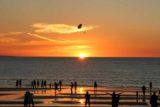 As Julie and I chowed down on our foods, I noticed orange skies behind a sandy hill. So I quickly rushed over the hill, and saw one of the most amazing sunsets I had ever beheld. Indeed, we were only 3 days into our Australia trip and we had already experienced one of the most profoundly memorable moments here at Mindil Beach.
But all good things must come to an end, and Julie and I eventually left as we were getting full off our food. I was still bobbing my head up and down to the funky didgeridoo and drum sounds even as we had left the bustling scene and returned to the parked 4wd.
By 7pm, we headed south towards Batchelor in the dark. Taking our time, we would eventually make it to our accommodation just before 9pm. But not before getting a little bit lost driving around the dark, lights-out town of Batchelor looking for the Best Western Batchelor Resort. It turned out the inn was on the main road near so-called the Rum Jungle section of town and we didn't even have to leave the main road to go into the Batchelor township.
And with that, we got settled, cleaned up, and happily went to bed.
Day 2: OUR TIME IN LITCHFIELD
Julie and I anticipated having lots to do seeing the various waterfalls of Litchfield National Park. So we left the Best Western Batchelor Resort at a little after 6am and slowly drove in the morning darkness into Litchfield National Park. It had been too early to see all the falls and other attractions given the low lighting so we didn't make any stops. And before we knew it, we had reached the junction with the Sandy Creek Road – a 4wd road.
Unfortunately, the Sandy Creek Road was closed. A gate with a red sign blocked further access. I was a bit perplexed as to how the road could be closed even though we were deep into the dry season. What a bummer!?! It kind of defeated the very purpose of us hiring a high clearance 4wd vehicle!
Anyways, nothing I could do about this so we continued towards Wangi Falls, ultimately reaching its car park at about 7:15am.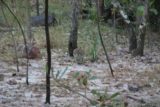 By now, there was enough early morning light to start taking some photographs. On our way to the waterfall, we noticed a kangaroo grazing. It was initially startled by us but eventually went about its own business.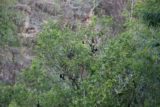 The plunge pool for the tall, double-barreled waterfall was closed with lots of signs discouraging swimming due to the threat of saltwater (or estuarine) crocodiles.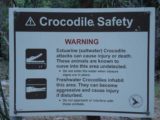 So we eventually went to the overlook platform where we could get a direct view of the waterfall in the morning shadow. It wasn't exactly the best time of day to photograph these falls as they faced west. Nonetheless, a couple that was there with us pointed out some bats hanging on trees.
It took a little time for us to figure out that the black things on the trees were indeed bats. I didn't think we had ever been that close to bats before, and it definitely put Julie on alert given their undeserved reputation that all bats were associated with vampire bats and the rabies they might spread.
In any case, I thought the bats were pretty cool!
Anyways, I eventually decided that the conditions wouldn't be good for photographs until late afternoon. So at 8am, Julie and I left and headed east towards the next waterfall – Tjaetaba Falls.
The car park for this waterfall didn't explicitly have a sign indicating the falls were here. We basically had to figure out that you had to take the spur leaving the sealed road towards Greenant Creek.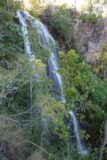 After a pleasant and breezy walk through a well-maintained trail, we reached the lookout platform for Tjaetaba Falls at 8:45am. The falls was behind some blocking foliage so it wasn't easy to get a decent view of the falls. Either way, it had somewhat light flow and I could totally see how this falls would probably go dry as the dry season progressed.
When we were done checking out the falls at the lookout, we kept going further on the main trail, which ultimately reached the top of the falls.
While we were at the top of the falls, we noticed that there was a smaller waterfall and an inviting plunge pool that I could totally imagine would've been a pleasant spot for a swim under warmer conditions. Of course, it was a bit too chilly this time of year let alone this time of the morning to even consider going in there.
Anyways, Julie and I returned to the car and next arrived at Tolmer Falls at almost 10am.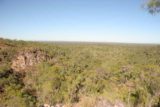 The short walk to the overlook of the falls afforded us a nice view over the escarpment and towards a sea of tropical trees and shrubs below. It looked like quite the place to get lost if we were ever caught down there for some reason. Plus, we were aware of the poisonous animals in the Outback. So just being aware of all those factors pretty much ensured that we'd stay on the main walkway (not that we were intending to go off trail anyways).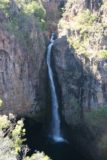 When we arrived at the main overlook, we saw that the falls was still in shadow so it wasn't very easy to photograph considering we were facing the sun somewhat. But the falls were attractive and tall even though its base wasn't accessible.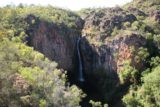 Moreover, there was a natural bridge upstream from the main waterfall, but that area was closed off to protect some ghost bat species.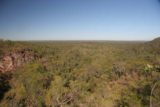 I figured we can return to this waterfall later in the day as well when lighting might be more favorable anyways.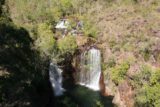 Next, Julie and I continued east would eventually get to the overlook platform that looked down upon the attractive Florence Falls at about 10:30am. Apparently, this waterfall was more isolated from the salt water systems so there were lots of people swimming at the base of the falls.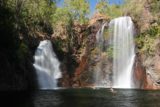 After only a few minutes, we arrived at the shores of the freshwater pool. With a tripod in hand and using it as a hiking stick, I was able to scramble around to where I could get a direct view of the falls. From there, I got as many long exposure shots I could in the shade.
It was certainly a relaxing yet popular scene. But once we took the photos we wanted and had enough of the falls, Julie and I hiked back up the steep path.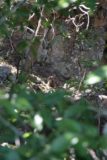 Along the way, we noticed a little rock wallabie hiding in the shadows. They looked like miniature cousins of kangaroos and were quite interesting. I reckoned they might be Australian marsupial versions of what squirrels or racoons might be.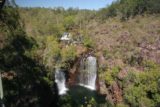 We spent a few more moments at the overlook of Florence Falls. It was then that I noticed a sign that said, "Why not drive the Sandy Creek Road towards Tjaynera Falls and the Blythe Homestead?"
It was almost as if that sign was taunting me since I knew it wasn't possible given the road closure!
Once we pried ourselves free from the beauty of Florence Falls at 11:30am, we made it to the Termite Mounds at about 11:45am.
These interesting pillars were quite tall and there were so many of them strewn throughout the tall grass as if they were tombstones. It was amazing how many termites it took to come up with these things. And we could appreciate termites considering how much trouble they cause back home (at least for homeowners) in the dry climate of Southern California.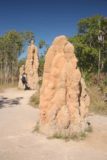 Julie and I had fun posing before these giant mounds. Quite a few of them were so tall that they were easily 20-30ft tall or so. Whenever we thought of termite droppings at home, we could see tiny piles of pebbles on the ground that would be no bigger than the size of my hand.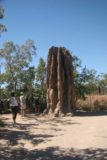 However, these termite mounds were massive, and I wondered if we were looking at the same processes that gave rise to these big spires or if they were merely different species outputting different things. But whatever the case they may be, it was quite cool to check out these marvels of nature nonetheless.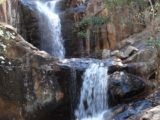 But we left at 12:15pm so we could leave Litchfield and check out Robin (or is it Robyn?) Falls before returning to Litchfield in the afternoon.
So we headed east and returned to the high-speed Stuart Highway. After passing by Adelaide River, we found a signed spur road that led ultimately led us to the car park for Robin Falls. It was about 1:40pm when we arrived.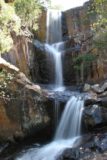 From there, we walked along a somewhat rocky trail until we eventually reached the shady three-tiered falls at around 2pm. We had to do some additional scrambling to get frontal views of the falls since one of the lower rock outcrops blocked much of the falls.
By 2:30pm, we returned to the 4wd truck and headed back to Batchelor. There, I dropped Julie off at 3:15pm so she could nap while I would get my afternoon photos of Tolmer and Wangi Falls the rest of the afternoon.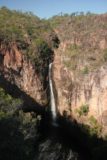 By 4pm, I was back at Tolmer Falls. Apparently, I came a few minutes too late because shadows started to creep up the walls of the falls again. Thus, the plunge pool was in shadow as were the lower parts of the falls.
And with those kinds of lighting conditions, my photos were pretty much bisected by the shadows of the cliffs that I was standing upon. Oh well, I guess you can't win them all. But at least the rest of the walls flanking the Tolmer Falls were bathed in soft late afternoon light.
Still, I came back here determined to see a natural arch or bridge as part of this waterfall excursion – closure or not. So that was on my mind the whole time I was taking more photos of Tolmer Falls.
When I was finished taking what photos that I could of the falls, I then went ahead and walked the entire loop past the closure area and back to the car park, where I arrived at 4:20pm. I just wanted to see what the closure area looked like and wondered if I would get to see the natural bridge from the non-closed part of the trail. But I couldn't. I had to be content with the subpar views given the closure.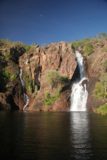 At 4:45pm, I finally returned to Wangi Falls. And the late afternoon lighting was perfect for the waterfall. There was even a hint of a rainbow in the larger column as well as an afternoon moon in the sky. It was quite a scene and I was glad I came back to the falls this day.
So with the mission accomplished (sans Tjaynera Falls or Sandy Creek Falls), I returned to the Best Western Batchelor Resort at 5:45pm.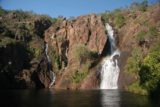 And with that, Julie and I enjoyed a pleasant dinner that consisted of shrimp and barramundi. It wasn't bad considering most of the tourists stayed in Darwin as opposed to Batchelor.
Day 3: THE BAIT AND SWITCH
Having checked out early last night, Julie and I were able to leave the accommation in Batchelor a little after 5am. We knew it was going to be a long drive to Edith Falls so we took our time driving in the dark and ultimately made it to the car park for the falls at 7:30am.
The falls itself wasn't particularly tall nor was it all that impressive. But what was interesting about the area was the giant plunge pool that seemed suitable for swimming. In fact, the facilities here were so big and modern that most of the campers here were probably here for that very reason.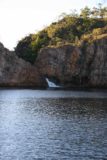 The falls remained in shadow during the morning. Clearly, this waterfall was also more of a west-facing one so it was probably more photogenic in the afternoon.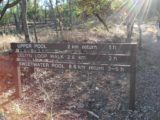 Julie and I debated whether or not to do the loop walk and see more of Edith Falls' upper cascades. Julie discouraged this as she wasn't at all impressed with the falls.
And with that, we headed back north on the Stuart Highway and eventually would go into Kakadu Highway en route to Gunlom Falls. It was about 8:30am when we left Edith Falls and about 9:15am when we filled up petrol at Pine Creek.
At 10:15am, we reached the Gunlom Falls turnoff. At this point, we would have to drive on a good deal of unsealed road, but given the monster clearance of the 4wd we hired, this was neither a problem nor anything to fear. However, I did think a passenger car could've easily made it. I was beginning to have doubts as to whether we should've pre-booked the 4wd in the first place as I had this sinking feeling that other 4wd roads would be closed.
At 11am, we finally reached the car park for Gunlom Falls. It was a bit hot and humid as the full tropical heat was upon us even though it was almost the start of winter.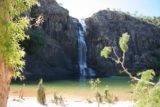 We left the 4wd and walked along a pebbly trail that led to a large beach with interesting tropical-looking trees with the 30m waterfall tumbling down the shadowy escarpment. I could see how easy it would be to just chill her all day long. Unfortunately, we were facing the sun so we had to get a little creative taking photographs of the waterfall.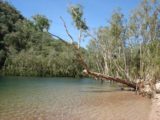 At 11:45am, we managed to pry ourselves away from the picturesque waterfall (it was featured in "Crocodile Dundee") and drove back towards the Kakadu Highway.
Once we were back on the main road, it didn't take long before we reached the turnoff for Maguk (or Barramundi Falls). Unfortunately, my fears came true when I saw yet another closure sign. Apparently, all the 4wd roads were closed. Now I really felt like we wasted money pre-booking the 4wd vehicle. We should've called CALM or one of the Australian agencies before the trip and then book the vehicle at the last minute. I really felt like we blew off more money than we should have given these developments.
But still, I was puzzled. We were about 2 months into the dry season. Why were the 4wd roads still closed?
Anyways, at 1:15pm, we finally arrived at Cooinda.
As we checked into the Gagudju Cooinda Lodge, the first thing on my mind was the condition of the road leading to Jim Jim Falls. So we had the receptionist call Lord's Safaris (since we pre-booked this tour with them) and sure enough, they confirmed that the road was closed. The receptionist relayed to us that they would substitute the Jim Jim Falls/Twin Falls excursion with a trip out to Gunlom Falls. Julie and I knew this was unacceptable since we had just driven there ourselves.
But by then, the receptionist had already hung up with Lord's Kakadu Safaris. So when we checked into our room, Julie called Australia One, the tour operator. When she managed to get a hold of someone, she asked if we could get refunded since we had no intention of being part of a bait and switch for something we had already done on our own.
And with that, Julie was told "no worries" and we returned to the receptionist to book a Yellow Water Cruise instead tomorrow morning. Julie was really excited about that trip since she wanted to see the crocs in their natural habitat.
Still, there was this issue of seeing the most attractive falls in Kakadu National Park. It was then that I asked if they had any helicopter flights to both falls this afternoon. And to our relief, they did. So it looked like we snatched this waterfall-viewing experience from the jaws of defeat even if it would be as distant and impersonal as in the air. It wasn't cheap either.
The flight would take off at around 4pm and we were supposed to meet at the airstrip in Jabiru at around 3:45pm. So this gave us some time to drive closer to Jabiru and visit the Bowali Visitor Center along the way.
When we finally arrived at the Jabiru Airstrip, it was a few minutes before our promised time of 3:45pm. Then, we were asked to wait as they had expected another passenger. But he never showed up.
So with that, the open-air helicopter took off. It was about 4:45pm when it left.
The skies were a bit hazy due to prescribed burns that were taking place throughout the wetlands of Kakadu. The sun was glowing nearly red as its rays had to sift through the brown haze. Apparently, these burns were common and they were recently re-adopted after uncontrolled bush fires resulted from excess fire suppression.
The Aborigines claimed they have done prescribed burns for thousands of years and it took that bit of a lesson for the land managers to not fix what wasn't broken in the first place.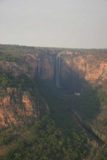 It was about 5:15pm when we finally got our first look at the spectacular Jim Jim Falls. The helicopter pilot told us that a late season cyclone (Cyclone Monica) hit the Top End not long ago. There were still saltwater crocodiles that remained as a result so that was the reason why they closed off all the 4wd access roads – including the Jim Jim Falls Road.
The flip side to all this was that Jim Jim Falls was flowing quite well. Even though the falls were about to be engulfed by the late afternoon shadow, it was still a sight to behold. Both Julie and I excitedly took photos of the falls as often as we could.
About 5 minutes after Jim Jim Falls, we got our first look at Twin Falls, which also flowed impressively in several parallel columns. The falls were a little under the shadow, but the light wasn't strong enough to create unphotographable images consisting of washed out and pitch black zones.
Five minutes later, we returned to Jim Jim Falls for another round of photographs. Then the pilot flew directly over the top of the falls and made his way over to the Death Adder Valley.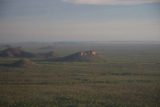 A little after 5:30pm, the pilot warned us to get ready as he was about to pass over Double Falls. And with one pass over, we took advantage of our one and only shot at the surprise waterfall.
This was something I didn't expect to see going into the chopper tour. I was sure glad we got to see it. And with that, the pilot crossed over Death Adder Valley (Death Adders, by the way, are poisonous snakes common in Kakadu National Park) and eventually went back to Jabiru.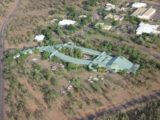 As we approached the landing strip, we noticed the crocodile-shaped hotel in the Jabiru township called the Kakadu Resort. It was quite cute and interesting, but I wasn't sure if we were going to eat there as the Lonely Planet book said it was a bit pricey.
The pilot injected his humor when he said the cars you see down by the resort were the croc's eggs.
At 6pm, we touched ground again and said our good-byes after thanking the pilot for a wonderful chopper ride. Julie and I ended up having dinner at the Kakadu Lodge and Caravan Park. We sat ourselves around a shaped swimming pool with a tent canopy over the dining area. Unfortunately, mosquitoes were around, but when it got darker, they weren't as relentless.
We ended up having a pretty satisfying meal of more fish as we stood by our belief that it was some of the freshest tasting fish we ever had. Either it says something about bad fish back in the States or how wonderful the fish is out in Oz.
After driving slowly in the dark from Jabiru to Cooinda, we'd eventually return to the Gagudju Cooinda Lodge at 10:10pm. From there, we showered and relaxed.
Although there was some drama with the near failure to see the Kakadu waterfalls, we at least got to see them. But I was still bumming about missing out on Tjaynera Falls and Barramundi Falls. I guess those will have to wait until another return visit to the Top End.
Day 4: YELLOW WATER AND ROCK ART
It was before 6am when Julie and I awoke. Having booked a dawn Yellow Water Cruise, we had to meet our shuttle arrangement at about 6:30am. So we obliged and we were at aboard the open-air canopied motor boat by 6:45am after they checked that we paid.
The area had a totally swampy feel to it. I figured it was not unlike the deep south in the United States where both alligators and crocodiles exist.
When the tour began, the sun was already starting to come up over the wetlands horizon. It was pretty, but we had seen many sunrises before.
And it wasn't long before the guide spotted a swimming estuarine crocodile. Boy it looked big, even in its half-submerged state!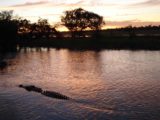 The cruise boat followed the croc but maintained its distance. This was definitely one guy you don't want to mess with. It really gave a whole new meaning to what Steve Irwin and Dr. Brady Barr were able to pull off when it came to wrestling these guys as well as educating the world about the their way of life and the respect they command for being fearsome survivors.
Then, the boat headed over to a large wetlands area where heaps of birds were making their bird call. We saw a few more saltwater crocs marauding stealthily looking for an unsuspecting bird for a meal.
The cruise then went further into Jim Jim Creek as the guide started identifying various birds. There were numerous bird watchers on board and they were having a field day spotting them.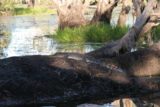 At 8am, we spotted a crocodile sitting on a log. I think it was a freshwater crocodile because it looked considerably skinnier and smaller than its more aggressive cousin.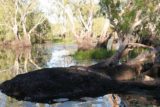 The tour would eventually circle back towards the boating dock. And as it made its way back, we spotted a few more crocs that dipped out of site when we arrived as well as a marauding croc that stealthily made its way over to a pair of unsuspecting birds.
It was too bad the boat driver didn't stick around for what was about to happen next. Maybe it would've been too graphic so he drove the boat off before we can watch any drama unfold.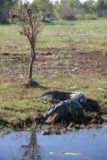 We also spotted a croc that was lying still with its mouth open. Apparently, it was cooling off or something because it wasn't moving at all.
Finally at 9am, the cruise ended and we walked back to the Cooinda Gagadju Lodge. Julie and I then proceeded to drive to Ubirr to see what the hype was all about concerning the Kakadu Aboriginal Rock Art that made this area gain World Heritage Status.
We didn't get to Ubirr until about 11:15am.
By then, the heat of the day was in full effect and we sweated our way through the easy walks checking out the various art there. Of particular interest in this section of the park was the Rainbow Serpent and the medicine man Mabuyu. We also noticed some people climbing to the top of a rock. We didn't attempt to do it, but now I understood why locals recommended coming here to watch the sunset.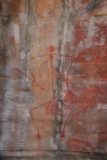 At noon, we left Ubirr and got ourselves some snacks back at Jabiru. When we were sufficiently rested, we continued over to Nourlangie Rock – another Aboriginal rock art site. We would eventually reach its car park at 3pm.
At Nourlangie Rock, it was basically more interesting rock art. Perhaps the most striking art were the figures of Nabulwinjwinj and the so-called Lightning Man. They had distinct limbs and an interesting criss-cross pattern on their legs and torso. I didn't know what they meant, but there was an eerie and almost haunting presence about them.
Julie and then returned to the Cooinda Lodge at around 4pm. We basically chilled the rest of the day, but that was until we received some bad news from Pacific Destination Center – our travel agent for this trip.
They said that they couldn't refund us the Lords Kakadu Safari money because we never informed them of the cancellation. What?!?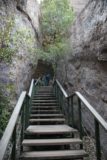 They went on to say that Lords waited for us for a while at the Cooinda Lodge and we never showed up. Of course, we were on the Yellow Water Cruise thinking Australia One would inform Lords Kakadu Safaris about our cancellation.
I knew Julie called Australia One about this and so she was back on the phone with them trying to explain what went on. Unfortunately, this issue wouldn't be resolved even though we made repeated attempts to call and talk with Nora their manager later in the trip. It wasn't until after the trip that Toni at PDC eventually got us the refund.
What happened was that the person Julie talked to at Australia One never bothered to call Lords Kakadu Safaris. I implored Julie to follow up with them to make sure they communicated with them, but Julie insisted it would be taken care of.
Obviously it wasn't.
So with that hanging over our heads, we did have a pleasant dinner at the dining hall in the Gagudju Cooinda Lodge (I believe the cafe was called Mimi's) to get our minds off this incident.
And with that, a mostly relaxing day had passed. Of course the lack of 4wd access caused that bit of drama with the Jim Jim Falls tour so we still weren't out of the woods on this uncontrollable set of circumstances. Still, we slept well this night knowing we had to get up early and get to Darwin for our morning flight to Kununurra tomorrow…
Visitor Comments:
Got something you'd like to share or say to keep the conversation going? Feel free to leave a comment below...
No users have replied to the content on this page