Day 0: SACRED LANDS
It had been a very long flight going from Los Angeles to Sydney. But after the 14-hour red-eye flight was over, we still had to fly to Yulara, which was where the nearest town to Uluru (formerly known as Ayer's Rock) was at.
It turned out that we had to shuttle across the airport towards some remote terminal before we were finally able to board the plane out to Uluru. Supposedly our stuff had been checked through so we didn't have to lug extra stuff around when we made this transfer. However, I was always anxious about misplaced or lost luggage whenever connections had to be made.
In any case, I was looking forward to finally seeing Uluru. We knew that our visit coincided with the Australian winter, but that would mean that the red center would be dry as these deserts would get most of their precipitation during the Wet or Australian Summer.
Eventually, we got onto our smaller plane bound for Uluru, and given our tired states (despite sleeping on the long haul flight) we still dozed off and felt icky from having gone a long time without showering nor without brushing our teeth.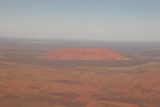 At around 11:20am, the regional flight finally got close to Yulara, and we seized this opportunity to arm our cameras to take aerial photos of Uluru, which stood out like a lone red mound protruding out in the middle of nowhere.
Looking in a different direction, we were also able to see what we thought were the Kata Tjuta, formerly known as the Olgas. With these formations, they were more like a clumb of mounded formations instead of the singular mound that Uluru was.
It was hard to appreciate the vast scale of these monoliths since we were high up in the skies looking down at these things. But we looked forward to driving towards these things to get a closer look when we would land. We knew that this afternoon would be our lone day to explore and enjoy these iconic features of the Australian Outback. For tomorrow, we'd resume of vagabonding and fly up to Darwin by way of Alice Springs.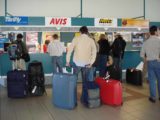 Some time after 12pm, we had finally landed, and after another 30 minutes or so, we breathed a sigh of relief when we saw our checked luggages on the conveyor belt, and then we got our Thrifty car rental just for today and tomorrow morning.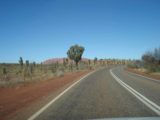 Immediately after this bit of logistics was out of the way, we then drove to the neighboring town of Yulara where we checked into the Lost Camel Hotel. When we dropped off our stuff in our room, we were kind of surprised to see quite an art deco decor in the room, which itself was quite roomy. It was too bad that we would only be spending this one night here.
At around 12:45pm, we finally drove off and went the 50km or so towards the Kata Tjuta. During the drive out there, we could see Uluru looming in the distance as the vegetation all around us were quite low so that monolith could be seen for a good chunk of the start of the drive.
The drive was pretty empty and desolate, and it was from this experience that we started to understand the vast distances of the Australian Outback. In a way, it kind of reminded me of the long distances we had to drive when we were in Death Valley in California.
At around 1:20pm, we started to approach the mounded formations of Kata Tjuta. We weren't quite sure if there was supposed to be a central location where the sights could be concentrated, and as a matter of fact, we really didn't have a plan when we showed up here.
So when we arrived at around 1:30pm, we were basically aimlessly meandering amongst the domes while taking photos. We noticed signage prohibiting the climbing of the domes as they were apparently Aboriginal sacred lands. Well, we didn't have any intentions of climbing those domes knowing that we still wanted to go back to Uluru and catch the sunset over there. So that wouldn't be an issue to us.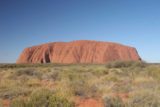 By about 2pm, we figured that we probably got the flavor of this place. I'm sure we truly didn't do it justice, but the biggest attraction of all was Uluru, and we wanted to spend the remainder of the afternoon over there. And so we drove off for the next 50km to return to where we started.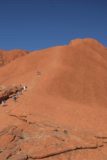 It wasn't until around 2:30pm when we finally returned to Uluru. But this time instead of driving past it, we drove around to see if there would be convenient places to park and enjoy the attraction. We were trying to figure out where people would climb up the monolith despite the signs begging tourists to respect the Aboriginal culture and not do it.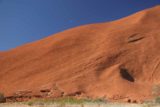 And it was quite clear that most of the people couldn't care less as we saw hundreds of people partake in the activity. Of course, we didn't really have any intentions of doing the moderate friction pitch up the red monolith. And instead, they served as photo subjects for me to try to convey the massive scale of Uluru. Plus, there was a bright moon against the blue skies as well.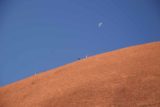 We probably spent about an hour or so just chilling out and wondering what the big commotion was about climbing up Uluru. It didn't seem like anything that special other than to say you did it. But it wasn't for us, and we knew that we still wanted to time the remainder of our visit in Uluru for sunset to take the best photos of it.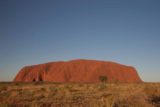 By about 4:30pm, we found a lookout where we could see the entirety of Uluru with the sun behind our backs. By this time of the afternoon, we could see the sun was sinking and the light was getting longer while the glow was getting warmer and not as harsh as it was earlier in the day.
Eventually after 5pm, that was the time we started to snap photos as Uluru was turning from brown to orange to a bright red as the sun got lower. Meanwhile, the skies went from deep cloudless blue to towards an almost greyish purplish hue.
We pretty much chilled out in this spot taking photos until the sun was well beneath the horizon. It was at that point that we were ready to head back to Yulara and find a place to eat for the evening.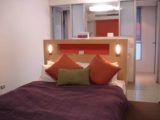 We weren't very particular about where we were eating, and we ended up having some kind of sub par cafeteria-style place where I tried kangaroo, which was actually quite tough. I didn't think the food was any bit indicative of good Outback cuisine, but all we wanted was to be fed before we could call it a night.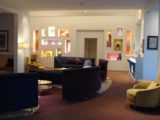 Eventually, we crashed for the night, but it was very cold. We snuggled into our bed and slept the night away knowing that our stay here would be short-lived as we'd have to fly out tomorrow morning.