Day 1: DIDGERIDOOS, DRUMS, AND FOOD
After spending a very frigid night at the Lost Camel Hotel in Uluru, we checked out and drove ourselves back to the airport for our 9:40am flight to Alice Springs. Somehow during the time we spent here, I had lost my digital watch so now I had to rely on Julie to tell the time.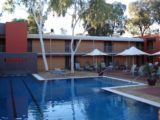 I wondered if I had lost the watch somewhere by the swimming pool at the hotel because I recalled how no one in their right mind would want to be swimming there given how frigidly cold last night was. Oh well, that was done and over with. Couldn't go back and get it now.
And by 10:30am, we were at Alice Springs awaiting (for seemingly forever) for our connecting flight up to Darwin, which took off at 12:15pm.
Finally, at around 2:30pm, we arrived at the Darwin Airport. Now, we had to pick up our car hire, which was a pre-booked 4wd from Thrifty. I was anxious about driving a 4wd since I never had to use that function before. But I knew from my trip research that there were a few waterfalls that required the use of four-wheel drive.
And when we got to the 4wd, we were quite shocked at how big the wheels were on this thing. When I started the ignition, it sounded like I was driving a big rig or something. It was also a stick shift so I had to get readjusted to driving stick left handed.
Still, none of these things were big deals. I had gotten my first taste of stick left-handed in Fiji some 6 months ago. Although this time, I would be driving the city streets of Darwin, so I'm sure it would be a little more difficult given the unpredictability of human traffic.
And with that we headed into Darwin and arrived some time after 3pm. The place was quite dead as numerous shops were closed and only a few bars were open.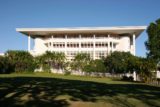 "See, you should never plan to do city things on a Sunday," Julie would tell me. I guess this was yet another lesson in that. Our previous mistake was in Bergen, which was a charming but dead town on a Sunday as well one year ago.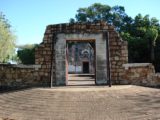 Fortunately, the grocery store wasn't closed so we picked up some water and a few snacks. We also bought a memory reader when I realized that I forgot to bring the AC Adapter for the rechargable Wolverine portable hard drive. Good thing we could store our data in Julie's laptop.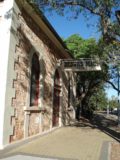 And with that, we put the food in the car and walked around the city in the humid climate. It was quite a contrast to the cold and dry air of the Red Center at Uluru.
We spent most of this time checking out didgeridoos as well as go to a pay phone to inform the clerk at the Best Western Batchelor Resort that we might be checking in late. We intended to check out the Mindil Beach Night Market later tonight so that meant driving in the dark to get to Batchelor, which was about 90-120 minutes south of Darwin.
Even though I had never been to Florida, somehow Darwin reminded both Julie and I of Miami – except a bit scaled down. There were swaying palm trees and high rises though it wasn't nearly as busy as we had expected.
Eventually, we killed enough time for it to be about 5pm. Time to head over to the Mindil Beach Night Market. Maybe the scene there wouldn't be as dead as Darwin.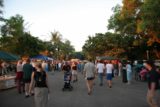 And at 5:30pm, we arrived at the festive night market. There was a large yard where people found parking spaces. We found our own and proceeded to walk towards the music and the commotion.
And what a busy scene it was. There were heaps of food stands and souvenir stands lined up on both sides of the paved walkway. Interspersed between the stands were people performing on didgeridoos. Especially memorable was this one band that mixed in a funky drum roll with perfectly timed didgeridoo sounds.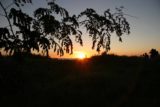 With this atmosphere, we checked out various food stands that ranged from Indonesian and Malaysian satays and curries to a "Roadkill Cafe" that served up crocs, kangaroos, emus, and possums on a skewer. There was even African, Indian, Chinese, and even French flavors on display. We swigged tropical fruit smoothies along with this smorgasbord of multi-ethnic foods.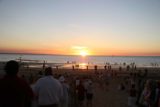 Where else but Darwin, Australia could you get this wonderful blend of cultures and atmosphere? The Mindil Beach Night Market lived up to the hype we had read about in the Lonely Planet book and we were certainly glad we stuck around for it even if it meant driving to Batchelor in the dark while risking kangaroo crossings.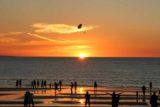 As Julie and I chowed down on our foods, I noticed orange skies behind a sandy hill. So I quickly rushed over the hill, and saw one of the most amazing sunsets I had ever beheld. Indeed, we were only 3 days into our Australia trip and we had already experienced one of the most profoundly memorable moments here at Mindil Beach.
But all good things must come to an end, and Julie and I eventually left as we were getting full off our food. I was still bobbing my head up and down to the funky didgeridoo and drum sounds even as we had left the bustling scene and returned to the parked 4wd.
By 7pm, we headed south towards Batchelor in the dark. Taking our time, we would eventually make it to our accommodation just before 9pm. But not before getting a little bit lost driving around the dark, lights-out town of Batchelor looking for the Best Western Batchelor Resort. It turned out the inn was on the main road near so-called the Rum Jungle section of town and we didn't even have to leave the main road to go into the Batchelor township.
And with that, we got settled, cleaned up, and happily went to bed.