Day 2: OUR TIME IN LITCHFIELD
Julie and I anticipated having lots to do seeing the various waterfalls of Litchfield National Park. So we left the Best Western Batchelor Resort at a little after 6am and slowly drove in the morning darkness into Litchfield National Park. It had been too early to see all the falls and other attractions given the low lighting so we didn't make any stops. And before we knew it, we had reached the junction with the Sandy Creek Road – a 4wd road.
Unfortunately, the Sandy Creek Road was closed. A gate with a red sign blocked further access. I was a bit perplexed as to how the road could be closed even though we were deep into the dry season. What a bummer!?! It kind of defeated the very purpose of us hiring a high clearance 4wd vehicle!
Anyways, nothing I could do about this so we continued towards Wangi Falls, ultimately reaching its car park at about 7:15am.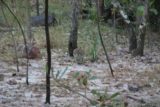 By now, there was enough early morning light to start taking some photographs. On our way to the waterfall, we noticed a kangaroo grazing. It was initially startled by us but eventually went about its own business.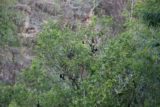 The plunge pool for the tall, double-barreled waterfall was closed with lots of signs discouraging swimming due to the threat of saltwater (or estuarine) crocodiles.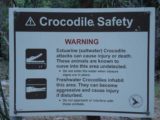 So we eventually went to the overlook platform where we could get a direct view of the waterfall in the morning shadow. It wasn't exactly the best time of day to photograph these falls as they faced west. Nonetheless, a couple that was there with us pointed out some bats hanging on trees.
It took a little time for us to figure out that the black things on the trees were indeed bats. I didn't think we had ever been that close to bats before, and it definitely put Julie on alert given their undeserved reputation that all bats were associated with vampire bats and the rabies they might spread.
In any case, I thought the bats were pretty cool!
Anyways, I eventually decided that the conditions wouldn't be good for photographs until late afternoon. So at 8am, Julie and I left and headed east towards the next waterfall – Tjaetaba Falls.
The car park for this waterfall didn't explicitly have a sign indicating the falls were here. We basically had to figure out that you had to take the spur leaving the sealed road towards Greenant Creek.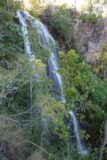 After a pleasant and breezy walk through a well-maintained trail, we reached the lookout platform for Tjaetaba Falls at 8:45am. The falls was behind some blocking foliage so it wasn't easy to get a decent view of the falls. Either way, it had somewhat light flow and I could totally see how this falls would probably go dry as the dry season progressed.
When we were done checking out the falls at the lookout, we kept going further on the main trail, which ultimately reached the top of the falls.
While we were at the top of the falls, we noticed that there was a smaller waterfall and an inviting plunge pool that I could totally imagine would've been a pleasant spot for a swim under warmer conditions. Of course, it was a bit too chilly this time of year let alone this time of the morning to even consider going in there.
Anyways, Julie and I returned to the car and next arrived at Tolmer Falls at almost 10am.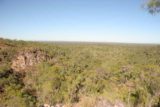 The short walk to the overlook of the falls afforded us a nice view over the escarpment and towards a sea of tropical trees and shrubs below. It looked like quite the place to get lost if we were ever caught down there for some reason. Plus, we were aware of the poisonous animals in the Outback. So just being aware of all those factors pretty much ensured that we'd stay on the main walkway (not that we were intending to go off trail anyways).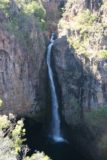 When we arrived at the main overlook, we saw that the falls was still in shadow so it wasn't very easy to photograph considering we were facing the sun somewhat. But the falls were attractive and tall even though its base wasn't accessible.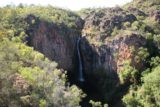 Moreover, there was a natural bridge upstream from the main waterfall, but that area was closed off to protect some ghost bat species.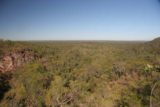 I figured we can return to this waterfall later in the day as well when lighting might be more favorable anyways.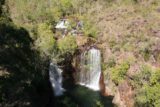 Next, Julie and I continued east would eventually get to the overlook platform that looked down upon the attractive Florence Falls at about 10:30am. Apparently, this waterfall was more isolated from the salt water systems so there were lots of people swimming at the base of the falls.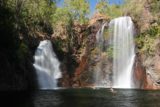 After only a few minutes, we arrived at the shores of the freshwater pool. With a tripod in hand and using it as a hiking stick, I was able to scramble around to where I could get a direct view of the falls. From there, I got as many long exposure shots I could in the shade.
It was certainly a relaxing yet popular scene. But once we took the photos we wanted and had enough of the falls, Julie and I hiked back up the steep path.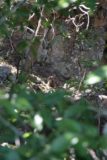 Along the way, we noticed a little rock wallabie hiding in the shadows. They looked like miniature cousins of kangaroos and were quite interesting. I reckoned they might be Australian marsupial versions of what squirrels or racoons might be.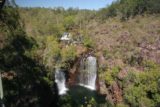 We spent a few more moments at the overlook of Florence Falls. It was then that I noticed a sign that said, "Why not drive the Sandy Creek Road towards Tjaynera Falls and the Blythe Homestead?"
It was almost as if that sign was taunting me since I knew it wasn't possible given the road closure!
Once we pried ourselves free from the beauty of Florence Falls at 11:30am, we made it to the Termite Mounds at about 11:45am.
These interesting pillars were quite tall and there were so many of them strewn throughout the tall grass as if they were tombstones. It was amazing how many termites it took to come up with these things. And we could appreciate termites considering how much trouble they cause back home (at least for homeowners) in the dry climate of Southern California.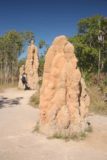 Julie and I had fun posing before these giant mounds. Quite a few of them were so tall that they were easily 20-30ft tall or so. Whenever we thought of termite droppings at home, we could see tiny piles of pebbles on the ground that would be no bigger than the size of my hand.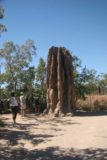 However, these termite mounds were massive, and I wondered if we were looking at the same processes that gave rise to these big spires or if they were merely different species outputting different things. But whatever the case they may be, it was quite cool to check out these marvels of nature nonetheless.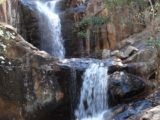 But we left at 12:15pm so we could leave Litchfield and check out Robin (or is it Robyn?) Falls before returning to Litchfield in the afternoon.
So we headed east and returned to the high-speed Stuart Highway. After passing by Adelaide River, we found a signed spur road that led ultimately led us to the car park for Robin Falls. It was about 1:40pm when we arrived.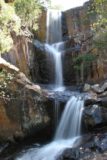 From there, we walked along a somewhat rocky trail until we eventually reached the shady three-tiered falls at around 2pm. We had to do some additional scrambling to get frontal views of the falls since one of the lower rock outcrops blocked much of the falls.
By 2:30pm, we returned to the 4wd truck and headed back to Batchelor. There, I dropped Julie off at 3:15pm so she could nap while I would get my afternoon photos of Tolmer and Wangi Falls the rest of the afternoon.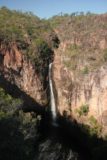 By 4pm, I was back at Tolmer Falls. Apparently, I came a few minutes too late because shadows started to creep up the walls of the falls again. Thus, the plunge pool was in shadow as were the lower parts of the falls.
And with those kinds of lighting conditions, my photos were pretty much bisected by the shadows of the cliffs that I was standing upon. Oh well, I guess you can't win them all. But at least the rest of the walls flanking the Tolmer Falls were bathed in soft late afternoon light.
Still, I came back here determined to see a natural arch or bridge as part of this waterfall excursion – closure or not. So that was on my mind the whole time I was taking more photos of Tolmer Falls.
When I was finished taking what photos that I could of the falls, I then went ahead and walked the entire loop past the closure area and back to the car park, where I arrived at 4:20pm. I just wanted to see what the closure area looked like and wondered if I would get to see the natural bridge from the non-closed part of the trail. But I couldn't. I had to be content with the subpar views given the closure.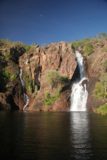 At 4:45pm, I finally returned to Wangi Falls. And the late afternoon lighting was perfect for the waterfall. There was even a hint of a rainbow in the larger column as well as an afternoon moon in the sky. It was quite a scene and I was glad I came back to the falls this day.
So with the mission accomplished (sans Tjaynera Falls or Sandy Creek Falls), I returned to the Best Western Batchelor Resort at 5:45pm.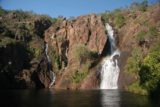 And with that, Julie and I enjoyed a pleasant dinner that consisted of shrimp and barramundi. It wasn't bad considering most of the tourists stayed in Darwin as opposed to Batchelor.
Visitor Comments:
No users have replied to the content on this page