Day 3: THE BAIT AND SWITCH
Having checked out early last night, Julie and I were able to leave the accommation in Batchelor a little after 5am. We knew it was going to be a long drive to Edith Falls so we took our time driving in the dark and ultimately made it to the car park for the falls at 7:30am.
The falls itself wasn't particularly tall nor was it all that impressive. But what was interesting about the area was the giant plunge pool that seemed suitable for swimming. In fact, the facilities here were so big and modern that most of the campers here were probably here for that very reason.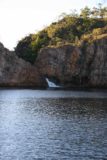 The falls remained in shadow during the morning. Clearly, this waterfall was also more of a west-facing one so it was probably more photogenic in the afternoon.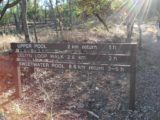 Julie and I debated whether or not to do the loop walk and see more of Edith Falls' upper cascades. Julie discouraged this as she wasn't at all impressed with the falls.
And with that, we headed back north on the Stuart Highway and eventually would go into Kakadu Highway en route to Gunlom Falls. It was about 8:30am when we left Edith Falls and about 9:15am when we filled up petrol at Pine Creek.
At 10:15am, we reached the Gunlom Falls turnoff. At this point, we would have to drive on a good deal of unsealed road, but given the monster clearance of the 4wd we hired, this was neither a problem nor anything to fear. However, I did think a passenger car could've easily made it. I was beginning to have doubts as to whether we should've pre-booked the 4wd in the first place as I had this sinking feeling that other 4wd roads would be closed.
At 11am, we finally reached the car park for Gunlom Falls. It was a bit hot and humid as the full tropical heat was upon us even though it was almost the start of winter.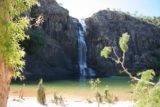 We left the 4wd and walked along a pebbly trail that led to a large beach with interesting tropical-looking trees with the 30m waterfall tumbling down the shadowy escarpment. I could see how easy it would be to just chill her all day long. Unfortunately, we were facing the sun so we had to get a little creative taking photographs of the waterfall.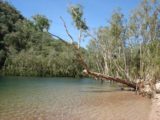 At 11:45am, we managed to pry ourselves away from the picturesque waterfall (it was featured in "Crocodile Dundee") and drove back towards the Kakadu Highway.
Once we were back on the main road, it didn't take long before we reached the turnoff for Maguk (or Barramundi Falls). Unfortunately, my fears came true when I saw yet another closure sign. Apparently, all the 4wd roads were closed. Now I really felt like we wasted money pre-booking the 4wd vehicle. We should've called CALM or one of the Australian agencies before the trip and then book the vehicle at the last minute. I really felt like we blew off more money than we should have given these developments.
But still, I was puzzled. We were about 2 months into the dry season. Why were the 4wd roads still closed?
Anyways, at 1:15pm, we finally arrived at Cooinda.
As we checked into the Gagudju Cooinda Lodge, the first thing on my mind was the condition of the road leading to Jim Jim Falls. So we had the receptionist call Lord's Safaris (since we pre-booked this tour with them) and sure enough, they confirmed that the road was closed. The receptionist relayed to us that they would substitute the Jim Jim Falls/Twin Falls excursion with a trip out to Gunlom Falls. Julie and I knew this was unacceptable since we had just driven there ourselves.
But by then, the receptionist had already hung up with Lord's Kakadu Safaris. So when we checked into our room, Julie called Australia One, the tour operator. When she managed to get a hold of someone, she asked if we could get refunded since we had no intention of being part of a bait and switch for something we had already done on our own.
And with that, Julie was told "no worries" and we returned to the receptionist to book a Yellow Water Cruise instead tomorrow morning. Julie was really excited about that trip since she wanted to see the crocs in their natural habitat.
Still, there was this issue of seeing the most attractive falls in Kakadu National Park. It was then that I asked if they had any helicopter flights to both falls this afternoon. And to our relief, they did. So it looked like we snatched this waterfall-viewing experience from the jaws of defeat even if it would be as distant and impersonal as in the air. It wasn't cheap either.
The flight would take off at around 4pm and we were supposed to meet at the airstrip in Jabiru at around 3:45pm. So this gave us some time to drive closer to Jabiru and visit the Bowali Visitor Center along the way.
When we finally arrived at the Jabiru Airstrip, it was a few minutes before our promised time of 3:45pm. Then, we were asked to wait as they had expected another passenger. But he never showed up.
So with that, the open-air helicopter took off. It was about 4:45pm when it left.
The skies were a bit hazy due to prescribed burns that were taking place throughout the wetlands of Kakadu. The sun was glowing nearly red as its rays had to sift through the brown haze. Apparently, these burns were common and they were recently re-adopted after uncontrolled bush fires resulted from excess fire suppression.
The Aborigines claimed they have done prescribed burns for thousands of years and it took that bit of a lesson for the land managers to not fix what wasn't broken in the first place.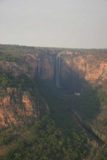 It was about 5:15pm when we finally got our first look at the spectacular Jim Jim Falls. The helicopter pilot told us that a late season cyclone (Cyclone Monica) hit the Top End not long ago. There were still saltwater crocodiles that remained as a result so that was the reason why they closed off all the 4wd access roads – including the Jim Jim Falls Road.
The flip side to all this was that Jim Jim Falls was flowing quite well. Even though the falls were about to be engulfed by the late afternoon shadow, it was still a sight to behold. Both Julie and I excitedly took photos of the falls as often as we could.
About 5 minutes after Jim Jim Falls, we got our first look at Twin Falls, which also flowed impressively in several parallel columns. The falls were a little under the shadow, but the light wasn't strong enough to create unphotographable images consisting of washed out and pitch black zones.
Five minutes later, we returned to Jim Jim Falls for another round of photographs. Then the pilot flew directly over the top of the falls and made his way over to the Death Adder Valley.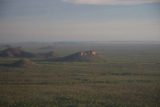 A little after 5:30pm, the pilot warned us to get ready as he was about to pass over Double Falls. And with one pass over, we took advantage of our one and only shot at the surprise waterfall.
This was something I didn't expect to see going into the chopper tour. I was sure glad we got to see it. And with that, the pilot crossed over Death Adder Valley (Death Adders, by the way, are poisonous snakes common in Kakadu National Park) and eventually went back to Jabiru.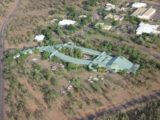 As we approached the landing strip, we noticed the crocodile-shaped hotel in the Jabiru township called the Kakadu Resort. It was quite cute and interesting, but I wasn't sure if we were going to eat there as the Lonely Planet book said it was a bit pricey.
The pilot injected his humor when he said the cars you see down by the resort were the croc's eggs.
At 6pm, we touched ground again and said our good-byes after thanking the pilot for a wonderful chopper ride. Julie and I ended up having dinner at the Kakadu Lodge and Caravan Park. We sat ourselves around a shaped swimming pool with a tent canopy over the dining area. Unfortunately, mosquitoes were around, but when it got darker, they weren't as relentless.
We ended up having a pretty satisfying meal of more fish as we stood by our belief that it was some of the freshest tasting fish we ever had. Either it says something about bad fish back in the States or how wonderful the fish is out in Oz.
After driving slowly in the dark from Jabiru to Cooinda, we'd eventually return to the Gagudju Cooinda Lodge at 10:10pm. From there, we showered and relaxed.
Although there was some drama with the near failure to see the Kakadu waterfalls, we at least got to see them. But I was still bumming about missing out on Tjaynera Falls and Barramundi Falls. I guess those will have to wait until another return visit to the Top End.
Visitor Comments:
No users have replied to the content on this page