Day 4: YELLOW WATER AND ROCK ART
It was before 6am when Julie and I awoke. Having booked a dawn Yellow Water Cruise, we had to meet our shuttle arrangement at about 6:30am. So we obliged and we were at aboard the open-air canopied motor boat by 6:45am after they checked that we paid.
The area had a totally swampy feel to it. I figured it was not unlike the deep south in the United States where both alligators and crocodiles exist.
When the tour began, the sun was already starting to come up over the wetlands horizon. It was pretty, but we had seen many sunrises before.
And it wasn't long before the guide spotted a swimming estuarine crocodile. Boy it looked big, even in its half-submerged state!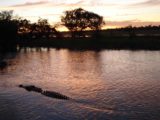 The cruise boat followed the croc but maintained its distance. This was definitely one guy you don't want to mess with. It really gave a whole new meaning to what Steve Irwin and Dr. Brady Barr were able to pull off when it came to wrestling these guys as well as educating the world about the their way of life and the respect they command for being fearsome survivors.
Then, the boat headed over to a large wetlands area where heaps of birds were making their bird call. We saw a few more saltwater crocs marauding stealthily looking for an unsuspecting bird for a meal.
The cruise then went further into Jim Jim Creek as the guide started identifying various birds. There were numerous bird watchers on board and they were having a field day spotting them.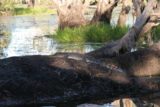 At 8am, we spotted a crocodile sitting on a log. I think it was a freshwater crocodile because it looked considerably skinnier and smaller than its more aggressive cousin.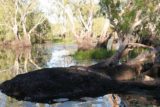 The tour would eventually circle back towards the boating dock. And as it made its way back, we spotted a few more crocs that dipped out of site when we arrived as well as a marauding croc that stealthily made its way over to a pair of unsuspecting birds.
It was too bad the boat driver didn't stick around for what was about to happen next. Maybe it would've been too graphic so he drove the boat off before we can watch any drama unfold.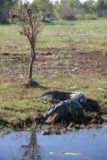 We also spotted a croc that was lying still with its mouth open. Apparently, it was cooling off or something because it wasn't moving at all.
Finally at 9am, the cruise ended and we walked back to the Cooinda Gagadju Lodge. Julie and I then proceeded to drive to Ubirr to see what the hype was all about concerning the Kakadu Aboriginal Rock Art that made this area gain World Heritage Status.
We didn't get to Ubirr until about 11:15am.
By then, the heat of the day was in full effect and we sweated our way through the easy walks checking out the various art there. Of particular interest in this section of the park was the Rainbow Serpent and the medicine man Mabuyu. We also noticed some people climbing to the top of a rock. We didn't attempt to do it, but now I understood why locals recommended coming here to watch the sunset.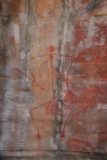 At noon, we left Ubirr and got ourselves some snacks back at Jabiru. When we were sufficiently rested, we continued over to Nourlangie Rock – another Aboriginal rock art site. We would eventually reach its car park at 3pm.
At Nourlangie Rock, it was basically more interesting rock art. Perhaps the most striking art were the figures of Nabulwinjwinj and the so-called Lightning Man. They had distinct limbs and an interesting criss-cross pattern on their legs and torso. I didn't know what they meant, but there was an eerie and almost haunting presence about them.
Julie and then returned to the Cooinda Lodge at around 4pm. We basically chilled the rest of the day, but that was until we received some bad news from Pacific Destination Center – our travel agent for this trip.
They said that they couldn't refund us the Lords Kakadu Safari money because we never informed them of the cancellation. What?!?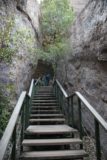 They went on to say that Lords waited for us for a while at the Cooinda Lodge and we never showed up. Of course, we were on the Yellow Water Cruise thinking Australia One would inform Lords Kakadu Safaris about our cancellation.
I knew Julie called Australia One about this and so she was back on the phone with them trying to explain what went on. Unfortunately, this issue wouldn't be resolved even though we made repeated attempts to call and talk with Nora their manager later in the trip. It wasn't until after the trip that Toni at PDC eventually got us the refund.
What happened was that the person Julie talked to at Australia One never bothered to call Lords Kakadu Safaris. I implored Julie to follow up with them to make sure they communicated with them, but Julie insisted it would be taken care of.
Obviously it wasn't.
So with that hanging over our heads, we did have a pleasant dinner at the dining hall in the Gagudju Cooinda Lodge (I believe the cafe was called Mimi's) to get our minds off this incident.
And with that, a mostly relaxing day had passed. Of course the lack of 4wd access caused that bit of drama with the Jim Jim Falls tour so we still weren't out of the woods on this uncontrollable set of circumstances. Still, we slept well this night knowing we had to get up early and get to Darwin for our morning flight to Kununurra tomorrow…