Day 1: START OF THE LONG HAUL TO NOWHERE
After two adventure-filled days (primarily involving aircraft) in Kununurra, it was time to go by aircraft once again. But this time, we had to fly to Broome, and that would mark the beginning of the long drive from there all the way around Western Australia to circling around the Margaret River area south of Perth to eventually circling back to Perth through Hyden.
We had no disillusions about the long driving distances, but we figured that this leg of our first trip to Australia would be where we would truly immerse ourselves in what we thought were pretty much off-the-beaten path from most of the country's attractions that were more along the east side of the country.
So after getting our stuff together and checking out of the All Seasons Hotel in Kununurra, we were shuttled to the airport where we did the usual chore of checking in and getting our boarding passes.
However, given the regional nature of our flight, everything had to be checked in. There was simply no room (except for our smallest personal carry-ons like my day pack and Julie's black over-the-shoulder bag) that even stood a prayer of fitting in the small propeller plane.
The flight was only 90 minutes, but it turned out that we had to lose another half-hour (given the Northern Territory's weird time zone of being on the half-hour instead of the full hour. During the flight, we were consistently looking out towards the seas north of Australia.
We figured this part of the country was probably closer to Asia than the rest of the country, and indeed in our time so far out here, it definitely felt somehow that we were in places far different from what the rest of Australia might be like.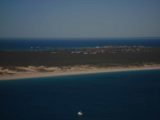 As we got closer to Broome, we could see that it was a small town even though my maps indicated that it was the only town of any significant size in these remote parts. I recalled having trouble even pre-booking a flight to get out here given its regional nature and how seldom flights would come here and take off from Kununurra.
In any case, we eventually landed in Broome at or before 10am. We had some time to pick up our belongings (not hard to do given what a small flight this was) the rental car, which was kind of what looked to be a beat up little white car with some things in the interior broken about it like the windows and the missing cap for the cigarette lighter. At least that meant that with the decline of the car rental insurance, they shouldn't be too picky about little nicks and scratches that were already there.
Then, we drove over to Cable Beach thinking that perhaps we should at least see something out here before having a lunch then making the long drive out to Port Hedland.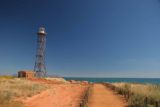 Cable Beach was a place that we kind of noticed in some brochures. I don't think we had planned on visiting this place prior to coming here so if it weren't for the literature that we just happened to chance across, we might have missed it altogether.
So we eventually made it to Cable Beach at around 11am. The skies were clear and deep blue and that contrasted well with the pinkish cliff formations that we were standing upon as we were checking out this rugged beach. Actually, where we were at wasn't really a beach at all as it was more of a scenic place to take photos.
There were beaches around here, but we didn't go over to them. We knew time was short and we enjoyed the photo ops that Mother Nature afforded us during this spontaneous visit to perhaps Broome's most well-known attraction. By the way, I didn't recall why they called this place Cable Beach, but it was probably due to some kind of heritage pertaining to ships or perhaps they routed some kind of communications cable and it came up out of here from under the sea.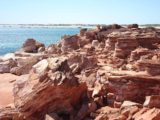 After having our fill of Cable Beach, we then drove towards the main part of Broome at a little after 12pm to do a little bit of errand shopping mainly for things like laxatives, water, and other things.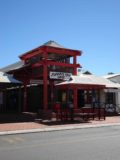 The little plaza we were at was called the "Johnny Chi Lane" which kind of got a kick out of me. Anyways, we had food at Frangipanis, which had a little bit of an Asian flavor. Having not really eaten up to this point, it kind of hit the spot.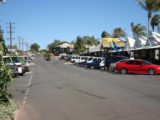 Then, the cookies and cream milkshake at the main food court to top it all off helped with some of the heat of the day we were starting to experience (at least it wasn't stifling heat given that it was the Dry Season now).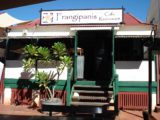 We eventually left Broome at a little after 1pm knowing that we had a very long 6.5-hour drive ahead of us to Port Hedland.
As expected, the drive was pretty much featureless. It seemed like some parts of the highway had no speed limits but all the roadkill on the side of the road made me realize that perhaps the threat of hitting kangaroos and other wildlife out here would be the check to the speed limits.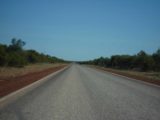 So the drive went on pretty uneventfully though earlier on the trip, we did discover Triple J Radio and that helped to kind of break through the long monotonous driving. Actually, we heard a little bit of that station with bad reception out in Uluru and in the Top End, but we weren't quite sure what we had found until now when we found the station again.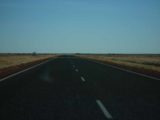 I knew that I had found my radio station (kind of like the lost KROQ station in Los Angeles or at least what it used), except this radio station had no commercials, witty and more down-to-earth DJs, back-announced songs so we'd know who they were (though most of them I hadn't heard of), and the best alternative rock music that I could recall since my college and high school days.
I probably spent a fair bit of time always trying to tune the radio to find the station whenever we could get reception. It was cool that it was a national radio station. And when I started to hear music that really were catchy and started to stick in our minds like…
Trousers by Old Man River (perfect for the outback feel we were experiencing)
LDN and Smile by Lily Allen (ironically cheerful)
Setting Sun by Howling Bells (hauntingly beautiful)
Love Like Semtex by the Infadels
Sleepy Jackson (the featured artist of the week)
We're All In This Together by Ben Lee
Long Distance Call by Phoenix
Who Cares? by Gnarls Barkley
and more…
…I knew that I might have found something that might very well be the thing that would bring me back to music that I was into (i.e. forget the commercial radio stations back at home). I knew that I'd have to find a way to listen to this radio station back at home when we'd get home.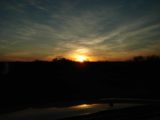 Eventually, the sun was getting low when it became around 5pm. We watched the sun set as we were driving along the Northern Highway. It was too bad we were out in the middle of nowhere, but that sense of beauty was quickly overtaken by concern as we knew we were now driving at a time when kangaroos would be out and about, and all that roadkill we were seeing off to the side of the road was becoming more predominant in our minds.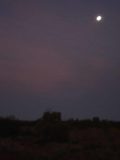 Then, the full moon came out and that at least cast a little bit of light on the quickly darkening skies.
It wasn't until around 8pm that we finally checked into our accommodation in Port Hedland called the All Seasons Port Hedland Hotel. We expected to be getting up very early in the morning tomorrow considering we had more long driving ahead of us. So this brief recharge in town was going to be short-lived.
After dropping off our stuff in our room, we then headed into the rest of the town of Port Hedland where we found some kind of gastro bar. I didn't recall the food so much, but I did remember going up to pay for the bill and the lady at the bar asked me, "You're in Port Hedland, why?"
"We were headed to the Pilbara," I told her.
She gave me this look like nobody comes out here (unless maybe you're here to work in the mines or something). In a way based on this little small talk with the lady bartender, I knew we were entering areas that were way off the beaten path in Australia.
And with that, we returned to our room, set our alarms, checked out early (so we just had to drop the keys), and tried to stay warm as the coldness of the night was setting in.
Visitor Comments:
Got something you'd like to share or say to keep the conversation going? Feel free to leave a comment below...
No users have replied to the content on this page