Day 2: THE SHINGLES
It was 4am when Julie and I awoke. After prearranging an early checkout last night at the All Seasons Port Hedland Hotel, we were able to leave the keys in the room and immediately pack the car and leave from Port Hedland for Karijini National Park several hours to the south in the remote Pilbara region.
We were still a little bit fatigued from the long drive between Broome and Port Hedland yesterday.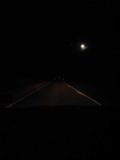 So by 4:45am, we left the town and headed south under the brightness of the full moon.
Knowing that kangaroos were nocturnal, I made sure we took our time driving by going at least 20km/h below the speed limit. And so we'd proceed to go forward with this drive for the next 5 hours. We made one petrol stop at the Munjima Roadhouse, and Julie picked up a surprisingly juicy, fresh, and delicious steak sandwich.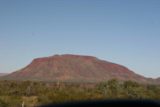 By 9am, we had made it to the Banjima Drive, which left the highway and headed into Karijini National Park near Fortescue Falls, which was our first destination.
But for some reason, I had thought the Tom Price township wasn't all that far away and perhaps we could have an early check-in as well pick up some literature of the national park while we were there.
After nearly an hour had passed, we finally made it to Tom Price. I couldn't believe how far it was from the national park. And now we had to backtrack at least an hour just to get back where we were.
So when we got to our night's accommodation at the Tom Price Motel, Julie asked if we could check in. Unfortunately, we were too early. So given this set of circumstances, I really regretted my decision not to head into Karijini National Park when we had the chance. We could've spent another 2 hours in the park without worrying about darkness.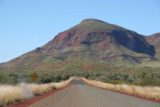 What was I thinking?!?
Anyways, we headed back to the paved part of Banjima Drive and by 10:15am, we had finally arrived at the car park for Fortescue Falls. By now, the car park was pretty busy so apparently this place was popular.
I found it hard to believe that a place could be so busy and popular in a place as remote as this. Even though our goal was mainly to see the waterfalls in the park, I guess there really was something in the middle of nothing after all.
And so Julie and I followed the red-sanded path towards the overlook of the cascading waterfall. It was very unusual to see a waterfall like this spilling over the red bedrock. I had seen desert waterfalls before in the American Southwest, but this had a character of its own.
The path then descended down the cliff with handrails to prevent people from falling into its depths. The path was pretty easy going and eventually reached the red bedrock over which the falls tumbles over. Most of the area was still in shadow, but the falls was shining brightly.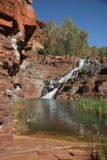 There were class 2 and class 3 signs that actually hinted at how we could get to the base of the waterfall. So we went ahead and did that, fortunate not to take a tumble on the slippery and wet surface.
Finally at 11:20am, we were at the base of the falls and joined a pair of men who were already there photographing it. When they were done, Julie and I spent some time down here taking our photographs and enjoying the unusual yet popular scene.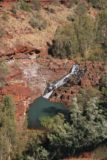 By 11:50am, we headed back up the cliff and back to the top of the falls. We took a few more photos of the falls from the top before we returned to the car.
As we headed back to the car park, my back started acting up again. It continued to sting and itch. Each time I reached back, it felt as if there were a series of hard dots on my upper back. When Julie saw it, she was concerned that I had been bitten by something or had some kind of poison. And so we decided we'd make a stop at the Karijini Visitor Center to perhaps pick something up that might help relieve the symptoms. The center was only a few minutes from the Fortescue Falls car park.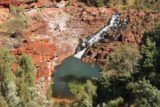 Still, we didn't know what it was nor did we know if it was life threatening. So once we got into the visitor center, Julie asked the Aboriginal woman behind the cashier if she had ever seen this before. Julie then had me lift up my shirt and I turned my back towards them. Their soured faces and surprised reaction was not exactly reassuring.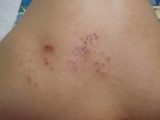 "Oh!" she said. Her son also had this look of surprise. Then she continued, "I don't think I've seen this before. I could be a spider bite, but I don't see the fang marks."
"He's started noticing this at Uluru," said Julie. "That was a little over a week ago."
Another woman (Caucasian and just visiting) who happened to be there watched the scene and interjected, "It's the shingles. I know because I just got over mine."
Neither Julie nor I knew what the shingles were at the time, but basically they are chicken pox remnants that remain in your body for life and for some unknown reason can sometimes act up. I guess I was the unlucky one for this trip.
Julie picked up some ointment sold at the center and asked the Aboriginal woman if it would help.
"It should help," she said. "I'd still go see a doctor about it."
"You'll be fine," said her son. "If you've had it for this long and you're still not sick, I think you'll get over it."
And with that we headed back to the car to continue our self drive through the rest of Karijini. I pretty much subscribed to the "no worries" mentality and let my body fight it off.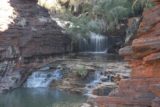 At 1:05pm, we arrived at the car park for the Kalamina Gorge. The walk down to the waterfall there was quite short. The falls itself was flowing, but it wasn't particularly impressive. However, there was an arch further down the gorge. The problem was that it would take 2 to 3 hours to do the whole walk.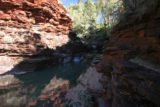 Now I really regretted my decision to drive to Tom Price before visiting the park. Then, we would've had plenty of time to see the arch in the gorge. Once again, I couldn't understand what I was thinking earlier on today.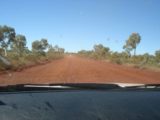 And so we continued with our tour along the unpaved Banjima Road.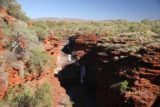 We ended up at the car park for Joffre Falls at 2pm. The walk to the platform was very short but there were those annoying flies buzzing everywhere.
They didn't bite, but man they were annoying. And when they would stand on my upper back, that part of the body was so sensitive that it stung. It was also a bit hot even though it was winter time in Australia.
The waterfall itself was half in shadow. These conditions were terrible for taking photos and I reckoned the best time to photograph it was around midday. That way the whole gorge would be in the light.
So I did the best I could to take photos before Julie and I returned to the car.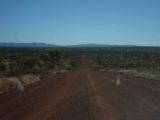 Next, we basically drove to the various overlooks before finally arriving at the Oxer Lookout. It was here that four gorges converged, but the afternoon lighting was such that only one of the gorges could be photographed.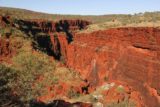 Deeper into the shadowy depths of the gorge, we saw that there were a flock of birds or some kind of white feathered organisms dotting about in the shadows down there. I guess given the remoteness of this place, it shouldn't have been too surprising to see at least this much wildlife in the form of birds here.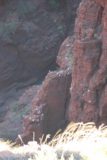 It was interesting, but not something we could easily convey in photos. Anyways, when the black flies were sufficiently annoying, we headed back up to the car park.
And from there, we drove back to Tom Price. We would arrive there at 4:45pm. First, we filled up on petrol to ensure tomorrow's long drive to Coral Bay could be done successfully. Then, we finally checked into the Tom Price Motel.
As we entered our room, it was immediately apparent that this was one of the dodgier places we had stayed at on the entire trip. The room smelled like smoke and the floor felt dusty. And of course, the shower had no partition on the floor to keep the water from running all over the whole bathroom. The shower curtain didn't really do much to keep the water confined either.
Perhaps, we should've stayed at Paraburdoo, which was a little further from Karijini but possibly more catered to tourists. Apparently, Tom Price was more of a mining town.
When both Julie and I got cleaned up, we were hungry and looked to have dinner. Unfortunately, the Tom Price Motel had nothing but a basic buffet and pizza. Since we weren't fans of buffets, especially given our overpriced disappointment at Uluru, we went for the pizza.
After the dinner, Julie and I returned to our dingy room. I kept thinking to myself that there really was nothing out here. Although Karijini was that something in the middle of nothing…
Visitor Comments:
Got something you'd like to share or say to keep the conversation going? Feel free to leave a comment below...
No users have replied to the content on this page