Day 3: THE GREAT ESCAPE TO CORAL BAY
It was about 5:45am when we left Tom Price after quickly waking up to our alarm and getting our belongings together. I guess given the "sleepeazy" feel of our accommodation, we were doubly motivated to get moving, anyways.
Today, we were supposed to drive all the way out to Coral Bay. However, we also knew that there would be close to 7 hours of driving to even get there. And that would be driving through pretty much nothingness. Triple J Radio reception was spotty as well.
At least we were headed out in the direction of what appeared to be the still-continuing full moon. That kind of injected us with a little bit of energy to break up the monotony of the drive. Of course, the roadkill off to the side of the road (and even within the road) kept us on our toes as we were still driving out pretty early in the day when the kangaroo risk was high.
Meanwhile, as the day started to dominate and the kangaroo risk was becoming a little less, we then started to notice free-roaming cattle. It was yet another thing we had to be cognizant of even though there seemed to be no speed limits out in this part of the Australian Outback.
Anyways, the featureless drive then became a battle of trying to keep awake while driving. It gave me a new respect for truck drivers who had to haul supplies across the country and having to deal with such long drives.
Fortunately at 9:40am, we arrived at the remote Nanutarra Roadhouse. It was in the middle of nowhere and the price of $1.82 AUS per litre of petrol was very painful!
That said, the steak sandwich takeaway that we got from there really hit the spot. Julie and I couldn't recall when was the last time gas station food (essentially what these roadhouses were like) could taste so fresh and so good. Was the food quality in Australia in general just way better and fresher than anything we could get in the States?
As we continued along the long drive out to Coral Bay, we noticed even more roadkill. With us pretty much being alone on the road (we didn't see anyone else), we wondered how much time would have to pass if we were to hit a kangaroo out here and the car was disabled. We shuddered at the thought.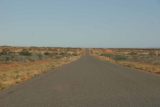 While on the topic of roadkill, we also saw some huge black birds (possibly eagles) picking away at the roadkill. Those birds were so big that I wondered if they were able to get that big on a steady diet of roadkill. I even wondered if these birds could be able to grab a baby or even a toddler and take them away…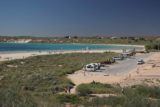 It wasn't until about 12:10pm when we finally arrived at Coral Bay. I couldn't wait to get out of the car as we had been sitting in it all morning long.
So we checked into our accommodation, and took a brief breather (plus took another look at my shingles) before we headed out onto the Ningaloo Reef. The accommodation was essentially right by the water, and the serenity of the waters here made for a real relaxing reward for the great escape that we had to make to even get here.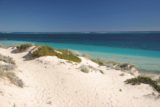 Given how quiet it was out here, it truly felt like we found a gem of a place. Even though we hadn't been to the Great Barrier Reef (something that was high on our wish list), we somehow wondered if the Ningaloo Reef could rival it.
Now we didn't really have an itinerary nor an idea of what we wanted to do. So we basically just waded out onto the water, got our snorkel masks, and tried to do a self-snorkel tour.
It was all good except the water was actually quite cold. That cold water was also making my shingles act up, plus I was also starting to get headaches the longer I buried my face in the water to see what was down there.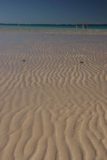 I didn't know it at the time, but I was actually starting to realize that I actually got seasick snorkeling!
When we were done doing our self-snorkel experience, we then dried ourselves up and had ourselves a late lunch. We had ourselves a burger, which was probably the juiciest burger we could ever recall having. It was easily the best burger we've had in our lives so far. Wow!
In a way, it kept us wanting more. So we were looking forward to doing it again either tonight for dinner or tomorrow during lunch again.
As we were trying to figure out what else we could do to pass the time on this day, we looked at the excursions that were on offer. Apparently, a huge excursion to partake in here was to swim with the Whale Sharks. It wasn't as scary as it sounded because the Whale Sharks were bottom feeders and fish feeders, but they were quite docile especially compared to the more dangerous reputation of the other sharks in the region.
We also thought about blue-ringed octopus or other poisonous organisms though since we were well in the Dry Season, it seemed unlikely that they'd be around in the cold waters.
So we eventually decided on doing a glass-bottom boat ride later in the afternoon. In the mean time, we just chilled out some more, waded in the water, and took photos.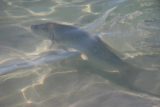 When we did the brief glass bottomed boat ride (to try to get better reef photos than what we were able to get while self-snorkeling), we did indeed get some better photos so the reef seemed to lack the colors we were hoping to see (kind of like at the Great Barrier Reef, or at least what the literature would say about it).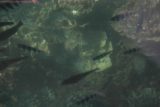 Plus, the boat operator seemed to be a little clumsy as he would frequently scrape by some reef. I'm sure that caused some irreparable damage to the reefs that wouldn't come back for decades.
When the boat tour was done, Julie and I spent the remainder of the afternoon just walking amidst the ripples in the sand (very interesting patterns) while watching the sun set. Basically, it was more photo ops, but overall, we just basked in the slow-paced and relatively quiet nature of our time here in Coral Bay.
Who knew that a roadie out to the WA could yield a gem like this?!?
Next, we had ourselves a dinner by the beach at one of the restaurants here at Coral Bay. We decided to save the fine dining experience at Shades for tomorrow. So instead, we went to some place called the Beachcomber. Once again, it seemed like a quiet and relaxing time as we had some grilled fish as well as some kind of surf and turf meal (i.e. prawns and beef).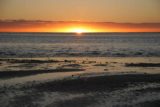 It was a nice way to cap off this first night at the unexpected tropical (somewhat) paradise.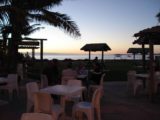 Since we had all of tomorrow to chill out here at Coral Bay, we wondered what that might bring. After all, we had a little more time than we knew what to do with it. It was a nice problem to have for a change…
Visitor Comments:
Got something you'd like to share or say to keep the conversation going? Feel free to leave a comment below...
No users have replied to the content on this page