Day 4: A DO NOTHING DAY
Contrasting the vagabonding that we had to do so far on this trip, this was the first day where we actually had nothing to do. It was basically an entire day at Coral Bay.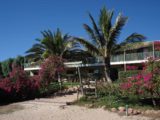 So we slept in (for a change), then just chilled out, played in the water some more, and then had a lunch. Once again, the main draw of the lunch was the best burger we ever had. Juicy, big, and just totally satisfying.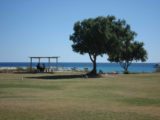 During the lunch, we were so busy doing nothing that we were able to pay attention to some of the subtler things about the Ningaloo Reef and Coral Bay. For example, we were watching ants working as a team hauling away some piece of lettuce (that we might have dropped from our burger), which was way bigger than any individual any or six, but as a team, they were able to haul it away.
Pretty impressive!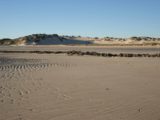 The rest of the afternoon was spent taking photos in the winds amongst some sand dunes.
In hindsight, we probably could've splurged on doing one of those Whale Shark tours, but it would take at least a half-day plus it was around $400 AUS per person. Plus, we would need an underwater camera to capture the moment (which we didn't have).
Thus, we just chilled out again. Sometimes doing nothing was all that was necessary.
Eventually for the nightcap, we had ourselves an early dinner at the Shades Restaurant. The food was an interesting fusion mix of seafood with regional influences (e.g. the prawns in curry). And of course, we had already fallen in love with the sticky date dessert.
It was a nice way to end our time in Coray Bay. Tomorrow, we'd be back out on the road again…