Day 5: ROGUE WAVES
It was about 4:53am when we left Coral Bay. We figured that with the early start, we would maximize the daylight available to us as we would make a detour to Carnarvon and the Quobba Blowhole before continuing onto Monkey Mia, which was where we'd be spending our lone night there.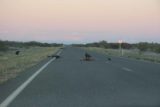 Of course with the early start, we were concerned about kangaroos again. And sure enough with this early start, we had a couple of close calls where kangaroos were going alongside us while others were skipping in front of us.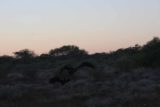 It was a good thing we were going below 100km/h, but I even wondered if that was slow enough.
It wasn't until around 7:30am when we were in the Carnarvon vicinity. All along the way, we noticed more roadkill with giant birds pecking away at them.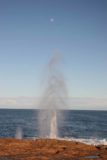 Then, we continued driving out towards the Quobba Blowhole, which given the nice morning light seemed to be a pretty good time of day to check it out.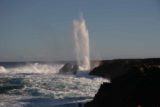 So it wasn't until about 8:50am when we finally arrived at the Quobba Blowhole. At first we were looking for the attraction as it wasn't immediately clear to us where we should look, but every so often, we heard the whoosh of the blowhole meaning it would just be a matter of time before we'd find it.
There were signs out here warning us that rogue waves could pluck us out of the cliffs which seemed to be sufficiently high enough above the churning ocean. However, there was a sign here recounting one guy's close call when a rogue wave plucked him off the very cliffs we were at.
So we were checking out the blowhole with half a sense of trepidation of Nature's mercilessness if we were to be plucked off, and at the same time we were also half anticipating the blowhole so we could get that beautiful shot of water shooting up in the air high up above the churning ocean.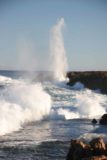 Julie and I easily spent over 40 minutes here. It was a pretty cold morning, but the sun was quickly warming us up as we were being patient trying to time our photos for the blowhole events.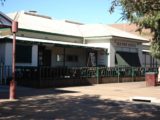 Then, we drove back towards Carnarvon where we had ourselves a morning meat pie while also making phone calls with Australia One (given the snafu with Lords Kakadu Safaris a week ago). Anyways, it wasn't until after 11am when we left Carnarvon and continued on our way to Monkey Mia.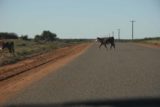 Once again, we were dealing with another long drive (as if getting to Carnarvon itself wasn't long enough), but it wasn't until about 3:15pm when we finally arrived at Monkey Mia (after making a short lunch and gas stop at Denham 20 minutes earlier). By the way, Monkey Mia is pronounced "Monkey MY-UH" not the Italian way.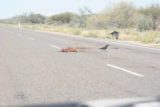 After getting settled at our accommodation at Monkey Mia, we pretty much just chilled out and walked the beaches here. It was a bit busier than at Coral Bay, and we wondered if it was because of the dolphin feeding, which we were anticipating tomorrow morning. After all, it was the only reason why we bothered to go out this way even though I had mixed feelings about people feeding dolphins instead of leaving them wild.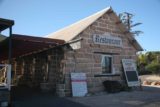 Julie and I watched some people cutting up and cleaning fish on some makeshift benches specific for this purpose. Apparently, this was a prime fishing spot given all that infrastructure and people making use of it.
Given this activity, there were also giant storks waiting their turn to be fed as well as plenty of other gulls and birds swirling about trying to get their freebies in.
For the evening nightcap, we had ourselves another mix of surf n' turf mains while Julie tried her hand at some grilled fish draped in some sweet and sour or chili sauces. Good stuff.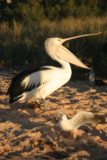 Thus ended this day and evening. Tomorrow, we were going to start off with the early morning dolphin feeding before continuing on towards Kalbarri – yet another long day of driving…
Visitor Comments:
Got something you'd like to share or say to keep the conversation going? Feel free to leave a comment below...
No users have replied to the content on this page