Day 6: THE MONKEY MIA DOLPHINS
Knowing that we wouldn't have to have a pre-dawn drive out of here, we were able to sleep in a little bit though not by too much since we still wanted to catch the 8am dolphin feeding. That said, we were still out and about before 7am as we were catching the sunrise while trying to keep warm at Monkey Mia.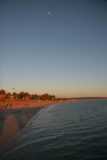 Even as we were chilling out at the beach, there were already some people out and about fishing and cleaning their catch.
And along with all the bounty were a bunch of storks and other gulls looking for their freebie just like yesterday.
In the mean time, there was some beautiful lighting over the pier where we were expecting to see the dolphins start showing up.
There was even that bright moon that had persisted every morning we had been touring this side of Australia since Port Hedland over a week ago. And of course, there was hardly a cloud in the sky.
As for the dolphins, sure enough by around 7:30am, there were already a few dolphins starting to slowly swim their way towards the shore we were eagerly awaiting the spectacle. It was almost as if these dolphins knew exactly when they should come out here.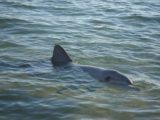 And as more dolphins showed up, we could see the crowds gathering about as well.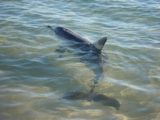 When 8am finally rolled around, a staff member came out here and started addressing the audience. Actually, as she was slowly feeding the dolphins here, she was explaining to the crowd that this feeding activity was actually a way of keeping the dolphins who had become dependent on fishing boats.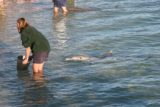 Apparently, this activity had been going on for four generations of dolphins at Monkey Mia. We happened to see 5 of these dolphins getting fed.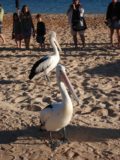 When the presentation and demonstration was over, then the audience was able to feed the dolphins themselves. Actually, it was primarily for the kids who were doing it with some guidance from the staff here.
Eventually at 8:30am, we were back in the car. Next, we had to drive all the way to Kalbarri.
As we were making our way out of the Monkey Mia Peninsula, we encountered some emus that were running alongside the road. Suddenly, one of them decided to cross right in front of us. We nearly hit it!
All this time we were worried about kangaroos in the evening, but here we had a near miss of an emu while it was well into the morning! I guess in Nature, you never can be too sure about things.
Whew, that was close!
Anyways, we eventually made it to the main highway heading south and back onto the familiar highways through desolate outback though we at least always knew there'd be coast not far from where we were driving (instead of the desert desolation at the Pilbara that we encountered a few days ago). Along the way, we went over to this place called Hawke's Head at around 12:15pm, then we had a brief lunch stop at this place called Ross Graham.
Then, we continued driving out to the Nature's Window, where we finally parked the car at the so-called Loop Car Park at 1:50pm. That was where we walked along a short trail that afforded us some views of the gorges here.
However, the highlight of this walk was of course the Nature's Window. It was actually a small natural arch, but it gave us the chance to see distant gorges throught the span of the arch. Plus, the cloudless blue skies further augmented the pleasurable experience Julie and I were having here.
I did recall some disturbing buzzing sounds while we were walking this short loop trail to Nature's Window and back. I believe they had something to do with a swarm of bees or something. But whatever it was, we were careful not to disturb them, and we made sure not to linger around those sounds either.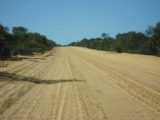 Whew!
At 2:30pm, we were back at the car. After driving for another 20 minutes or so towards this lookout called the Z-bend, we then did a short walk around this area, eventually leaving the Z-bend car park at 3:20pm.
Finally at around 4:30pm, we showed up at the Natural Bridge and Island Rock viewpoint. This time, we were overlooking what seemed to be a big sea arch below us while the coastline here was against the turbulent Indian Ocean.
With the warm afternoon glow of the soon-to-be-setting sun, the cliffs were showing up well on our photographs, and Julie and I lingered here for a while longer until the sun was about to set.
At that point, we then drove into the neighboring town of Kalbarri to finally check in, drop our stuff off, and then go for a bite.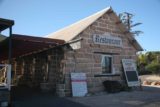 It was a quaint coastal town and we had ourselves a fairly expensive dinner consisting of crayfish since apparently this area was known for them plus it appeared to be crayfish season.
And so ended this pretty eventful day. The road trip would continue tomorrow as we'd go from Kalbarri to Cervantes. But at least we figured that the drive for this stretch wouldn't be as long as it had been on previous days. So there was no real sense of urgency to have yet another pre-dawn wake-up. And that was a pretty comforting thought as we went to bed.
Visitor Comments:
Got something you'd like to share or say to keep the conversation going? Feel free to leave a comment below...
No users have replied to the content on this page