Day 7: CRAYFISH AND PINNACLES
With the relatively shorter drive to get from Kalbarri to Cervantes, we decided to sleep in a little bit. So it wasn't until about 8:05am when we finally left Kalbarri.
The drive to continue further south along the WA coast was pretty uneventful.
At around 10am, we arrived at the town of Geraldton, which was actually a bit of a larger town than what we were used to seeing up to this point. However, it was still a bit early so we didn't stop for too long other than to fill up on petrol.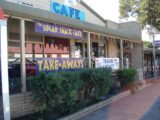 At around 11:30am, we then arrived at the town of Dongara. It was here that we decided to make a brief stop for a lunch. Actually, according to our LP book, there was supposedly an affordable crayfish place, and really, it was a takeaway place where each of us had a messy steamed crayfish (kind of like lobster) that we really had to get in there to get every bit of meat it had.
It was good, and it was relatively affordable as the whole thing costed us on the order of $40 AUS for that plus the drinks.
At 12:05pm, we left Dongara and continued further south to the town of Cervantes. We'd eventually be able to check into town at 1:45pm. And after a brief time of getting checked in, we then headed back out as the afternoon sun was waning fast.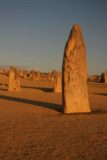 By about 4pm, we arrived at the Pinnacles Lookout (after a short 20-minute drive from Cervantes). The formations here were literally pinnacles (or spires) protruding out of the sand dunes here. And there were lots of them. It was almost as if they were termite mounds or something like we saw earlier in the Northern Territory, but I don't think these were termite mounds.
I'm sure there was an explanation for all this, but we didn't take the time to read the signs given that the sun was setting fast and we wanted to make the most of our self-tour of these Pinnacles.
With the soft glow of the waning afternoon sun, watching the pinnacles glow orange then red was quite a sight. Plus, the cloudless skies and the deep blues contrasting all this warm afternoon glow was what drew the majority of our camera clicks.
Once again, we were very glad that we made it out to this part of Australia. It was literally better than the literature showed.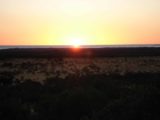 When we had our fill of the Pinnacles, we then retreated to Cervantes. The dinner that we had was kind of a pseudo-fine dining type place. I didn't recall what kind of mains that we had, but we definitely had an authentic Australian dessert of pavlova. It was one of those ultra sweet meringue-like desserts with fruits on them.
Truthfully, it wasn't our thing, but at least we tried it. Little did we realize that this was actually named after a Russian ballet dancer who toured Australia and New Zealand in the 1920s. So even though Australians think of this dessert as an Aussie tradition, it seemed to have Russian roots.
Well whatever the case, we figured we mind as well try it since this place didn't have our favorite sticky date pudding.
And with that ended our night in Cervantes. This would pretty much conclude our adventures of the WA Outback north of Perth. However, we still had a few hours of driving from Cervantes to get down to Perth, but at least we knew that once we'd get to the city, we'd get into the more temperate parts of the country that we'd imagine would be a little more built-up than what we had experienced so far.
Visitor Comments:
Got something you'd like to share or say to keep the conversation going? Feel free to leave a comment below...
No users have replied to the content on this page