Day 2: THE MITCHELL FALLS EXPLORER
At 6am, we awoke and quickly got dressed and ready for today's tour. I was personally excited about this trip because we would see a pair of remote waterfalls that are arguably the most beautiful of all Western Australia.
And by 6:30am, we were picked up and headed back to the SlingAir/HeliWorks complex. Once we surrendered our voucher, we followed this guy who resembled actor Edward Norton Jr named Adam. He would be our pilot, and with all the safety procedures accomplished, we took off at around 7am.
The plane was actually a bit small and probably could barely accommodate 4-5 passengers not including the pilot. But this morning, it was just Julie and I and we checked out the aerial scenes as Adam provided commentary on the area.
We flew over the Gibbs River Road, which Adam said had just opened up a week or two ago due to the late Wet Season. As a matter of fact, there were lots of green on the ground, which Adam said was quite unusual to see this far into the Dry Season.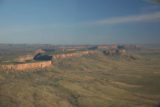 Eventually, we would pass over the exclusive El Questro Resort before following the Kalumburu Road heading north to the Mitchell Plateau.
Much of the remainder of the ride was pretty smooth going and the vibrations of the twin engine plane with its constant sounds almost lulled me to sleep.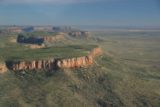 During the flight however, we engaged in some conversation with Adam. We told him about our exploits so far in the Top End. And somehow the conversation turned to the town of Katherine, where Adam said there were lots of Aborigines who lived a sad existence that consisted of waking up from a druken stupor at midday, drinking more alcohol the rest of the day, and passing out at night only to have this cycle repeated again.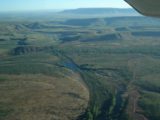 I think Julie and I began to understand why there were so many BYOB restaurants in the country as we could see the connection between alcoholism, Aborigines, and how easy it is to lose the liquor license.
We also reckoned there might be some of that in the Kununurra township, which we witnessed last night as we were strolling around town during the day and at night when we bought the Fish and Chips.
It just went to show us that everyone has problems or a past they'd like to forget about. There was no one utopia though Norway seemed to have the least of the poverty-related problems from what we could tell.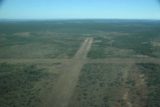 By 9am, we had arrived at the Mitchell Plateau Airstrip, which was basically a giant plus. What was unusual about this was that we would land on an unsealed surface, which was something I don't recall we had ever done before.
And when we finally landed, we were allowed to use the toilet before another fellow took us into a chopper and flew us towards Mitchell Falls at 9:45am.
The pilot did a couple of figure 8 formations so we could photograph the falls in the open-air flight. We even saw a side waterfall called the Big Mertens Falls, but that was in shadow at this time of day and not that photogenic. Then, he headed to the top of the uppermost of the four tiers of Mitchell Falls.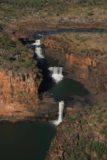 As we landed, we ducked and moved away from the chopper towards the front. The pilot went ahead and grabbed our day packs and our complementary lunch. He then went on to tell us that he would return at noon.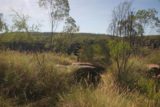 So the chopper took off and left us alone atop Mitchell Falls. At first, the trail didn't seem very obvious, but eventually, we saw a few arrows painted on some of the rocks and we followed them.
The scrambling looked intimidating at first but the trail soon became pretty obvious and in about 15 minutes, we were at a precarious overlook that looked directly at the gorgeous waterfall.
It was cool and shady at the overlook as the morning sun painted the rocks around the falls red and made the misty columns contrast with a shiny white.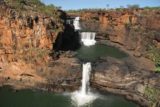 Julie and I took photographs then had our picnic. The picnic was a refreshing sandwich with cold juices to wash it all down. We enjoyed each other's company and the incredible vista before us.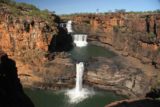 It wasn't much longer before a pair of people from the UK greeted us. I think they expected to be the first ones here since they did the arduous drive and hike to get here. They thought we cheated when we spilled the beans about choppering here.
But before guilt started setting in, I thought long and hard about it and realized that our half day of being at the falls via plane and helicopter was probably as equally environmentally impactful as driving a 4wd through rugged riparian terrain and habitats for two days. Either way, I guess we had negative impacts to the land no matter how we would see this waterfall.
And so we conversed at length about work, holidays, and our touring plans. This couple said they were going to drive through the Simpson Desert after this. Now that's really going off the beaten path, I reckoned.
Anyways, time flew by and it was nearly 11:30am. We had to get closer to the makeshift helipad to meet the pilot again by noon. So we said our good-byes and proceeded to scramble back. Along the way, we caught a few more unusual views of the waterfall below us.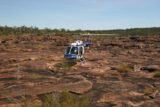 And like clockwork, the familiar sounds of the chopper loomed and eventually touched down in the middle of the circled rocks after doing a figure-8 formation for another pair of passengers. One of them was elderly. I hadn't thought of this before, but this service did provide access those who would be physically unable to endure the rigors of the Gibbs River Road and the Kalumburu Road as this elderly woman demonstrated.
As Julie and I boarded the chopper, we saw one of the two UK couple we had just conversed with. She smiled as she waved at us as the chopper took off for the Mitchell Plateau Airstrip.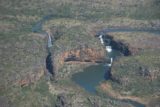 We made a couple more rounds above the falls and noticed Big Mertens Falls was no longer in shadow at this time of day.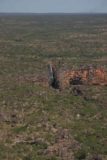 By about 12:15pm, we were back at the airstrip and got reacquainted with Adam. There was also another elderly couple who would join us on the flight back to Kununurra. So with our stuff all packed and ready to go, and all four of us squeezed in the small aircraft, we headed off.
This part of the flight pretty much followed the northwestern coast of Western Australia. The key feature in this leg of the tour was the King George Falls, which I looked forward to seeing as it was said to be the tallest waterfall in the WA (if you count tallest singular drops).
And so we looked out the windows to see various islands and isolated resorts. We even passed over the aboriginal community of Kalumburu.
I was amazed at how isolated these parts of the country were. There was even a hidden airstrip that the Japanese couldn't find during World War II. It was said that this was pivotal in terms of securing the Pacific front of the war, though there were a few close calls when reconnaissance planes were shot down and were discovered to contain photographs of the hidden base.
Finally at 1:50pm, we got to fly before King George Falls, which was flowing but was in shadow and wasn't particularly easy to photograph. We did see a couple of boats around the area and wondered if that option was viable for tourists wishing to get closer to the falls.
The pilot knew we were into waterfalls so he made several passes to ensure I got some photographs of it.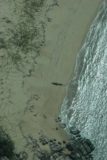 Then, we flew over some very remote beaches backed by sand dunes. There was a giant estuarine crocodile ruling these areas and the pilot wanted to make sure we saw it. And sure enough, we saw it lying still on a beach. Even at our altitude, we knew it must've been huge because of how easy it was to spot it.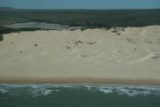 With the remainder of the flight still ahead of us, I started getting both tired and airsick. I think it had to do with the stuffy air since there were twice as many people on board as this morning. So I closed my eyes and let myself rest. But there were a few moments I would wake up due to turbulence when the plane would make a sudden but brief change in altitude that made our stomachs go up like a roller coaster ride would.
"Oops, there was a bump," Adam would say.
Eventually, we would return to the SlingAir landing strip at the Kununurra Airport at a little after 2pm.
Seeing how the Bungle Bungles SlingAir tour didn't take off until 2:30pm, Julie inquired about doing the tour. Unfortunately, they only had room for one passenger. And since I was a little airsick, I told Julie she could go off on the tour with my camera.
"Are you sure?" she would ask me.
"Yeah, I'm a little weary from all this flying," I said. After all, we had flown from Darwin to Kununurra yesterday, then had the ill-fated Kununurra Helicopter flight, followed by this long day of flying to Mitchell Falls and King George Falls.
And with that, Julie was on the tour and I headed back to the All Seasons Hotel Kununurra to relax.
By 6pm, Julie returned to the hotel and we had dinner in the complex as we had anticipated. The restaurant seemed quite busy as apparently a tour was being catered to. We were one of the few independent travelers and merrily minded our own business as I asked how Julie's Bungle Bungle trip went. I was glad to see that at least one of us got to go even if it costed more money.
The dinner was satisfying as we had established this rule that at least one of us had to get a fish dish of some sort. That was because they were far fresher than anything we had back in the States except for the most expensive restaurants. Barramundi was pretty much the fish we had grown accustomed to eating during our stay in Oz thus far, and we also had some of their crunchy garlic bread, which seemed to be served everywhere we went. I also indulged in some greasy chips (i.e. French Fries) to go with some of the mains we had.
And with the disappointment of yesterday's Bungle Bungle Bumble fading from our minds with today's exhilarating waterfall tour, we both slept well. We anticipated the flight to Broome and the long drive ahead tomorrow from Broome to Port Hedland. It would be the first day would do the long driving through the Outback in a passenger vehicle.
Visitor Comments:
Got something you'd like to share or say to keep the conversation going? Feel free to leave a comment below...
No users have replied to the content on this page