Day 1: MONTEZUMA AND MORDOR

Since brekkie (i.e. breakfast) came with our night's stay at the Cradle Mountain Lodge, I figured we mind as well stick around before we head out to Rosebery to resume our waterfall hiking.
This gave us time to take our time getting our stuff together before checking out as well as another opportunity to enjoy the premises.
At 7:30am, as we were on our way to the dining area, Julie noticed a kangaroo out in the open grazing amongst the brown grass between some of the cabins. This was a tremendous photo opportunity and already put us in good spirits on this nearly cloudless morning.
This was especially the case since the roo was practically in profile with the sun in the right place. Finally, a non-blurry kangaroo shot, I thought.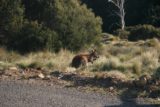 The brekkie was basically a buffet so of course the quality is mixed. We were busy stuffing ourselves so we would have enough energy for our excursions on this day without going too hungry after skipping lunch.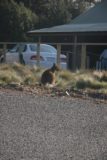 When 8:54am came around, Julie and I were done with brekkie and we checked out of the lodge. Then, we headed back to the A10 where we continued south and deeper into Tasmania's Wild West.
The drive was mostly through forest and pretty straight forward.
Just a little past the township of Rosebery, we followed the well-signed turnoff for Montezuma Falls – the main waterfall excursion of the day.
Now the name Montezuma conjures the Aztec God of Central American lore. So what does the Aztecs have to do with Tassie?
It turned out that there was a silver mining company named after the Aztec God Montezuma. I believe that company had American ties, which was how Tassie and Montezuma were connected. Anyhow, it was the causeway created by the mining operations here that made the falls as accessible as they are right now. So this was yet another rare example of how nature-unfriendly activities could actually be beneficial to nature lovers.
Anyhow, the unsealed road leading to the car park for the most part was straight forward. However, near the car park, there were giant potholes that could easily flatten a tire or damage the undercarriage if you're not careful.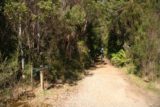 But eventually, we got to the large car park at 10:11am in one piece and we got our hiking sticks, camera gear, and hiking boots on in anticipation of this mostly flat 3-hour return hike.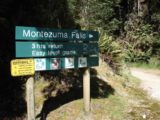 There were already cars here so obviously it was a pretty popular walk.
The hike proceeded to go through a forested area. It wasn't long before we found ourselves hiking on a track with tire tracks on its sides. Apparently, we shared this trail with 4wds as well as bicycles. Talk about a multi-use trail!
Fortunately, there were no 4wds to ruin the naturesque feel of the place. Though there were lots of muddy spots on the track, and we really tried to avoid these spots due to our irrational fear of leeches from my Thanksgiving Day leeching earlier in this trip.
We could hear the river down below the track so I reckoned there was hope in terms of there being some volume in the waterfall.
But eventually, the trail would start to go silent again. Apparently, the falls weren't on the loud watercourse we heard earlier, I thought.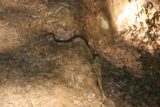 As we merrily walked along the track, there was one moment where I stopped immediately as Julie bumped into me from behind. It was a good thing that I tend to look down when I walk because I saw a black-looking snake.
Before we were able to take photos of it, the snake slithered away from us and didn't really allow us to get a good photo. Anyways, we proceeded on now wary of where we step.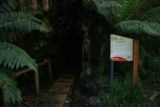 At about 15 minutes from the falls (there was signpost indicating so), we track narrowed further from a 4wd track to a normal walking track. We passed by some mine entrance called A??l. Neither of us really had any interest in going in there so we continued along the track before we reached a suspension bridge.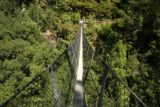 This bridge was long and narrow. It was also a bit bouncy so I made sure Julie was on the other side before I started walking on it. But right from the middle of the bridge, you could get a direct view of the 104m Montezuma Falls.
If you could keep your wits and your balance, you could take photos while on top of the suspension bridge. And you would see that the falls had quite good volume, especially considering the lack of rainfall and brown plains and hills we had noticed the last few days.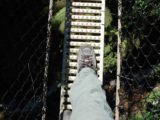 When we got to the relative safety and piece-of-mind of the other side of the bridge, we were able to see both the falls and the suspension bridge together to provide scale. The track continued beyond this area we were seeing the falls from, but we didn't bother checking out where it went. Anyhow, this waterfall was well worth the effort to get here and it was easily the waterfall-highlight of Tassie.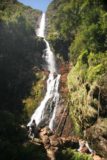 As we crossed back over the suspension bridge, we realized that we actually hadn't gone to the end of the track. So we turned right at the end of the bridge and continued towards a lookout area right at the base of the main tier of the waterfall (there were more cascades further downstream from here).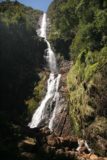 So we spent a good deal of time taking photos and just enjoying this moment. Apparently, this waterfall wasn't struggling as I had feared and it offered up renewed hope that some of the remaining waterfalls we have yet to see on this trip might put on a good show.
On the return walk to the car, we had noticed several people going the other way to the falls. So we didn't have the entire trail to ourselves due to the popularity of the site, but we certainly did have the waterfall to ourselves today.
It was 1:28pm when we returned to the car. Now it was time to get to Queenstown where we could check in to our next accommodation, but that wouldn't be for another couple of hours of driving, I reckoned.
As we continued driving the winding forested highway from Rosebery to Queenstown, we couldn't help but notice that my favorite station Triple J wasn't available anymore. So as we scanned the channels, we had heard some very interesting lectures about the world economy from the 70s to today.
It was extremely enlightening and as a result of one of their discussions, I had a whole new respect for the Carter administration and some of the difficult choices (however unpopular) they made to re-establish a more stable US economy. I could see parallels between how they raised interest rates to curb the runaway inflation even if it meant increased borrowing costs and would be highly unpopular with the public (who likes to borrow and spend). If only they could take a clue from the chief financial guy in the Carter Administration in this instance, maybe the dollar wouldn't be so devalued so much.
Anyhow, that was something we couldn't control except for at the polls and I seriously doubt most of America thinks about things this deeply to vote for people who could actually do everyone good.
Moreover, it really got me thinking about how much spin goes on in the media back at home and it sure was refreshing to get info and news from a more unbiased source – in Australia of all places.
When the lecture show started to end (the reception started going away anyways), we saw a distance-indicating sign telling us that Queenstown (along with other sites) was not much further. Upon closer inspection of the sign, someone marked "Mordor" next to Queenstown. This piqued our interest to see what exactly the perpetrating jokester was talking about.
Well it wasn't but a few more minutes when we arrived at the town of Queenstown. And it became immediately clear what the jokester was talking about.
We could see quarries and factories sprung up before these bare mountains that watched over the old, rustic town. Obviously mining was big in these parts, but boy did the look and feel of this place really suffer.
Queenstown was also the latest example of place names I was familiar with in New Zealand that also appeared in Australia. We had seen places such as Hamilton, Murchison, Glenorchy, etc. But in this particular case, in terms of beauty and charm, this Queenstown was nowhere near the Queenstown in New Zealand.
So at 3pm, Julie and I checked in to our accommodation on the eastern outskirts of town. Then we dropped off our heavy luggage and traveled light as we headed west for the 45-minute drive through curvy roads to the coastal town of Strahan.
When we got into that township, we got a taste of the small town charm when we passed by a cop going the other way who actually gave us a friendly wave. How often do you see that?
This charming town was right on the waterfront against Tassie's wild west coast. By now, the clouds have rolled in already and started producing some light sprinkles. Other than that though, the water was calm and no umbrella was required.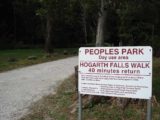 We would eventually head past their esplanade and pass through the gates of the People's Park at 4pm. There, we got out of the car and did a short hike on a very popular and well-developed track towards the Hogarth Falls. There were a few downed trees, which made things difficult for those on bikes, but the walk was still easy and relaxing.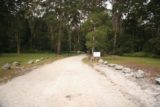 The end of the track at the falls was already crowded with about a half dozen people. The falls itself wasn't very tall though it did have a lower tier that you couldn't photograph since the viewing area was above this lower tier.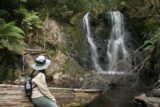 When all was said and done, we returned to the car at 4:45pm. By then, the rain started to come down. We got out of the park in plenty of time so as to not get locked in and we immediately cruised over to the esplanade for a dinner (knowing we wouldn't want to be eating in Queenstown).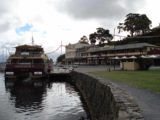 We eventually settled on this waterfront cafe where we got grilled local fish and some fresh Tassie oysters for entree (i.e. appetizers). The food was good and quite satisfying considering we hadn't eaten since brekkie at Cradle Mountain Lodge.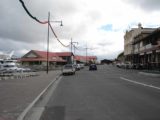 At 5:45pm, we left Strahan and took the curvy 45-minute road back to Queenstown. Once there, we just cleaned up and went to bed. But even as we went to bed, we could tell that it was raining outside. This was good news for the waterfalls we would be seeing tomorrow, I reckoned…