Day 3: DOO-ING THINGS IN TASSIE
Having packed in preparation for travel later on today, we loaded up the car, checked out, and we left Hobart at 7:32am.
As usual with the early morning starts, we found a meat pie stop at this place called Sorell. And soon after getting the goodies at 7:52am, we then continued out towards the Tasman Peninsula.
Eventually, we'd pass through this town called Doo Town, and the first thing I noticed while driving through here was how the signs all had the word "doo" in it in place of the word "do".
So we saw signs like "Doo have a great time!" or "DOO NOT FEED WILDLIFE" or other things of that nature. So I'm sure we were going to make sure that we "doo" spend our last full day in Tassie (or in Australia for that matter) to the best of our abilities.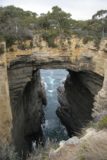 It was about 8:50am when we parked the car at a well-established car park where the main features we were looking for were all within walking distance.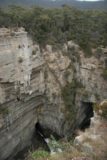 So we spent some time looking at the impressive Tasman Arch, which was a large sea arch that we had to look down through it. I wondered how much time would it take before that arch would collapse seeing how the London Bridge in the Great Ocean Road seen earlier on in this trip collapsed a few years ago.
Nearby this attraction was also the so-called Devil's Kitchen, which looked to be a jumble of cliff formations scoured by the turbulent Southern Ocean.
We returned to the car at 9:28am. We opted not to extend our stay and walk all the way to Paterson's Arch (1 hour return) or Waterfall Bay (2 hours return). I wondered if I would regret this decision, but I guess we weren't that optimistic of seeing the waterfalls given the mostly dry conditions we had seen for most of this trip.
At 9:32am, we parked the car at a different car park and checked out the blowhole.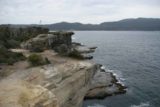 This blowhole actually looked more like a long natural tunnel (or sea arch, if you will), but inside that tunnel, we could see water get shot out sideways across the tunnel whenever swells would come into the cave and cause pressure in there.
The sideways jets actually blew across the tunnel in at least two spots inside the sea tunnel so perhaps there were multiple blowholes in there!
At 9:52am, we got back in the car. Next, we drove over to Port Arthur.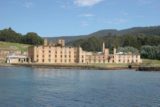 At 10:19am, we arrived at the busy car park for Port Arthur. Apparently, this very popular spot was well known for history though it was also infamous for a shooting massacre that took place here a few years ago. Apparently, gun control laws were enacted resulting from that incident. As I learned about this, I couldn't help but wonder how multiple massacres in the US concerning guns could occur, but nothing would happen.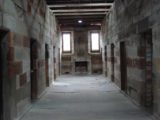 Our visit to Port Arthur pretty much consisted of walking amongst the preserved ruins of the former prison colony. I guess this kind of reinforced that butt of a Kiwi joke how they'd take jabs at Aussies saying they're a bunch of convicts.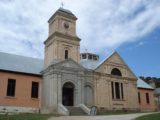 So Julie and I pretty much self-toured the place for a couple of hours. But eventually, we decided it was time to return to Hobart, and we ultimately got back in the car at 12:27pm.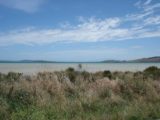 By about 1:57pm, we were back in Hobart. We had a late afternoon flight to get from Hobart to Melbourne. Then, we would have to take the long haul flight from Melbourne back to LAX as a long red-eye flight.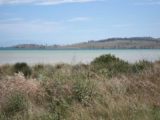 So as we returned the rental car back at Hobart, there were mixed feelings of anticipation (homesickness had set in especially given the negative impacts of the drought on the nature sightseeing) as well as sadness (I didn't want to get back to life and back to reality). But in either case, all good things must come to an end…