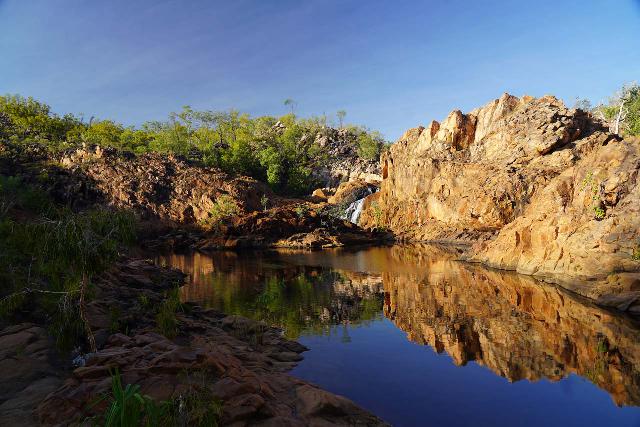 8-June 2022 to 17-June 2022:
The first thing that alarmed us was that they didn't check our bags through to Darwin, which was worrisome because the connection between flights was tough.
We only had about 85 minutes to make that connection, and that was the best case scenario if there were no Qantas delays, which recent history told us that it was not likely to be free of delays if our 2017 experience was any indication.
So right off the bat, we were already worried about missing that flight from Sydney to Darwin (which was our ultimate destination for the start of this trip), and what the consequences would be if we did miss that flight…
Days 0-2 (June 8-10, 2022 – Darwin, Northern Territory, Australia): "Immediate Switch To Plan B"
It had been a very hectic day even though I took the day off from work to tend to travel preparation needs… and I needed all of the time available to tend to it.
Good thing I didn't show up to work only to have to come back to a chaotic mess and then head back to the airport again.
Indeed, the morning started off with spending a good chunk of it doing last-minute finances so I could get bills paid off while also tracking our expenditures (especially regarding which accommodations have already charged us and which ones didn't).
I then got into trying to make sure all GPS waypoints were accounted for before shifting my focus to printing out research notes, which I hadn't had the chance to do (and almost forgot to do it until around 3pm rolled around).
It took longer than usual because the printer kept trying to cool down, and so it wasn't until about 5:10pm when that was finally done.
I did manage to squeeze in a brush and floss but no mouthwash, and then Julie and I tested the baggage weights since we were bringing a lot for this upcoming 6-week trip to both Australia and Bali.
We did have to do some weight re-distribution since Julie's luggage was way over, and we eventually managed.
We also frantically tried to finish off whatever would likely spoil or not last when we'd get back, but we still failed to finish things like cantaloupe, apples, pears, avocados, and kefir, etc.
So we gave away what we could to both our next door neighbor as well as Dad, who showed up to pick us up at around 5:50pm.
The drive to LAX actually wasn't too bad, and we ultimately arrived at the Qantas check in at about 6:35pm, which was about 4 hours ahead of our departure time.
The first thing that alarmed us was that they didn't check our bags through to Darwin, which was worrisome because the connection between flights was tough.
We only had about 85 minutes to make that connection, and that was the best case scenario if there were no Qantas delays, which recent history told us that it was not likely to be free of delays if our 2017 experience was any indication.
So right off the bat, we were already worried about missing that flight from Sydney to Darwin (which was our ultimate destination for the start of this trip), and what the consequences would be if we did miss that flight.
Nevertheless, we checked in our bags knowing that we'd have to recover our luggage in Sydney, which would make it even tougher to make the next connecting flight.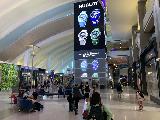 At around 7:20pm, we got past the airport security which actually wasn't all that bad though we were quite early for our upcoming flight to Sydney.
We ended up waiting a while for an Umami Burger at the airport, which had a long line and an even longer wait for the food after placing the order, where it seemed quite clear that this place was understaffed, which was kind of the theme of a post-pandemic workforce.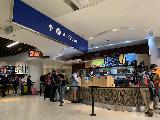 By around 8:50pm, we were done with dinner, and then we made our way to our departure gate for our Qantas flight to Sydney, but the whole time, we were playing in our head what was going to happen if we missed our flight to Darwin, which was looking more and more like a certainty.
I kind of played in my head that my instincts were right about us taking the very inconvenient 8pm flight to Darwin and arriving there at almost 1am.
And so we took proactive action by calling the accommodation about our situation as well as the Enterprise Rent-a-car desk about keeping our reservation knowing that we wouldn't be able to retrieve the car at the scheduled time of around 12pm on Friday.
As Julie got a hold of someone for the apartments in Darwin CBD, she was told that we were getting a lock combo texted to us.
Meanwhile, the Enterprise clerk at the Darwin airport was really helpful to us as he worked around our situation and changed our pickup for the Darwin CBD while we can still return the car at the Darwin Airport a week later.
So with that squared away, we were still holding out hope that there was an outside chance that we still might make it to Darwin and still get our rental car during business hours while still letting us enjoy the Darwin CBD before it got dark.
However, those hopes were quickly dashed when it got to the scheduled boarding time at 10:10pm but then we saw that we weren't boarding the plane followed by an announcement that catering was just starting their work.
So the new scheduled boarding time was now 10:30pm.
Well, by about 10:35pm, another announcement was made saying that catering was still doing work and that would have to be succeeded by plane clean-up so the new boarding time was now 11pm.
Anyways, that pretty much nixed any hope we had of making our connecting flight to Darwin at 8:25am (our flight was supposed to land at 6:55am), but these delays made it highly unlikely.
Nevertheless, by about 11:25pm, we finally boarded the plane, where the family got the entire back row, which probably wasn't the greatest for de-planing when we would land in Sydney.
But we wanted that back seat so we had easy access to the restrooms while also being able to do a little exercising to keep the blood flowing so DVT would be less of an issue.
Mom and I got acquainted with our flight attendant who was really friendly and seemed genuinely interested in allaying our concerns about missing our connecting flight to Darwin.
Tahia and Julie followed several minutes later largely because Tahia was too short to be able to do the automated facial recognition barricades at the gate.
Still, once we got everything sorted out, the plane finally started taxi-ing at around 11:55pm, but it didn't actually take off until about 12:55am!
By that time, there was absolutely no way we were going to make it to our connecting flight to Darwin.
And so the flight pretty much went off without too much issue. The staff served dinner, and the friendly flight attendant who kind of got our side of the aisle gave us an excess of red wine (since we were getting beef and veggies for dinner).
She told me that it was a way to "get into the Aussie spirit" and that "it would knock me out" as she knew that we were looking forward to sleeping and doing the red-eye on this long 14-hour flight.
That said, I swore it was probably going to be more like 16 hours after the delays.
After the meal, the next several hours were kind of a blur as I ended up falling asleep to the Matrix Ressurections and probably caught about 6-7 hours or so of shut-eye.
Maybe the sleep was aided by my double-masking which probably provided less oxygen to the brain making it easier to pass out, I guess.
It wasn't until maybe around 3-4am (Australian Eastern Time) that I pretty much stayed up for a bit as I got around to finish watching Matrix Ressurections which I thought wasn't that bad of a movie even though lots of people seemed to be sour on it.
When that was done, I then fit in watching some show about Unchartered New Zealand (since my choices were limited thanks to a non-functioning touch screen where I couldn't press anything scrolling to the right side or even backspacing on a search).
Then, that was followed up by watching some two-part documentary on what happened to Brittany Murphy, which further made me think that the whole Hollywood business was a really unhealthy and sleazy world.
During the tail end of that movie, we got served breakfast, and we got to conversing with the friendly flight attendant again concerning our connecting flight situation.
She actually asked if we got it sorted out, but all we could say was that we were told to talk to the ground crew when we get past passport control and customs.
When our attention was turned towards what we should and shouldn't declare, Mom decided to give away all the trail mix, which we gave to our flight attendant.
Julie learned that her name was Ann Marie, who seemed to have more of what I thought was a rural Aussie accent (but I could be wrong) though she said that her home airport was indeed Sydney.
After the plane landed some time at around 8:10am, we bid farewell to Ann Marie and quickly made our way into the terminal.
It was such a pleasant flight experience that it made us forget about how snarky the flying experience can be on our domestic flights in the states.
It was also nice to know that we felt much safer being in Australia than back at home where you never know if you're about to be a random victim of another shooting.
By about 8:45am, we made it to the passport control line, which was slow as there was only one border patrol agent manning all the foreign passports.
We did go through the trouble of doing the ePassport ticket, but since Tahia couldn't do it as she was under 16, we had to go through the slow line anyways.
Eventually at around 9:15am or so, we finally got past the passport control and then got our luggage from the carousel.
From there, we spent another several minutes getting a couple of sim cards so we can communicate with vendors locally in Australia, and then Mom exchanged some emergency cash.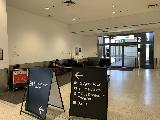 Eventually at around 9:40am, we made our way to the Domestic Transfer Kiosk, where we were momentarily confused about taking the T-bus to the Domestic Terminal.
But it turned out that we were in the right place as someone was able to help us get onto the next flight to Darwin, which was actually an international flight to London with a stopover in Darwin.
I guess that would explain why we never saw this flight in any of our booking attempts before as the next flight after that would be the 8pm flight arriving at nearly 1am (the original plan from the get-go).
So with the boarding passes in hand, at least we were supposed to be assurred that we will have a flight to Darwin on this day and arrive at a reasonable hour (even if we wouldn't be having our rental car today and have to wait to get it tomorrow morning).
It was non-ideal, but the important thing now was that we should be able to resume our trip provided nothing else terrible happens with this 4.5-hour flight from Sydney to Darwin.
By about 10:15am, we did a bit of hiking to several areas of the airport in search of a toilet, and then we had some food before getting through another long passport control line and security before finally getting into the "secure" area.
From there, we went looking for our gate for the upcoming flight, but none of the info boards turned up any information about our QF1 flight.
It wasn't until we talked to a random Qantas employee at Gate 33 where she told us that our flight was supposed to depart from Gate 10.
Then, we made a long hike to The House, where we hoped to take advantage of our Priority Pass so we could use that airport lounge.
Well, after quite a lengthy hike to get there, we learned that they weren't accepting Priority Pass members at the time because it was too full.
So that was a bit of a bummer, and it further convinced me that whatever benefits we thought we were getting from the Sapphire Reserve card was really dwindling and making me question whether the annual fee was still worth it.
Anyways, with that disappointment out of the way, we eventually got back to Gate 10, which was pretty quiet and there was still no information confirming that we were indeed at the correct gate.
Nevertheless, we used some plugs to charge up the phones, make some confirmation phone calls, and finally get around to starting the trip at our first accommodation.
In fact, without a rental car (as the kiosks would be closed by the time we arrive), we'd have to taxi to the apartment, and I wondered if here we should be able to exercise and file a claim with Allianz to recoup at least these unforeseen transport costs.
After all, the delays costed us our ability to pick up our rental car during business hours at the Darwin Airport.
And so while it might be too late to show up to a night market in the Darwin CBD (even if it is a Friday night), at least we should be able to proceed with some degree of certainty barring another lengthy delay or unforeseen cancellation from Qantas…
Eventually, more people started showing up at the gate right around 2:30pm, and sure enough, there were Qantas representatives at Gate 10 pretty much confirming that we were indeed at the right place.
By about 3:55pm, we finally boarded the plane, which turned out to be quite the full flight. I was sitting behind one window seat section where the rest of family sat.
I sat next to a friendly young pair of London transplants living in Sydney, and they were making the long haul all the way to London Heathrow while we only had to get off at Darwin.
It wasn't ideal to have to do a 4.5-hour flight so late in the afternoon, but at least it was better than flying out at 8pm and getting to the apartment at 1am!
Anyways, the plane took off at 4:15pm, which was about 30 minutes after the scheduled departure time (kind of similar to our low batting average for the flight taking off on time in each of our two most recent Aussie trips).
But at least we were finally on the last leg of our air journey.
By about 8:25pm, we eventually got through the sparse passport control (getting a little bit of a scare when the border patrol agent couldn't read the chicken scratch on the orange sticker for Mom's passport).
But ultimately, we got our luggages, and then we had to catch 2 taxis to get to the Darwin CBD, which costed us around $35 each (or $70 total).
I'm pushing again for Julie to file a claim with Allianz this time and we'll see if they pay up since this double taxi was a result of the Qantas delays.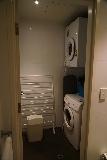 Ultimately, we then were driven to the Darwin CBD, which took on the order of about 20 minutes, and that went without a hitch.
And then finally, we got the keys from the lock box, and proceeded up to our apartment.
It was a waterfront view though it wasn't all that spectacular since it was of the wharf and ferris wheel and mostly the courtyard as well.
And at over $600 per night, this had better pay off, but at least this place was quite spacious and we're finally looking forward to cleaning up and getting some shuteye.
With us needing to get the car tomorrow morning, I decided that tomorrow would just be the Darwin day and that we'll have to push one of the Litchie days towards the last full day in the Top End before flying out to Bali the following day a week later than today.
So again, the plan B that we had to enact at the very beginning of this long travel journey still is having an affect on us, but at least now I think we're in better control of our destiny for this upcoming week.
Still, we'll see how it all plays out as there were still Kakadu closures associated with this trip that we know we have to contend with…
Day 3 (June 11, 2022 – Darwin, Northern Territory, Australia): "Faulty Recollections"
It was about 6am when we awoke to the alarm.
The first thing on my mind was putting our Travel Insurance to the test given all the complications that happened yesterday (or two days ago since the ordeal pretty much took the better part of two days).
That said, I was struggling a bit with Allianz's claim system where I kept getting 504 gateway timeouts or a non-working website where the pulldown menus were prone to not working.
I also had to hunt a bit for the American version of Allianz since it kept wanting to direct us to Australia's version since we're in Australia now.
I'd eventually submit a claim after a while, but it was hard to convey the currency difference between Australian dollars and US Dollars since our receipts are in Australian dollars.
Part of me is going to think that this claim won't be successful since it would be hard for the adjustor to verify given the currency differences, and it didn't look like we could amend the claim after it was submitted.
Plus, it looked like we'd have to file a new claim for the most expensive meal at the airport that Julie didn't get a receipt for, which was the Vietnamese pho place. And I'd have to punt on that one since the charges on the credit card didn't go through yet.
Regardless, that seemed to have consumed most of the morning, but by about 7:25am, we finally got to a point where we could leave the apartment and go for a walk to the Enterprise Rent-a-car in the city.
So we ultimately did that as we went across the quiet waterfront, in front of the WWII Oil Tunnels (which we'd circle back to when they open), and then across the Sky Walk onto the Esplanade.
As we went along the Esplanade, we noticed some government buildings and a courthouse, which seemed vaguely familiar to what Julie and I saw when we first briefly visited the Darwin CBD back in June 2006.
But our memories of the place was so faulty as it had been so long ago that we really couldn't recall anything to jog the memory and correlate them to what we were currently seeing.
All we knew was that we were able to follow along the Esplanade and noticing some partially overgrown views towards the ocean (Timor Sea?) where there seemed to be oil tankers in the distance.
The pathway veered to the north along the Esplanade where there started to be the Bicentennial Park (I think), and there were now more greenplaces as people were going on early jogs and walks.
We also started to notice a bunch of hotels and high rises lining the Esplanade as we continued to go north, and eventually we'd see the Enterprise Rent-a-car kiosk a little before 8am.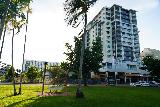 However, no one was there so we walked a little more along the Bicentennial Park as we were wondering if we could catch the sunset over there (as we were certain Mindil Beach would be quite happening).
By about 8:10am, we returned to the Enterprise RAC kiosk where no one was still there to open up, so Julie and Tahia decided to head over to the Cole's for a takeaway brekkie.
But just as Julie was a little outside of earshot, the Enterprise rep showed up and opened shop, and it was just Mom and I checking in.
At 8:45am, we ultimately got a pretty sweat Toyota Land Cruiser, which was a giant truck with very high clearance though Mom had trouble getting into the vehicle since there was a step.
That would at least give us confidence that if there's a 4wd road, we should be able to handle it though I'm sure Jim Jim Falls would still be out-of-the-question.
Anyways, we left the Enterprise RAC kiosk with the high clearance truck, and we then drove over to the Cole's hoping to find Julie and Tahia there.
However, when we went there, we had a little trouble finding the legitimate marking, and so we circled around, then drove back to the Enterprise kiosk, and then drove back to Cole's again after not finding them.
But when we got up to the Cole's from the underground car park, we couldn't find Julie nor Tahia so we just picked up some water and some snacks.
Eventually, we got back to the Enterprise RAC kiosk, where Julie and Tahia were waiting (and not pleased with us), and then we picked them up at 9:15am.
At least the Enterprise rep got the contact number from Julie that he asked for since the sim card phone was with her.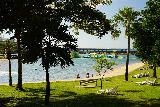 Ultimately by about 9:30am, we returned to the apartment car park, which came with a bit of trouble in trying to open the gate (we weren't sure if the fob was working) and a bit of arguing with Julie about where the gate entrance was.
Regardless, we ultimately got into the car park when someone was leaving, and then we eventually started walking towards the WWII Oil Tunnels, which was the first priority of our impromptu city touring of Darwin (since it was sporty to do our originally planned Litchfield day today).
The tunnel was basically an entrance surrounded by an umbrella and some passerbys with a lady sitting there collecting money for admission.
Once we did that, we were pretty much allowed to go through a very long and narrow tunnel flanked by a huge pipe.
There were steel gratings on the floor to keep our feet away from the puddles of water, which we weren't sure how dirty they were.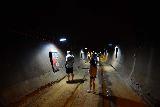 After reaching the end of the first corridor, there was what looked to be some kind of engine room or something where there was a view into another long tunnel or storage chamber while there was another tunnel that we could walk into.
So we took that short tunnel that then led into a really long and large tunnel where it seemed like most of the visitors were at.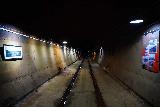 In that larger tunnel, there were interpretive signs as well as some art displays with some electrical piping to provide illumination.
At the very end of this tunnel was what seemed to be the back exit where there was actually vehicular traffic though this was only for emergency exit purposes only.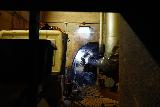 I guess the atmosphere of these oil tunnels underscored the history that Darwin went through as it was bombed by the Japanese during WWII.
A lot of the pictures of struggles and how the old waterfront was razed kind of seemed eerily reminiscent of the Russian invasion of Ukraine that was going on today.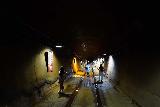 Indeed, war can easily degenerate into a stalemate with nothing but casualties and loss of infrastructure, and it's really messy business.
Yet it's crazy to think that all it takes for so many lives to be adversely affected by war comes down to the decisions of one person or just a few people.
Where in the Darwin case, it was Emperor Hirohito, but in the Ukraine, it was Vladimir Putin.
And going back to the Iraq war, it was pretty much imposed by a government with oil and military ties (and motivations) that got their way and forever messed with the Middle East.
The more I thought about these things, the more I realized that as long as we keep empowering the corrupt and not-so-savory characters (primarily in the resource extraction industries like oil and gas), the more a**holes we're letting have their way until they get empowered enough to cause problems.
It's even more important now than ever to try to go as green as possible, but that essentially democratizes energy as opposed to concentrating wealth to the ignorant and the not-so-great segments of humanity.
Anyways, by about 11am, we left the WWII Oil Tunnels where Mom and I decided to walk the scenic route back to the Darwin Waterfront while Julie and Tahia should be going back to the apartment to get swim clothes and meet us at the waterfront.
Well, when we got to the waterfront, it turned out that Julie and Tahia spent all that time just scoping out the waterfront without getting the swim gear, so that was a bit of a waste of time.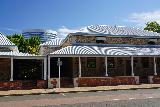 And so ten minutes later, we ultimately all went back to the apartment to get changed, and then we headed back down to the waterfront again to finally pay to do the wave pool.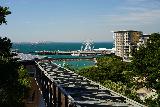 With Mom looking out from the outside, Julie, Tahia, and I went through two 10-minute bouts of waves, which were pretty intense (at least more intense than any of the wave pools we've done at places like Hurricane Harbor and Great Wolf Lodge).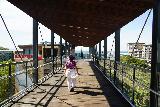 Indeed, this would have been great to catch waves if you're body boarding, but it turned out that none of us knew how to catch waves (at least I didn't know how to do it anymore let alone stay on the boogie board while paddling).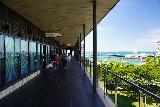 And so we were getting pretty much beat up, especially in the shallow end, where I kicked the ground a few times and worried I might have dislodged my toenail.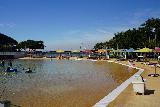 When we had our fill of this place at about 12:15pm, my right big toe was bleeding and it didn't feel very good when I took steps using that foot.
As we were heading back up to the apartment, Mom picked up some food to go, which was basically a steak burger, a hamburger, some fish and chips, and a chicken wing.
At 12:30pm, we had our lunch from our balcony which was a nice spot to enjoy the views while also enjoying the takeaway food, which was quite good (Julie and I forgot what good quality the Australian foods were compared to back at home).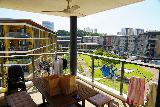 It was a nice way to spend a lunch as family without worrying about catching coodies from other people in a crowded establishment, especially since we still had a bit more air travel to go when we have that Indonesian interlude after spending a week at the Top End.
By about 1:30pm, we headed back downstairs and into the rental car as we were going towards the Jumping Crocodile excursion that Julie really wanted to do.
Part of me wondered if this was a great way to experience crocs since feeding them isn't exactly a great way to keep wildlife wild.
Anyways, when we tried to leave the underground parking, the fob wasn't working and we were stuck until someone was able to go around us, which allowed us to tailgate her out of the area.
From there, we knew that we had to address this issue with the front office, which fortunately they were open at this time.
So we temporarily parked across the street from the waterfront area where the office was, and then Julie quickly went into the office to get a replacement fob.
Once that business was done, then we headed out for the roughly hour-long drive towards the Adelaide River en route to the Jumping Crocodile tour.
This was definitely something we never did before when we were last at the Top End in May or June 2006, and so this was going to be a new experience for sure (though what we did in Darwin this morning felt new as well even though our memories were faulty).
By about 2:35pm, we arrived at the Original Jumping Crocodile Tour car park, which had a rather comical statue of a tall croc standing on its tail.
We eventually did the tour, which was basically a boating safari on the Adelaide River and one of the tributaries, where the driver would spot saltwater crocodiles and then approach them to try to get them to jump after the meat at the end of a stick.
Deep down, I wasn't sure about this practice, but it was very impressive how huge some of these saltwater crocs were (some were upwards of 6m long!).
I think we spotted probably about a half-dozen of these huge crocs, and it was funny how the driver was able to identify these crocs by name.
These crocs were definitely in their habitat and it would be very unwise for any person to be anywhere near the water given the presence of these true dinosaur descendents.
Anyways, by about 4:20pm, we were back in the 4wd truck, as we had our fill of the crocodile, and we pretty much followed a fairly busy caravan of vehicles back to Darwin City.
The drive was about an hour long, but with Triple J on, I was enjoying the tunes while the ladies were mostly asleep in the car.
That said, we did learn that apparently this was an Australian long weekend (the Queen's birthday) so that probably explained why the rates were so high for this stay in Darwin.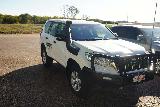 Still, it was surprising that people in Australia still celebrate the Queen of England though I did recall that Australia was still governed by the queen technically (so there's still that debate between Oz being a republic).
Regardless, we ultimately made it back to the familiar Coles in Darwin City at 5:15pm, which was a little before sunset though we didn't get to catch the sunset.
However, we did buy some food so we could use the grill on our balcony to enjoy a dinner at our apartment as we were really trying to milk the amenities at this apartment.
By about 5:55pm, we were back at the apartment, which we learned that the new fob works, so finally we could enjoy the accommodation worry free.
And so we wound down this day as Mom was grilling up chicken as well as marinated kangaroo meat along with some broccolis, and so we had ourselves a pretty low key dinner though there was clearly quite a bit of commotion going on at the Darwin Waterfront.
In fact, it seemed more happening here at the waterfront instead of the Darwin CBD which seemed to be a bit dead by comparison, especially for a Saturday evening.
We were pretty fully stuffed with our dinner as it felt like we were eating a bit too much on this trip, especially after having gelati from the waterfront downstairs for dessert.
With all said and done, we were all still feeling a bit tired as our body clocks were still not adjusted to the local Australian time.
And so we all pretty much crashed well before 10pm (I think we slept around 9pm or so), and I guess that wouldn't be too bad since waking up early wouldn't be a problem tomorrow, where we'll finally get to experience our first waterfall of the trip in Litchfield…
Day 4 (June 12, 2022 – Darwin, Northern Territory, Australia): "Over Romanticized?"
It was about 3:45am when I awoke, and it wasn't but 15 minutes later when everyone else woke up for the day as clearly we were jetlagged still (though it actually worked in our favor since we got an early start to the day, which was absolutely necessary).
So we spent the next couple of hours getting ready for the day while also having quite a brekkie that consisted of the store bought kefir with fruits, some toasted sourdough bread that Julie got from the grocery store, some store-bought turkey and cheese, and leftover kangaroo meat.
I know I was pretty stuffed since I was the only person having the kefir and fruits, but I also had to eat the bread and roo meat.
Nevertheless, to make a long story short, we were in the car by about 6:10am, which was pretty much on time for us as we knew we'd be driving in the dark for this first hour or so as sunrise wouldn't happen until some time after 7am.
But we knew that we'd have a packed day today, which was why we needed to try to sneak in some driving time as we made the two-hour drive south towards Litchfield National Park by way of Robin Falls.
As we were gaining momentum with our drive and darkness was slowly giving way to the dawn, we noticed that there were some fuel reduction burns going on near the side of the road.
They were scary-looking, but they definitely seemed to have lit up the pre-dawn semi-darkness though seeing a couple of kangaroo roadkills was a sobering reminder of how much of a threat they are when driving around the darkness.
By the time we made it past the signed turnoff towards Litchfield National Park and continued towards Adelaide River, the sun had pretty much breached the horizon and we could now drive a little more confidently (i.e. up to the 130km/h speed limit).
Eventually by about 7:35am, we arrived at the narrower Dorat Road before taking that south for a few minutes towards the signed Robin Falls turnoff.
Once on the unpaved and somewhat rough road, we were glad that our truck had such high clearance that we could confidently take this road, and it started giving me the idea that perhaps we should be able to do even do Tjaynera Falls towards the end of this week (right before we leave for Bali).
Anyways, we'll see how that goes, but if there was ever a time we could try to pursue that place that I had been targeting ever since it was closed on our first visit back in May or June 2006, well that time would be this trip.
That's especially the case since we knew that Jim Jim Falls and Twin Falls would not be accessible by land on this trip while even heli tours wouldn't go because there wasn't enough flow (as stated by the operators) to even run such tours.
As we continued on the somewhat rough but short road, we noticed loads of campers alongside it so this place wasn't as quiet nor as unpopulated as I would have expected.
And by 8am, we eventually made it to the end of the road where the Robin Falls Trailhead was, and there were a handful of spots to park at though I had a feeling it wouldn't be much longer before such limited spaces would fill up.
Indeed, with this being a long weekend in the NT, it definitely felt a lot busier than it did 16 years ago!
Nevertheless, we promptly geared up and started doing the hike upstream towards Robin Falls, where it seemed like there was plenty of water in the stream, which bode well for the state of the waterfall's flow.
We didn't have any trouble following the path though it was quite rocky and surprisingly slower going than anticipated, but we eventually managed and even saw one guy who had gotten an even earlier start hiking in flip flops on his way back.
Right after greeting him, we did see that there was a somewhat tricky deadfall obstacle to get around, which we eventually did after outthinking ourselves as we stayed to the right of the creek (but contemplated crossing it).
And finally at around 8:20am or so, we arrived at the impressive three-tiered Robin Falls, which had noticeably lesser flow than the first time around, but it was still attractive.
This time, I scrambled along the right side to try to at least get up to the base of the upper two drops for a more satisfactory look at the falls, especially with a tree kind of blocking the view of the uppermost tier as seen from the base.
The rocks here were surprisingly slippery even when dry and even though I was wearing the Vasque St Elias hiking boots, but I ultimately managed thanks to a tree stump that I was able to use as a step to get up a small ledge and up to the side of the pool between the third and second drops.
Tahia also joined me up there while Mom and Julie stayed below, and we enjoyed this spot for a few minutes as the sun was penetrating the cliffs above us though not quite striking the waterfall at this early hour.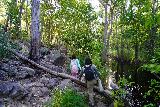 By around 8:30am or so, we had our fill of this spot and then proceeded to go back down the trail to the trailhead though we encountered at least 3 or more hiking parties attesting to this place's recent popularity.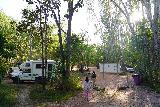 And by about 8:45am, we returned to the land cruiser where we indeed noticed that there were other day trippers parked by us as well as perhaps more commotion around the campers here as well.
And with that, we drove off towards Litchfield National Park where I was now a bit nervous about contending with crowds, especially at Florence Falls, which I knew would be busy as it had gotten popular in recent years.
Nevertheless, the drive going north on the Stuart Highway was pretty uneventful as I noticed many more cars going south as we headed north, but I did have to be careful about overspeeding.
Eventually, we arrived at the Crater Lake Road, which cut across west towards the Batchelor Road, and then we pretty much followed slower drivers for a bit into Litchfield National Park.
We noticed quite a crowd of people taking pictures by the Litchfield NP sign as well as a few other people checking out the Magnetic Termite Mounds though I decided that we should punt that one until the penultimate day in the Top End.
That way, we could buy ourselves a little more time to get what we needed to get done first, and then catch the Mindil Beach Night Market tonight.
By about 10am, we arrived at the pretty busy Florence Falls car park though there were still enough parking spaces for us but it was rapidly filling up just as we arrived.
I had contemplated also checking out the Buley Rockhole, but we'd have to punt that for the penultimate day as well since that was less of a priority today.
Once we geared up and got out of the car (also contending with these interesting-looking light brown mozzies which were definitely around), we then proceeded to go onto the developed walk leading to both the lookout as well as the bottom of Florence Falls.
Nothing about this walk seemed familiar to me as my memory could be faulty, but I didn't recall the lookout being some distant from the car park.
When we did get to the lookout, there was very limited real estate to get our contextual views of the waterfall (including a hidden upper tier that you couldn't see from the bottom), but there were noticeably a handful of people already in the swimming hole below.
After going down what appeared to be 125 steps or so (Mom counted 132), we ultimately got the base of the waterfall where there were already lots of people either going into the pool or just chilling out.
But we were more ambitious than that and wanted to cut across towards the middle of the plunge pool's mouth so we could get a more direct look at the twin waterfalls.
We had to remove our shoes and scramble barefoot for that as we realized that we had forgotten to bring water shoes or at least sandals to get down here, but we ultimately managed and documented the falls as well as some videos in the process.
Both Julie and Tahia joined me and so we enjoyed the spot though Tahia was getting bolder about scrambling around the rocks where both Julie and I were a bit worried about the risks she was taking and didn't want her getting hurt.
Thankfully, no incidents came about, and we eventually got out of the documenting mode at the bottom of Florence Falls, where we then saw how much busier the bottom of the falls had become by the time we rejoined most of the people and put on our shoes.
Good thing we got here when we did, but we now started to leave the base of the falls at around 11:10am, and after going up the steel steps (I swore they re-routed the path as there was less cliff contact where I recalled seeing hidden wallabies), and ultimately returned to the car at 11:30am.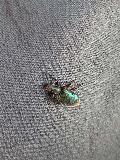 Indeed, by this time, we had seen countless parties of hikers (mostly in swimming gear and carrying tubes or noodles), and even the car park was very full with people using spillover spots by now.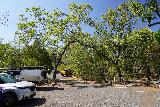 And so we drove off, skipped the Buley Rockhole (punting that for the end of this week), and then headed towards the Tolmer Falls.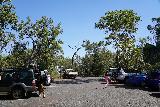 We got to Tolmer Falls at around 11:45am, where the car park was also pretty busy but we did manage to score a shaded spot as this was more of a look-but-don't-touch kind of waterfall.
So we promptly geared up and got out of the car, and then we followed the well-developed path towards a lookout of the escarpment, which was on a different route than I had remembered from last time.
Now, that lookout was on a separate elevated path with a shelter, which was interesting and probably indicative of improved infrastructure from 16 years prior.
We then went down to the main lookout for the Tolmer Falls, where we were disappointed to learn that we showed up perhaps a couple of hours early as the falls was pretty much in shadow flanked by very bright cliffs.
Thus, it was difficult to photograph this waterfall, and I made a mental note that perhaps we'd have to come back to this waterfall again on the penultimate day to time it better.
So the list of stuff to do on that final day was definitely piling on, and I was concerned that we might not get to everything.
Anyways, Julie and Tahia quickly had their fill of Tolmer Falls and headed back towards the trailhead area while Mom and I decided to extend the walk to do the Tolmer Creek Loop in the hopes of getting a better look at the natural bridge.
It was about 12:15pm when we got onto the Tolmer Creek Walk.
The walk unsurprisingly didn't take that much time, but we did notice some No Entry signs fronting some rough trails leading down to the base of the natural bridge just upstream from the brink of Tolmer Falls.
We also noticed a handful of people in bathing suits down in the restricted area as they blatantly disregarded the signs, and we even noticed some other people doing a dicier scramble near the top of some escarpment probably in an attempt to improve their views of the natural bridge as well.
We weren't as disrespectful to get down to the bottom of the natural bridge (as much as I wanted to photograph the span with the sky behind it), but I did notice that now you could go down there on a guided tour instead of it being outright prohibited (like last time to protect some bat species).
However, when we got up towards a different cascade and outcrop along the Tolmer Creek Walk, I couldn't help but notice that there was an unsanctioned path that didn't have No Entry signage that we could take to get closer to the cascade below and possible the familiar downstream view of the span.
So Mom and I did indeed do that and managed to check out the natural bridge with some people at the lookout seen through the span.
I don't know why they don't just build a spur trail for this, but in any case, it wasn't that bad of a scramble though there was no way we'd reach the bottom of the natural bridge from our vantage point because there was a second natural bridge (more like a pothole) that would be too dangerous to go.
Anyways, once we had our fill of this spot, we then continued with the Tolmer Creek Walk, which went by some nice pink flowers before we completed the loop and rejoined Julie and Tahia who were waiting for us at the interpretive signage and shelter.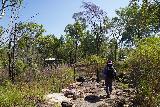 By about 12:50pm, we returned to the car park, and then we promptly headed over to Wangi Falls, which was our last waterfall for this day.
And so we arrived at the Wangi Falls car park at 1:05pm, where it was very busy largely due to tour bus traffic.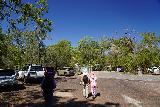 It was definitely way busier here than I remember 16 years ago, and I guess that was kind of the theme for today's visit to Litchie.
Anyways, Tahia and Julie were really hungry so we ordered some chicken mango toasties (i.e. toasted sandwiches) along with a chicken burger for Tahia, and we spent probably a half hour or so eating our lunch before finally visiting the Wangi Falls.
It was about 1:50pm when we headed down to the falls, and at that time, it was very busy at the closed off swimming area.
So we promptly headed over to the waterfall lookout area, which was also very busy but we managed to carve out a spot towards the far left side of the viewing area (even taking advantage of the bench there for more elevated views).
It was quite tight over at the viewing area, especially with tour bus traffic and families so we didn't linger here for long, but we did manage to get our shoes and over videos, and the lighting wasn't too bad either (though not as great as the first time when we were here at the end of the arvo).
At that point, the family headed back to the closed swimming area while I decided to head up towards the Tree Top Lookout and explore a bit of the escarpment above the Wangi Falls (as part of the Wangi Loop).
With time running out before getting to Mindil Beach, I had in my mind to only do the loop part way but not to do the complete loop.
And so I followed the walk into a monsoon forest before gaining in elevation as it was initially gradual and somewhat shaded before going up steel steps towards the Tree Top Lookout, which was nothing more than a rest area with no view.
I then continued further up to the top of the escarpment where there were some partial views of the lands further down below though there were also Aboriginal closure signs so whatever edge-of-the-cliff views to be had were not accessible.
I eventually got to the bridge spanning Wangi Creek at about 2:25pm, and it was at that point that I decided that I wasn't going to continue past the bridge to complete the loop (little did I realize that I was already past the half-way point of the loop).
Anyways, I then headed back down the way I came and rejoined the rest of the family at 2:55pm, where we then promptly returned to the parked car (noticing that the tour buses were gone at this point).
Then, we made the long drive back to Darwin via a different road that I hadn't taken before though we did encounter a long caravan of slower vehicles on the way back to the Stuart Highway.
Although the GPS projected a two-hour drive, it actually only took about 1.5 hours.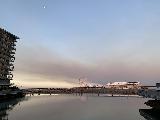 Nevertheless, when we returned to the Darwin apartment at 4:25pm, we then finally switched out of our hiking boots into sandals (that we had forgotten to bring in the first place), and then by 4:40pm, we were back in the car and headed to Mindil Beach.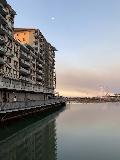 By about 4:50pm, we arrived at the very huge car park (more like grassy area) for the Mindil Beach Night Market, which was way busier now than I remembered in the past.
And so we proceeded to walk up from the far southern end of the night market (though it wasn't night time quite yet), and it was packed with people while flanked by food stalls.
It definitely lacked the magical ambience from 16 years ago probably because there were way more people but no didgeridoo bands adding that unique soundtrack to the experience.
And even when we looked over to the Mindil Beach itself, we saw that there weren't parasailers gliding before the setting sun like before as well.
Regardless, we waited in line to get things like the paella as well as a laksa, and we picnicked in a grassy area between the food trucks and the beach.
We also had some smoothies along the way before we then headed over the beach after eating.
From there, we chilled out and watched the setting sun though there was some smoke from the controlled burns, which made the sun glow red though not quite the magical glow from before.
And after the sun had set with a Japanese red sun appearance, we then proceeded to head over to the far northern end of the night market before slowly making our way through the crowds between the food stalls again.
On the way down back towards the south end, we did stop for some gluten free dessert spot as well as the familiar Roadkill Cafe though they were now serving burgers instead of skewers like before.
I did try a croc meat burger which had coleslaw in it, but it was kind of unremarkable. I did notice that they didn't have possums or other roadkill that were more familiar from the last time.
Anyways, by 7:25pm, we were back in the car, and we decided at that point that we probably didn't need to do the Mindil Beach Night Market again on the last night in the Top End when we'd return to Darwin.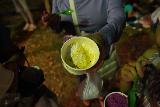 Speaking of which, we were to leave Darwin first thing tomorrow morning as we headed towards Kakadu National Park.
And so on the way back to the apartment, we did make a 7:45pm stop at Wooly's (Woolworth's) as well as a much-needed diesel stop (filling up $133 AUD in diesel), and finally got back to the apartment at 8:20pm to finally wind down the night.
With so much to get settled on from such a long day, we did finish up some nice white wine that was compliments of the accommodation, though that kind of knocked us out for the night.
And by some time after 11:30pm, we were all crashing and seeing if we'd still be able to get up tomorrow morning due to jetlag…
Day 5 (June 13, 2022 – Jabiru, Northern Territory, Australia): "Questionable Air Quality"
It was 3:50am when I awoke naturally (before the 4am alarm) so clearly we were still a bit jetlagged especially since we hadn't slept until some time after 11:30pm last night.
Just like yesterday, we pretty much spent the next couple of hours preparing breakfast while I was also blogging and getting our trip photos and documentation organized.
And oh yeah, we also had to get all packed up and ready to move on because we were now headed into Kakadu National Park for a bit of a change of pace from what we were doing the past couple of days.
So after getting stuffed from our morning meal of leftovers and kefir, we then proceeded to load up the car at around 6:25am.
Five minutes later, Julie dropped off the fob and key for the apartment, and then we were off towards the Aboriginal lands to the east.
Unlike yesterday, the drive through the darkness wasn't as bad since it already looked like the sun was coming up by the time we left the limits of Darwin and approached the Arnhem Highway turnoff.
Then, we pretty much continued straight to the east along this paved road where it seemed like it was a very long stretch of bushlands and floodplains with many wallabies scurrying this way and that (at least I didn't think any of them were kangaroos).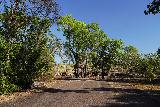 It was a long drive where we eventually made it to a turnoff leading towards Ubirr, and then we ultimately arrived at the Border Store at 9:10am (thinking we needed to purchase a Kakadu Pass).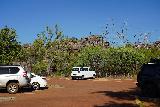 Well, we made a restroom break there, but apparently the tour guide that was leading a tour there told us that we didn't need to purchase one to go to Ubirr.
So we continued on, and by about 9:25am, we finally made it to Ubirr.
I know Julie and I did this place before back on our first visit around this time in 2006, but our documentation of that trip was pretty sparse and so we didn't really have many recollections of what it was like.
So it was like we were all experiencing this place together along with Tahia and Mom, which were their first times.
We ultimately did the Ubirr Walk in an anticlockwise direction for the next couple of hours or so, where we started with some art panels.
But the most impressive one was the so-called "Main Gallery" where there were numerous Aboriginal art panels in a huge overhanging rock formation.
Of particular note were some depictions of Aboriginals first seeing Europeans, where we saw one in white with a dude with hands in his pockets and legs together with feet apart (kind of like how they'd draw Popeye cartoons).
However, we tried real hard to look for another European in reddish ochre with a pipe in his mouth, and that one we had a lot of trouble trying to find (it was almost like a game of Where's Waldo?).
Well, that got Tahia and Julie really engaged, and there were even other people we encountered who got into the game as well, but I don't think anyone saw it (maybe we were looking in the wrong place or maybe it was smaller than anticipated or something).
Regardless, it was very impressive how some of the rock art made it up to the ceilings of the overhangs in seemingly inaccessible spots, but I'd imagine that they managed to get there when rock ledges were more available.
These days, they seemed inaccessible and the jumbles of rocks below might have hinted at their collapse over the millennia.
We also saw a depiction of what looked like a Tasmanian Tiger in the rock wall, which was also interesting.
Then, we headed over to the Ubirr Lookout, which required a short climb (kind of testing my knees as well as my Mom's), and there was actually a nice breeze up there as well as more overhanging rock art spots.
Up in those parts, we saw depictions of saltwater crocs as well as the odd barramundi or other fishing scenes, and we also noticed a very scenic view towards floodplains in one direction as well as more escarpment lands looking back in the other direction.
I could totally see why people thought this might be the best place for a sunset view though that wasn't going to happen for this visit as we didn't realize this possibility.
In the distance, we could see more smoke wafting up from the bushlands from all the controlled burns, and we came to realize that the air quality of the region must be really bad due to the combination of stale air and smoke everywhere.
So after having our fill of this spot, we then descended back down to the main trail, and then we checked out the last long panel of Aboriginal rock art which included the familiar rainbow serpent as well as some depiction of someone who had fallen ill to some disease.
We completed the loop walk and returned to the car park at 11:15am, where it was really getting hot in the day, and so we decided to drive back towards Jabiru to get some lunch before maybe going to Nourlangie Rock for another round of Aboriginal art.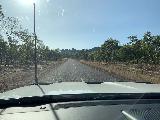 Well, by about 11:50am, we made it to Jabiru, where we found out that there wasn't really a cafe or restaurant serving lunch, and so we were at the Foodland grocery store, which was actually mostly empty shelves as the town really felt dead.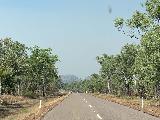 We did find a rotisserie chicken, which we self catered and ate at some tables in the Foodland, and that was our lunch.
By about 12:45pm, we were back in the car, and then scoped out the Crocodile Hotel for dinner tonight, and then by about 1:05pm, we checked in at the Anbinik Resort, which was where we were staying.
By 1:15pm, we settled into our room, and upon seeing the swimming pool by the restaurant here, Tahia was excited and so I decided to indulge her with just relaxing in the arvo at the pool instead of going for Nourlangie Rock today.
It turned out that it was in the low- to mid- 90s in Fahrenheit (or maybe 33-34C) and so I was feeling tired and not really in the mood to try to squeeze in Nourlangie Rock on this day.
So once we got into our swim gear, Tahia and I got to the pool, and she met someone named Elise or Eliza (not sure) who was really adept at swimming and they seemed to be spending quality time with each other in the pool.
They did stuff from messing with a praying mantis to finding rocks under water to trying to tag each other in the pool, and in the mean time, we were conversing with her Mom who was doing The Lap around the whole of Australia.
Apparently, the lockdown from COVID-19 kind of got Australians to do the Lap because she said lots of people were doing that, and they happened to be on theirs at the Top End even though they hail from Melbourne.
Anyways, they eventually had to catch their sunset view back at Ubirr, and in the meantime, we were returning to our room to relax a bit more, get cleaned up, and then head over to the Croc Hotel for a buffet dinner.
We got there at 5:45pm for the dinner, and it was good we got an early start right when they opened because we got to stuff ourselves before the tour bus crowd would inundate the dining area.
The food was not great, but for a 40 AUD per person buffet, I guess it was reasonably priced, especially considering how remote Jabiru was.
By 7:15pm, we made it back to our room fully stuffed (not really a fan of buffets), where for sure we'd eat at the Thai place at our accommodation tomorrow.
But with jetlag plus the heat of the day taking over our bodies by this time, we all crashed and went to bed anticipating the long sleep before tomorrow's early morning start for the Yellow Water Cruise as well as other Kakadu waterfalls.
We were supposed to do Jim Jim Falls from the ground, but it was still closed through the end of this month so that wasn't meant to be.
Thus, we're looking forward to visiting new waterfalls like Maguk and Motor Car Falls, both of which we didn't get a chance to do the first time around.
With Jim Jim Falls and even Gunlom Falls being nixed, we actually have more time than we know what to do with for tomorrow and the day after…
Oh well, you can't predict these things going into a trip, and like in life, you have to learn to roll with the punches and adapt as you go…
Day 6 (June 14, 2022 – Jabiru, Northern Territory, Australia): "First New Waterfall Of The Trip"
It was 3:50am when I awoke, and the ladies got up shortly thereafter at 4:15am as they were motivated to catch our sunrise tour on the Yellow Water Cruise in Cooinda, which was roughly some 45 minutes drive away from us.
So we wasted no time having a quick breakfast and getting into the car by about 5:25am as we embarked on a drive in the dark, which is always risky business in Australia given my experience with hitting a kangaroo.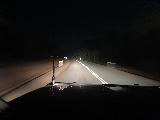 Fortunately, there was another car ahead of us going to the same place (or so I assumed) and there was also a full moon ahead of us.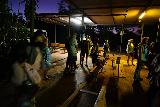 Thus, the drive went by without incident as both of us were going pretty slowly (at around 80kph throughout the drive), and we wound up at the car park in Cooinda at 6:10am, where we saw numerous people already waiting for their shuttle buses to the dock.
Once we parked, we promptly waited our turn to get into the shuttle bus with masks on (we were the only ones doing that since we knew the bus was cramped), and then we got to the dock where we all promptly got onto one of three boats waiting to head out.
Since we were four people, we all got either side of the same aisle so we could go back and forth throughout the boat during the tour though there were definitely mosquitoes around getting pot shots at everyone regardless of whether they put on repellent or not.
Actually, they managed to bite through our clothing though it was at least better than wearing short sleeves and shorts and getting nailed without repellent (as some people were apparently doing).
The tour promptly took off at around 6:45am as scheduled, and we had a very interesting mixed Aboriginal narrator with quite the sense of humor.
And on this day, we managed to catch the sunrise while also looking at lots of different birdlife as well as lots of saltwater crocodiles mostly in the water though there was one hard-to-see one on land.
I was hoping that at least one of them might sit by the banks of the South Alligator River or even Jim Jim Creek (which was where the boat dock was at) so we could get a clean shot of one like we did the first time here.
Speaking of first time, there was definitely way more boats and people on this tour than I recalled when Julie and I did this 16 years ago, and that was kind of the theme of any of the repeat visits that we had made since that first time.
Regardless, the tour followed Jim Jim Creek to its joining of the South Alligator River, where we then cruised northeast (downstream) for a bit while seeing more crocs and birds.
Then, we cruised in the other direction towards the flood plains where we saw a few more large crocs in the distance as well as some feral pigs and even more bird life.
The narrator said that this place got its name from some European explorers who misidentified the crocs as alligators, and then after the name stuck, it got too expensive to change all the place names on maps and official literature to correct it.
So the name stuck.
Another thing that the boat driver and narrator said was that there were hardly any freshwater crocodiles here, which was a surprise since we managed to see one 16 years ago when we were last here.
The issue now was that most of the freshwater alligators were poisoned by cane toads, which took over this ecosystem (though some of the bird life figured out how to eat them without exposing themselves to the poisonous backside).
The narrator also talked about how each of the last 8 years had weaker monsoons that started later.
And that was having an adverse impact on the wildlife here as that monsoon pretty much would give life to these lands.
He reckoned that the monsoon was shifting further to the east.
I guess that's the consequence of Global Warming and Climate Change messing with the finely tuned balance of Nature here.
Though this still didn't open up Jim Jim Falls in time for our trip as we had hoped.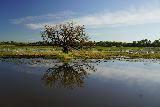 Finally at 9:10am, we got back to the car after the tour was over, but we didn't manage to get that croc sitting on the banks of the river with its mouth open like last time.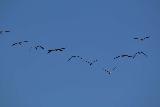 Still, it was a different experience here as opposed to the jumping crocodile experience, where they're actually fed on the Adelaide River so you can get a real closeup look at how big these things are.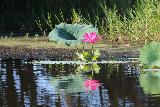 With the day heating up rapidly, we continued driving south towards Maguk, which was going to be the first waterfall that we hadn't done on our visit 16 years ago, and I was excited for that experience.
The only thing I was nervous about was the designation of it being a 4wd road to get there though our land cruiser was certainly very high clearance.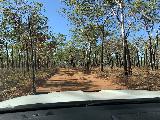 When we eventually got to the well-signed turnoff for Maguk (Barramundi Gorge), we then drove the seemingly benign road until it started getting very washboarded.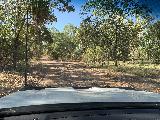 That pretty much limited the speed at which we could drive the road to somewhere between 10-20kph and I wondered if those people who were parked off the side of the entrance of the road were trying to let out air so they could gun it on these washboards (and minimize the chances of a flat).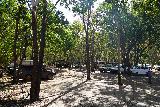 The problem with that was that we didn't have a kit to repump up the tires (or tyres) when we were done with this excursion so we proceeded with caution though there were some cars that were at a distance behind us while there were others gunning it in the other direction.
Eventually after getting past the worst of the washboards, we then went past some interesting termite mounds before getting past a sandy stretch that wasn't so bad (in terms of getting stuck) and we ultimately arrived at the busy car park at 10:10am.
Indeed, this place was quite popular for the Dry Season, but it was closed due to too much water when we last came here in 2006, and the issue was the amount of water and the likelihood of encountering saltwater crocs.
So after gearing up, we proceeded with the walk, which started off sandy and then quickly got into a monsoon forest where we eventually got to a bridge that spanned Barramundi Creek.
Once on the other side of that bridge, we then continued to follow the trail but it didn't take long before the trail was partially inundated by an overflow of the creek.
It was somewhat tricky business to keep going without getting wet, but we ultimately managed (and it was a good thing we brought trekking poles).
Beyond the flooded part, there were some deceptively calm waters of Barramundi Creek alongside the trail with croc warning signs, and that was when I realized that there were definitely crocs still around and why this place couldn't be open to the public until it was safe to do so in the Dry.
The trail then started to traverse rocky banks where we crossed the creek once again and then followed a rocky arrow-guided path all the way to the busy plunge pool before Maguk Waterfall.
There were lots of people headed in our direction as well as a handful of others heading out, which attested to the popularity of this place (probably exacerbated by the closure of Gunlom and Jim Jim Falls at the time).
But eventually by 11:10am, we arrived at the Maguk Waterfall, which featured a huge plunge pool that plenty of people enjoyed while coming prepared with floating noodles.
We just dipped our feet in the big plunge pool while documenting the experience, but plenty of other people were going right in the water to offset the Top End heat, which was definitely on at this time.
We probably spent around 20 minutes or so here before Mom and I started to look for a way to get to the other side of the creek as we had seen quite a handful of people on the escarpment on the other side and even more people at the brink of the falls there.
I realized that there was a trail marked on my Gaia GPS app, and perhaps we should pursue that.
I did recall someone saying that the opposite side was closed or something, but I guess I had to see for myself what was going on there.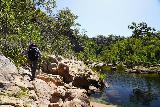 However, when we got to where the app said where the trail continued, it didn't seem all that obvious where we could cross without getting all wet, and we ultimately followed a "land bridge" that was pretty slippery.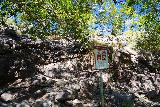 As I went across and found a path to get there without getting wet, Mom managed to slip and fall twice and got all wet (including her phone).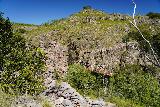 So she stayed behind while I continued with the scramble just as I saw a couple heading back.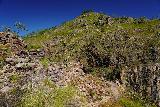 When I continued with the scramble, I actually had to go back downstream before following some faint trails going up the hill, and it was towards the top of the escarpment did I notice a No Entry sign.
Clearly, all those people that we saw up there earlier on ignored the signs, but I just proceeded anyways to see what was going on, but now I knew that going against the traditional landowners' wishes was not good.
In fact, I suspected that it was probably why Gunlom Falls was indefinitely closed when they didn't want people at the "infiniti pool" up there, but I guess the lure of social media made that an inevitable conflict.
By about 12pm, I got to the top of Maguk Waterfall, where the trail followed an escarpment ledge somewhat overlooking the plunge pool below.
But at the top of the falls, there were a couple more hidden waterfalls as well as some potholes that a handful of people were sunbathing by.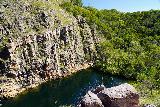 So I just documented this experience with guilt before heading back down to rejoin the family, and on the way back, it seemed a lot easier to return than it did on the way there.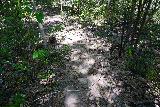 By about 12:15pm, I returned to the main trail and then quickly made my way back to the second creek crossing before my GoPro battery ran out by 12:25pm.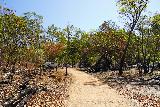 That was when I realized that the lens hood of my Sony was missing again, and I did recall hearing some strange sound even though my bottle was still on my side pocket of my day pack.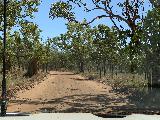 So I knew right then and there that I had to backtrack and recover that lens hood, which I promptly did (it was sitting not far from the second creek crossing).
Once I recovered that lens hood, I then continued with the return hike and ultimately returned to the trailhead at 12:45pm, and then we finally started to make our way back towards Nourlangie Rock at 12:55pm.
So it turned out that timing wise, we did the right thing by targeting Maguk and Nourlangie Rock on this day (I did entertain the thought of doing Motor Car Falls today, but that hike would be too long, especially given the hot temps).
The drive back towards along the Maguk Road was pretty uneventful though there was one guy who passed us and gunned it to the entrance of the road before he stopped there I guess to inflate his tyre.
I didn't know what the point of doing the passing and then stopping shortly thereafter, but regardless, the drive back to Nourlangie Rock was uneventful as we passed a couple of vehicles en route along the highway.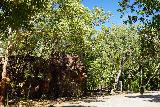 We also passed by more controlled burns as the air quality here continued to be bad, and we ultimately got to the Nourlangie Rock car park at 2:05pm.
We then quickly made our way to the Anbangbang Gallery, which was where we expected to find the "Lightning Man" though the more interesting artwork there was the grasshopper man.
Nearby that gallery was also the Nabulwinjbulwing artwork though there was no interpretation of what that was nor why it was there.
We then headed back along the base of the Nourlangie Rock as we checked out other panels at the incline gallery where there was a kangaroo hunting scene.
Then, we checked out the Anbangbang Shelter Gallery, which was a real impressive collection of overhangs.
Having watched Naked and Afraid, it definitely made us appreciate better how primitive shelters could be made easier by taking advantage of overhangs like this.
I guess the language of survival is universal, which the Aborigines have definitely demonstrated through these heritage sites.
Anyways, we returned to the car at 2:50pm as Tahia was really motivated to return to the Anbinik Resort.
She really wanted to spend time at the swimming pool there on the hope that she might see her friend that she met yesterday.
Indeed at 3:20pm, we returned to the Anbinik accommodation but the air quality was quite bad there, and Tahia didn't see her friend at the pool there either.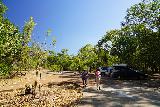 Still, that didn't stop us from going to the pool's cold water to get some relief from the hot temperatures of the Top End (which were definitely in the low 90s F or around 33C).
And with that, we wound down the day while waiting out the dinner at 5:45pm, which was a Thai restaurant on the property.
When that came around, it was quite busy as it was one of the few joints in Jabiru where you could have a proper meal (especially since the Croc Hotel was just a buffet dinner).
The Thai food was quite authentic and good (since the family running it seemed to be Thai), and we got two different kinds of curries as well as a pretty good pad thai (which of course Tahia liked) and a Tom Yum Goong with a couple of cold drinks.
It was a very satisfying dinner that we had, and it reminded me of how it used to be before Julie had her gut issues and had to cut back severely on the carbs and the refined sugars (though these curries definitely had sugar in them).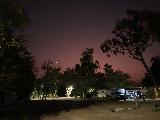 Regardless, we left the restaurant fully stuffed though this place was also quite busy and it was a good thing we started with the early dinner when we did because it took a while to get our food.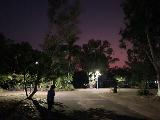 We ultimately got back to our room some time after 7:15pm while Mom and I made one quick lap around the property where we noticed an eerie red glow towards the west.
We weren't sure if that was a fire glow or if it was the last of the daylight. There was also a full moon that was looking somewhat orange due to the smoke taking down the brightness a few notches.
And with that, we ended off this eventful day though tomorrow, we had a long drive ahead of us with two more waterfalls along the way, but we need another early start to try to beat the Top End heat when doing the Motor Car Falls, which was first on tap for tomorrow…
Day 7 (June 15, 2022 – Pine Creek, Northern Territory, Australia): "Fair Shake"
It was 3:55am when I awoke, and I noticed that Mom was already awake. This probably had something to do with some loud screeching birds just outside that made it easier to wake up.
We then spent the next couple of hours getting all packed and ready to go while I was busy getting caught up on yesterday's events and while the ladies were getting brekkie and the sandwich lunch prepared.
So by around 5am, we were all having a meal together, and then we were loading up the car shortly thereafter (and battling mosquitoes already).
By around 6:05am, we were finally leading out of the Anbinik Resort where we then drove out into the dawn though it was still mostly dark outside.
We left probably a solid 45 minutes later than we did yesterday since we weren't going to catch another Yellow Water Cruise, and today's activities largely revolved around doing a hike to Motor Car Falls as well as an afternoon hike to Edith Falls.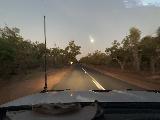 In between, there was a lot of driving, and speaking of driving, I had to really watch for kangaroos or other wildlife possibly darting out in front of the car in the darkness.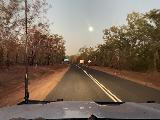 So I was pretty much going about 15kph below the speed limit just to try to give myself more reaction time should wildlife jump out in front of the car (even though our land cruiser was outfitted with a roo bar).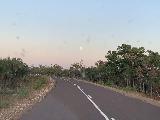 The drive was quite long and fortunately Triple J was kind of working so that helped to keep things interesting during the drive.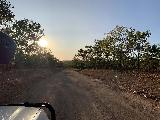 Julie and I also spotted a couple of dogs that crossed the road though we're not sure if they were dingos or if they were nothing more than someone's dogs whose job was to keep the cows in check (which we also saw from time to time).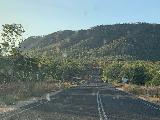 That was kind of strange to us because we were still in the boundaries of Kakadu National Park, which we thought would be free of farming.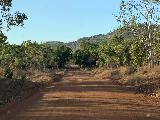 Anyways, we eventually got to the Gimbat Road turnoff, which also happened to be the same road leading to Gunlom Falls, but we knew that one was closed due to cultural reasons (i.e. visitors behaving badly).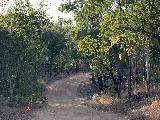 And so the fallback was the Motor Car Falls, which was something we never had a chance to do the first time around, but it also involved a bit of a fairly long hike to get there.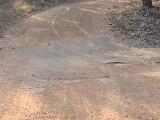 Anyways, the Gimbat Road was unsealed but it was well graded so we managed to still maintain a fairly brisque 60-80kph where the washboards were nothing as bad as the Maguk Road yesterday.
Heck, there was even a paved section of the road where some sign said it costed 6.5 million AUD though it only covered a short bridged section, which made us wonder whether they could have just let that part be unpaved and saved that money.
Ultimately by about 7:55am, we arrived at the Boulder Creek Car Park or Yurmikmik Car Park, and we were pretty much the only people there.
So we managed to take a guess and pick a parking spot that we thought might have the best shade as the sun would continue to come up, and we tried to gear up and take advantage of the early start before the sun would get more intense throughout the day.
After taking a while to get ready, we finally started the hike at around 8:20am, and during that idle time, I was reading the signs and decided right then and there to do both Boulder Creek Falls and the Yurmikmik Lookout on the way to Motor Car Falls.
Although there was a decent amount of shade at the beginning of the hike, it didn't take much time before we realized that this was indeed going to be a mostly unshaded hike.
We passed through what appeared to be a burn area (maybe from one of the many prescribed burns) before reaching a signed junction for Boulder Creek, and we pursued that spur to the right.
We got to the Boulder Creek Falls at around 8:50am, but it was eerily quiet there because the waterfall was barely trickling, which was not a good sign about whether Motor Car Falls would be worth the effort.
Nevertheless, we were here, and we were going to do it anyways, and so the ladies headed back to the main trail while I noticed that there appeared to be some flat area above the lower drop of the trickling waterfall.
It took a bit of a steep scramble, and when I got up there, I saw that there were a few shallow pools as well as where there should be a taller drop of the Boulder Creek Falls that was really be quite the scenic chill spot if there had been more water.
I guess they weren't kidding when the signs said that this was a wet season waterfall.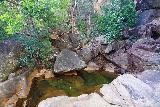 Speaking of which, I think this was one of the few spots in Kakadu National Park that were actually accessible in the Wet Season while everywhere else would be flooded or full of saltwater crocs.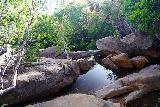 It made me wonder if we happened to be here back on our first visit in June 2006 whether this place would have been flowing!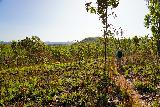 Oh well, with hindsight being 20/20, we can't turn back the clock on those, and with the weak monsoons, I guess that goes to show you how little water can persist into the Dry Season earlier and earlier in the year!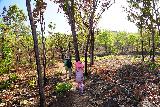 By about 9:05am, I made it back onto the main trail and eventually joined up with the ladies who actually stopped and waited for me not much further.
Then, we proceeded with the already pretty hot hike as we continued to get through the mostly unshaded trail and ultimately reaching another signed junction near the Yurmikmik Lookout spur.
Over here, we noticed that there was another car park nearby and it made me wonder if we could have parked here to shorten the walk.
In any case, we then took the spur up to the Yurmikmik Lookout, and we got there at 9:25am where we got a load of a very nice view of the escarpment lands and the Gimbat Road cutting through it.
Looking out in the distance, we wondered if Gunlom Falls was in that direction, but we wouldn't be able to check it out on this visit so we didn't think about that possibility any longer.
By about 9:35am, we were back down on the main trail and we continued the mostly straightshot hike where we were actually passed by a lady who was hiking quite fast.
That kind of let us know that we weren't going to be the only people on this hike as we anticipated, especially considering the amount of effort it took to reach in the Top End heat.
Nevertheless, we were making pretty good progress as the trail was mostly flat and straight shot with the escarpment to our right getting the benefit of the morning sun.
The straightshot trail ultimately got to a signed fork, where we kept to the right as it descended and went towards the escarpment where Motor Car Falls was to be.
The path on the left looked a lot less developed, and we knew that that path went towards Kurrundie Creek Falls.
Eventually, the trail degenerated into a bit of a boulder scramble next to Motor Car Creek, which definitely had water but we didn't hear much water flowing.
Finally by about 10:40am, we made it to the Motor Car Falls, which was just in time for the lady that passed us earlier was now on her way out.
As for the waterfall itself, we could definitely see the red wet streak of cliff where the waterfall fell down.
But it didn't have a whole lot of flow (more like a little more than a trickle), but the plunge pool was both colorful and gorgeous as it was flanked on three sides.
We could totally see how it was a nice swimming hole though we opted to sit on a huge boulder for a nice top down view of the pool.
So we enjoyed this spot for a bit, but it probably wasn't long enough because there were a couple of young ladies that showed up (though one of them had a bit of a cough and made us wonder if we were getting exposed to COVID-19).
Nevertheless, we took photos for each other, and then we let them have this place for themselves by around 11:10am (and also alco-wiping our hands as we headed out).
And so the progress on the return hike was quick, but we also noticed numerous people heading towards the falls throughout, which made us realize that this place was a lot busier than we had thought.
Finally by about 12:30pm, we were back at the car but it was very hot by then so we were all a hot sweaty and dusty mess.
And not only that, we saw that our parking spot was perfect as the car was still under the maximum amount of shade.
Shortly thereafter, we headed back to the Gimbat Road, but I did make a brief detour to see the other car park, which we learned was unsigned and quite easy to miss.
When we went down the single-track road to its circular car park, we saw that there was at least 6 cars there so clearly this spot might have cut off at least 1km in each direction of our hike.
Nevertheless, by 12:40pm, we finally continued the drive towards Pine Creek, which happened uneventfully though there was one cop that was sitting at the Pine Creek junction waiting to nab speeders.
By about 2pm, we filled up diesel ($180 AUD worth of it! at $2.28 per litre), and then we checked into the Pine Creek Railway Resort.
Out in these parts, it was already a pretty hot day, and by now, Julie and Tahia decided that they were going to stay at the resort and play in the pool there.
However, Mom and I decided to head out to Edith Falls by about 2:30pm (after having unloaded our luggage) even though it was a hot day and it was real tempting to take an afternoon siesta.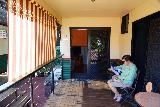 Regardless, the drive went by pretty smoothly though we had to follow a bunch of road trains (which were basically big rigs hauling at least three trailers worth of stuff).
They seemed to serve an important function in rural Australia though they really slowed down progress for the unencumbered drivers like us as there were limited overtaking spots and passing on the other side was not easy since there was so much oncoming traffic.
Fortunately, we didn't have to contend too much with the road trains because before we knew it, we saw the turnoff for Edith Falls and took that for the final 20km to the car park, which we got to at 3:20pm.
There was actually some kind of kiosk there, and given the hot weather, it was tempting to get a milkshake there, but we ultimately decided not to do it.
And someone informed us that they were closed anyways though there were still people at the kiosk, which kind of puzzled me about his comments.
Anyways, we promptly walked to the familiar swimming areas, which featured a huge plunge pool, which numerous people with floating noodles took advantage of.
And it was also clear to me that afternoon was definitely the best time to be here (and not the early morning like we did back in 2006).
Moreover, we were determined to do the Leliyn Loop Trail to really see what this place was about and not just settle for the distant views of this waterfall and then take off.
So after having our fill of the put-in spots for the swimming areas here, we then got onto the bridge spanning the Edith River (where I saw that there was a lot of water downstream and it made me wonder how they managed to keep this place crocodile-free).
Anyways, we then climbed up an escarpment on some switchbacks, which was brutally hot as the afternoon sun was beating down on us.
Eventually, we made it up towards the top of the escarpment where I managed to get a nice view back across the Edith River and towards the car park.
But as we continued through the well-arrowed trail, we ultimately got to the signed Bemang Lookout at 4:30pm, where we then promptly went to a very nice lookout peering towards another large plunge pool though no one was down there.
However, the real appeal of this spot was the upper waterfalls, which immediately made me realize that I had really not given Leliyn a fair shake from our first time here.
So now instead of giving it a 1 for scenic rating, this place really should have at least a 2.5 given this view alone!
After having our fill of the Bemang Lookout, we then descended a rocky track leading down to the a pair of footbridges with a really nice series of pools fronting the uppermost of the waterfalls being reflected in those pools at 4:55pm.
The red of the surrounding rocks contrasting the blue skies really made this place stand out scenically, and Mom and I realized that we had experienced one of those magical moments you get every once in a while when you're in the right place at the right time in Nature.
It took us a lot of time to really experience this spot as we scrambled around and got to a slippery series of rocks fringing a secluded plunge pool revealing a hidden cascade as well as a frontal view of the uppermost of the waterfalls.
However, the afternoon shadows were creeping up on that falls so that was our cue to leave as sunset was coming up.
After having our fill of this spot, we then went up to the Leliyn Lookout which was nothing more than a view down towards the main plunge pool down below near the car park.
So we didn't linger here for long, and we ultimately took the remainder of the loop trail back down to the car park, which we got to at 5:45pm.
Upon passing one of the signs on the way back, I also realized right then and there that I had also pronounced Leliyn wrong because I kept thinking it was spelled (in my mind) as Leilyn!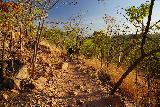 So not only did I not give this place a fair shake, but I also got the name wrong! Indeed, this experience was like visiting this place truly for the first time and that 2006 experience didn't really count.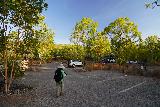 I guess it goes to show you how haste really does make waste, especially when you're younger and you think you have to hit all the places without truly appreciating what's there by slowing down!
Anyways, we started driving back towards Pine Creek, which only involved one passing of a road train, and we even managed to see the sunset from the road though there was a seemingly thick dark clouds up ahead, which we knew came from the prescribed burns.
By about 6:30pm, we made it back to the Railway Resort, where there were lots of loud birds making noise, but we saw that Julie and Tahia weren't around so we walked over to the Lazy Lizard Tavern.
That was when we spotted them and joined them for dinner as well as sighting a few captive snakes at the tavern.
By about 7:30pm, we finally had our fill of the food, and returned to our room, which was still very hot because the AC was never on.
And after it took some time for the AC to be on and cool down the steamy room, we then finally wound down this eventful day knowing that we'd have another long day ahead of us tomorrow as we'd return to Darwin by way of Litchfield National Park again…
Day 8 (June 16, 2022 – Darwin, Northern Territory, Australia): "Second Chances"
It was 3:45am when I awoke once again without an alarm though on this day, I was motivated to get caught up on the blogging and photo organization from yesterday's eventful day.
Since Mom slept in the living room area, she was already awake as per her usual early bird self.
Not much longer after that, the rest of the family was awake and everyone did their roles to try to get ready for the day knowing that we had a long day ahead of us as we sought to go back through Litchfield National Park again to make up for the stuff we didn't get to do earlier.
Back then, we had targeted the main waterfalls of Litchie, but because it was part of a long weekend celebrating the Queen's birthday, it was also pretty busy everywhere we had gone.
So the expectation on this day was to get through a lot of stuff on this day on our way back to Darwin as we were trying to take advantage of our last full day in the Top End of Australia.
After having our brekkie and getting packed and loaded, we started to head out from Pine Creek at 5:50am.
Not surprisingly, it was still dark outside and there were even some birds chirping away above our unit at the Railway Hotel.
We then proceeded to drive north on the Stuart Highway in the dark, which once again is risky business but I made sure to stay well below the speed limit (by at least 20kph) just to buy myself a little more reaction time should a roo come darting out in front of the 4wd vehicle.
Well, I already had to follow a road train early in the morning and tried to use him as a screen, but eventually I had to overtake him on one of the few overtaking lanes, and then I was in the lead for a fair bit.
There was one guy behind me who was doing what I would have done, and that was using me as a screen so I had the responsibility of watching out for wildlife dashing in front of the vehicle.
Fortunately, this drive went without incident, and we even got to enjoy the sunrise where the sun came up in a blaze of red on the eastern horizon while we noticed that we were heading back into the smoke from the prescribed burns of both Litchie and Kakadu.
As the daylight was continuing to take over from the pre-dawn darkness, I'd eventually start to gain confidence that I could start going the speed limit again and ditch the high beam.
There was actually a surprising amount of pre-dawn traffic going south towards Katherine, which indicated to me what a well-traveled artery this road was for the Top End.
Anyways, we'd eventually pass through the familiar Adelaide River town, and then head left on the Crater Lake Road towards Batchelor.
This time on the approach, we were pretty much alone and didn't have to worry about passing anyone at the moment, and so by 7:45am, we arrived at the Magnetic Termite Mounds.
When we got there, we were perhaps the second car to have come here, but just as we were getting out of the car, there were a couple more cars that showed up (one just came and went and kept on keeping on).
The air quality was noticeably bad on this morning, and so we actually wore our masks to try to limit the smoke inhalation coming from all the prescribed burns.
We took some time checking out the so-called Cathedral Mound, which was a large termite mound surrounded by a catwalk, and then went over to another tall one that you can pose next to.
I swore in the past that Julie and I walked close to more of these termite mounds, but maybe my memory failed me, especially since I never recalled there being a catwalk amongst these mounds before.
Going on the opposite side of the car park, there was another catwalk peering out into an open field of tall grass with more flatter termite mounds among them.
This field looked more like a cemetery as there were a bunch of them scattered about this open plain, but the funny thing about these were that they were flat and they all seemed to be oriented in the same direction.
I guess that's why they called this place "magnetic" because apparently the termites here knew how to build them in a north-south direction as if they were guided by a compass or something.
It was interesting how these termites built up these giant mounds because we were used to termites eating up our home where we had to be vigilant against them lest we let them undermine the integrity of our home structure.
Anyways, by about 8:15am, we were back in the car and then we proceeded towards the Buley Rockhole.
By about 8:25am, we arrived at the car park for the Buley Rockhole where we were one of just a handful of vehicles here, and we then proceeded to walk the short loop through the picnic area towards the rock hole.
I wasn't sure what this place was about since Julie and I didn't bother to stop here on our first visit, and this was another one of the things that we had punted for later.
But after getting to Florence Creek, we could see that this place featured a series of cascades with some pools that you could swim in and plenty of steps leading towards the creek.
As we were documenting this place and trying to soak up the experience, there were a bunch of kids with floaties and swimwear going right up to the upper pools and cascades of the Buley Rockhole, and they promptly went right into the water and doing cliff dives.
Indeed, there were literally dozens of these kids, and it made us wonder if the kids here even had school or not because I wasn't aware that they had school holidays during these winter months as far as the Southern Hemisphere was concerned.
Anyways, we enjoyed watching them doing jumps at an obvious deep part of the Buley Rockhole, and it was very apparent why this place was so popular, especially since the Top End gets really hot as we had experienced over the past week.
Pretty soon, there were more people of the adult variety in addition to the kids, and indeed this place was filling up fast at this time of the morning.
So I could have imagined just how crazy this place would have been had we attempted to checked it out during the Queen's birthday long weekend earlier on in this first days of this trip.
After having our fill of checking out the ambience of the Buley Rockhole, we then proceeded to finish off the loop walk noting that there were more spur paths leading to the creek further upstream of where the main cascading waterfalls were.
However, those were empty and there weren't really waterfalls there to check out so we pretty much circled back through the picnic area and back to the car park at 9:10am.
At that time, the car park was definitely more than half-way full, but we noticed that there was a van that said "school bus" on it (and in fact, we saw another bus load of kids or adolescents heading to the rockhole).
I guess this must have been a field trip for the local kids or something.
Anyways, with this out of the way, we still had most of the morning ahead of us, and so the moment of truth came next as we now pursued the Tjaynera Falls, which was one waterfall that we didn't get to visit in the past due to too much water.
However, now that the road was open, I knew that it was a legitimate 4wd and if there was ever a time to take advantage of our vehicle to visit a waterfall, well now was the time.
So we proceeded to drive further to the west past the Tolmer Falls turnoff and eventually we got to the Reynolds River Road, where we promptly turned left and then headed into a narrow single-track road that went past a gate that was open.
It already looked a bit intimidating due to the narrowness of the road and the fact that we definitely needed the high clearance because the tyre depressions were deep and the grassy mounds in the middle conspired to bottom out any low clearance vehicles.
But just minutes after we started to get used to this single track road, we then had to enter what seemed to be a lengthy river crossing, and this was intimidating because the water was murky and we couldn't see the "road" underneath the surface of the water.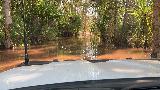 This freaked out everyone in the car, and I had to admit that I was a bit intimidated about it, too, but I engaged the 4wd mode of our vehicle and proceeded onwards into the water.
It really felt like the water was getting deeper the further we were going, and we got to a point that we wondered if the water might get through the doors and into the vehicle.
But it turned out that we were going through 0.6m of water (which was around 2ft or so) so it might now have gone above our tyres, but it sure felt like we were about to float in the river!
Mom kept asking where the road was as we were going through the river, and Julie was also quite nervous about this stretch.
Even Tahia was a little worried and she's usually the daredevil of us all.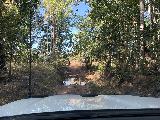 Well, we eventually got past the river crossing, and then we got over a fairly big rock step and back onto the 4wd road, which was actually a bit tamer going forward.
That said, we still had to contend with washboards and some sandy stretches (I guess the Sandy Creek moniker, which was Tjaynera Falls' other name, was appropriate), and I was definitely glad we had a vehicle well-suited for a road like this.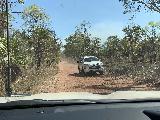 There were some 4wd vehicles coming back in the other direction, which made things interesting in terms of having to pull over to let other traffic pass in the other direction.
But eventually, we got past the turnoff leading towards the Sandy Creek Campground and Day Use Area as the Reynolds River Road was closed and gated right at that turnoff.
We'd eventually arrive at the Tjaynera Falls day use car park at 10am, and we were quite surprised that there were already at least maybe a half-dozen vehicles there.
That didn't even count the handful of other 4wd vehicles that had already left on our way in, and that kind of indicated to me that this place was indeed pretty popular despite how most rental vehicles couldn't even fathom coming here!
And so we geared up and proceeded to do the 1.7km (in each direction) Sandy Creek Trail as we left the campground and proceeded along a pretty obvious and well-traveled trail with minor undulations.
It was getting hotter by the minute as we were proceeding along the trail, which stayed along some small escarpments with a monsoon forest to the right of us.
The trail then crossed a small creek (though I didn't think that was Sandy Creek), and then we went through a more open area where the intense sun was really beating down on us despite the thin trees around us providing quite limited "shade".
By about 10:45am, we finally made it down to the edge of the plunge pool of the Tjaynera Falls as there were already about a half-dozen people getting into the water just as we showed up.
And so the ladies were taking off their shoes and dipping their legs in the water while I was busy documenting this experience as the sun hadn't quite breached the tall escarpments here.
So the falls remained under the morning shadow but the reddish cliffs next to it were lit up so that made for some tricky lighting.
Nevertheless, this was a tall waterfall that was probably every bit as tall as Wangi Falls, but this one felt way more intimate and less crowded, and so this was well worth the risk and effort to get to.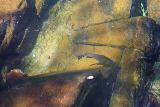 The plunge pool of Tjaynera Falls was a little on the dark side due to the shade caused by the escarpments nearby, and the plunge pool was huge so I could totally see why this was quite the swimming hole to enjoy.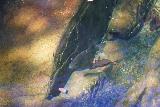 Eventually after I was done documenting this experience, I then joined the ladies for a quick dip while taking pictures with them.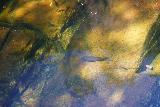 The water didn't feel terribly cold, and after taking our pics, we saw that there were more people showing up.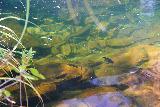 There was even one guy who was flying a drone as well as having some superzoom lens camera telling me that he had spotted a lizard (I suspected it was a monitor lizard) along the banks of the creek.
I also noticed that there were some interesting fish in this plunge pool near the shallow end of the plunge pool's entry point.
The signs here said that this place had a very low saltwater croc threat so a lot of people felt very comfortable coming into the plunge pool and swimming way over to the base of the falls with their floatie noodles.
By about 11:30am, we had our fill of this place and then proceeded to head back to the car park, which we eventually got to at 12:05pm.
I was kind of bumming that we didn't get to listen to Dr Karl at the time, but I knew that we could eventually check it out in a podcast when there was downtime.
Nevertheless, it was definitely pretty hot by the time we got to the car, and we spent some additional time having a picnic lunch in the shade on some stumps and rocks between one campsite and the car park.
So by about 12:30pm, we finally got back in the car and headed back down the Reynolds River Road where were had to have been at least 3 or 4 more 4wd vehicles coming back the other way as we were headed out.
We also documented once again the harrowing experience across the Reynolds River, but this time Tahia had her head out the window and she confirmed that the water didn't actually go above our tyres so it looked deeper than we thought, but it wasn't really that big a deal.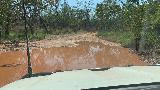 Since Julie was worried about checking into our Jetstar flight to get to Bali since it was getting to within 24 hours of our departure time tomorrow, we first drove over to the Wangi Falls area thinking that perhaps we could use a WiFi there (if it was working at all).
It didn't work the last time we were here, but we went there anyways to buy ourselves some time to try to catch Tolmer Falls with the right lighting.
But when we got there, Julie doubted that we'd get any access, especially since Optus coverage was non-existent in these parts, and that was the sim card that we had bought at the Sydney Airport.
Nevertheless, we then proceeded to drive back towards the Tolmer Falls car park, and we got there at 1:20pm, where Mom and I then proceeded to walk out to the lookout.
However, when we got there, the falls was still in shadow and the lighting wasn't great.
So we opted to leave and head back to the car so we could pursue Tjaetaba Falls near Greenant Creek just a couple of kilometres away from Tolmer Falls.
And so we did that and got there at 1:45pm, where there were way more cars here than I ever remembered there being from our first visit a while back.
Heck, my memory of this place wasn't very good, which was why I was doubly motivated to do this hike just so I can properly document the experience this time around.
Once again, it was just Mom and I as Julie and Tahia opted to stay by the car since it was already quite hot at this time.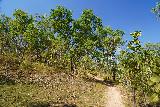 Anyways, this hike followed some catwalks that went across Greenant Creek before skirting by the edge of a monsoon rainforest where it was quite green and well-vegetated on one side of the trail while it was more sparsely vegetated savannah on the other side.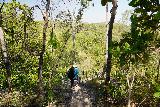 Both Mom and I went at a brisque pace knowing that we wanted to return to Tolmer Falls during the short window when the timing was right, which I had guessed was between 2-3pm though now I wondered if it was better between 3-4pm.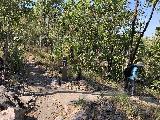 Anyways, the trail got past the monsoon rainforest and then proceeded to climb fairly relentlessly, and this was the stretch that really induced a lot of sweat.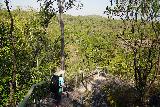 We definitely had to consume quite a bit of water in this stretch as the increased humidity in this area was also noticeable and we were certainly inundated in our own sweat as we continued with this climb.
Eventually by about 2:25pm, we made it up to the Tjaetaba Falls Lookout, which had a nice view above the monsoon rainforest below us, but as for viewing the waterfall itself, it was overgrown.
So the waterfall was not easy to see, and I really wished that this trail went down to the base of the falls because it definitely looked like there was way more to this waterfall than this lookout, which seemed to shortchange the experience in my mind.
Nevertheless, it didn't take long before we had our fill of this spot, and then we went all the way up to the top of the falls, where there was another plunge pool beneath a small upper tier of Tjaetaba Falls right at the brink of its main drop.
This place was happening with a couple of families and lots of kids all taking turns doing a jump into the deep pool up there, and at the same time, there were some adults having a wade in front of a smaller waterfall even further upstream.
Mom and I looked at each other and thought the same thing as we figured that Tahia was once again missing out on the action, and if she really wanted to have a swim at a natural swimming hole, this was definitely another one of those places.
It seemed like Julie wasn't keen on Tahia swimming in any of the natural swimming holes because she's worried about bacteria or other uncontrollable variables out in the bush.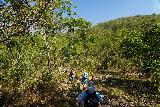 So she promised her the ability to swim at the pool at our accommodation later on today.
Regardless, Mom and I had our fill of this place by about 2:35pm or so, and then we returned to the trailhead at about 3pm.
We made good progress on this hike because it was mostly downhill on the return hike so that went by pretty quickly.
Then, five minutes later, we were back at the Tolmer Falls car park, where I now solo'd the hike out to the Tolmer Falls lookout since everyone else was pretty much done sweating it out, including Mom.
So I quickly made my way down to the lookout, and as expected, Tolmer Falls was experiencing pretty good lighting though its upper reaches were still in shadow.
That said, I took advantage of the lighting, and I even had this place to myself for a few minutes so I managed to self document and take videos without issue.
So with this mission accomplished, I was back at the car by 3:30pm, and now we could finally drive back towards Darwin for our final night of the Top End part of this trip.
Even though we could have driven towards The Cascades area in Litchfield NP, I opted against doing it since we promised Tahia some time at the pool there, and I knew it was going to cut it close before sunset.
Not only that, but apparently the front office of our accommodation was closing at 4pm so now we had to contend with how to recover keys to our unit to be able to check in.
But with no cell coverage with our Optus sim card in Litchie, we were hoping that we might have an outside chance of making a call in Batchelor or something since we were going to arrive after hours.
Well, the drive was mostly uneventful for the most part as we made our way back towards the Stuart Highway, and then we followed this road north towards Darwin.
There were lots of cars heading back and there were always clusters of them around the slower moving road trains, but fortunately there were overtaking lanes spaced some 5km to 20km apart.
Ultimately by about 5:30pm, we arrived at the Darwin Resort, which was right across the street from the airport.
At first, we were worried that we wouldn't be able to get the keys because Mom didn't get any emails that would have had the instructions to get at the keys from the lock box.
Well, it was lucky that Mom and Tahia encountered the lady running this place because she gave Julie the keys just before she was done for the day, and perhaps because we made the call, she waited for us.
It turned out that Expedia Travel via the Chase Rewards didn't forward or have our information, and so we definitely needed to talk to this person to get the keys otherwise be shut out.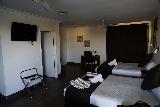 So with that squared away, we brought all our stuff from the 4wd into the pretty spacious room, and Tahia even got to play in the pool even though there were long shadows from the setting sun.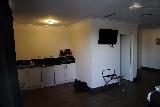 Even though Tahia wanted me to play with her, Julie wanted to get takeaway dinner, and fortunately there was a Sri Lankan place just down the road from us.
So Mom was watching Tahia while she got to have her pool time finally, and Julie and I went over to the takeaway place where we got some lamb and chicken curries to go.
It was actually buffet style, and even though there were a bunch of cars parked in front of their restaurant, we were the only people inside.
We wondered what all these cars here were for, but regardless, we got our food, got back to our room, and then we all had our dinner at 6:30pm.
Once the dinner was done, we then proceeded to get into organizing our packs and luggages in preparation for the flight to Bali tomorrow.
We couldn't check-in online because apparently our Jetstar flight did not have this option available so we just had to show up at the Darwin airport to get this done beforehand.
And so ended this eventful day, where we pretty much did everything we wanted to do at the Top End except Jim Jim Falls and Gunlom Falls with Twin Falls also being out of the question.
Considering the circumstances, we pretty much made the most of it, and indeed, we got some new experiences and new waterfalls, which I was glad that we got to do.
Tomorrow, it was time to go to Bali, and considering the heat from the Top End, we weren't really looking forward to it being even more hot and humid.
Plus, Julie was worried about some front getting to Bali while we're there which might really impact what we can and can't do while up there…
Day 9 (June 17, 2022 – Ubud, Bali, Indonesia): "Getting Adjusted To Bali"
It was about 3am when I awoke without an alarm, which allowed me some time to get caught up on the blogging as well as some photo organizing.
About an hour later, Julie got up and we took some time to get our belongings all organized and packed up so we could go to the Darwin Airport and catch our 9:30am flight to Bali.
This was a flight where we kept getting emails saying that our flight had changed, but it kept changing from the harder-to-stomach 10pm flight to a more manageable 9:30am flight.
I wasn't sure why we kept getting the same emails over and over again saying the itinerary had changed when in fact it didn't.
Regardless, we left the Darwin Resort at 6:05am, and we proceeded to drive in the pre-dawn darkness which was already bustling with some auto traffic this early in the morning.
We got to the Darwin Airport at 6:25am, where we then looked for where we were supposed to park the rental vehicle for the Enterprise Rent-a-car, which wasn't nearly as well signed as say Hertz, Avis, Europcar, and other well-known rental car dealers.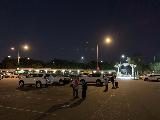 It wasn't until after making a few rounds within the parking lot that we saw an Enterprise sign against a fence in the rear of the car park, and that was where we emptied out the car, locked the car, and then kept the keys and proceeded with our luggage into the terminal.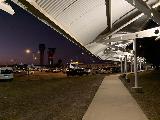 Once inside, my job wasn't done yet because I then had to hike all the way to the other side of the terminal where the arrivals were, and that was where I put the key into the drop box.
Then, we were able to go through the health screening line before checking in our luggage at the check-in line.
From there, we went through security, then had a breakfast at 7:10am at the Dome within the terminal.
We took our sweet time at this place before we went over to yet another screening area for the international gates, of which our one that was going to Bali was also within.
So that took a few more minutes, and we managed to get to the waiting area by around 8:45am, which was just in time for the 8:50am boarding call for our Jetstar flight to Bali.
Once our rows were called (since we were sitting towards the back of the plane), we managed to get onto the plane and proceeded to get comfortable.
Actually, plane boarding went on without a hitch, and even this flight took off on time at 9:30am, which was probably the first time that any of our flights and connections were on time on this trip so far.
I don't know if that said anything about how Qantas runs their schedules or if they also happened to be at the busiest airports while Darwin was a small airport so it wasn't exactly rocket science to get people on and taking off for Denpasar, Bali.
And so started the next leg of our Australia and Bali journey, where we expected to be shifting gears and getting into the hot and muggy climate of Indonesia and saying goodbye momentarily to Australia…
Visitor Comments:
Got something you'd like to share or say to keep the conversation going? Feel free to leave a comment below...
No users have replied to the content on this page