Days 0-2 (June 8-10, 2022 – Darwin, Northern Territory, Australia): "Immediate Switch To Plan B"
It had been a very hectic day even though I took the day off from work to tend to travel preparation needs… and I needed all of the time available to tend to it.
Good thing I didn't show up to work only to have to come back to a chaotic mess and then head back to the airport again.
Indeed, the morning started off with spending a good chunk of it doing last-minute finances so I could get bills paid off while also tracking our expenditures (especially regarding which accommodations have already charged us and which ones didn't).
I then got into trying to make sure all GPS waypoints were accounted for before shifting my focus to printing out research notes, which I hadn't had the chance to do (and almost forgot to do it until around 3pm rolled around).
It took longer than usual because the printer kept trying to cool down, and so it wasn't until about 5:10pm when that was finally done.
I did manage to squeeze in a brush and floss but no mouthwash, and then Julie and I tested the baggage weights since we were bringing a lot for this upcoming 6-week trip to both Australia and Bali.
We did have to do some weight re-distribution since Julie's luggage was way over, and we eventually managed.
We also frantically tried to finish off whatever would likely spoil or not last when we'd get back, but we still failed to finish things like cantaloupe, apples, pears, avocados, and kefir, etc.
So we gave away what we could to both our next door neighbor as well as Dad, who showed up to pick us up at around 5:50pm.
The drive to LAX actually wasn't too bad, and we ultimately arrived at the Qantas check in at about 6:35pm, which was about 4 hours ahead of our departure time.
The first thing that alarmed us was that they didn't check our bags through to Darwin, which was worrisome because the connection between flights was tough.
We only had about 85 minutes to make that connection, and that was the best case scenario if there were no Qantas delays, which recent history told us that it was not likely to be free of delays if our 2017 experience was any indication.
So right off the bat, we were already worried about missing that flight from Sydney to Darwin (which was our ultimate destination for the start of this trip), and what the consequences would be if we did miss that flight.
Nevertheless, we checked in our bags knowing that we'd have to recover our luggage in Sydney, which would make it even tougher to make the next connecting flight.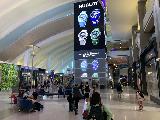 At around 7:20pm, we got past the airport security which actually wasn't all that bad though we were quite early for our upcoming flight to Sydney.
We ended up waiting a while for an Umami Burger at the airport, which had a long line and an even longer wait for the food after placing the order, where it seemed quite clear that this place was understaffed, which was kind of the theme of a post-pandemic workforce.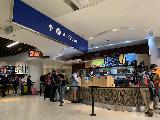 By around 8:50pm, we were done with dinner, and then we made our way to our departure gate for our Qantas flight to Sydney, but the whole time, we were playing in our head what was going to happen if we missed our flight to Darwin, which was looking more and more like a certainty.
I kind of played in my head that my instincts were right about us taking the very inconvenient 8pm flight to Darwin and arriving there at almost 1am.
And so we took proactive action by calling the accommodation about our situation as well as the Enterprise Rent-a-car desk about keeping our reservation knowing that we wouldn't be able to retrieve the car at the scheduled time of around 12pm on Friday.
As Julie got a hold of someone for the apartments in Darwin CBD, she was told that we were getting a lock combo texted to us.
Meanwhile, the Enterprise clerk at the Darwin airport was really helpful to us as he worked around our situation and changed our pickup for the Darwin CBD while we can still return the car at the Darwin Airport a week later.
So with that squared away, we were still holding out hope that there was an outside chance that we still might make it to Darwin and still get our rental car during business hours while still letting us enjoy the Darwin CBD before it got dark.
However, those hopes were quickly dashed when it got to the scheduled boarding time at 10:10pm but then we saw that we weren't boarding the plane followed by an announcement that catering was just starting their work.
So the new scheduled boarding time was now 10:30pm.
Well, by about 10:35pm, another announcement was made saying that catering was still doing work and that would have to be succeeded by plane clean-up so the new boarding time was now 11pm.
Anyways, that pretty much nixed any hope we had of making our connecting flight to Darwin at 8:25am (our flight was supposed to land at 6:55am), but these delays made it highly unlikely.
Nevertheless, by about 11:25pm, we finally boarded the plane, where the family got the entire back row, which probably wasn't the greatest for de-planing when we would land in Sydney.
But we wanted that back seat so we had easy access to the restrooms while also being able to do a little exercising to keep the blood flowing so DVT would be less of an issue.
Mom and I got acquainted with our flight attendant who was really friendly and seemed genuinely interested in allaying our concerns about missing our connecting flight to Darwin.
Tahia and Julie followed several minutes later largely because Tahia was too short to be able to do the automated facial recognition barricades at the gate.
Still, once we got everything sorted out, the plane finally started taxi-ing at around 11:55pm, but it didn't actually take off until about 12:55am!
By that time, there was absolutely no way we were going to make it to our connecting flight to Darwin.
And so the flight pretty much went off without too much issue. The staff served dinner, and the friendly flight attendant who kind of got our side of the aisle gave us an excess of red wine (since we were getting beef and veggies for dinner).
She told me that it was a way to "get into the Aussie spirit" and that "it would knock me out" as she knew that we were looking forward to sleeping and doing the red-eye on this long 14-hour flight.
That said, I swore it was probably going to be more like 16 hours after the delays.
After the meal, the next several hours were kind of a blur as I ended up falling asleep to the Matrix Ressurections and probably caught about 6-7 hours or so of shut-eye.
Maybe the sleep was aided by my double-masking which probably provided less oxygen to the brain making it easier to pass out, I guess.
It wasn't until maybe around 3-4am (Australian Eastern Time) that I pretty much stayed up for a bit as I got around to finish watching Matrix Ressurections which I thought wasn't that bad of a movie even though lots of people seemed to be sour on it.
When that was done, I then fit in watching some show about Unchartered New Zealand (since my choices were limited thanks to a non-functioning touch screen where I couldn't press anything scrolling to the right side or even backspacing on a search).
Then, that was followed up by watching some two-part documentary on what happened to Brittany Murphy, which further made me think that the whole Hollywood business was a really unhealthy and sleazy world.
During the tail end of that movie, we got served breakfast, and we got to conversing with the friendly flight attendant again concerning our connecting flight situation.
She actually asked if we got it sorted out, but all we could say was that we were told to talk to the ground crew when we get past passport control and customs.
When our attention was turned towards what we should and shouldn't declare, Mom decided to give away all the trail mix, which we gave to our flight attendant.
Julie learned that her name was Ann Marie, who seemed to have more of what I thought was a rural Aussie accent (but I could be wrong) though she said that her home airport was indeed Sydney.
After the plane landed some time at around 8:10am, we bid farewell to Ann Marie and quickly made our way into the terminal.
It was such a pleasant flight experience that it made us forget about how snarky the flying experience can be on our domestic flights in the states.
It was also nice to know that we felt much safer being in Australia than back at home where you never know if you're about to be a random victim of another shooting.
By about 8:45am, we made it to the passport control line, which was slow as there was only one border patrol agent manning all the foreign passports.
We did go through the trouble of doing the ePassport ticket, but since Tahia couldn't do it as she was under 16, we had to go through the slow line anyways.
Eventually at around 9:15am or so, we finally got past the passport control and then got our luggage from the carousel.
From there, we spent another several minutes getting a couple of sim cards so we can communicate with vendors locally in Australia, and then Mom exchanged some emergency cash.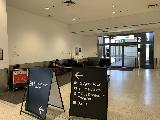 Eventually at around 9:40am, we made our way to the Domestic Transfer Kiosk, where we were momentarily confused about taking the T-bus to the Domestic Terminal.
But it turned out that we were in the right place as someone was able to help us get onto the next flight to Darwin, which was actually an international flight to London with a stopover in Darwin.
I guess that would explain why we never saw this flight in any of our booking attempts before as the next flight after that would be the 8pm flight arriving at nearly 1am (the original plan from the get-go).
So with the boarding passes in hand, at least we were supposed to be assurred that we will have a flight to Darwin on this day and arrive at a reasonable hour (even if we wouldn't be having our rental car today and have to wait to get it tomorrow morning).
It was non-ideal, but the important thing now was that we should be able to resume our trip provided nothing else terrible happens with this 4.5-hour flight from Sydney to Darwin.
By about 10:15am, we did a bit of hiking to several areas of the airport in search of a toilet, and then we had some food before getting through another long passport control line and security before finally getting into the "secure" area.
From there, we went looking for our gate for the upcoming flight, but none of the info boards turned up any information about our QF1 flight.
It wasn't until we talked to a random Qantas employee at Gate 33 where she told us that our flight was supposed to depart from Gate 10.
Then, we made a long hike to The House, where we hoped to take advantage of our Priority Pass so we could use that airport lounge.
Well, after quite a lengthy hike to get there, we learned that they weren't accepting Priority Pass members at the time because it was too full.
So that was a bit of a bummer, and it further convinced me that whatever benefits we thought we were getting from the Sapphire Reserve card was really dwindling and making me question whether the annual fee was still worth it.
Anyways, with that disappointment out of the way, we eventually got back to Gate 10, which was pretty quiet and there was still no information confirming that we were indeed at the correct gate.
Nevertheless, we used some plugs to charge up the phones, make some confirmation phone calls, and finally get around to starting the trip at our first accommodation.
In fact, without a rental car (as the kiosks would be closed by the time we arrive), we'd have to taxi to the apartment, and I wondered if here we should be able to exercise and file a claim with Allianz to recoup at least these unforeseen transport costs.
After all, the delays costed us our ability to pick up our rental car during business hours at the Darwin Airport.
And so while it might be too late to show up to a night market in the Darwin CBD (even if it is a Friday night), at least we should be able to proceed with some degree of certainty barring another lengthy delay or unforeseen cancellation from Qantas…
Eventually, more people started showing up at the gate right around 2:30pm, and sure enough, there were Qantas representatives at Gate 10 pretty much confirming that we were indeed at the right place.
By about 3:55pm, we finally boarded the plane, which turned out to be quite the full flight. I was sitting behind one window seat section where the rest of family sat.
I sat next to a friendly young pair of London transplants living in Sydney, and they were making the long haul all the way to London Heathrow while we only had to get off at Darwin.
It wasn't ideal to have to do a 4.5-hour flight so late in the afternoon, but at least it was better than flying out at 8pm and getting to the apartment at 1am!
Anyways, the plane took off at 4:15pm, which was about 30 minutes after the scheduled departure time (kind of similar to our low batting average for the flight taking off on time in each of our two most recent Aussie trips).
But at least we were finally on the last leg of our air journey.
By about 8:25pm, we eventually got through the sparse passport control (getting a little bit of a scare when the border patrol agent couldn't read the chicken scratch on the orange sticker for Mom's passport).
But ultimately, we got our luggages, and then we had to catch 2 taxis to get to the Darwin CBD, which costed us around $35 each (or $70 total).
I'm pushing again for Julie to file a claim with Allianz this time and we'll see if they pay up since this double taxi was a result of the Qantas delays.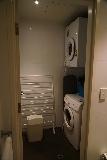 Ultimately, we then were driven to the Darwin CBD, which took on the order of about 20 minutes, and that went without a hitch.
And then finally, we got the keys from the lock box, and proceeded up to our apartment.
It was a waterfront view though it wasn't all that spectacular since it was of the wharf and ferris wheel and mostly the courtyard as well.
And at over $600 per night, this had better pay off, but at least this place was quite spacious and we're finally looking forward to cleaning up and getting some shuteye.
With us needing to get the car tomorrow morning, I decided that tomorrow would just be the Darwin day and that we'll have to push one of the Litchie days towards the last full day in the Top End before flying out to Bali the following day a week later than today.
So again, the plan B that we had to enact at the very beginning of this long travel journey still is having an affect on us, but at least now I think we're in better control of our destiny for this upcoming week.
Still, we'll see how it all plays out as there were still Kakadu closures associated with this trip that we know we have to contend with…
Visitor Comments:
Got something you'd like to share or say to keep the conversation going? Feel free to leave a comment below...
No users have replied to the content on this page