Day 3 (June 11, 2022 – Darwin, Northern Territory, Australia): "Faulty Recollections"
It was about 6am when we awoke to the alarm.
The first thing on my mind was putting our Travel Insurance to the test given all the complications that happened yesterday (or two days ago since the ordeal pretty much took the better part of two days).
That said, I was struggling a bit with Allianz's claim system where I kept getting 504 gateway timeouts or a non-working website where the pulldown menus were prone to not working.
I also had to hunt a bit for the American version of Allianz since it kept wanting to direct us to Australia's version since we're in Australia now.
I'd eventually submit a claim after a while, but it was hard to convey the currency difference between Australian dollars and US Dollars since our receipts are in Australian dollars.
Part of me is going to think that this claim won't be successful since it would be hard for the adjustor to verify given the currency differences, and it didn't look like we could amend the claim after it was submitted.
Plus, it looked like we'd have to file a new claim for the most expensive meal at the airport that Julie didn't get a receipt for, which was the Vietnamese pho place. And I'd have to punt on that one since the charges on the credit card didn't go through yet.
Regardless, that seemed to have consumed most of the morning, but by about 7:25am, we finally got to a point where we could leave the apartment and go for a walk to the Enterprise Rent-a-car in the city.
So we ultimately did that as we went across the quiet waterfront, in front of the WWII Oil Tunnels (which we'd circle back to when they open), and then across the Sky Walk onto the Esplanade.
As we went along the Esplanade, we noticed some government buildings and a courthouse, which seemed vaguely familiar to what Julie and I saw when we first briefly visited the Darwin CBD back in June 2006.
But our memories of the place was so faulty as it had been so long ago that we really couldn't recall anything to jog the memory and correlate them to what we were currently seeing.
All we knew was that we were able to follow along the Esplanade and noticing some partially overgrown views towards the ocean (Timor Sea?) where there seemed to be oil tankers in the distance.
The pathway veered to the north along the Esplanade where there started to be the Bicentennial Park (I think), and there were now more greenplaces as people were going on early jogs and walks.
We also started to notice a bunch of hotels and high rises lining the Esplanade as we continued to go north, and eventually we'd see the Enterprise Rent-a-car kiosk a little before 8am.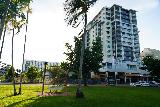 However, no one was there so we walked a little more along the Bicentennial Park as we were wondering if we could catch the sunset over there (as we were certain Mindil Beach would be quite happening).
By about 8:10am, we returned to the Enterprise RAC kiosk where no one was still there to open up, so Julie and Tahia decided to head over to the Cole's for a takeaway brekkie.
But just as Julie was a little outside of earshot, the Enterprise rep showed up and opened shop, and it was just Mom and I checking in.
At 8:45am, we ultimately got a pretty sweat Toyota Land Cruiser, which was a giant truck with very high clearance though Mom had trouble getting into the vehicle since there was a step.
That would at least give us confidence that if there's a 4wd road, we should be able to handle it though I'm sure Jim Jim Falls would still be out-of-the-question.
Anyways, we left the Enterprise RAC kiosk with the high clearance truck, and we then drove over to the Cole's hoping to find Julie and Tahia there.
However, when we went there, we had a little trouble finding the legitimate marking, and so we circled around, then drove back to the Enterprise kiosk, and then drove back to Cole's again after not finding them.
But when we got up to the Cole's from the underground car park, we couldn't find Julie nor Tahia so we just picked up some water and some snacks.
Eventually, we got back to the Enterprise RAC kiosk, where Julie and Tahia were waiting (and not pleased with us), and then we picked them up at 9:15am.
At least the Enterprise rep got the contact number from Julie that he asked for since the sim card phone was with her.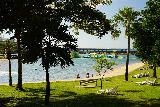 Ultimately by about 9:30am, we returned to the apartment car park, which came with a bit of trouble in trying to open the gate (we weren't sure if the fob was working) and a bit of arguing with Julie about where the gate entrance was.
Regardless, we ultimately got into the car park when someone was leaving, and then we eventually started walking towards the WWII Oil Tunnels, which was the first priority of our impromptu city touring of Darwin (since it was sporty to do our originally planned Litchfield day today).
The tunnel was basically an entrance surrounded by an umbrella and some passerbys with a lady sitting there collecting money for admission.
Once we did that, we were pretty much allowed to go through a very long and narrow tunnel flanked by a huge pipe.
There were steel gratings on the floor to keep our feet away from the puddles of water, which we weren't sure how dirty they were.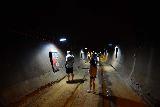 After reaching the end of the first corridor, there was what looked to be some kind of engine room or something where there was a view into another long tunnel or storage chamber while there was another tunnel that we could walk into.
So we took that short tunnel that then led into a really long and large tunnel where it seemed like most of the visitors were at.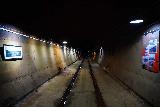 In that larger tunnel, there were interpretive signs as well as some art displays with some electrical piping to provide illumination.
At the very end of this tunnel was what seemed to be the back exit where there was actually vehicular traffic though this was only for emergency exit purposes only.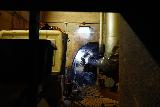 I guess the atmosphere of these oil tunnels underscored the history that Darwin went through as it was bombed by the Japanese during WWII.
A lot of the pictures of struggles and how the old waterfront was razed kind of seemed eerily reminiscent of the Russian invasion of Ukraine that was going on today.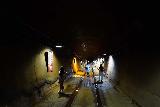 Indeed, war can easily degenerate into a stalemate with nothing but casualties and loss of infrastructure, and it's really messy business.
Yet it's crazy to think that all it takes for so many lives to be adversely affected by war comes down to the decisions of one person or just a few people.
Where in the Darwin case, it was Emperor Hirohito, but in the Ukraine, it was Vladimir Putin.
And going back to the Iraq war, it was pretty much imposed by a government with oil and military ties (and motivations) that got their way and forever messed with the Middle East.
The more I thought about these things, the more I realized that as long as we keep empowering the corrupt and not-so-savory characters (primarily in the resource extraction industries like oil and gas), the more a**holes we're letting have their way until they get empowered enough to cause problems.
It's even more important now than ever to try to go as green as possible, but that essentially democratizes energy as opposed to concentrating wealth to the ignorant and the not-so-great segments of humanity.
Anyways, by about 11am, we left the WWII Oil Tunnels where Mom and I decided to walk the scenic route back to the Darwin Waterfront while Julie and Tahia should be going back to the apartment to get swim clothes and meet us at the waterfront.
Well, when we got to the waterfront, it turned out that Julie and Tahia spent all that time just scoping out the waterfront without getting the swim gear, so that was a bit of a waste of time.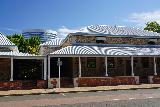 And so ten minutes later, we ultimately all went back to the apartment to get changed, and then we headed back down to the waterfront again to finally pay to do the wave pool.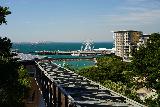 With Mom looking out from the outside, Julie, Tahia, and I went through two 10-minute bouts of waves, which were pretty intense (at least more intense than any of the wave pools we've done at places like Hurricane Harbor and Great Wolf Lodge).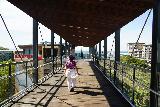 Indeed, this would have been great to catch waves if you're body boarding, but it turned out that none of us knew how to catch waves (at least I didn't know how to do it anymore let alone stay on the boogie board while paddling).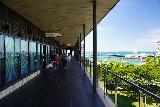 And so we were getting pretty much beat up, especially in the shallow end, where I kicked the ground a few times and worried I might have dislodged my toenail.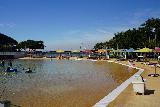 When we had our fill of this place at about 12:15pm, my right big toe was bleeding and it didn't feel very good when I took steps using that foot.
As we were heading back up to the apartment, Mom picked up some food to go, which was basically a steak burger, a hamburger, some fish and chips, and a chicken wing.
At 12:30pm, we had our lunch from our balcony which was a nice spot to enjoy the views while also enjoying the takeaway food, which was quite good (Julie and I forgot what good quality the Australian foods were compared to back at home).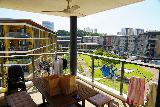 It was a nice way to spend a lunch as family without worrying about catching coodies from other people in a crowded establishment, especially since we still had a bit more air travel to go when we have that Indonesian interlude after spending a week at the Top End.
By about 1:30pm, we headed back downstairs and into the rental car as we were going towards the Jumping Crocodile excursion that Julie really wanted to do.
Part of me wondered if this was a great way to experience crocs since feeding them isn't exactly a great way to keep wildlife wild.
Anyways, when we tried to leave the underground parking, the fob wasn't working and we were stuck until someone was able to go around us, which allowed us to tailgate her out of the area.
From there, we knew that we had to address this issue with the front office, which fortunately they were open at this time.
So we temporarily parked across the street from the waterfront area where the office was, and then Julie quickly went into the office to get a replacement fob.
Once that business was done, then we headed out for the roughly hour-long drive towards the Adelaide River en route to the Jumping Crocodile tour.
This was definitely something we never did before when we were last at the Top End in May or June 2006, and so this was going to be a new experience for sure (though what we did in Darwin this morning felt new as well even though our memories were faulty).
By about 2:35pm, we arrived at the Original Jumping Crocodile Tour car park, which had a rather comical statue of a tall croc standing on its tail.
We eventually did the tour, which was basically a boating safari on the Adelaide River and one of the tributaries, where the driver would spot saltwater crocodiles and then approach them to try to get them to jump after the meat at the end of a stick.
Deep down, I wasn't sure about this practice, but it was very impressive how huge some of these saltwater crocs were (some were upwards of 6m long!).
I think we spotted probably about a half-dozen of these huge crocs, and it was funny how the driver was able to identify these crocs by name.
These crocs were definitely in their habitat and it would be very unwise for any person to be anywhere near the water given the presence of these true dinosaur descendents.
Anyways, by about 4:20pm, we were back in the 4wd truck, as we had our fill of the crocodile, and we pretty much followed a fairly busy caravan of vehicles back to Darwin City.
The drive was about an hour long, but with Triple J on, I was enjoying the tunes while the ladies were mostly asleep in the car.
That said, we did learn that apparently this was an Australian long weekend (the Queen's birthday) so that probably explained why the rates were so high for this stay in Darwin.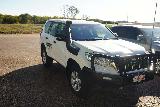 Still, it was surprising that people in Australia still celebrate the Queen of England though I did recall that Australia was still governed by the queen technically (so there's still that debate between Oz being a republic).
Regardless, we ultimately made it back to the familiar Coles in Darwin City at 5:15pm, which was a little before sunset though we didn't get to catch the sunset.
However, we did buy some food so we could use the grill on our balcony to enjoy a dinner at our apartment as we were really trying to milk the amenities at this apartment.
By about 5:55pm, we were back at the apartment, which we learned that the new fob works, so finally we could enjoy the accommodation worry free.
And so we wound down this day as Mom was grilling up chicken as well as marinated kangaroo meat along with some broccolis, and so we had ourselves a pretty low key dinner though there was clearly quite a bit of commotion going on at the Darwin Waterfront.
In fact, it seemed more happening here at the waterfront instead of the Darwin CBD which seemed to be a bit dead by comparison, especially for a Saturday evening.
We were pretty fully stuffed with our dinner as it felt like we were eating a bit too much on this trip, especially after having gelati from the waterfront downstairs for dessert.
With all said and done, we were all still feeling a bit tired as our body clocks were still not adjusted to the local Australian time.
And so we all pretty much crashed well before 10pm (I think we slept around 9pm or so), and I guess that wouldn't be too bad since waking up early wouldn't be a problem tomorrow, where we'll finally get to experience our first waterfall of the trip in Litchfield…
Visitor Comments:
Got something you'd like to share or say to keep the conversation going? Feel free to leave a comment below...
No users have replied to the content on this page