Day 4 (June 12, 2022 – Darwin, Northern Territory, Australia): "Over Romanticized?"
It was about 3:45am when I awoke, and it wasn't but 15 minutes later when everyone else woke up for the day as clearly we were jetlagged still (though it actually worked in our favor since we got an early start to the day, which was absolutely necessary).
So we spent the next couple of hours getting ready for the day while also having quite a brekkie that consisted of the store bought kefir with fruits, some toasted sourdough bread that Julie got from the grocery store, some store-bought turkey and cheese, and leftover kangaroo meat.
I know I was pretty stuffed since I was the only person having the kefir and fruits, but I also had to eat the bread and roo meat.
Nevertheless, to make a long story short, we were in the car by about 6:10am, which was pretty much on time for us as we knew we'd be driving in the dark for this first hour or so as sunrise wouldn't happen until some time after 7am.
But we knew that we'd have a packed day today, which was why we needed to try to sneak in some driving time as we made the two-hour drive south towards Litchfield National Park by way of Robin Falls.
As we were gaining momentum with our drive and darkness was slowly giving way to the dawn, we noticed that there were some fuel reduction burns going on near the side of the road.
They were scary-looking, but they definitely seemed to have lit up the pre-dawn semi-darkness though seeing a couple of kangaroo roadkills was a sobering reminder of how much of a threat they are when driving around the darkness.
By the time we made it past the signed turnoff towards Litchfield National Park and continued towards Adelaide River, the sun had pretty much breached the horizon and we could now drive a little more confidently (i.e. up to the 130km/h speed limit).
Eventually by about 7:35am, we arrived at the narrower Dorat Road before taking that south for a few minutes towards the signed Robin Falls turnoff.
Once on the unpaved and somewhat rough road, we were glad that our truck had such high clearance that we could confidently take this road, and it started giving me the idea that perhaps we should be able to do even do Tjaynera Falls towards the end of this week (right before we leave for Bali).
Anyways, we'll see how that goes, but if there was ever a time we could try to pursue that place that I had been targeting ever since it was closed on our first visit back in May or June 2006, well that time would be this trip.
That's especially the case since we knew that Jim Jim Falls and Twin Falls would not be accessible by land on this trip while even heli tours wouldn't go because there wasn't enough flow (as stated by the operators) to even run such tours.
As we continued on the somewhat rough but short road, we noticed loads of campers alongside it so this place wasn't as quiet nor as unpopulated as I would have expected.
And by 8am, we eventually made it to the end of the road where the Robin Falls Trailhead was, and there were a handful of spots to park at though I had a feeling it wouldn't be much longer before such limited spaces would fill up.
Indeed, with this being a long weekend in the NT, it definitely felt a lot busier than it did 16 years ago!
Nevertheless, we promptly geared up and started doing the hike upstream towards Robin Falls, where it seemed like there was plenty of water in the stream, which bode well for the state of the waterfall's flow.
We didn't have any trouble following the path though it was quite rocky and surprisingly slower going than anticipated, but we eventually managed and even saw one guy who had gotten an even earlier start hiking in flip flops on his way back.
Right after greeting him, we did see that there was a somewhat tricky deadfall obstacle to get around, which we eventually did after outthinking ourselves as we stayed to the right of the creek (but contemplated crossing it).
And finally at around 8:20am or so, we arrived at the impressive three-tiered Robin Falls, which had noticeably lesser flow than the first time around, but it was still attractive.
This time, I scrambled along the right side to try to at least get up to the base of the upper two drops for a more satisfactory look at the falls, especially with a tree kind of blocking the view of the uppermost tier as seen from the base.
The rocks here were surprisingly slippery even when dry and even though I was wearing the Vasque St Elias hiking boots, but I ultimately managed thanks to a tree stump that I was able to use as a step to get up a small ledge and up to the side of the pool between the third and second drops.
Tahia also joined me up there while Mom and Julie stayed below, and we enjoyed this spot for a few minutes as the sun was penetrating the cliffs above us though not quite striking the waterfall at this early hour.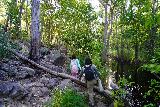 By around 8:30am or so, we had our fill of this spot and then proceeded to go back down the trail to the trailhead though we encountered at least 3 or more hiking parties attesting to this place's recent popularity.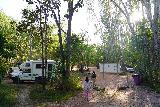 And by about 8:45am, we returned to the land cruiser where we indeed noticed that there were other day trippers parked by us as well as perhaps more commotion around the campers here as well.
And with that, we drove off towards Litchfield National Park where I was now a bit nervous about contending with crowds, especially at Florence Falls, which I knew would be busy as it had gotten popular in recent years.
Nevertheless, the drive going north on the Stuart Highway was pretty uneventful as I noticed many more cars going south as we headed north, but I did have to be careful about overspeeding.
Eventually, we arrived at the Crater Lake Road, which cut across west towards the Batchelor Road, and then we pretty much followed slower drivers for a bit into Litchfield National Park.
We noticed quite a crowd of people taking pictures by the Litchfield NP sign as well as a few other people checking out the Magnetic Termite Mounds though I decided that we should punt that one until the penultimate day in the Top End.
That way, we could buy ourselves a little more time to get what we needed to get done first, and then catch the Mindil Beach Night Market tonight.
By about 10am, we arrived at the pretty busy Florence Falls car park though there were still enough parking spaces for us but it was rapidly filling up just as we arrived.
I had contemplated also checking out the Buley Rockhole, but we'd have to punt that for the penultimate day as well since that was less of a priority today.
Once we geared up and got out of the car (also contending with these interesting-looking light brown mozzies which were definitely around), we then proceeded to go onto the developed walk leading to both the lookout as well as the bottom of Florence Falls.
Nothing about this walk seemed familiar to me as my memory could be faulty, but I didn't recall the lookout being some distant from the car park.
When we did get to the lookout, there was very limited real estate to get our contextual views of the waterfall (including a hidden upper tier that you couldn't see from the bottom), but there were noticeably a handful of people already in the swimming hole below.
After going down what appeared to be 125 steps or so (Mom counted 132), we ultimately got the base of the waterfall where there were already lots of people either going into the pool or just chilling out.
But we were more ambitious than that and wanted to cut across towards the middle of the plunge pool's mouth so we could get a more direct look at the twin waterfalls.
We had to remove our shoes and scramble barefoot for that as we realized that we had forgotten to bring water shoes or at least sandals to get down here, but we ultimately managed and documented the falls as well as some videos in the process.
Both Julie and Tahia joined me and so we enjoyed the spot though Tahia was getting bolder about scrambling around the rocks where both Julie and I were a bit worried about the risks she was taking and didn't want her getting hurt.
Thankfully, no incidents came about, and we eventually got out of the documenting mode at the bottom of Florence Falls, where we then saw how much busier the bottom of the falls had become by the time we rejoined most of the people and put on our shoes.
Good thing we got here when we did, but we now started to leave the base of the falls at around 11:10am, and after going up the steel steps (I swore they re-routed the path as there was less cliff contact where I recalled seeing hidden wallabies), and ultimately returned to the car at 11:30am.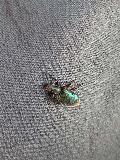 Indeed, by this time, we had seen countless parties of hikers (mostly in swimming gear and carrying tubes or noodles), and even the car park was very full with people using spillover spots by now.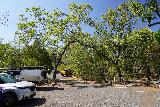 And so we drove off, skipped the Buley Rockhole (punting that for the end of this week), and then headed towards the Tolmer Falls.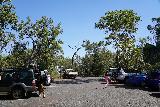 We got to Tolmer Falls at around 11:45am, where the car park was also pretty busy but we did manage to score a shaded spot as this was more of a look-but-don't-touch kind of waterfall.
So we promptly geared up and got out of the car, and then we followed the well-developed path towards a lookout of the escarpment, which was on a different route than I had remembered from last time.
Now, that lookout was on a separate elevated path with a shelter, which was interesting and probably indicative of improved infrastructure from 16 years prior.
We then went down to the main lookout for the Tolmer Falls, where we were disappointed to learn that we showed up perhaps a couple of hours early as the falls was pretty much in shadow flanked by very bright cliffs.
Thus, it was difficult to photograph this waterfall, and I made a mental note that perhaps we'd have to come back to this waterfall again on the penultimate day to time it better.
So the list of stuff to do on that final day was definitely piling on, and I was concerned that we might not get to everything.
Anyways, Julie and Tahia quickly had their fill of Tolmer Falls and headed back towards the trailhead area while Mom and I decided to extend the walk to do the Tolmer Creek Loop in the hopes of getting a better look at the natural bridge.
It was about 12:15pm when we got onto the Tolmer Creek Walk.
The walk unsurprisingly didn't take that much time, but we did notice some No Entry signs fronting some rough trails leading down to the base of the natural bridge just upstream from the brink of Tolmer Falls.
We also noticed a handful of people in bathing suits down in the restricted area as they blatantly disregarded the signs, and we even noticed some other people doing a dicier scramble near the top of some escarpment probably in an attempt to improve their views of the natural bridge as well.
We weren't as disrespectful to get down to the bottom of the natural bridge (as much as I wanted to photograph the span with the sky behind it), but I did notice that now you could go down there on a guided tour instead of it being outright prohibited (like last time to protect some bat species).
However, when we got up towards a different cascade and outcrop along the Tolmer Creek Walk, I couldn't help but notice that there was an unsanctioned path that didn't have No Entry signage that we could take to get closer to the cascade below and possible the familiar downstream view of the span.
So Mom and I did indeed do that and managed to check out the natural bridge with some people at the lookout seen through the span.
I don't know why they don't just build a spur trail for this, but in any case, it wasn't that bad of a scramble though there was no way we'd reach the bottom of the natural bridge from our vantage point because there was a second natural bridge (more like a pothole) that would be too dangerous to go.
Anyways, once we had our fill of this spot, we then continued with the Tolmer Creek Walk, which went by some nice pink flowers before we completed the loop and rejoined Julie and Tahia who were waiting for us at the interpretive signage and shelter.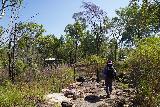 By about 12:50pm, we returned to the car park, and then we promptly headed over to Wangi Falls, which was our last waterfall for this day.
And so we arrived at the Wangi Falls car park at 1:05pm, where it was very busy largely due to tour bus traffic.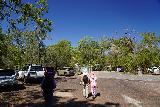 It was definitely way busier here than I remember 16 years ago, and I guess that was kind of the theme for today's visit to Litchie.
Anyways, Tahia and Julie were really hungry so we ordered some chicken mango toasties (i.e. toasted sandwiches) along with a chicken burger for Tahia, and we spent probably a half hour or so eating our lunch before finally visiting the Wangi Falls.
It was about 1:50pm when we headed down to the falls, and at that time, it was very busy at the closed off swimming area.
So we promptly headed over to the waterfall lookout area, which was also very busy but we managed to carve out a spot towards the far left side of the viewing area (even taking advantage of the bench there for more elevated views).
It was quite tight over at the viewing area, especially with tour bus traffic and families so we didn't linger here for long, but we did manage to get our shoes and over videos, and the lighting wasn't too bad either (though not as great as the first time when we were here at the end of the arvo).
At that point, the family headed back to the closed swimming area while I decided to head up towards the Tree Top Lookout and explore a bit of the escarpment above the Wangi Falls (as part of the Wangi Loop).
With time running out before getting to Mindil Beach, I had in my mind to only do the loop part way but not to do the complete loop.
And so I followed the walk into a monsoon forest before gaining in elevation as it was initially gradual and somewhat shaded before going up steel steps towards the Tree Top Lookout, which was nothing more than a rest area with no view.
I then continued further up to the top of the escarpment where there were some partial views of the lands further down below though there were also Aboriginal closure signs so whatever edge-of-the-cliff views to be had were not accessible.
I eventually got to the bridge spanning Wangi Creek at about 2:25pm, and it was at that point that I decided that I wasn't going to continue past the bridge to complete the loop (little did I realize that I was already past the half-way point of the loop).
Anyways, I then headed back down the way I came and rejoined the rest of the family at 2:55pm, where we then promptly returned to the parked car (noticing that the tour buses were gone at this point).
Then, we made the long drive back to Darwin via a different road that I hadn't taken before though we did encounter a long caravan of slower vehicles on the way back to the Stuart Highway.
Although the GPS projected a two-hour drive, it actually only took about 1.5 hours.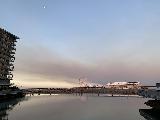 Nevertheless, when we returned to the Darwin apartment at 4:25pm, we then finally switched out of our hiking boots into sandals (that we had forgotten to bring in the first place), and then by 4:40pm, we were back in the car and headed to Mindil Beach.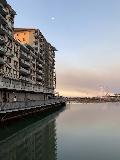 By about 4:50pm, we arrived at the very huge car park (more like grassy area) for the Mindil Beach Night Market, which was way busier now than I remembered in the past.
And so we proceeded to walk up from the far southern end of the night market (though it wasn't night time quite yet), and it was packed with people while flanked by food stalls.
It definitely lacked the magical ambience from 16 years ago probably because there were way more people but no didgeridoo bands adding that unique soundtrack to the experience.
And even when we looked over to the Mindil Beach itself, we saw that there weren't parasailers gliding before the setting sun like before as well.
Regardless, we waited in line to get things like the paella as well as a laksa, and we picnicked in a grassy area between the food trucks and the beach.
We also had some smoothies along the way before we then headed over the beach after eating.
From there, we chilled out and watched the setting sun though there was some smoke from the controlled burns, which made the sun glow red though not quite the magical glow from before.
And after the sun had set with a Japanese red sun appearance, we then proceeded to head over to the far northern end of the night market before slowly making our way through the crowds between the food stalls again.
On the way down back towards the south end, we did stop for some gluten free dessert spot as well as the familiar Roadkill Cafe though they were now serving burgers instead of skewers like before.
I did try a croc meat burger which had coleslaw in it, but it was kind of unremarkable. I did notice that they didn't have possums or other roadkill that were more familiar from the last time.
Anyways, by 7:25pm, we were back in the car, and we decided at that point that we probably didn't need to do the Mindil Beach Night Market again on the last night in the Top End when we'd return to Darwin.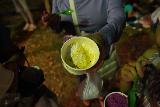 Speaking of which, we were to leave Darwin first thing tomorrow morning as we headed towards Kakadu National Park.
And so on the way back to the apartment, we did make a 7:45pm stop at Wooly's (Woolworth's) as well as a much-needed diesel stop (filling up $133 AUD in diesel), and finally got back to the apartment at 8:20pm to finally wind down the night.
With so much to get settled on from such a long day, we did finish up some nice white wine that was compliments of the accommodation, though that kind of knocked us out for the night.
And by some time after 11:30pm, we were all crashing and seeing if we'd still be able to get up tomorrow morning due to jetlag…
Visitor Comments:
Got something you'd like to share or say to keep the conversation going? Feel free to leave a comment below...
No users have replied to the content on this page