Day 5 (June 13, 2022 – Jabiru, Northern Territory, Australia): "Questionable Air Quality"
It was 3:50am when I awoke naturally (before the 4am alarm) so clearly we were still a bit jetlagged especially since we hadn't slept until some time after 11:30pm last night.
Just like yesterday, we pretty much spent the next couple of hours preparing breakfast while I was also blogging and getting our trip photos and documentation organized.
And oh yeah, we also had to get all packed up and ready to move on because we were now headed into Kakadu National Park for a bit of a change of pace from what we were doing the past couple of days.
So after getting stuffed from our morning meal of leftovers and kefir, we then proceeded to load up the car at around 6:25am.
Five minutes later, Julie dropped off the fob and key for the apartment, and then we were off towards the Aboriginal lands to the east.
Unlike yesterday, the drive through the darkness wasn't as bad since it already looked like the sun was coming up by the time we left the limits of Darwin and approached the Arnhem Highway turnoff.
Then, we pretty much continued straight to the east along this paved road where it seemed like it was a very long stretch of bushlands and floodplains with many wallabies scurrying this way and that (at least I didn't think any of them were kangaroos).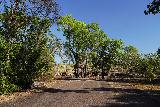 It was a long drive where we eventually made it to a turnoff leading towards Ubirr, and then we ultimately arrived at the Border Store at 9:10am (thinking we needed to purchase a Kakadu Pass).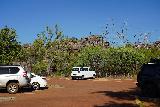 Well, we made a restroom break there, but apparently the tour guide that was leading a tour there told us that we didn't need to purchase one to go to Ubirr.
So we continued on, and by about 9:25am, we finally made it to Ubirr.
I know Julie and I did this place before back on our first visit around this time in 2006, but our documentation of that trip was pretty sparse and so we didn't really have many recollections of what it was like.
So it was like we were all experiencing this place together along with Tahia and Mom, which were their first times.
We ultimately did the Ubirr Walk in an anticlockwise direction for the next couple of hours or so, where we started with some art panels.
But the most impressive one was the so-called "Main Gallery" where there were numerous Aboriginal art panels in a huge overhanging rock formation.
Of particular note were some depictions of Aboriginals first seeing Europeans, where we saw one in white with a dude with hands in his pockets and legs together with feet apart (kind of like how they'd draw Popeye cartoons).
However, we tried real hard to look for another European in reddish ochre with a pipe in his mouth, and that one we had a lot of trouble trying to find (it was almost like a game of Where's Waldo?).
Well, that got Tahia and Julie really engaged, and there were even other people we encountered who got into the game as well, but I don't think anyone saw it (maybe we were looking in the wrong place or maybe it was smaller than anticipated or something).
Regardless, it was very impressive how some of the rock art made it up to the ceilings of the overhangs in seemingly inaccessible spots, but I'd imagine that they managed to get there when rock ledges were more available.
These days, they seemed inaccessible and the jumbles of rocks below might have hinted at their collapse over the millennia.
We also saw a depiction of what looked like a Tasmanian Tiger in the rock wall, which was also interesting.
Then, we headed over to the Ubirr Lookout, which required a short climb (kind of testing my knees as well as my Mom's), and there was actually a nice breeze up there as well as more overhanging rock art spots.
Up in those parts, we saw depictions of saltwater crocs as well as the odd barramundi or other fishing scenes, and we also noticed a very scenic view towards floodplains in one direction as well as more escarpment lands looking back in the other direction.
I could totally see why people thought this might be the best place for a sunset view though that wasn't going to happen for this visit as we didn't realize this possibility.
In the distance, we could see more smoke wafting up from the bushlands from all the controlled burns, and we came to realize that the air quality of the region must be really bad due to the combination of stale air and smoke everywhere.
So after having our fill of this spot, we then descended back down to the main trail, and then we checked out the last long panel of Aboriginal rock art which included the familiar rainbow serpent as well as some depiction of someone who had fallen ill to some disease.
We completed the loop walk and returned to the car park at 11:15am, where it was really getting hot in the day, and so we decided to drive back towards Jabiru to get some lunch before maybe going to Nourlangie Rock for another round of Aboriginal art.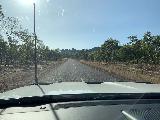 Well, by about 11:50am, we made it to Jabiru, where we found out that there wasn't really a cafe or restaurant serving lunch, and so we were at the Foodland grocery store, which was actually mostly empty shelves as the town really felt dead.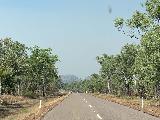 We did find a rotisserie chicken, which we self catered and ate at some tables in the Foodland, and that was our lunch.
By about 12:45pm, we were back in the car, and then scoped out the Crocodile Hotel for dinner tonight, and then by about 1:05pm, we checked in at the Anbinik Resort, which was where we were staying.
By 1:15pm, we settled into our room, and upon seeing the swimming pool by the restaurant here, Tahia was excited and so I decided to indulge her with just relaxing in the arvo at the pool instead of going for Nourlangie Rock today.
It turned out that it was in the low- to mid- 90s in Fahrenheit (or maybe 33-34C) and so I was feeling tired and not really in the mood to try to squeeze in Nourlangie Rock on this day.
So once we got into our swim gear, Tahia and I got to the pool, and she met someone named Elise or Eliza (not sure) who was really adept at swimming and they seemed to be spending quality time with each other in the pool.
They did stuff from messing with a praying mantis to finding rocks under water to trying to tag each other in the pool, and in the mean time, we were conversing with her Mom who was doing The Lap around the whole of Australia.
Apparently, the lockdown from COVID-19 kind of got Australians to do the Lap because she said lots of people were doing that, and they happened to be on theirs at the Top End even though they hail from Melbourne.
Anyways, they eventually had to catch their sunset view back at Ubirr, and in the meantime, we were returning to our room to relax a bit more, get cleaned up, and then head over to the Croc Hotel for a buffet dinner.
We got there at 5:45pm for the dinner, and it was good we got an early start right when they opened because we got to stuff ourselves before the tour bus crowd would inundate the dining area.
The food was not great, but for a 40 AUD per person buffet, I guess it was reasonably priced, especially considering how remote Jabiru was.
By 7:15pm, we made it back to our room fully stuffed (not really a fan of buffets), where for sure we'd eat at the Thai place at our accommodation tomorrow.
But with jetlag plus the heat of the day taking over our bodies by this time, we all crashed and went to bed anticipating the long sleep before tomorrow's early morning start for the Yellow Water Cruise as well as other Kakadu waterfalls.
We were supposed to do Jim Jim Falls from the ground, but it was still closed through the end of this month so that wasn't meant to be.
Thus, we're looking forward to visiting new waterfalls like Maguk and Motor Car Falls, both of which we didn't get a chance to do the first time around.
With Jim Jim Falls and even Gunlom Falls being nixed, we actually have more time than we know what to do with for tomorrow and the day after…
Oh well, you can't predict these things going into a trip, and like in life, you have to learn to roll with the punches and adapt as you go…
Visitor Comments:
Got something you'd like to share or say to keep the conversation going? Feel free to leave a comment below...
No users have replied to the content on this page