Day 6 (June 14, 2022 – Jabiru, Northern Territory, Australia): "First New Waterfall Of The Trip"
It was 3:50am when I awoke, and the ladies got up shortly thereafter at 4:15am as they were motivated to catch our sunrise tour on the Yellow Water Cruise in Cooinda, which was roughly some 45 minutes drive away from us.
So we wasted no time having a quick breakfast and getting into the car by about 5:25am as we embarked on a drive in the dark, which is always risky business in Australia given my experience with hitting a kangaroo.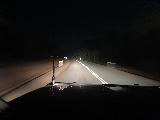 Fortunately, there was another car ahead of us going to the same place (or so I assumed) and there was also a full moon ahead of us.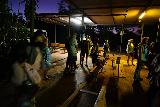 Thus, the drive went by without incident as both of us were going pretty slowly (at around 80kph throughout the drive), and we wound up at the car park in Cooinda at 6:10am, where we saw numerous people already waiting for their shuttle buses to the dock.
Once we parked, we promptly waited our turn to get into the shuttle bus with masks on (we were the only ones doing that since we knew the bus was cramped), and then we got to the dock where we all promptly got onto one of three boats waiting to head out.
Since we were four people, we all got either side of the same aisle so we could go back and forth throughout the boat during the tour though there were definitely mosquitoes around getting pot shots at everyone regardless of whether they put on repellent or not.
Actually, they managed to bite through our clothing though it was at least better than wearing short sleeves and shorts and getting nailed without repellent (as some people were apparently doing).
The tour promptly took off at around 6:45am as scheduled, and we had a very interesting mixed Aboriginal narrator with quite the sense of humor.
And on this day, we managed to catch the sunrise while also looking at lots of different birdlife as well as lots of saltwater crocodiles mostly in the water though there was one hard-to-see one on land.
I was hoping that at least one of them might sit by the banks of the South Alligator River or even Jim Jim Creek (which was where the boat dock was at) so we could get a clean shot of one like we did the first time here.
Speaking of first time, there was definitely way more boats and people on this tour than I recalled when Julie and I did this 16 years ago, and that was kind of the theme of any of the repeat visits that we had made since that first time.
Regardless, the tour followed Jim Jim Creek to its joining of the South Alligator River, where we then cruised northeast (downstream) for a bit while seeing more crocs and birds.
Then, we cruised in the other direction towards the flood plains where we saw a few more large crocs in the distance as well as some feral pigs and even more bird life.
The narrator said that this place got its name from some European explorers who misidentified the crocs as alligators, and then after the name stuck, it got too expensive to change all the place names on maps and official literature to correct it.
So the name stuck.
Another thing that the boat driver and narrator said was that there were hardly any freshwater crocodiles here, which was a surprise since we managed to see one 16 years ago when we were last here.
The issue now was that most of the freshwater alligators were poisoned by cane toads, which took over this ecosystem (though some of the bird life figured out how to eat them without exposing themselves to the poisonous backside).
The narrator also talked about how each of the last 8 years had weaker monsoons that started later.
And that was having an adverse impact on the wildlife here as that monsoon pretty much would give life to these lands.
He reckoned that the monsoon was shifting further to the east.
I guess that's the consequence of Global Warming and Climate Change messing with the finely tuned balance of Nature here.
Though this still didn't open up Jim Jim Falls in time for our trip as we had hoped.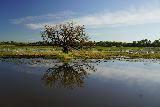 Finally at 9:10am, we got back to the car after the tour was over, but we didn't manage to get that croc sitting on the banks of the river with its mouth open like last time.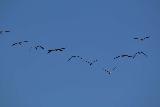 Still, it was a different experience here as opposed to the jumping crocodile experience, where they're actually fed on the Adelaide River so you can get a real closeup look at how big these things are.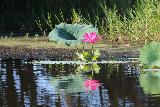 With the day heating up rapidly, we continued driving south towards Maguk, which was going to be the first waterfall that we hadn't done on our visit 16 years ago, and I was excited for that experience.
The only thing I was nervous about was the designation of it being a 4wd road to get there though our land cruiser was certainly very high clearance.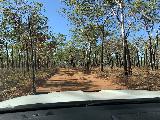 When we eventually got to the well-signed turnoff for Maguk (Barramundi Gorge), we then drove the seemingly benign road until it started getting very washboarded.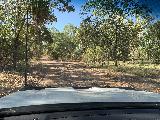 That pretty much limited the speed at which we could drive the road to somewhere between 10-20kph and I wondered if those people who were parked off the side of the entrance of the road were trying to let out air so they could gun it on these washboards (and minimize the chances of a flat).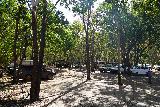 The problem with that was that we didn't have a kit to repump up the tires (or tyres) when we were done with this excursion so we proceeded with caution though there were some cars that were at a distance behind us while there were others gunning it in the other direction.
Eventually after getting past the worst of the washboards, we then went past some interesting termite mounds before getting past a sandy stretch that wasn't so bad (in terms of getting stuck) and we ultimately arrived at the busy car park at 10:10am.
Indeed, this place was quite popular for the Dry Season, but it was closed due to too much water when we last came here in 2006, and the issue was the amount of water and the likelihood of encountering saltwater crocs.
So after gearing up, we proceeded with the walk, which started off sandy and then quickly got into a monsoon forest where we eventually got to a bridge that spanned Barramundi Creek.
Once on the other side of that bridge, we then continued to follow the trail but it didn't take long before the trail was partially inundated by an overflow of the creek.
It was somewhat tricky business to keep going without getting wet, but we ultimately managed (and it was a good thing we brought trekking poles).
Beyond the flooded part, there were some deceptively calm waters of Barramundi Creek alongside the trail with croc warning signs, and that was when I realized that there were definitely crocs still around and why this place couldn't be open to the public until it was safe to do so in the Dry.
The trail then started to traverse rocky banks where we crossed the creek once again and then followed a rocky arrow-guided path all the way to the busy plunge pool before Maguk Waterfall.
There were lots of people headed in our direction as well as a handful of others heading out, which attested to the popularity of this place (probably exacerbated by the closure of Gunlom and Jim Jim Falls at the time).
But eventually by 11:10am, we arrived at the Maguk Waterfall, which featured a huge plunge pool that plenty of people enjoyed while coming prepared with floating noodles.
We just dipped our feet in the big plunge pool while documenting the experience, but plenty of other people were going right in the water to offset the Top End heat, which was definitely on at this time.
We probably spent around 20 minutes or so here before Mom and I started to look for a way to get to the other side of the creek as we had seen quite a handful of people on the escarpment on the other side and even more people at the brink of the falls there.
I realized that there was a trail marked on my Gaia GPS app, and perhaps we should pursue that.
I did recall someone saying that the opposite side was closed or something, but I guess I had to see for myself what was going on there.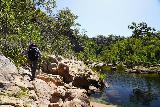 However, when we got to where the app said where the trail continued, it didn't seem all that obvious where we could cross without getting all wet, and we ultimately followed a "land bridge" that was pretty slippery.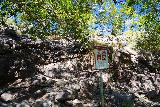 As I went across and found a path to get there without getting wet, Mom managed to slip and fall twice and got all wet (including her phone).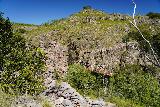 So she stayed behind while I continued with the scramble just as I saw a couple heading back.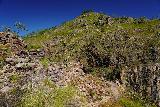 When I continued with the scramble, I actually had to go back downstream before following some faint trails going up the hill, and it was towards the top of the escarpment did I notice a No Entry sign.
Clearly, all those people that we saw up there earlier on ignored the signs, but I just proceeded anyways to see what was going on, but now I knew that going against the traditional landowners' wishes was not good.
In fact, I suspected that it was probably why Gunlom Falls was indefinitely closed when they didn't want people at the "infiniti pool" up there, but I guess the lure of social media made that an inevitable conflict.
By about 12pm, I got to the top of Maguk Waterfall, where the trail followed an escarpment ledge somewhat overlooking the plunge pool below.
But at the top of the falls, there were a couple more hidden waterfalls as well as some potholes that a handful of people were sunbathing by.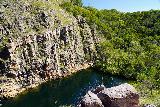 So I just documented this experience with guilt before heading back down to rejoin the family, and on the way back, it seemed a lot easier to return than it did on the way there.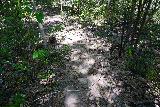 By about 12:15pm, I returned to the main trail and then quickly made my way back to the second creek crossing before my GoPro battery ran out by 12:25pm.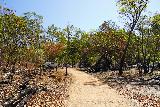 That was when I realized that the lens hood of my Sony was missing again, and I did recall hearing some strange sound even though my bottle was still on my side pocket of my day pack.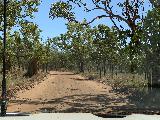 So I knew right then and there that I had to backtrack and recover that lens hood, which I promptly did (it was sitting not far from the second creek crossing).
Once I recovered that lens hood, I then continued with the return hike and ultimately returned to the trailhead at 12:45pm, and then we finally started to make our way back towards Nourlangie Rock at 12:55pm.
So it turned out that timing wise, we did the right thing by targeting Maguk and Nourlangie Rock on this day (I did entertain the thought of doing Motor Car Falls today, but that hike would be too long, especially given the hot temps).
The drive back towards along the Maguk Road was pretty uneventful though there was one guy who passed us and gunned it to the entrance of the road before he stopped there I guess to inflate his tyre.
I didn't know what the point of doing the passing and then stopping shortly thereafter, but regardless, the drive back to Nourlangie Rock was uneventful as we passed a couple of vehicles en route along the highway.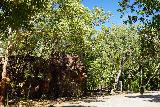 We also passed by more controlled burns as the air quality here continued to be bad, and we ultimately got to the Nourlangie Rock car park at 2:05pm.
We then quickly made our way to the Anbangbang Gallery, which was where we expected to find the "Lightning Man" though the more interesting artwork there was the grasshopper man.
Nearby that gallery was also the Nabulwinjbulwing artwork though there was no interpretation of what that was nor why it was there.
We then headed back along the base of the Nourlangie Rock as we checked out other panels at the incline gallery where there was a kangaroo hunting scene.
Then, we checked out the Anbangbang Shelter Gallery, which was a real impressive collection of overhangs.
Having watched Naked and Afraid, it definitely made us appreciate better how primitive shelters could be made easier by taking advantage of overhangs like this.
I guess the language of survival is universal, which the Aborigines have definitely demonstrated through these heritage sites.
Anyways, we returned to the car at 2:50pm as Tahia was really motivated to return to the Anbinik Resort.
She really wanted to spend time at the swimming pool there on the hope that she might see her friend that she met yesterday.
Indeed at 3:20pm, we returned to the Anbinik accommodation but the air quality was quite bad there, and Tahia didn't see her friend at the pool there either.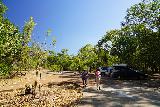 Still, that didn't stop us from going to the pool's cold water to get some relief from the hot temperatures of the Top End (which were definitely in the low 90s F or around 33C).
And with that, we wound down the day while waiting out the dinner at 5:45pm, which was a Thai restaurant on the property.
When that came around, it was quite busy as it was one of the few joints in Jabiru where you could have a proper meal (especially since the Croc Hotel was just a buffet dinner).
The Thai food was quite authentic and good (since the family running it seemed to be Thai), and we got two different kinds of curries as well as a pretty good pad thai (which of course Tahia liked) and a Tom Yum Goong with a couple of cold drinks.
It was a very satisfying dinner that we had, and it reminded me of how it used to be before Julie had her gut issues and had to cut back severely on the carbs and the refined sugars (though these curries definitely had sugar in them).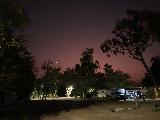 Regardless, we left the restaurant fully stuffed though this place was also quite busy and it was a good thing we started with the early dinner when we did because it took a while to get our food.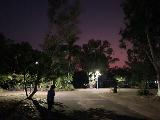 We ultimately got back to our room some time after 7:15pm while Mom and I made one quick lap around the property where we noticed an eerie red glow towards the west.
We weren't sure if that was a fire glow or if it was the last of the daylight. There was also a full moon that was looking somewhat orange due to the smoke taking down the brightness a few notches.
And with that, we ended off this eventful day though tomorrow, we had a long drive ahead of us with two more waterfalls along the way, but we need another early start to try to beat the Top End heat when doing the Motor Car Falls, which was first on tap for tomorrow…
Visitor Comments:
Got something you'd like to share or say to keep the conversation going? Feel free to leave a comment below...
No users have replied to the content on this page