Day 7 (June 15, 2022 – Pine Creek, Northern Territory, Australia): "Fair Shake"
It was 3:55am when I awoke, and I noticed that Mom was already awake. This probably had something to do with some loud screeching birds just outside that made it easier to wake up.
We then spent the next couple of hours getting all packed and ready to go while I was busy getting caught up on yesterday's events and while the ladies were getting brekkie and the sandwich lunch prepared.
So by around 5am, we were all having a meal together, and then we were loading up the car shortly thereafter (and battling mosquitoes already).
By around 6:05am, we were finally leading out of the Anbinik Resort where we then drove out into the dawn though it was still mostly dark outside.
We left probably a solid 45 minutes later than we did yesterday since we weren't going to catch another Yellow Water Cruise, and today's activities largely revolved around doing a hike to Motor Car Falls as well as an afternoon hike to Edith Falls.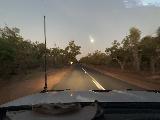 In between, there was a lot of driving, and speaking of driving, I had to really watch for kangaroos or other wildlife possibly darting out in front of the car in the darkness.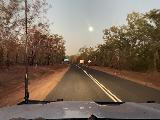 So I was pretty much going about 15kph below the speed limit just to try to give myself more reaction time should wildlife jump out in front of the car (even though our land cruiser was outfitted with a roo bar).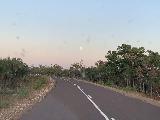 The drive was quite long and fortunately Triple J was kind of working so that helped to keep things interesting during the drive.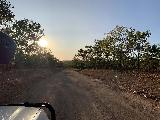 Julie and I also spotted a couple of dogs that crossed the road though we're not sure if they were dingos or if they were nothing more than someone's dogs whose job was to keep the cows in check (which we also saw from time to time).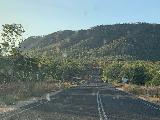 That was kind of strange to us because we were still in the boundaries of Kakadu National Park, which we thought would be free of farming.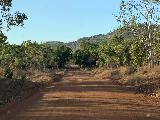 Anyways, we eventually got to the Gimbat Road turnoff, which also happened to be the same road leading to Gunlom Falls, but we knew that one was closed due to cultural reasons (i.e. visitors behaving badly).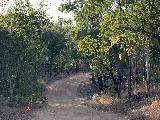 And so the fallback was the Motor Car Falls, which was something we never had a chance to do the first time around, but it also involved a bit of a fairly long hike to get there.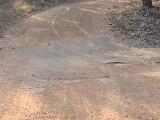 Anyways, the Gimbat Road was unsealed but it was well graded so we managed to still maintain a fairly brisque 60-80kph where the washboards were nothing as bad as the Maguk Road yesterday.
Heck, there was even a paved section of the road where some sign said it costed 6.5 million AUD though it only covered a short bridged section, which made us wonder whether they could have just let that part be unpaved and saved that money.
Ultimately by about 7:55am, we arrived at the Boulder Creek Car Park or Yurmikmik Car Park, and we were pretty much the only people there.
So we managed to take a guess and pick a parking spot that we thought might have the best shade as the sun would continue to come up, and we tried to gear up and take advantage of the early start before the sun would get more intense throughout the day.
After taking a while to get ready, we finally started the hike at around 8:20am, and during that idle time, I was reading the signs and decided right then and there to do both Boulder Creek Falls and the Yurmikmik Lookout on the way to Motor Car Falls.
Although there was a decent amount of shade at the beginning of the hike, it didn't take much time before we realized that this was indeed going to be a mostly unshaded hike.
We passed through what appeared to be a burn area (maybe from one of the many prescribed burns) before reaching a signed junction for Boulder Creek, and we pursued that spur to the right.
We got to the Boulder Creek Falls at around 8:50am, but it was eerily quiet there because the waterfall was barely trickling, which was not a good sign about whether Motor Car Falls would be worth the effort.
Nevertheless, we were here, and we were going to do it anyways, and so the ladies headed back to the main trail while I noticed that there appeared to be some flat area above the lower drop of the trickling waterfall.
It took a bit of a steep scramble, and when I got up there, I saw that there were a few shallow pools as well as where there should be a taller drop of the Boulder Creek Falls that was really be quite the scenic chill spot if there had been more water.
I guess they weren't kidding when the signs said that this was a wet season waterfall.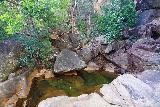 Speaking of which, I think this was one of the few spots in Kakadu National Park that were actually accessible in the Wet Season while everywhere else would be flooded or full of saltwater crocs.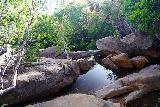 It made me wonder if we happened to be here back on our first visit in June 2006 whether this place would have been flowing!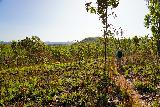 Oh well, with hindsight being 20/20, we can't turn back the clock on those, and with the weak monsoons, I guess that goes to show you how little water can persist into the Dry Season earlier and earlier in the year!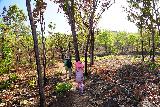 By about 9:05am, I made it back onto the main trail and eventually joined up with the ladies who actually stopped and waited for me not much further.
Then, we proceeded with the already pretty hot hike as we continued to get through the mostly unshaded trail and ultimately reaching another signed junction near the Yurmikmik Lookout spur.
Over here, we noticed that there was another car park nearby and it made me wonder if we could have parked here to shorten the walk.
In any case, we then took the spur up to the Yurmikmik Lookout, and we got there at 9:25am where we got a load of a very nice view of the escarpment lands and the Gimbat Road cutting through it.
Looking out in the distance, we wondered if Gunlom Falls was in that direction, but we wouldn't be able to check it out on this visit so we didn't think about that possibility any longer.
By about 9:35am, we were back down on the main trail and we continued the mostly straightshot hike where we were actually passed by a lady who was hiking quite fast.
That kind of let us know that we weren't going to be the only people on this hike as we anticipated, especially considering the amount of effort it took to reach in the Top End heat.
Nevertheless, we were making pretty good progress as the trail was mostly flat and straight shot with the escarpment to our right getting the benefit of the morning sun.
The straightshot trail ultimately got to a signed fork, where we kept to the right as it descended and went towards the escarpment where Motor Car Falls was to be.
The path on the left looked a lot less developed, and we knew that that path went towards Kurrundie Creek Falls.
Eventually, the trail degenerated into a bit of a boulder scramble next to Motor Car Creek, which definitely had water but we didn't hear much water flowing.
Finally by about 10:40am, we made it to the Motor Car Falls, which was just in time for the lady that passed us earlier was now on her way out.
As for the waterfall itself, we could definitely see the red wet streak of cliff where the waterfall fell down.
But it didn't have a whole lot of flow (more like a little more than a trickle), but the plunge pool was both colorful and gorgeous as it was flanked on three sides.
We could totally see how it was a nice swimming hole though we opted to sit on a huge boulder for a nice top down view of the pool.
So we enjoyed this spot for a bit, but it probably wasn't long enough because there were a couple of young ladies that showed up (though one of them had a bit of a cough and made us wonder if we were getting exposed to COVID-19).
Nevertheless, we took photos for each other, and then we let them have this place for themselves by around 11:10am (and also alco-wiping our hands as we headed out).
And so the progress on the return hike was quick, but we also noticed numerous people heading towards the falls throughout, which made us realize that this place was a lot busier than we had thought.
Finally by about 12:30pm, we were back at the car but it was very hot by then so we were all a hot sweaty and dusty mess.
And not only that, we saw that our parking spot was perfect as the car was still under the maximum amount of shade.
Shortly thereafter, we headed back to the Gimbat Road, but I did make a brief detour to see the other car park, which we learned was unsigned and quite easy to miss.
When we went down the single-track road to its circular car park, we saw that there was at least 6 cars there so clearly this spot might have cut off at least 1km in each direction of our hike.
Nevertheless, by 12:40pm, we finally continued the drive towards Pine Creek, which happened uneventfully though there was one cop that was sitting at the Pine Creek junction waiting to nab speeders.
By about 2pm, we filled up diesel ($180 AUD worth of it! at $2.28 per litre), and then we checked into the Pine Creek Railway Resort.
Out in these parts, it was already a pretty hot day, and by now, Julie and Tahia decided that they were going to stay at the resort and play in the pool there.
However, Mom and I decided to head out to Edith Falls by about 2:30pm (after having unloaded our luggage) even though it was a hot day and it was real tempting to take an afternoon siesta.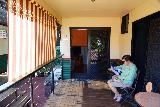 Regardless, the drive went by pretty smoothly though we had to follow a bunch of road trains (which were basically big rigs hauling at least three trailers worth of stuff).
They seemed to serve an important function in rural Australia though they really slowed down progress for the unencumbered drivers like us as there were limited overtaking spots and passing on the other side was not easy since there was so much oncoming traffic.
Fortunately, we didn't have to contend too much with the road trains because before we knew it, we saw the turnoff for Edith Falls and took that for the final 20km to the car park, which we got to at 3:20pm.
There was actually some kind of kiosk there, and given the hot weather, it was tempting to get a milkshake there, but we ultimately decided not to do it.
And someone informed us that they were closed anyways though there were still people at the kiosk, which kind of puzzled me about his comments.
Anyways, we promptly walked to the familiar swimming areas, which featured a huge plunge pool, which numerous people with floating noodles took advantage of.
And it was also clear to me that afternoon was definitely the best time to be here (and not the early morning like we did back in 2006).
Moreover, we were determined to do the Leliyn Loop Trail to really see what this place was about and not just settle for the distant views of this waterfall and then take off.
So after having our fill of the put-in spots for the swimming areas here, we then got onto the bridge spanning the Edith River (where I saw that there was a lot of water downstream and it made me wonder how they managed to keep this place crocodile-free).
Anyways, we then climbed up an escarpment on some switchbacks, which was brutally hot as the afternoon sun was beating down on us.
Eventually, we made it up towards the top of the escarpment where I managed to get a nice view back across the Edith River and towards the car park.
But as we continued through the well-arrowed trail, we ultimately got to the signed Bemang Lookout at 4:30pm, where we then promptly went to a very nice lookout peering towards another large plunge pool though no one was down there.
However, the real appeal of this spot was the upper waterfalls, which immediately made me realize that I had really not given Leliyn a fair shake from our first time here.
So now instead of giving it a 1 for scenic rating, this place really should have at least a 2.5 given this view alone!
After having our fill of the Bemang Lookout, we then descended a rocky track leading down to the a pair of footbridges with a really nice series of pools fronting the uppermost of the waterfalls being reflected in those pools at 4:55pm.
The red of the surrounding rocks contrasting the blue skies really made this place stand out scenically, and Mom and I realized that we had experienced one of those magical moments you get every once in a while when you're in the right place at the right time in Nature.
It took us a lot of time to really experience this spot as we scrambled around and got to a slippery series of rocks fringing a secluded plunge pool revealing a hidden cascade as well as a frontal view of the uppermost of the waterfalls.
However, the afternoon shadows were creeping up on that falls so that was our cue to leave as sunset was coming up.
After having our fill of this spot, we then went up to the Leliyn Lookout which was nothing more than a view down towards the main plunge pool down below near the car park.
So we didn't linger here for long, and we ultimately took the remainder of the loop trail back down to the car park, which we got to at 5:45pm.
Upon passing one of the signs on the way back, I also realized right then and there that I had also pronounced Leliyn wrong because I kept thinking it was spelled (in my mind) as Leilyn!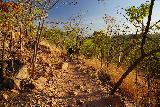 So not only did I not give this place a fair shake, but I also got the name wrong! Indeed, this experience was like visiting this place truly for the first time and that 2006 experience didn't really count.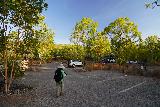 I guess it goes to show you how haste really does make waste, especially when you're younger and you think you have to hit all the places without truly appreciating what's there by slowing down!
Anyways, we started driving back towards Pine Creek, which only involved one passing of a road train, and we even managed to see the sunset from the road though there was a seemingly thick dark clouds up ahead, which we knew came from the prescribed burns.
By about 6:30pm, we made it back to the Railway Resort, where there were lots of loud birds making noise, but we saw that Julie and Tahia weren't around so we walked over to the Lazy Lizard Tavern.
That was when we spotted them and joined them for dinner as well as sighting a few captive snakes at the tavern.
By about 7:30pm, we finally had our fill of the food, and returned to our room, which was still very hot because the AC was never on.
And after it took some time for the AC to be on and cool down the steamy room, we then finally wound down this eventful day knowing that we'd have another long day ahead of us tomorrow as we'd return to Darwin by way of Litchfield National Park again…
Visitor Comments:
Got something you'd like to share or say to keep the conversation going? Feel free to leave a comment below...
No users have replied to the content on this page