Day 8 (June 16, 2022 – Darwin, Northern Territory, Australia): "Second Chances"
It was 3:45am when I awoke once again without an alarm though on this day, I was motivated to get caught up on the blogging and photo organization from yesterday's eventful day.
Since Mom slept in the living room area, she was already awake as per her usual early bird self.
Not much longer after that, the rest of the family was awake and everyone did their roles to try to get ready for the day knowing that we had a long day ahead of us as we sought to go back through Litchfield National Park again to make up for the stuff we didn't get to do earlier.
Back then, we had targeted the main waterfalls of Litchie, but because it was part of a long weekend celebrating the Queen's birthday, it was also pretty busy everywhere we had gone.
So the expectation on this day was to get through a lot of stuff on this day on our way back to Darwin as we were trying to take advantage of our last full day in the Top End of Australia.
After having our brekkie and getting packed and loaded, we started to head out from Pine Creek at 5:50am.
Not surprisingly, it was still dark outside and there were even some birds chirping away above our unit at the Railway Hotel.
We then proceeded to drive north on the Stuart Highway in the dark, which once again is risky business but I made sure to stay well below the speed limit (by at least 20kph) just to buy myself a little more reaction time should a roo come darting out in front of the 4wd vehicle.
Well, I already had to follow a road train early in the morning and tried to use him as a screen, but eventually I had to overtake him on one of the few overtaking lanes, and then I was in the lead for a fair bit.
There was one guy behind me who was doing what I would have done, and that was using me as a screen so I had the responsibility of watching out for wildlife dashing in front of the vehicle.
Fortunately, this drive went without incident, and we even got to enjoy the sunrise where the sun came up in a blaze of red on the eastern horizon while we noticed that we were heading back into the smoke from the prescribed burns of both Litchie and Kakadu.
As the daylight was continuing to take over from the pre-dawn darkness, I'd eventually start to gain confidence that I could start going the speed limit again and ditch the high beam.
There was actually a surprising amount of pre-dawn traffic going south towards Katherine, which indicated to me what a well-traveled artery this road was for the Top End.
Anyways, we'd eventually pass through the familiar Adelaide River town, and then head left on the Crater Lake Road towards Batchelor.
This time on the approach, we were pretty much alone and didn't have to worry about passing anyone at the moment, and so by 7:45am, we arrived at the Magnetic Termite Mounds.
When we got there, we were perhaps the second car to have come here, but just as we were getting out of the car, there were a couple more cars that showed up (one just came and went and kept on keeping on).
The air quality was noticeably bad on this morning, and so we actually wore our masks to try to limit the smoke inhalation coming from all the prescribed burns.
We took some time checking out the so-called Cathedral Mound, which was a large termite mound surrounded by a catwalk, and then went over to another tall one that you can pose next to.
I swore in the past that Julie and I walked close to more of these termite mounds, but maybe my memory failed me, especially since I never recalled there being a catwalk amongst these mounds before.
Going on the opposite side of the car park, there was another catwalk peering out into an open field of tall grass with more flatter termite mounds among them.
This field looked more like a cemetery as there were a bunch of them scattered about this open plain, but the funny thing about these were that they were flat and they all seemed to be oriented in the same direction.
I guess that's why they called this place "magnetic" because apparently the termites here knew how to build them in a north-south direction as if they were guided by a compass or something.
It was interesting how these termites built up these giant mounds because we were used to termites eating up our home where we had to be vigilant against them lest we let them undermine the integrity of our home structure.
Anyways, by about 8:15am, we were back in the car and then we proceeded towards the Buley Rockhole.
By about 8:25am, we arrived at the car park for the Buley Rockhole where we were one of just a handful of vehicles here, and we then proceeded to walk the short loop through the picnic area towards the rock hole.
I wasn't sure what this place was about since Julie and I didn't bother to stop here on our first visit, and this was another one of the things that we had punted for later.
But after getting to Florence Creek, we could see that this place featured a series of cascades with some pools that you could swim in and plenty of steps leading towards the creek.
As we were documenting this place and trying to soak up the experience, there were a bunch of kids with floaties and swimwear going right up to the upper pools and cascades of the Buley Rockhole, and they promptly went right into the water and doing cliff dives.
Indeed, there were literally dozens of these kids, and it made us wonder if the kids here even had school or not because I wasn't aware that they had school holidays during these winter months as far as the Southern Hemisphere was concerned.
Anyways, we enjoyed watching them doing jumps at an obvious deep part of the Buley Rockhole, and it was very apparent why this place was so popular, especially since the Top End gets really hot as we had experienced over the past week.
Pretty soon, there were more people of the adult variety in addition to the kids, and indeed this place was filling up fast at this time of the morning.
So I could have imagined just how crazy this place would have been had we attempted to checked it out during the Queen's birthday long weekend earlier on in this first days of this trip.
After having our fill of checking out the ambience of the Buley Rockhole, we then proceeded to finish off the loop walk noting that there were more spur paths leading to the creek further upstream of where the main cascading waterfalls were.
However, those were empty and there weren't really waterfalls there to check out so we pretty much circled back through the picnic area and back to the car park at 9:10am.
At that time, the car park was definitely more than half-way full, but we noticed that there was a van that said "school bus" on it (and in fact, we saw another bus load of kids or adolescents heading to the rockhole).
I guess this must have been a field trip for the local kids or something.
Anyways, with this out of the way, we still had most of the morning ahead of us, and so the moment of truth came next as we now pursued the Tjaynera Falls, which was one waterfall that we didn't get to visit in the past due to too much water.
However, now that the road was open, I knew that it was a legitimate 4wd and if there was ever a time to take advantage of our vehicle to visit a waterfall, well now was the time.
So we proceeded to drive further to the west past the Tolmer Falls turnoff and eventually we got to the Reynolds River Road, where we promptly turned left and then headed into a narrow single-track road that went past a gate that was open.
It already looked a bit intimidating due to the narrowness of the road and the fact that we definitely needed the high clearance because the tyre depressions were deep and the grassy mounds in the middle conspired to bottom out any low clearance vehicles.
But just minutes after we started to get used to this single track road, we then had to enter what seemed to be a lengthy river crossing, and this was intimidating because the water was murky and we couldn't see the "road" underneath the surface of the water.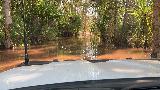 This freaked out everyone in the car, and I had to admit that I was a bit intimidated about it, too, but I engaged the 4wd mode of our vehicle and proceeded onwards into the water.
It really felt like the water was getting deeper the further we were going, and we got to a point that we wondered if the water might get through the doors and into the vehicle.
But it turned out that we were going through 0.6m of water (which was around 2ft or so) so it might now have gone above our tyres, but it sure felt like we were about to float in the river!
Mom kept asking where the road was as we were going through the river, and Julie was also quite nervous about this stretch.
Even Tahia was a little worried and she's usually the daredevil of us all.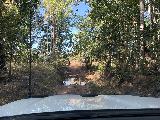 Well, we eventually got past the river crossing, and then we got over a fairly big rock step and back onto the 4wd road, which was actually a bit tamer going forward.
That said, we still had to contend with washboards and some sandy stretches (I guess the Sandy Creek moniker, which was Tjaynera Falls' other name, was appropriate), and I was definitely glad we had a vehicle well-suited for a road like this.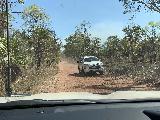 There were some 4wd vehicles coming back in the other direction, which made things interesting in terms of having to pull over to let other traffic pass in the other direction.
But eventually, we got past the turnoff leading towards the Sandy Creek Campground and Day Use Area as the Reynolds River Road was closed and gated right at that turnoff.
We'd eventually arrive at the Tjaynera Falls day use car park at 10am, and we were quite surprised that there were already at least maybe a half-dozen vehicles there.
That didn't even count the handful of other 4wd vehicles that had already left on our way in, and that kind of indicated to me that this place was indeed pretty popular despite how most rental vehicles couldn't even fathom coming here!
And so we geared up and proceeded to do the 1.7km (in each direction) Sandy Creek Trail as we left the campground and proceeded along a pretty obvious and well-traveled trail with minor undulations.
It was getting hotter by the minute as we were proceeding along the trail, which stayed along some small escarpments with a monsoon forest to the right of us.
The trail then crossed a small creek (though I didn't think that was Sandy Creek), and then we went through a more open area where the intense sun was really beating down on us despite the thin trees around us providing quite limited "shade".
By about 10:45am, we finally made it down to the edge of the plunge pool of the Tjaynera Falls as there were already about a half-dozen people getting into the water just as we showed up.
And so the ladies were taking off their shoes and dipping their legs in the water while I was busy documenting this experience as the sun hadn't quite breached the tall escarpments here.
So the falls remained under the morning shadow but the reddish cliffs next to it were lit up so that made for some tricky lighting.
Nevertheless, this was a tall waterfall that was probably every bit as tall as Wangi Falls, but this one felt way more intimate and less crowded, and so this was well worth the risk and effort to get to.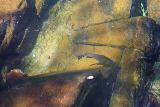 The plunge pool of Tjaynera Falls was a little on the dark side due to the shade caused by the escarpments nearby, and the plunge pool was huge so I could totally see why this was quite the swimming hole to enjoy.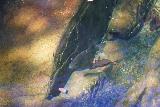 Eventually after I was done documenting this experience, I then joined the ladies for a quick dip while taking pictures with them.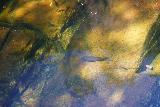 The water didn't feel terribly cold, and after taking our pics, we saw that there were more people showing up.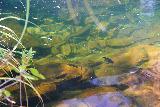 There was even one guy who was flying a drone as well as having some superzoom lens camera telling me that he had spotted a lizard (I suspected it was a monitor lizard) along the banks of the creek.
I also noticed that there were some interesting fish in this plunge pool near the shallow end of the plunge pool's entry point.
The signs here said that this place had a very low saltwater croc threat so a lot of people felt very comfortable coming into the plunge pool and swimming way over to the base of the falls with their floatie noodles.
By about 11:30am, we had our fill of this place and then proceeded to head back to the car park, which we eventually got to at 12:05pm.
I was kind of bumming that we didn't get to listen to Dr Karl at the time, but I knew that we could eventually check it out in a podcast when there was downtime.
Nevertheless, it was definitely pretty hot by the time we got to the car, and we spent some additional time having a picnic lunch in the shade on some stumps and rocks between one campsite and the car park.
So by about 12:30pm, we finally got back in the car and headed back down the Reynolds River Road where were had to have been at least 3 or 4 more 4wd vehicles coming back the other way as we were headed out.
We also documented once again the harrowing experience across the Reynolds River, but this time Tahia had her head out the window and she confirmed that the water didn't actually go above our tyres so it looked deeper than we thought, but it wasn't really that big a deal.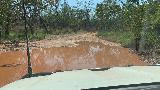 Since Julie was worried about checking into our Jetstar flight to get to Bali since it was getting to within 24 hours of our departure time tomorrow, we first drove over to the Wangi Falls area thinking that perhaps we could use a WiFi there (if it was working at all).
It didn't work the last time we were here, but we went there anyways to buy ourselves some time to try to catch Tolmer Falls with the right lighting.
But when we got there, Julie doubted that we'd get any access, especially since Optus coverage was non-existent in these parts, and that was the sim card that we had bought at the Sydney Airport.
Nevertheless, we then proceeded to drive back towards the Tolmer Falls car park, and we got there at 1:20pm, where Mom and I then proceeded to walk out to the lookout.
However, when we got there, the falls was still in shadow and the lighting wasn't great.
So we opted to leave and head back to the car so we could pursue Tjaetaba Falls near Greenant Creek just a couple of kilometres away from Tolmer Falls.
And so we did that and got there at 1:45pm, where there were way more cars here than I ever remembered there being from our first visit a while back.
Heck, my memory of this place wasn't very good, which was why I was doubly motivated to do this hike just so I can properly document the experience this time around.
Once again, it was just Mom and I as Julie and Tahia opted to stay by the car since it was already quite hot at this time.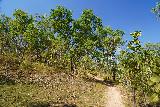 Anyways, this hike followed some catwalks that went across Greenant Creek before skirting by the edge of a monsoon rainforest where it was quite green and well-vegetated on one side of the trail while it was more sparsely vegetated savannah on the other side.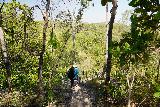 Both Mom and I went at a brisque pace knowing that we wanted to return to Tolmer Falls during the short window when the timing was right, which I had guessed was between 2-3pm though now I wondered if it was better between 3-4pm.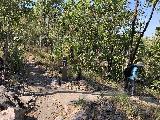 Anyways, the trail got past the monsoon rainforest and then proceeded to climb fairly relentlessly, and this was the stretch that really induced a lot of sweat.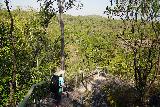 We definitely had to consume quite a bit of water in this stretch as the increased humidity in this area was also noticeable and we were certainly inundated in our own sweat as we continued with this climb.
Eventually by about 2:25pm, we made it up to the Tjaetaba Falls Lookout, which had a nice view above the monsoon rainforest below us, but as for viewing the waterfall itself, it was overgrown.
So the waterfall was not easy to see, and I really wished that this trail went down to the base of the falls because it definitely looked like there was way more to this waterfall than this lookout, which seemed to shortchange the experience in my mind.
Nevertheless, it didn't take long before we had our fill of this spot, and then we went all the way up to the top of the falls, where there was another plunge pool beneath a small upper tier of Tjaetaba Falls right at the brink of its main drop.
This place was happening with a couple of families and lots of kids all taking turns doing a jump into the deep pool up there, and at the same time, there were some adults having a wade in front of a smaller waterfall even further upstream.
Mom and I looked at each other and thought the same thing as we figured that Tahia was once again missing out on the action, and if she really wanted to have a swim at a natural swimming hole, this was definitely another one of those places.
It seemed like Julie wasn't keen on Tahia swimming in any of the natural swimming holes because she's worried about bacteria or other uncontrollable variables out in the bush.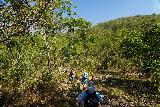 So she promised her the ability to swim at the pool at our accommodation later on today.
Regardless, Mom and I had our fill of this place by about 2:35pm or so, and then we returned to the trailhead at about 3pm.
We made good progress on this hike because it was mostly downhill on the return hike so that went by pretty quickly.
Then, five minutes later, we were back at the Tolmer Falls car park, where I now solo'd the hike out to the Tolmer Falls lookout since everyone else was pretty much done sweating it out, including Mom.
So I quickly made my way down to the lookout, and as expected, Tolmer Falls was experiencing pretty good lighting though its upper reaches were still in shadow.
That said, I took advantage of the lighting, and I even had this place to myself for a few minutes so I managed to self document and take videos without issue.
So with this mission accomplished, I was back at the car by 3:30pm, and now we could finally drive back towards Darwin for our final night of the Top End part of this trip.
Even though we could have driven towards The Cascades area in Litchfield NP, I opted against doing it since we promised Tahia some time at the pool there, and I knew it was going to cut it close before sunset.
Not only that, but apparently the front office of our accommodation was closing at 4pm so now we had to contend with how to recover keys to our unit to be able to check in.
But with no cell coverage with our Optus sim card in Litchie, we were hoping that we might have an outside chance of making a call in Batchelor or something since we were going to arrive after hours.
Well, the drive was mostly uneventful for the most part as we made our way back towards the Stuart Highway, and then we followed this road north towards Darwin.
There were lots of cars heading back and there were always clusters of them around the slower moving road trains, but fortunately there were overtaking lanes spaced some 5km to 20km apart.
Ultimately by about 5:30pm, we arrived at the Darwin Resort, which was right across the street from the airport.
At first, we were worried that we wouldn't be able to get the keys because Mom didn't get any emails that would have had the instructions to get at the keys from the lock box.
Well, it was lucky that Mom and Tahia encountered the lady running this place because she gave Julie the keys just before she was done for the day, and perhaps because we made the call, she waited for us.
It turned out that Expedia Travel via the Chase Rewards didn't forward or have our information, and so we definitely needed to talk to this person to get the keys otherwise be shut out.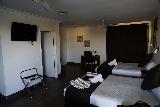 So with that squared away, we brought all our stuff from the 4wd into the pretty spacious room, and Tahia even got to play in the pool even though there were long shadows from the setting sun.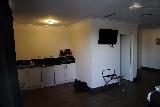 Even though Tahia wanted me to play with her, Julie wanted to get takeaway dinner, and fortunately there was a Sri Lankan place just down the road from us.
So Mom was watching Tahia while she got to have her pool time finally, and Julie and I went over to the takeaway place where we got some lamb and chicken curries to go.
It was actually buffet style, and even though there were a bunch of cars parked in front of their restaurant, we were the only people inside.
We wondered what all these cars here were for, but regardless, we got our food, got back to our room, and then we all had our dinner at 6:30pm.
Once the dinner was done, we then proceeded to get into organizing our packs and luggages in preparation for the flight to Bali tomorrow.
We couldn't check-in online because apparently our Jetstar flight did not have this option available so we just had to show up at the Darwin airport to get this done beforehand.
And so ended this eventful day, where we pretty much did everything we wanted to do at the Top End except Jim Jim Falls and Gunlom Falls with Twin Falls also being out of the question.
Considering the circumstances, we pretty much made the most of it, and indeed, we got some new experiences and new waterfalls, which I was glad that we got to do.
Tomorrow, it was time to go to Bali, and considering the heat from the Top End, we weren't really looking forward to it being even more hot and humid.
Plus, Julie was worried about some front getting to Bali while we're there which might really impact what we can and can't do while up there…
Visitor Comments:
Got something you'd like to share or say to keep the conversation going? Feel free to leave a comment below...
No users have replied to the content on this page